Between my job, my business, my blog and my family, I travel quite a bit each year. Sometimes I fly, sometimes I drive, but I'm almost always in a hotel. Staying at a hotel can be a lot of fun, a vacation from having to make your bed and you get a resort feel, but it can also be expensive. I'm sharing my hotel guest travel tips below to help you avoid costly surprises and to make your stay a comfortable home away from home!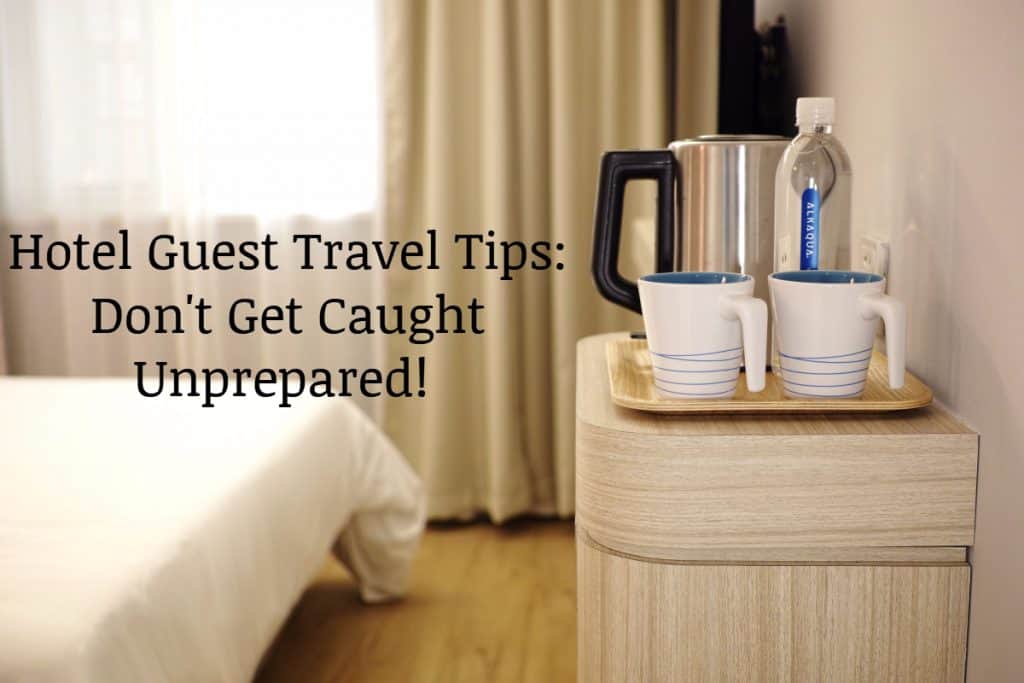 Inquire about resort fees: they are now becoming more and more common in places like Las Vegas. What they cover may not be clear, and they can be quite high, so before you hit that "Book" button, perhaps call the hotel. During a recent stay at a hotel in Las Vegas, I was unpleasantly surprised when I went to check out and found the bill to be $70 higher than my "total" quoted on my prior bill confirmation. "Resort fees, ma'am." Hmmmm…
Check your amenities: some hotels have replaced a guest refrigerator with a mini-bar, leaving you no room to store leftover food you may take back to your room or to keep your own bar items cold. Refrigerators may be available if you ask the hotel staff. (If there isn't one or it costs, consider taking a rolling cooler to your room. Staff can bring you ice or you can get ice from the ice machine.) Coffee makers and microwaves are no longer standard either, so scope out the hotel onsite food options or where your closest Starbucks is before you need the caffeine.
Keep a lot of ones and fives on you: you'll be prepared to pay for your bellhop or valet. Typical fee is $1 per bag, if they bring them to your room or to your car. Valet fees are not a fixed rate either, but many pay $5 per car or per day, depending where you are.
Speaking of parking, ask for parking fees before you arrive: some self-park lots are complimentary to guests, some charge per day and some only charge for non-guests. Valet may be free or may cost a significantly higher fee per day. Ask beforehand so you're aware what driveway to use.
Don't touch the mini-bar items if you don't want to buy them: many mini-bars now are sensored so if you pick up an item, you will be billed for it if it's not replaced in under 30 seconds to a minute. (They can also be sensitive if jostled.)
Internet or wifi: it is often still free but some hotels in areas that are common for conferences, you may be charged a daily rate up to approximately $10 per day. The speed may not be consistent due to the amount of people using it, and it won't necessarily be secure as it is public, so be cautious what transactions you complete on an insecure connection.
Bring your own hangers: this sounds silly, but I travel with my hang-up clothes on hangers all the time when I'm driving somewhere. It helps prevent wrinkles in transit and hotel rooms often don't have enough hangers. It also makes packing speedier.
Pack a foldable cooler bag: alternatively, use it for travel and then unpack it while in the room. It will make it easier to get ice back and forth to your room from the ice machine. (Each time you call for help from the hotel, you will need to tip whoever helps you.)
Make friends with the customer service team: in other words, be nice when you check-in and out, and you'll feel a lot more comfortable asking questions. If you have any question about your bill, ask for an explanation. The last time I had a surprise on my bill, I asked them to show me where it was stated in my confirmation or on the hotel website. They couldn't find it, and finally found a vague reference to it on another page, but NOT on my confirmation. The clerk didn't help me, but management did later by taking it off. I'm all for paying what I owe, and what I agreed to, but slap a very expensive surprise on me and I'm going to inquire, politely. Never be afraid to ask when it comes to your money.
Charger Cords: take the longest ones you have. Hotels are getting better about having charger ports and/or outlets closer to the nightstand so your phone is near you while you sleep, but some still use those outlets for lights or a clock. Others still haven't reconfigured rooms to make phone charging convenient. If you have longer cords, pack them so you don't have to get up in the morning to shut off your phone alarm or answer a late-night call.
These are just a few of my top hotel guest travel tips — I hope at least one of them helps make your next hotel stay a little easier or saves you some money!