Now that 2019 is almost here, I'm reflecting a little on this past year and how I can answer the question, "What do you have planned for 2019?" properly by looking back at my 2018 story for inspiration, guidance and perspective.
In reality, I'm being lazy as I'm trying to stay warm by the fire and I'm making good use of the time while I sit here trying to get feeling back into my toes.
2018 was an interesting year. Lots of good — major business growth, new blog partnerships, new contracts, first grandbaby on the way, scholarship offers for our son who graduates in 2019, new friendships — and a little bad, like the loss of my beloved furbaby, my precious best furry friend ever, my companion, my Yorkie, Missie.
Even as good as my 2018 was, there is room for improvement. I started the year with #Project2018, which focused on me starting a healthier lifestyle, as I talk about more in this post. At the year's end, I'd lost and kept off 12 pounds. I'd left behind a lot of negativity, added quite a few healthier options to my life (like removing certain chemically-laden personal products and cleaning products, for example) and had focused on some business changes.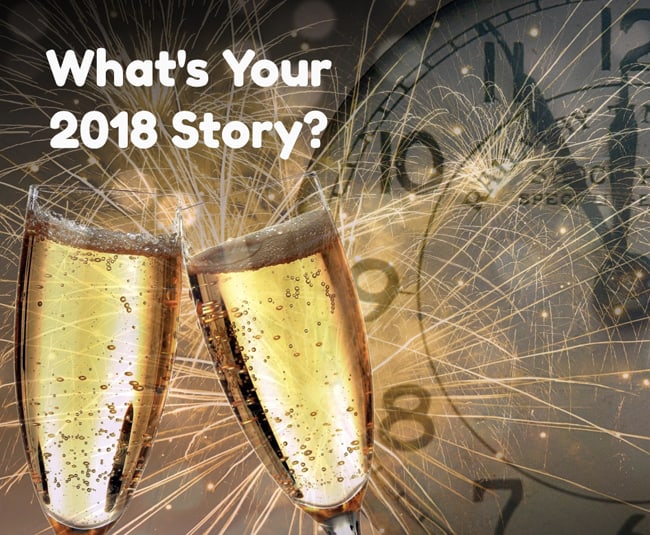 Along with a lot of memes and posts about resolutions, "new year, new you" posts and other proclamations, I see a lot of talk about words of the year. didn't have a 'word of the year' in 2018, but if I had to look back, I think one word I find would fit is grace.
Grace is technically defined a few different ways, mostly as a noun:
 it can be a term derived from faith, such as a virtue given "by the grace of God"
approval or favor
a special favor, or privilege
a charming characteristic
a type of ease of movement, such as "she walks with grace"…aka not a stumbly clutz like I can sometimes be
a disposition to, or an act or instance of courtesy, clemency or kindness
a prayer before a meal
Or, it is a verb, an action of "conferring dignity or honor upon" someone.
"Living in a state of grace" typically refers to having professed sins yet knowing you've been forgiven. When someone uses this term, people frequently think they are referring to it in the literal, religious sense. However, it has such a strong meaning for daily life, in a non-religious form.
When someone is forgiven, they are also living in a state of grace, essentially 'gifted' by that person. We can forgive and start anew by simply moving on or giving someone a second chance, and who hasn't benefited from a second chance?
Grace is when you say "I'm sorry I was late, my child is sick" or "I have to cancel last-minute, my car isn't working," and the person says "It's okay, no worries."
It's that simple.
We all want it from people on a regular basis. When we sit a few seconds at a green light, delaying the people behind us, we don't want to be immediately honked at and flipped off. We want you to leave us alone so we can be embarrassed and feel bad but go ahead without any repercussions. We may deserve to be honked at, because sometimes people miss lights when someone's daydreaming, but grace is when someone overlooks it and moves on with their life.
Daily grace. It's in every minute of our day, because we're always active and speaking and moving, and we're interacting with others who may need that grace from us.
Because I know I need grace, I found myself really trying to give it out a lot in 2018.
When Missie got sicker and I had to cancel plans, when I cried a lot and when had my mind just on getting through it all, I needed grace. I needed people to understand why I wasn't in my right mind, why I may have missed a deadline, and why I didn't want to talk about the normal, trivial things that normally fill hours in a day.
A lot of people were there for me, and still are, and I want to make a concerted effort to pay grace forward this year.
When I got what felt like the plague early this year, I needed grace as I asked the husband to take his already sick self to the pharmacy to pick up my antibiotics. I needed grace when I left someone out of a special event invitation. I also needed grace when I missed the deadline on ordering something for my son that can't be ordered again.
I also looked backwards a little and tried to decide where I could have given grace a little more. As a result, it made me revisit second chances. I tried to drop my predispositions and it opened me up to some wonderful new, or refreshed, relationships.
When someone asks to speak with you to clear the air, do it. It may not result in a new bestie — you may just agree that yes, it was good while it lasted, and we're good now, as not everyone's meant to get together forever. On the other hand though, it may be a wonderful experience. It gives you a chance to speak up, ask questions, resolve issues… and you may have just re-established a relationship that used to be good OR started a new one on a different level.
This has resulted in my friendship circle getting larger and me finding a whole new support system I didn't even know was there.
See, we all have predispositions. We hear things about others, we see things we don't understand because we don't know them well enough to understand, and we mind others' business without any real cause or justification. When we stop doing that, we get to know people and we realize what we've missed out on, and this last year, I was missing out on a lot. Now I've found a fantastic balance between offline relationships, people that aren't even on Facebook, and online relationships, people that I work with in one aspect or another. Life is all about balance, and getting away from it all sometimes
2019 is here, and my 2019 story will be different from my 2018 story. I will let my word come to me along the way, without a conscious decision and I will be continuing to give people chances, to give them grace, and to allow myself to connect with people in a new, positive way.
What about you?