Years ago, I cracked my tailbone. A few years later, I had my first child and suffered back issues after a botched spinal. Add in years of mom'ing and being active and I'm still suffering from back pain today. I've tried so many different products but using a wheel for back pain relief is my new favorite thing, so keep reading to learn about the new Chirp Wheel+™.
What is a Chirp Wheel+™ and Why Do I Need It for Back Pain Relief?
In short, it is a back pain relief wheel. Made of 100% PVC free injection molding and wrapped in compression-sensitive padding, it features a patent-pending Spinal Canal to relieve pressure along the spine. It provides drug-free relief, fitting perfectly between your shoulders and cradling the spine as you roll back and forth on it. It's the only FDA-registered medical device of its kind, and give it a few sessions to really get the hang of using it and you'll understand why it's such a big deal.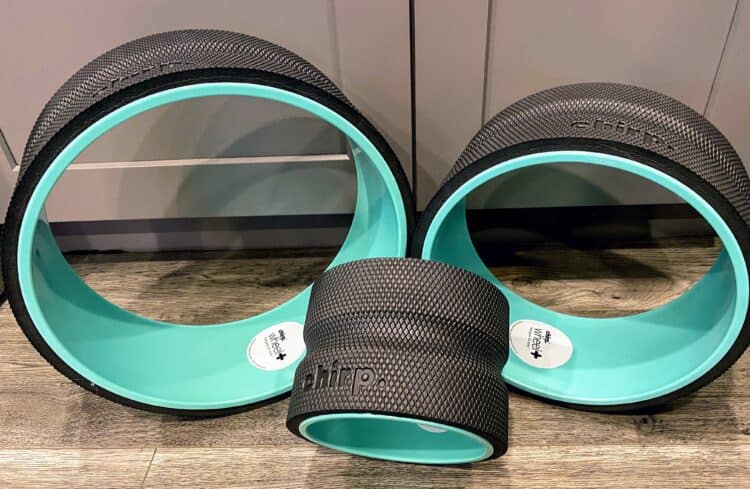 The Chirp Wheel+™ comes in three sizes, and each one targets your muscles that go up and down your spine. Roll on it, lean on it, sit up against it, and you'll be able to achieve a relaxing four-way stretch like no other piece of back equipment has done before…and I feel like I've tried them all.
Before you try out the Chirp Wheel+™, please check with your doctor if your back pain was caused by a serious accident or injury.
A lot of people are working from home now due to COVID and as such, they are dealing with more lower-back pain. We slouch, we work on the couch, we hold a baby while trying to speak on the phone — in general, we're our back's own worst enemy and we usually aren't even aware.
The wheels work from ages 18 to 80 and they can hold up to 500 pounds per wheel. They come in 6″, 10″ and 12″ sizes, with the smaller being the 'beginner' wheel. You can throw one or all in your back as you travel — especially that small one, because it makes a great back boost in a desk chair — and they are lightweight, so your bag won't be crazy heavy, making your back pain worse.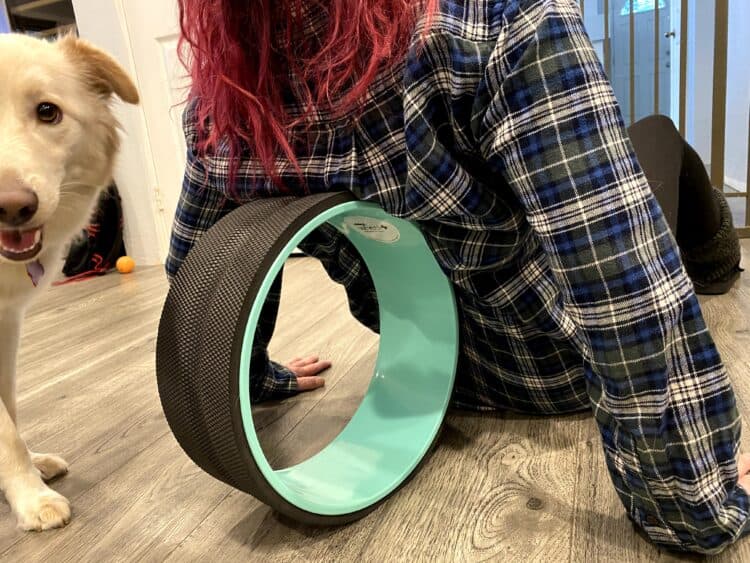 Over 3,000 chiropractors now recommend the Chirp Wheel+™, so I was really excited to try it out. I was sent a free set (all three wheels come individually priced but for $99, you'll get them all in one package) to test them and I immediately became a believer. I started out trying the smaller one for several minutes, and the next day, tried out the medium and large sizes. Each had their distinct benefits and I'm glad I have all three at my disposal, depending on the location and level of my back pain.
I keep the set in the hall closet, where they're readily accessible whenever I'm starting to feel the aches from too much lifting and moving…or sitting, because last week was nuts and this weekend, I'm catching up on writing and maybe a few Christmas movies. (Don't judge. I haven't turned on the Christmas music yet nor have I decorated. We're a "Christmas starts after Thanksgiving!" kinda family.)
Sometimes a long day over my laptop means I'll have upper-back pain, centralized at the base of my neck. The small wheel provides a deep tissue massage and in just a few minutes, I'm much more relaxed. (Did you know you can improve your sleep by getting rid of tension in your back and neck? How many times have you rolled over, trying to fall asleep, only to realize how tight your muscles are? I do it all the time!)
Not only are the wheels easy to use, but they give me a massage of sorts without having to ask the hubs. I can focus on the areas that need it the most, or even just sit and lean against one of them for a bit. My spine settles nicely in the groove, with no pressure on my vertebrae as I roll. This is critical, because I have one sensitive area on my spine and this does not exacerbate it. Ever feel like you want to put a towel or pillow under your lower back to stretch it out? You've just experienced a similar movement, yet the wheels do it all without any actual pressure on your spinal column. It's a win-win. No need to put on workout gear or be on any type of special surface to get in a few minutes of stretch at any time of day…like on my kitchen floor near the fireplace today.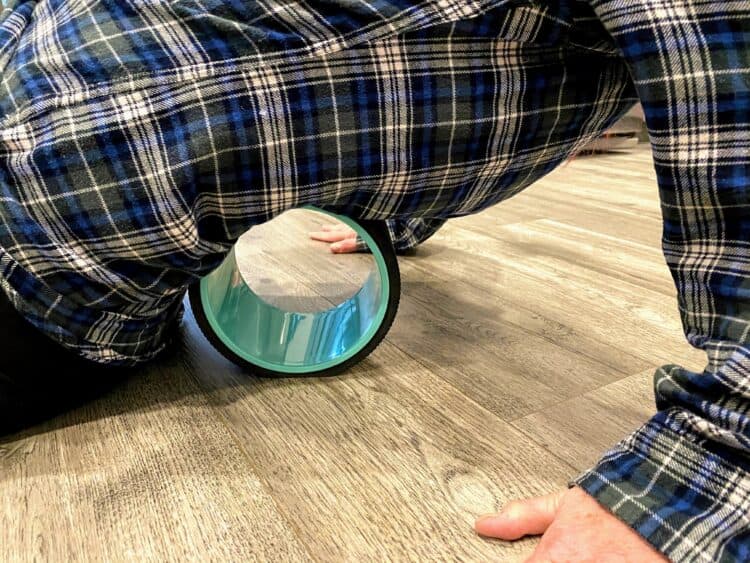 Each Chirp Wheel+™ comes with a set of directions: how to use, how to balance (probably the hardest thing to learn, on the largest wheel) and how often to do it. I aim for daily for at least five minutes. The guide explains about the benefits of each wheel, because some provide less stretch and more pressure, while others are less pressure and more stretch. It's really up to you what you need.
They can also be used as you would use a foam roller on a sore arm or leg after a workout. Place it between your back and the wall, use your legs and stand up or sink down for another option. If one size isn't doing it for you, test out another size or position; I was really surprised at the difference between each one. The bigger one would be less easy to shove in my suitcase but the smaller one is definitely going with me when I travel. I often end up with back pain after a long car ride or flight, and this is a lot better for me than taking Ibuprofen, with the bonus of relaxation so I can sleep better in a strange bed.
Creator Tate Stock, who you may have seen on Shark Tank, where he faced the sharks (and prevailed!), found astounding achievement in a relatively young product. He founded the company in 2015, and over 60% of Chirp's team members are women. It is also the highest-funded pain relief product in crowdfunding history!
I'm thrilled to have been given the opportunity to try out each size wheel for back pain relief. I love that I don't have to plug anything in, take anything or work hard to feel better and get a good night's sleep. Head over to their website and see for yourself! It also makes a wonderful Christmas gift for a loved one — give the gift of relaxation for less than $100!