Back in 2010, the husband and I were watching The Next Food Network Star. We've watched it every season, and we always make bets on who we think we will. That season, my money was on a new chef — a blogger with a thriving YouTube food channel — named Aarti Sequeira. I loved her bright smile, her infectious laugh, and of course, her approach to food, which was cooking American food with an Indian soul. She was up against some tough competition but she came out ahead and won. Today, I got to enjoy the Aarti Sequeira 10 Minute Meals series event!
Since her win on NFNS, Aarti has been on a lot of television shows, most on the Food Network. We watch her on Guy <Fieri's> Grocery Games, where she's a judge, and she also won Food Network Chopped All-Stars. When I was offered the opportunity to visit her on-set (in her home, no less) for a filming of her new OWNZONES series, "10 Minute Meals," of course I said yes. Who wouldn't?? We were even given a copy of her new book, Aarti Party: An American Kitchen With An Indian Soul.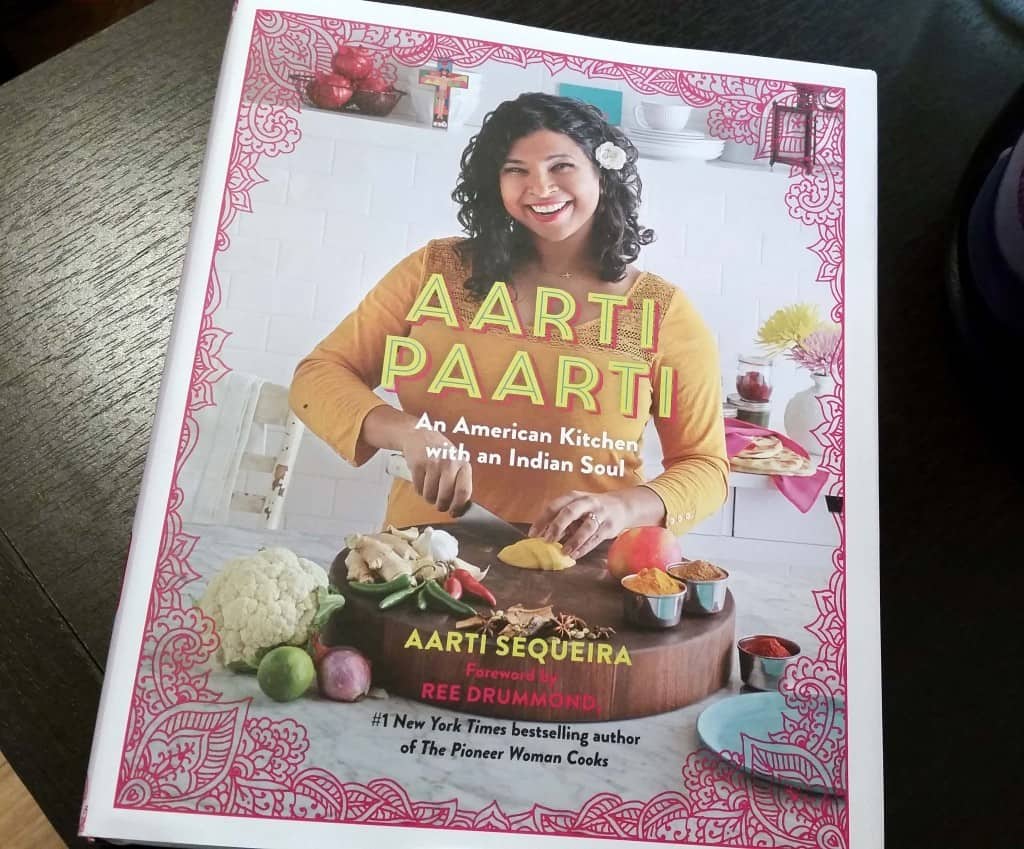 I was one of several bloggers invited, and everyone was so excited, there wasn't a single no-show. (Again, who wouldn't come??) We were greeted by a smiling Aarti, who gave us each a big, enthusiastic hug, as well as her husband, Brendan, who proclaimed himself a hugger, too. We loved them both before we even sat down in their living room to start an interview session, which was going to be followed by us watching them film a 10 Minute Meals episode about making fried chicken.
Cue the salivating.
Aarti's a likeable person, without a doubt, and she and Brendan make quite a team. While we watched them film, you could easily pick up on their closeness, which allows them to make all the necessary adjustments to film the segment with the best lighting and camera views. She has a gift for the words to flow as she tells us all, in 10 minutes, how to make the best fried chicken. She started by explaining the dredge process — corn starch, seasoning, etc. — and culminating in how to safely fry the chicken to crispy perfection.

The personality we saw on The Next Food Network Star is so obviously authentic, as we saw it again as she's talking to us about corn starch and what spices to use. (I won't list them all — you'll have to watch the show!) I know I came away wanting her spice bowl.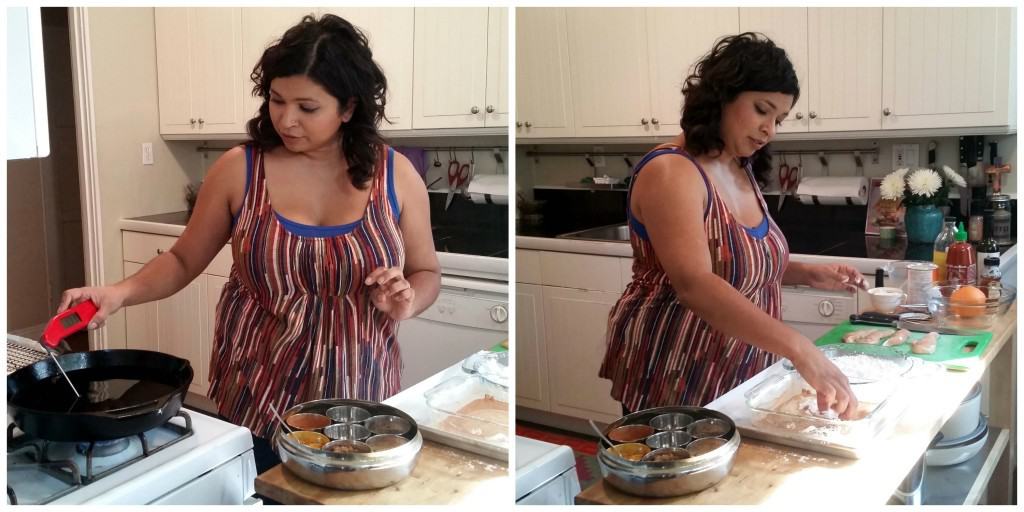 I also came away wanting one of those thermometers. I have a good candy thermometer, and a digital one that I've used when canning, but that red one was pretty spiff.

Doesn't she just look fun? She's so cute and her style makes creating delicious food do-able. If you're not entirely comfortable in the kitchen, you want a chef, and a cookbook, that's not intimidating, and you want both to be encouraging while talking you through the process. Score on both counts for Aarti's new 10 Minute Meals series and her book.
But back to the interview…where we learned that Aarti was actually a degreed journalist working at CNN, covering some pretty heavy topics, prior to moving to the culinary field. Brendan had gifted her with a course in food and that was the beginning to a whole new world. A successful YouTube channel led to The Next Food Network Star and now she's beginning another channel at OWNZONES, Aarti Sequeira 10 Minute Meals!
We all had questions for Aarti, and she answered them honestly. It was like chatting with a friend, as she sat on the floor in front of us, not shying away from any of our inquiries. I asked about cupcakes and favorite treats — no surprise there — and Aarti shared that her favorite quick snack to make is homemade chocolate shell. It goes with everything and is so easy to make, and I felt guilty that I haven't made that for my kids in a very long time. (And even Brendan agreed that alcohol-infused baking was an awesome way to go and he shared some of his creation ideas!) They have a beautiful daughter who will grow up with two parents who love to teach her to cook, and it's obvious they are devoted to her, to the point where they even shoot around her nap schedule. (Both out of necessity and so they can spend time with her.)

How do you not like someone who's as at ease barefoot in their living room as they are on television? I was already a fan but now am even a bigger one. I made her Converter's Brussels Sprouts, which is a surefire way to convert a non-sprouts eater into one who loves them. So good and so easy! The cookbook will truly make it easy for you to add an Indian edge to your cooking, with the explanation of spices (such as garam masala, or "warm spice") and other things pertinent to Indian cooking.
You can learn more about them at their website, but in short, OWNZONES offers unique, fresh and exclusive content on-demand all in one ad-free place. They want to help bubble up content that wouldn't otherwise be found, and from looking at the front page alone, it looks like they've succeeded. Just a few clicks and you can be watching videos, reading articles, magazines or listening to audio of your choice. I can't wait to check Aarti's new series when it debuts in March!