I've been gravitating more and more often to using my Instant Pot to make dinner. Throw a few things into the pot, push a few buttons and boom, dinner's ready in under 30 minutes. It's so simplistic that it's crazy that I didn't hop on the Instant Pot trend sooner! A couple of weeks ago, I looked at a few things in my refrigerator and came up with my Poblano Pepper, Chicken and Rice dish. It only takes five ingredients, not counting seasonings, and it makes a bunch so you'll have leftovers for sure…and who doesn't like leftovers?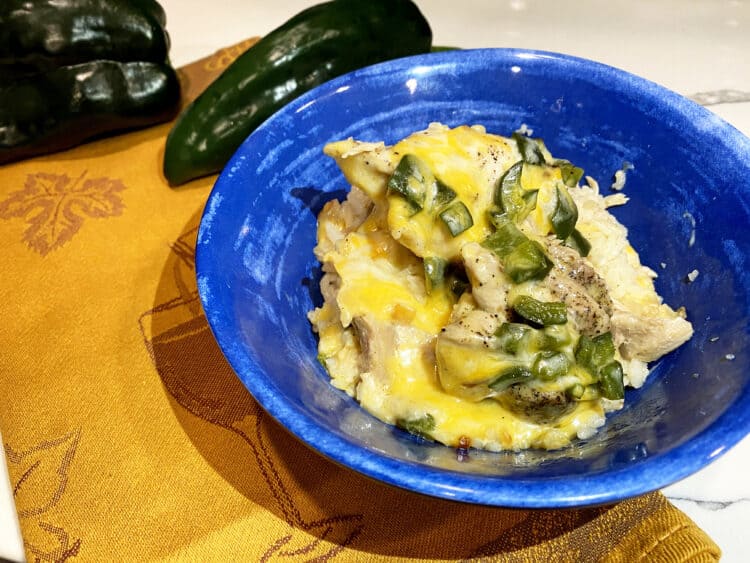 What are the five ingredients? Five or six chicken breasts, rice (not instant), chicken broth (or vegetable), 2 or 3 Poblano peppers and shredded cheese. And seasonings, but use what you have!
How to Make a New Version of Instant Pot Chicken Poblano Soup Using Poblano Pepper, Chicken and Rice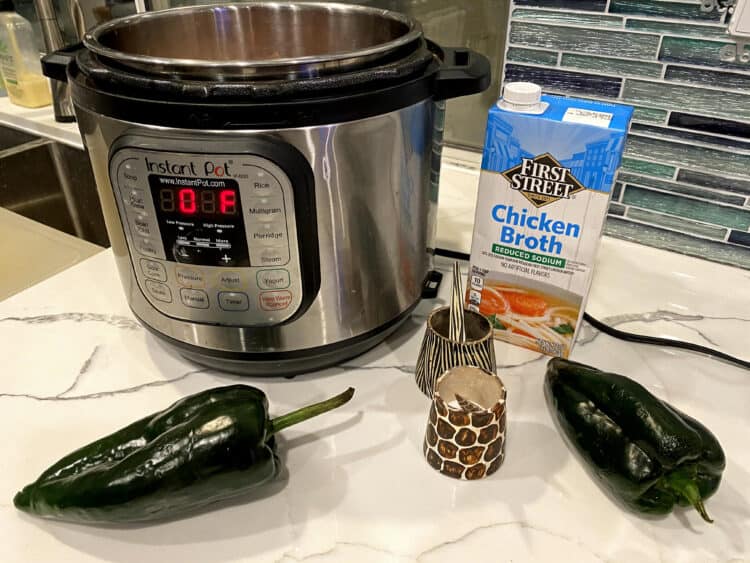 Poblano Pepper Chicken and Rice
It's simple — so simple I don't even need to write a real recipe — and starts with a package of thawed boneless, skinless chicken breasts. Clean them up to remove any extra fat, and drop them on top of two tablespoons of olive oil into your Instant Pot (or any electric pressure cooker) insert.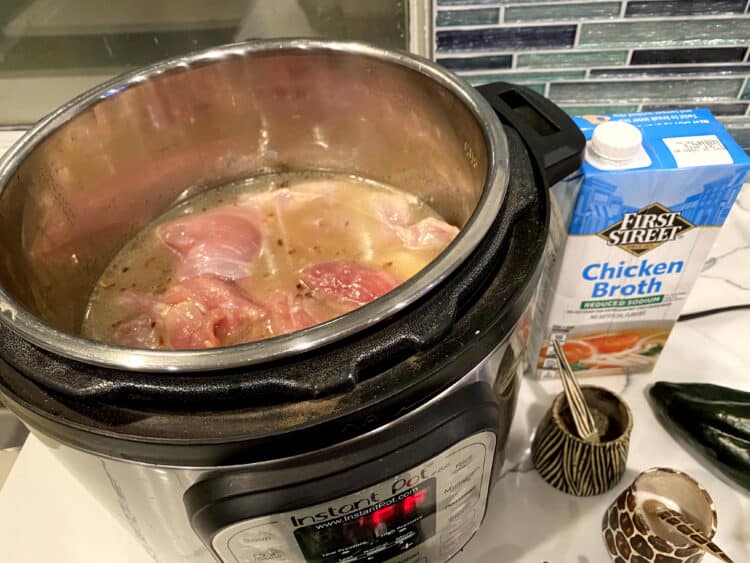 Sprinkle on salt, pepper, garlic, cumin and a little bit of cayenne pepper. Eyeball it, it's all personal preference.
Pour in two cups of rice (and I rinse mine prior, but not everyone does that) and three and 1/2 cups of chicken broth. Then drop in chopped up fresh poblano peppers; I chopped up two huge peppers, but I could have easily done with a third.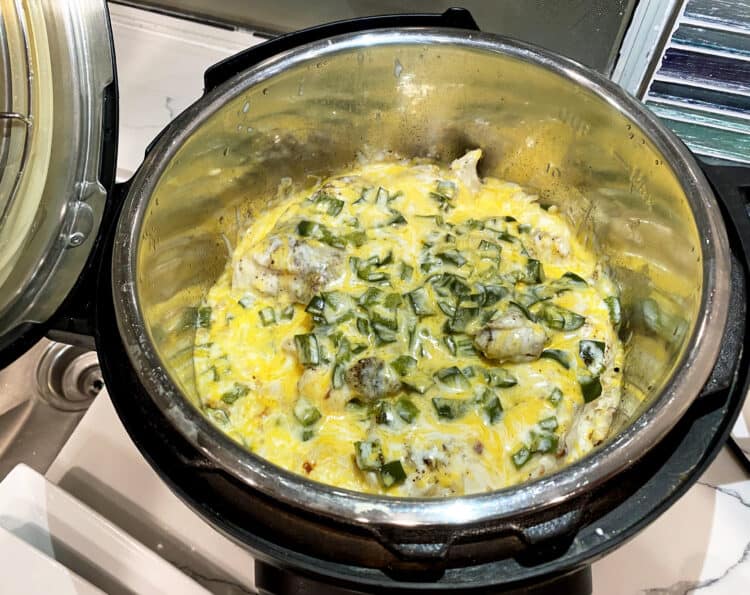 Drop in a cup or so of shredded cheese. I used a Monterey Jack/Cheddar mix that we'd purchased at Costco, but a smoky Gouda or even a parmesan would work well.
Mix everything up a little, so the liquid meets the rice enough. Using the 'Meat' option, select 18 minutes. Let the pressure come up normally, cook, and then naturally release until at least 10 minutes before you turn the valve nozzle to force release the rest of the steam. Carefully remove the lid and serve. Depending on the size of the chicken breasts, they may or may not have shredded some during cooking.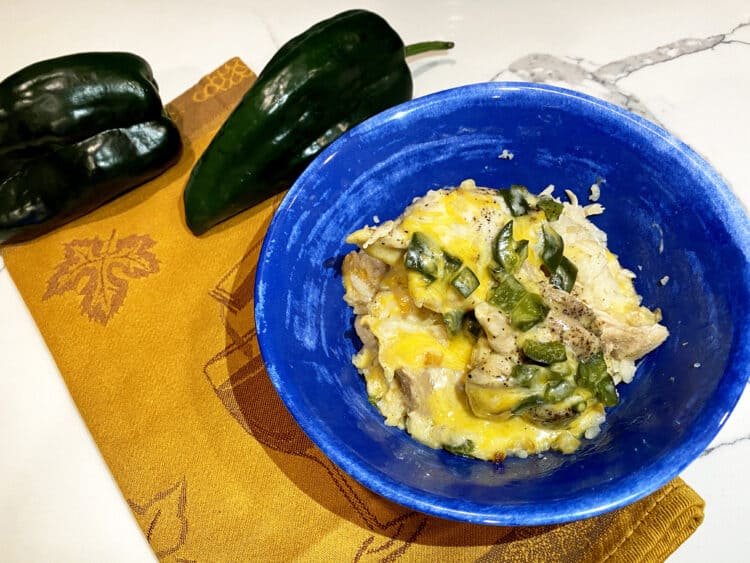 If you want, drop a dollop of sour cream or even hot sauce on top of your bowl for an added kick. It's another filing recipe and meats all the needs in one pot: protein, starch and vegetable. And dairy…but if you don't want the dairy, it will work just fine without the cheese. (You can even remove the chicken if you want to make this a vegetarian or vegan dish; just use vegetable broth instead of chicken broth. You can also use water, but you'll miss out on some of the layers of flavor.)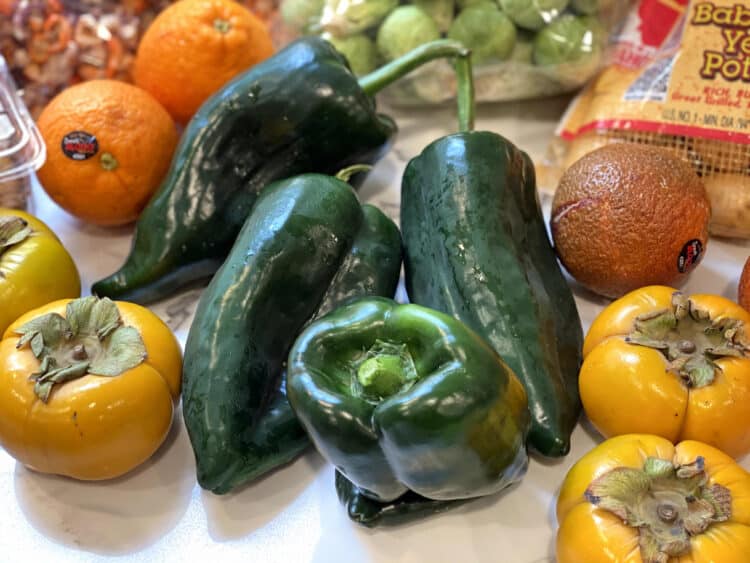 Melissa's Produce sent me a big box of produce, including a lot of poblano peppers…which are one of my favorite peppers. They pack a little bit of heat and have a good flavor in addition to that initial spice. They're a truly flavorful pepper that is versatile, easy to find and affordable. I frequently chop them up and throw them into soups, scrambled eggs and even grilled cheese sandwiches!