Having a large family, throughout the years I've had to get pretty creative with ways to make big batches of food that everyone liked but didn't keep me in the kitchen all day long. It's a challenge creating meals that taste good but aren't time-consuming. That stands for breakfast just as much as lunch and dinner. As we head into Fall, with cooler temps on the horizon — at least in theory, as we live in Southern California — breakfast gets a little more important. Food needs to not just be tasty but it needs to be warm and satisfying.
We're a waffle family. We keep a Belgian waffle maker on the counter and it's used almost daily. We make the batter from scratch and it's different almost every day, but still. Waffles every day gets old. It's time to add in some new options but I still need food that's going to be quick and appealing to the masses. Enter the new Hamilton Beach Rice Cooker, making it easier for me to have breakfast on the table in no time.

The new Hamilton Beach Rice Cooker does a lot more than just making rice. It steams vegetables and other foods and makes hot cereal. You can even steam vegetables while making rice, making two components for one fantastic meal at once. That's reason enough for me to like this new kitchen gadget, but I'm more excited about having a device devoted to making breakfast easier. Put the ingredients in before bed, close the lid, push a couple of buttons and when we wake up in the morning, breakfast is ready.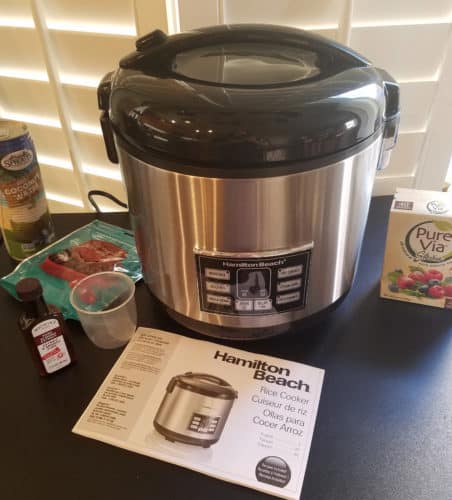 Keeping in mind the things my family likes, and ingredients that are healthy and delicious, and a little unique, I created a Fall hot cereal recipe. Just a few ingredients later and the house was smelling heavenly this morning. The best part is that while the recipe I share below is delicious, you can easily switch it up if someone doesn't like coconut or any of the other additions. With just a few minutes of time, and no fancy purchases required, you'll have a different hot cereal every morning.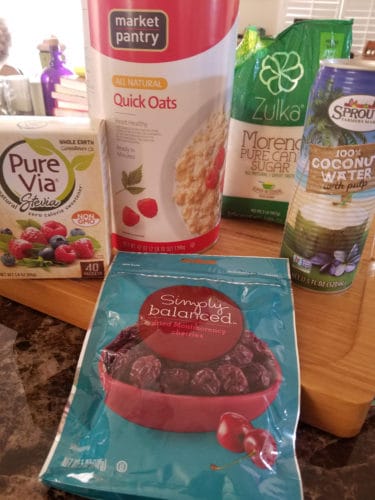 Fall Oatmeal Recipe
2 cups oatmeal
3 cups coconut water
1/2 cup water
1/2 cup heavy cream (or half-and-half)
1 tsp almond extract
1/2 tsp salt
1/4 cup sweetener (I used cane sugar but other powdered options would work)
1/2 cup chopped dried cherries
1/2 cup coconut flakes (sweetened or unsweetened)
Combine all ingredients in the rice cooker. Follow appliance instructions to prepare either immediately, which is 5 minutes on heat/simmer, or delay, using the number of hours necessary to fit your breakfast schedule. (Max is five hours, which seemed odd to me at first, but I set it before bed and it was still hot when it was opened by the first hungry person.)
The coconut water adds a little richness to the oatmeal and the cream just intensifies it. If you want, sprinkle in some cinnamon or apple pie spice mix.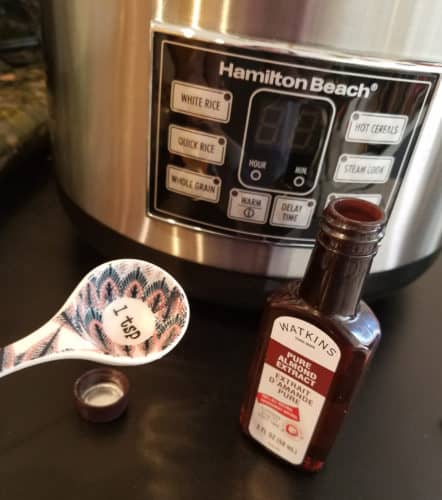 That Watkins Pure Almond Extract is the secret weapon in this recipe. A little goes a long way, and it gives just a mild background taste to the oatmeal. (And aren't my measuring spoons cute?)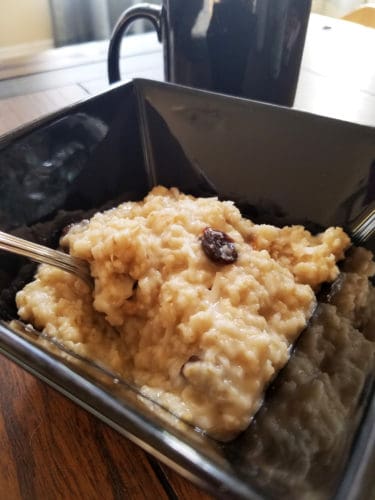 See the richness and creaminess of the oatmeal? The cherries puff up just a little bit and have the perfect consistency. I enjoyed mine with coffee, in front of the tv, watching Food Network of course.
The Hamilton Beach Rice Cooker couldn't have made it easier. It comes with a scoop for serving, as well as a measuring cup. Measurement lines are also on the inner pot of the cooker, removing any guesses in regards to food amounts. The steamer basket is easy to clean and sturdy. I found that if I added a couple of slices of lemon to the steaming vegetables, it flavored the rice just a bit. I didn't try it, but I bet if I added butter to the vegetable steamer, it would drizzle into the butter. The steamer tray has small gaps for liquid but not big enough for food to fall through.
It's easy to find space on the counter for the rice cooker. It's smaller than a pressure cooker and the stainless steel and black outside matches the rest of my appliances, making it attractive enough to sit out every day. The cooker is also light and the one time I threw it into the car to prep food at my friend's house, it was easy to transport. (I just threw the liquid in once I arrived, but if I'd had someone to carry it, I probably could have put the liquid in before I left the house.)
One fast meal I've made a few times is steamed vegetables, rice (made with chicken broth, not just water) and a couple of sauteed chicken breasts. Swap in some salmon in the steamer tray or change up the veggies and you can quickly make your work lunch the night before, then just pack it up to take to work when it's done. Real food, healthy lunches and good food for busy families without a  huge expense.
Want to enter for a chance to win your own rice cooker from Hamilton Beach? Enter my giveaway below! You can enter as often as you want between now and October 15. I will randomly draw the winner, and prize fulfillment comes directly from Hamilton Beach.
***THE GIVEAWAY IS OVER!!**
Check out the Hamilton Beach Rice cooker and make my Fall   Oatmeal recipe. Lots of pictures below. Let me know what flavor combinations you come up with!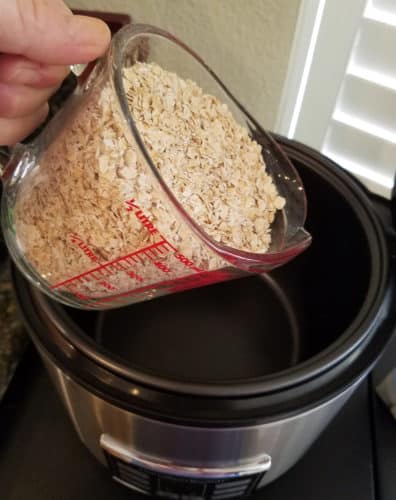 See the size of the inside of the rice cooker? It holds a lot. The steamer basket, pictured below, held plenty of vegetables to make a meal for six people. You'll find so many uses for this versatile piece of kitchen equipment. Be sure to enter my giveaway for a chance to win your own!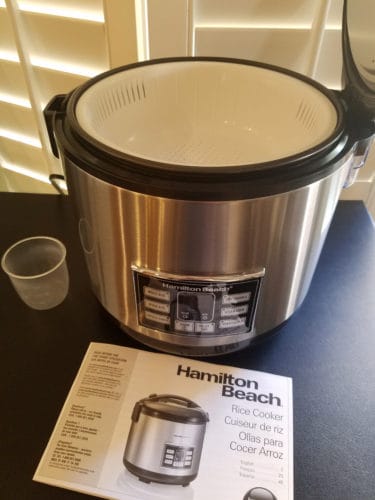 Save
Save
Save