While California is a great place to raise a family, travel and just enjoy life, there is something special about the nightlife. I've lived all over the country and nothing beats heading out on the town in California. Not only is there an incomparable selection of food and entertainment choices, but you can be in the mountains in the morning, an amusement park in the afternoon and hanging with the celebrities at night while sipping an outrageously good drink, planning your trip to the beach for the next day. Love. California, I'm never leaving again.
California is one of the most popular tourist destinations in the world. Orange and Los Angeles counties place host to large numbers of visitors yearly and as a result, some cities are constantly evolving to meet the needs of not only those tourists but also the residents. Recently, the Marriott Anaheim completed a very large renovation and if you're looking at visiting the Anaheim area, you need to put it on your short list of places to stay. Even if you don't stay in one of their gorgeous rooms, it's the place to go at night.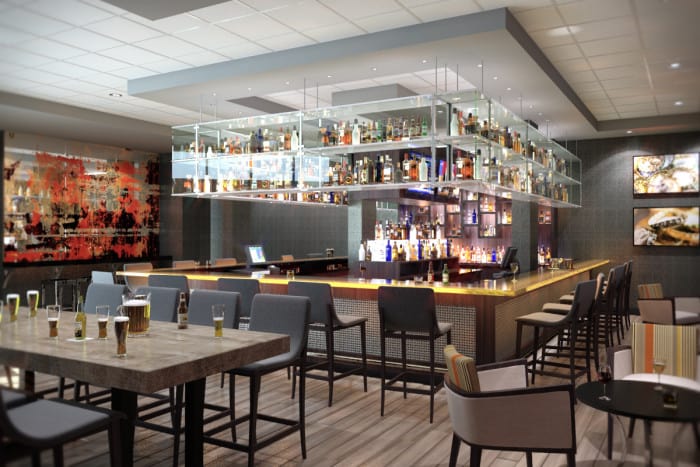 We had the privilege of being invited to the grand opening of the new nFuse Bar & Kitchen inside the Marriott Anaheim, located on Convention Way at the intersection of Harbor Boulevard and Katella Avenue. The Marriott's renovation was completed in October 2014 and was a multi-million dollar refresh of an already great hotel. New furniture, flooring, artwork and bedding in the rooms and corridors, and the amenities in both the hotel and nFuse are the answers to every traveler's needs. Room to network, watch TV/sporting events on high-def screens and places to plug in your electronic devices along with a menu designed to get you in and out quickly give you the break you need on a busy trip. Or plan to sit down and stay a while, enjoying the whole modern, social lounge, open area concept. There's also a dining deck to enjoy gorgeous weather California so frequently offers.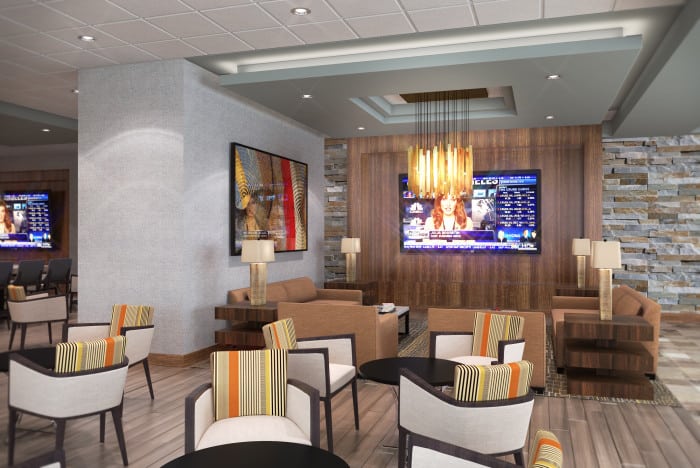 When we left New York, when I was a young teenager, we settled in Anaheim for several years, until I joined the military after college. I spent many, many days and evenings down at Disneyland and the surrounding areas and as a young adult, I remember watching the area grow, feeling fortunate to be so close to so much cool stuff. I live a little further away now but not so far that I couldn't easily make the drive for media night and subsequent visits!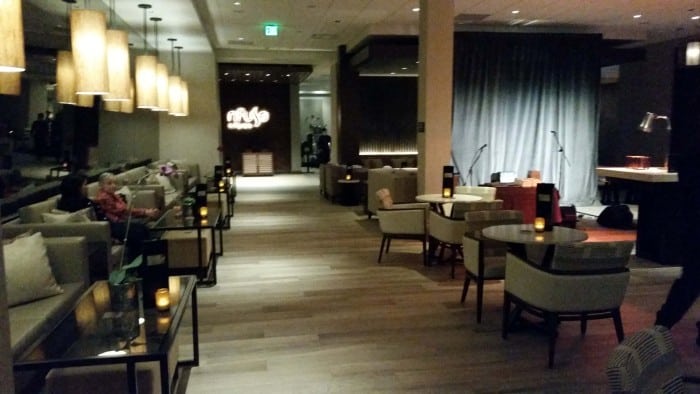 nFuse Bar & Kitchen is where it's at. It's very large, with a lot of seating at the bar or at group couches and even smaller, more intimate settings.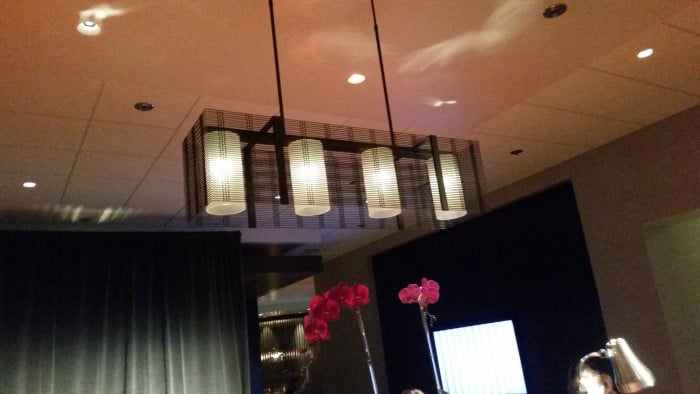 I am always looking up when we go places. I love to look at the lighting — it's so often overlooked and I like the unique ways restaurants and bars choose to set up the ambiance. Isn't this nFuse fixture cool?
Entertainment is right in the middle of it all, and we got to listen to David Ryan Harris sing and play his guitar during the preview. (My favorite was when he sang his rendition of Prince's Raspberry Beret. Flashback to my favorite era of music!)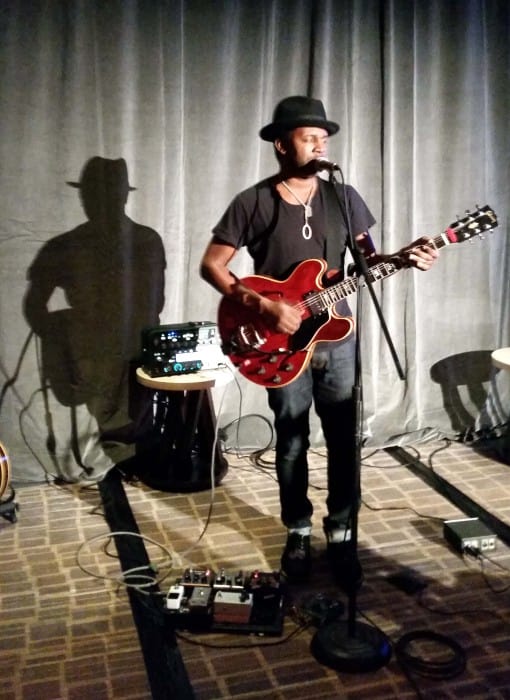 The bar is large, surrounded by a gorgeous amber-colored glass top that reflects the lights, and there is a lot of lighting that sets the environment. Big screen TV, music, free bar snacks and a menu of 24 microbrews, wine on tap and handcrafted signature drinks make it a place I am definitely returning to for a night out with the husband and friends. I normally stick to a glass of wine for a media event, but the California Love called my name..and many others were trying it, so peer pressure made me cave. I want what they're having! Orange vodka, lemonade, raspberry and mint leaves = refreshing, tangy and so good!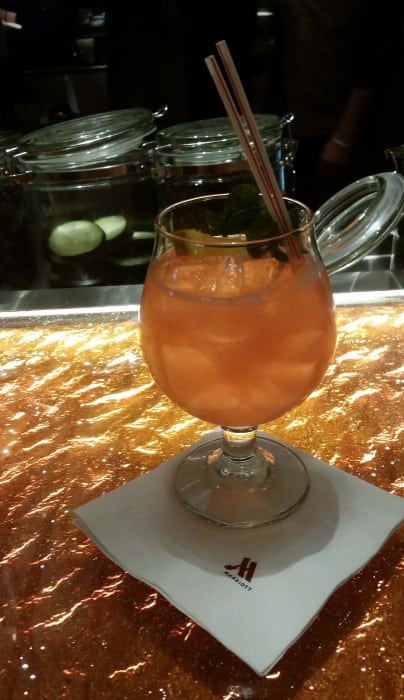 And then there's the food. The selection provided for us that evening was huge. Lamb chops. Lobster mac and cheese. Beet-Arugula salad. Kale salad. Ahi. Sliders. The list goes on — I just tried to document all the fantastic selections in photos below.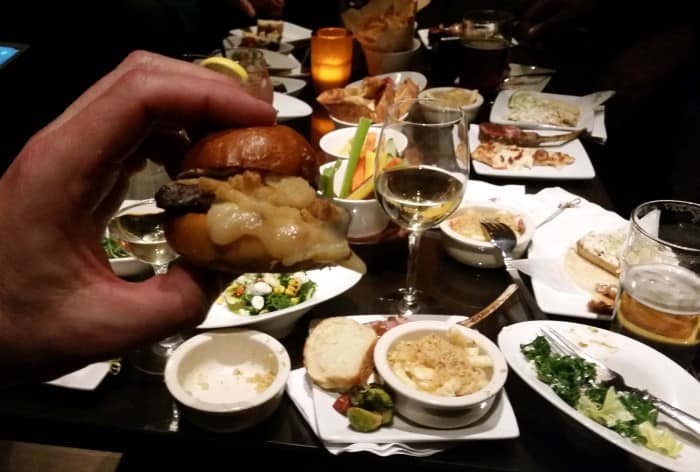 Sliders, lobster mac and cheese, kale salad, brussels sprouts (roasted), veggie tray with hummus and chips. So.Much.Food.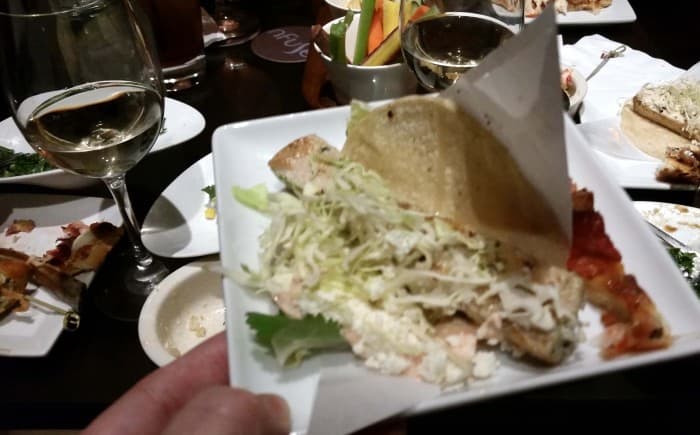 Fish tacos!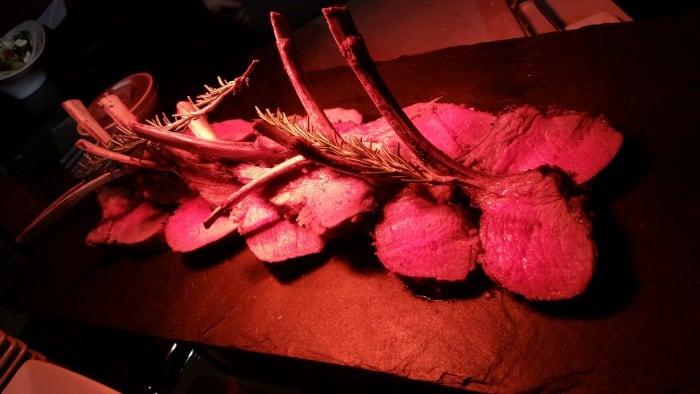 I was going to mess with some filters to brighten up the photo, but then I realized, why? The pink color is gorgeous and I don't want to mess with the lamp pops in any way. Perfection that falls off the bone and tasted so good. (I think the husband had three.)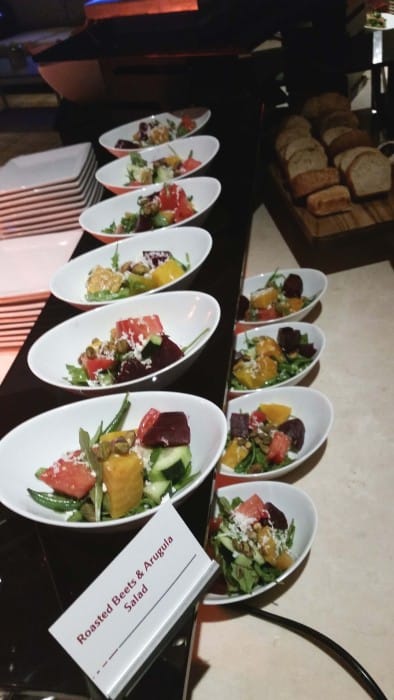 Aren't the colors beautiful?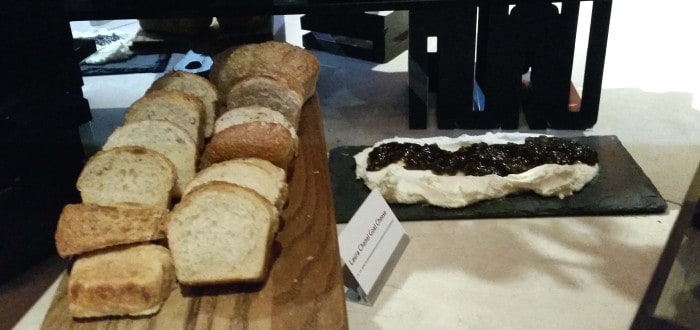 I wanted to take this whole plate back to my table, but I think that would have been frowned upon…though maybe not so much by the people at the tables we had in a cozy corner with blogger friends.
There was even a bourbon tasting bar…not far from the photo booth and digital graffiti wall. Coincidence?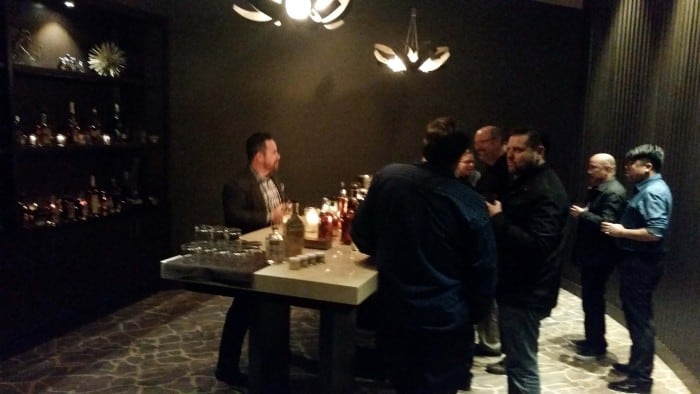 We had a lot of fun in the photo booth, and after dinner, we had the opportunity to meet the chef, David Dulkis. He's been with the Marriott for a while now and is a true believer in farm-to-table. He doesn't just do it for the restaurant, but he lives it. It was fun to hear that he and I grew up not far from each other back in New York; before farm-to-table was cool, he was doing it and it's evident in the flavor of every item we ate.
Even if you're full, you still have to try the desserts, right? These were displayed so beautifully, I had to try them. All. The chocolate adult milkshake with Godiva, the vanilla milkshake, the butterscotch pudding and the peanut butter and jelly bite…I don't know which I liked the most. I do think if I had to, I'd go for another butter and jelly bite. So unique, I've never had anything like this before.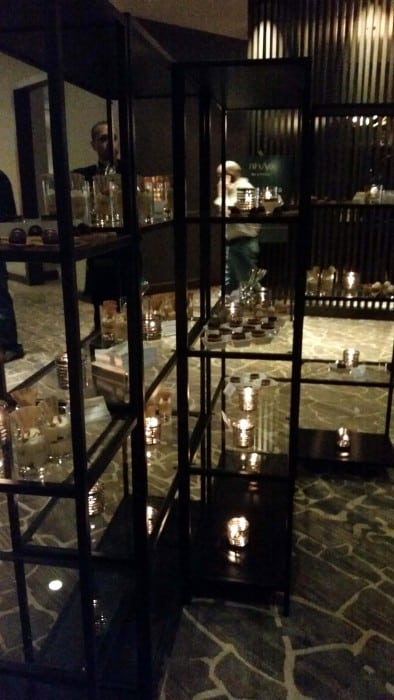 Candles amongst the desserts – the display was something I'd love to try to recreate for an upcoming event!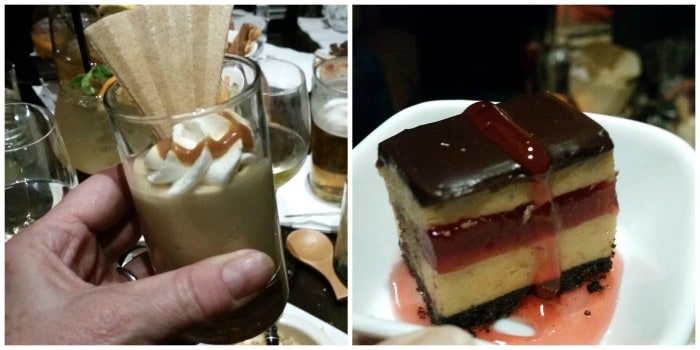 Butterscotch pudding and the peanut butter and jelly bite. Don't they look good?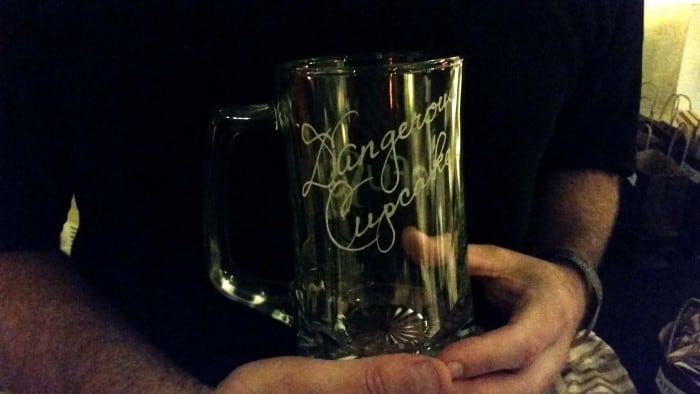 As if attending the event wasn't enough, we were all treated to a party gift — an etched tumbler or mug. We both chose a mug, and I was surprised when the husband brought it back to tell me that he'd given my blog name instead of my own name when he took it over to be inscribed. I hadn't even thought of it and it totally made my night! This conversation piece is sitting on our bar at home and I love it!
Thank you, Marriott Anaheim and nFuse Bar & Kitchen, for an amazing evening! Food, beverages and fun with other blogger friends. It was a fun night and we will be back to introduce our friends to a California Love. And more.