Have you ever had an aronia berry? I hadn't, and when I was offered some from Melissa's Produce, so I could participate in their recent recipe contest, I gladly joined in. I love trying new foods and it's even better when I'm challenged to develop a new recipe using that ingredient. The result? My Aronia Berry Bourbon Sour, another addition to my Marvel cocktail recipe series for our many Marvel movie nights!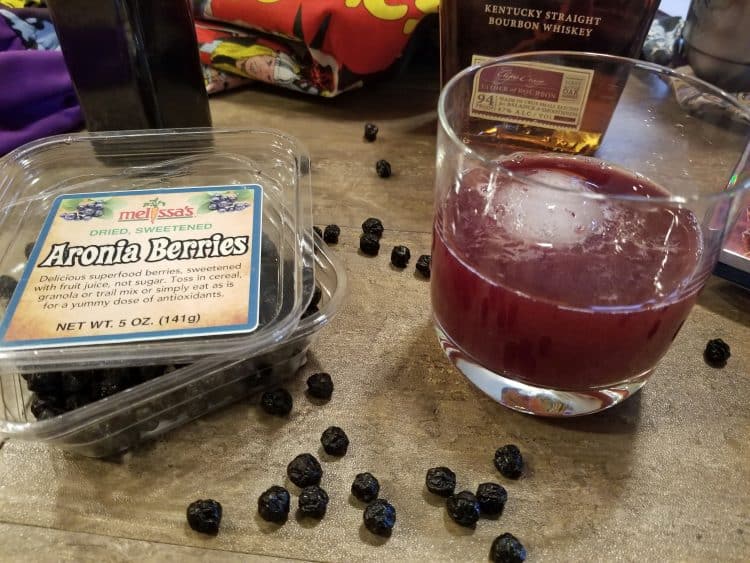 First, what is an aronia berry? Also known as a "chokeberry," they are similar-looking to a blueberry, yet less sweet. They are a true super-food, containing high concentrations of anthocyanin, a blue, red or violet pigment, known for helping with inflammation, being an anti-viral and slowing cancer growth, and the berries also are seen as an anti-oxidant. And they taste good!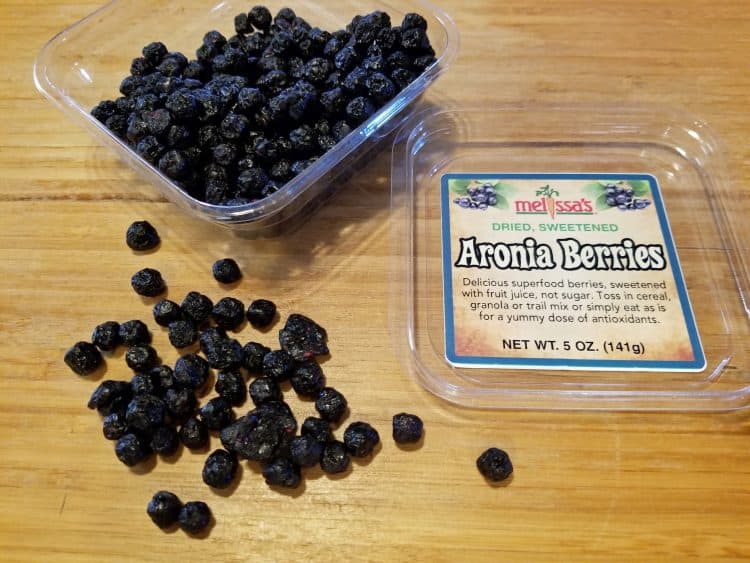 I was given dried berries, dehydrated and sweetened with apple juice, and they are tart, tangy little pops of flavor. I put some in a batch of overnight oats, and they rehydrated a bit before breakfast. They are also good in granola, yogurt parfaits, in salads and we enjoyed them on baked chicken breasts in a mild citrus sauce. (I'll share that recipe another time!)
I'm a big fan of a good bourbon sour, so when I made some aronia berry simple syrup to put in a mimosa, I decided to take it a step further and use it in a sour. It's purple color made me think of Hawkeye, the Marvel Avenger who reportedly shows up in Avengers: Endgame, after being on a hiatus during Infinity War…..and maybe he's not just a little bitter, as the theory is that his family didn't survive the snap. (Think Ronin.) So, my new Aronia Berry Bourbon Sour is going to be added to my Marvel cocktail series named for Hawkeye. Here's how you can make one of these delicious drinks for yourself!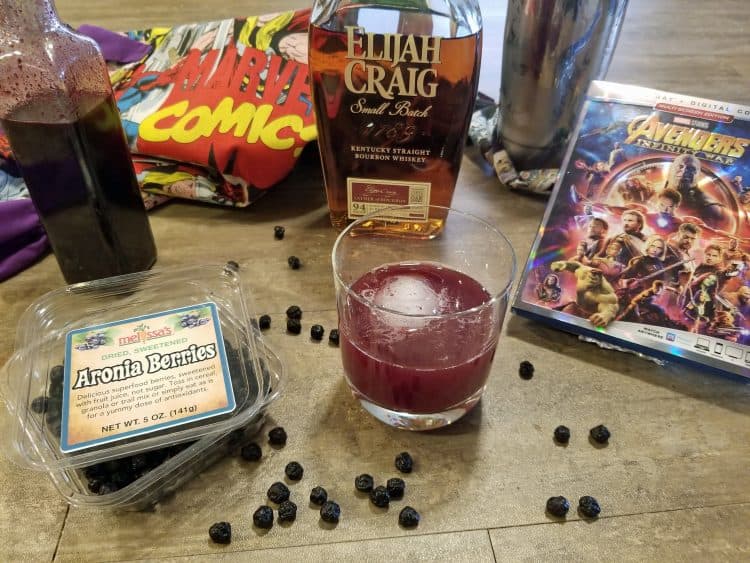 Aronia Berry Bourbon Sour
Ingredients
3

oz

good quality bourbon (I used Elijah Craig)

1

oz

Aronia Berry simple syrup

1

oz

lemon juice
Instructions
Fill cocktail shaker halfway with ice.

Add all three ingredients.

Shake and pour into an 8 oz. bourbon glass over one large ice cube/sphere.
The key to a good bourbon sour is using a quality bourbon, and I prefer one with a little smokiness. To ensure the "sour" aspect, fresh lemon juice is typical, but this recipe replaces most of that lemon juice with an aronia berry simple syrup. It's a two-part recipe, as I upped the flavor of the simple syrup by creating an aronia berry concentrate. It's easy to do, and it helps pump up the aronia berry flavor without much extra work.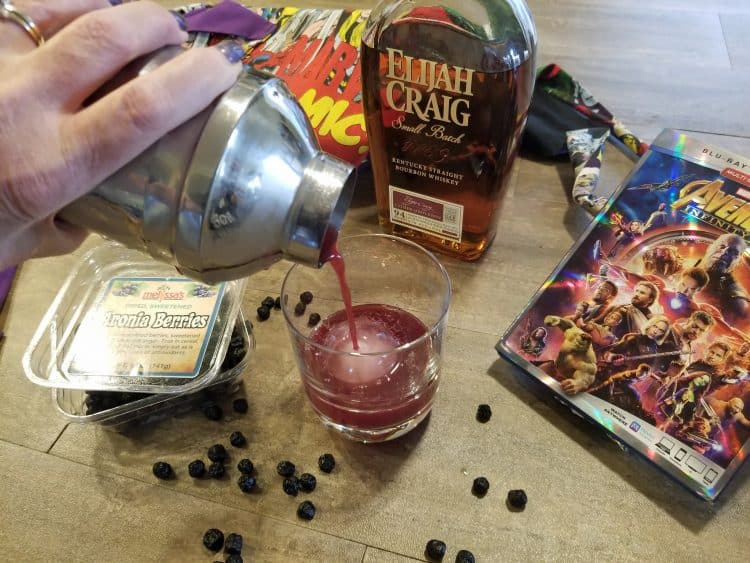 Aronia Berry Simple Syrup
Ingredients
1

cup

Aronia berries

1.5

cups

water

1.25

cup

sugar

3

tbsp

Aronia berry concentrate
Instructions
Put the berries, water and sugar into a small sauce pan. Stir to combine, and bring to a simmer on the stove.

Turn heat down to low and using the back of the spoon, press down on the berries to extract more juice and flavor.

Simmer for another 7-8 minutes, stirring every 30-60 seconds, and watch carefully to ensure it doesn't burn.

Remove from heat and strain liquid into bowl.

Add aronia berry concentrate into syrup. Stir to combine.

Let cool and place in storage bottle with lid. Refrigerate.
But what is aronia berry concentrate? I had to get a little creative with this one, as a lot of recipes online called for it but I had no idea of where to buy it. I also didn't have time, as we were getting ready for the pending arrival of our first grandchild and I wanted to be sure I got my recipe done in time. I think I nailed it though with this recipe below!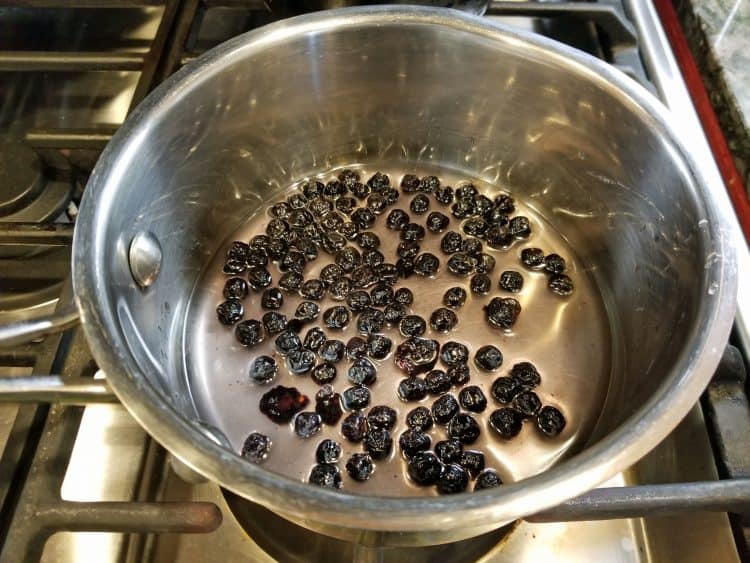 Aronia Berry Concentrate
This makes approximately three tablespoons of concentrate.
Ingredients
2/3

cup

Aronia berries

1/3

cup

water
Instructions
Put both ingredients in small sauce pan. Bring to the lowest simmer you can achieve.

Using a muddler, smush berries heavily into water. Liquid will turn purple.

Continue simmerings until liquid decreases and concentrates. (I let mine simmer for about 10-15 minutes.)

Stir every minute or so, smushing berries further using the back of your spoon.

Remove from heat and let cool.

Place fine mesh strainer over a bowl, and strain contents of pan into bowl. Using the back of the spoon, get as much liquid as you can out of the berries. (You may benefit from letting the strainer sit over the bowl, unhindered, for another 10-15 minutes.) The remnants inside the strainer should be very thick and pasty.

Put concentrate in small storage container and refrigerate.
Once you make the syrup, you can then use it for a multitude of recipes. It is great in this bourbon sour, I loved it drizzled into a flute of semi-dry champagne, and it also makes a delicious light salad dressing when whisked with a little olive oil and white champagne vinegar. (Add a tiny bit of salt and pepper for an even better flavor!) I also think it would be great in a cupcake batter!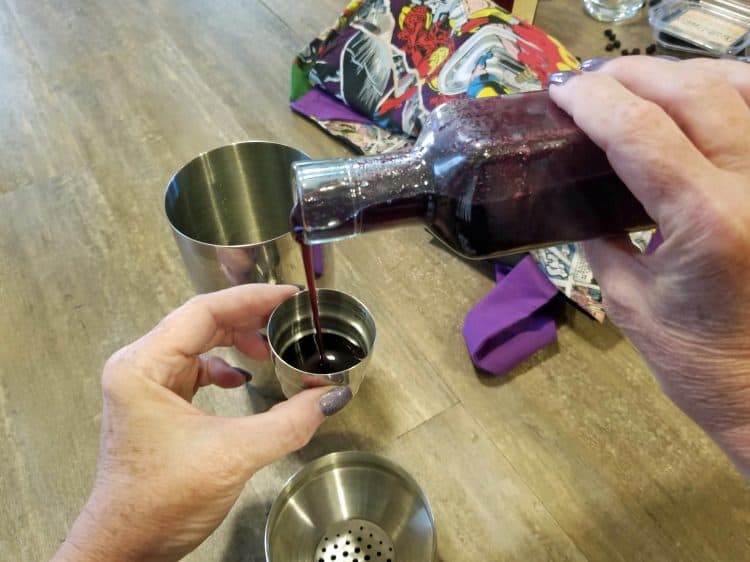 It sounds as though it's a lot of work to make syrup, but it really isn't. I did it as I was cooking our dinner, and by the time dinner was done, so was the syrup! It's thick, and a little bit goes a long way. In this sour, it does double-duty, acting as the regular simple syrup and by adding the aronia berry tang.
For fun, I made sphere ice cubes with fresh aronia berries inside. (As you can see, the berries sunk to the bottom, but if you partially freeze them and then put the berries into the mold, they will float more centrally.) Use hot water for the most crystal clear cubes possible. When drinking whiskey or bourbon, if you prefer it on the rocks, spheres or big squares melt less fast and therefore, your drink isn't watered down. (And if you take so long to drink it that the ice melts much, you may be doing it wrong….)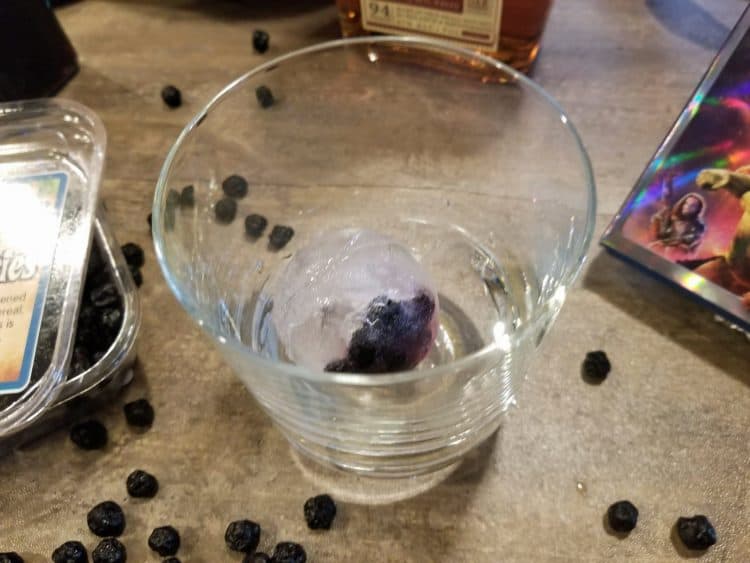 I hope you enjoy my Aronia Berry Bourbon Sour cocktail recipe, aka my Hawkeye Cocktail! If you want to know what my first Marvel cocktail is, head over here to check it out. If you're a Marvel geek like me, you watch the movies over and over. You may indulge in a cocktail when you host a movie night, so by the end of the year, I hope to have an entire array of Marvel cocktails available here on the blog! With Avengers: Endgame coming so soon, keep an eye out for more character-named drinks. What character do you want me to create a drink around next?
I know, I'm thinking Thor, too. It needs to be bold with a serious kick and be reminiscent of lightning in some way. That's going to require some creativity, but I'm up to that challenge! (And I already have a Black Widow cocktail on the way!)