Today's the day! Marvel Studios' Black Panther comes out on 4K Ultra HD™, Blu-ray™, DVD and On-Demand! It also came out last week digitally, so if you didn't get it then, you're running out to grab it today, right?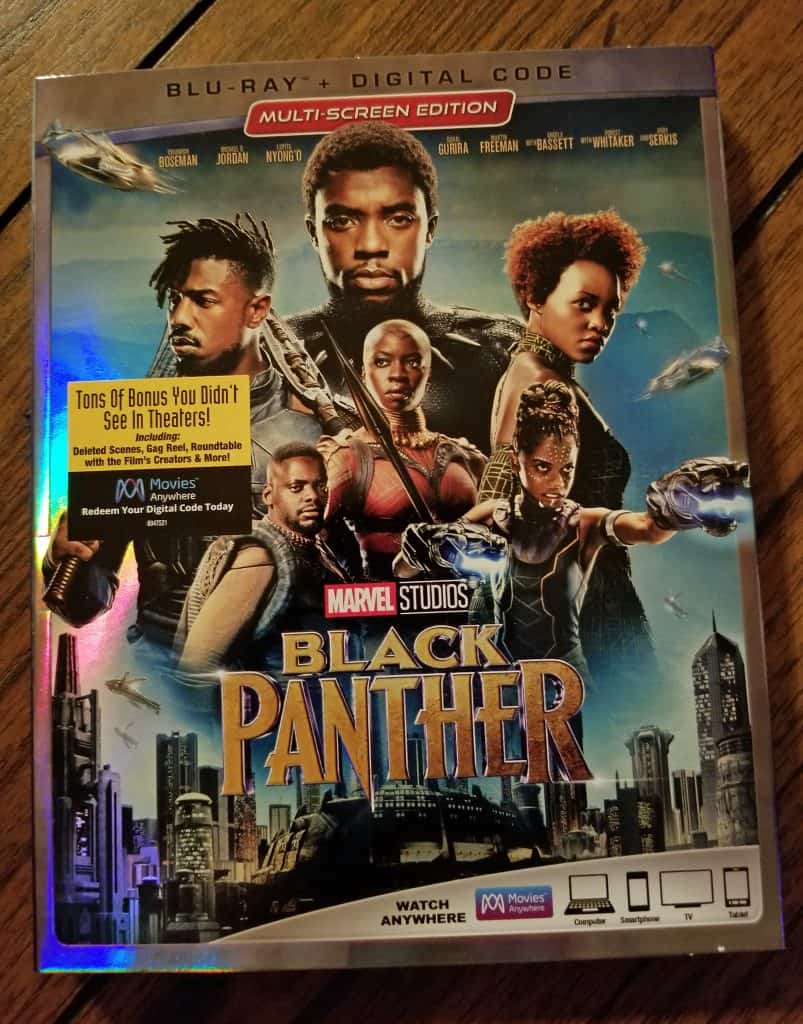 I was sent a complimentary Blu-ray edition of the movie a few days ago, just in time to watch it on our annual Mother's Day Marvel-a-thon. With four kids, one son-in-law and another son-in-law-to-be, we have a houseful on holidays, and we wouldn't have it any other way. I'm not a huge fan of fighting the crowds on any holiday, so I like to celebrate at home with the entire crew. This year, we started Mother's Day with a five-mile hike through some local mountains. It had been raining throughout the night, so the ground was a little muddy but still, we finished in under two hours and were headed home to a delicious breakfast, the first of many meals made by the kids that day.
The weather outside didn't improve for quite a while, so we settled in on couch island to watch some of my favorite movies, which of course happen to be from Marvel Studios . We started with Thor: Ragnarok because…well, Thor. We had one kid who hadn't seen it and rather than disown her, we had to bring her into the fold even more. Then we pulled out Black Panther, which had just arrived the day before and I was dying to watch again.
Black Panther has a talented and beautiful cast. Literally beautiful. Angela Bassett is regal and Letitia Wright's feisty attitude shows everyone that young ladies are not to be underestimated. Here's a full breakdown: Chadwick Boseman ("Captain America: Civil War," "Get on Up"), Michael B. Jordan ("Creed," "Fruitvale Station"), Academy Award® winner Lupita Nyong'o ("Star Wars: The Force Awakens," "12 Years a Slave"), Danai Gurira ("The Walking Dead," "All Eyez on Me"), Martin Freeman ("The Hobbit" trilogy, "Sherlock"), Daniel Kaluuya ("Get Out," "Sicario"), Letitia Wright ("Urban Hymn," "Glasgow Girls"), Winston Duke ("Person of Interest, "Modern Family"), with Academy Award® nominee Angela Bassett ("American Horror Story," "London Has Fallen"), with Academy Award® winner Forest Whitaker ("Rogue One: A Star Wars Story," Lee Daniels' "The Butler") and Andy Serkis ("Avengers: Age of Ultron," "Star Wars: The Force Awakens").
The movie in super-brief format is the story of Wakandan prince, T'Challa, forced into the role of King sooner than expected upon the death of his father, T'Chaka, in Avengers: Age of Ultron. T'Challa's path though is anything but easy, as he faces challenges from fellow Wakandans as well as people from afar. Killmonger is another villain that will tug on your heart a little and you'll feel conflicted in more than one way during this movie that quickly fills you in the history of Wakanda. It is action-packed, it moves quickly yet allows you to feel like you know the characters enough to understand them moving forward. There's humor but still is very much a drama. When done watching, you'll breathe out fully and be amazed at what a wild ride this movie takes you on!
And then you're ready to watch Avengers: Infinity War.
Go grab the movie today, get dinner out of the way early or just have popcorn in front of the TV as you spend good family time together watching Black Panther. Listening to everyone's reactions on Mother's Day was so much fun, and I'm probably going to watch it again this weekend. As in all Marvel Studios' movies, it's hard to take it all in at once. I'm still seeing things I didn't see the first 10 times I watched Thor: Ragnarok! And maybe I'm a little obsessed. Be sure to watch the outtakes and extras reels as well!
Wakanda forever!