On your left! It's a pivotal line from Captain America: The Winter Soldier movie. Round and round Cap runs, passing Sam each time with a quick "on your left." It pops up in several places, including Avengers: Endgame, and even in the new Disney+ series, The Falcon and the Winter Soldier, albeit not verbally. If you haven't watched it yet, I won't give you any spoilers, but symbolism looms large…giving you an "on your left" visual that almost takes your breath away.
The new series does that in more ways than one, by reminding you what the world has lost in the absence of Captain America while filling you with that excitement we've been missing….that heart-pounding, breath-holding OHMYGOD we're about to see a new Marvel movie kind of feeling.
Yes, it's that good. Right from the gate, the action starts and the Easter eggs are everywhere, so don't close your eyes or get up to refill your drink. In fact, make your drink beforehand. More specifically, make a round of these On Your Left drinks, my latest Marvel cocktail recipe themed for Falcon and the Winter Soldier.
If you like your drinks tangy but slightly sweet, easy to make, and delicious..this is your drink, especially if you like vodka. Grab that muddler and cocktail shaker!
On Your Left Marvel Cocktail Recipe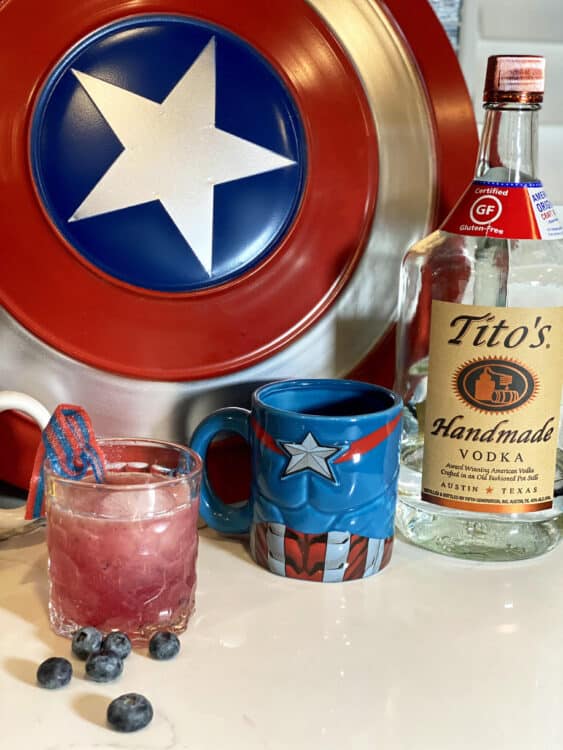 On Your Left Vodka Cocktail
Ingredients
10-12

fresh blueberries

3

ounces

blueberry lemonade

1 1/2

ounces

vodka (I recommend Tito's)

2

ounces

lemon-lime soda, like Sprite

candy for garnish (optional)
Instructions
Drop the blueberries into your cocktail shaker. Muddle thoroughly.

Pour in the blueberry lemonade, add the vodka, and fill the shaker halfway through with ice.

Place one big ice cube into the glass and pour the ingredients from the shaker through strainer into glass.

Add lemon-lime soda into glass, stir gently.

Garnish with sour belt candy, if wanted, and enjoy!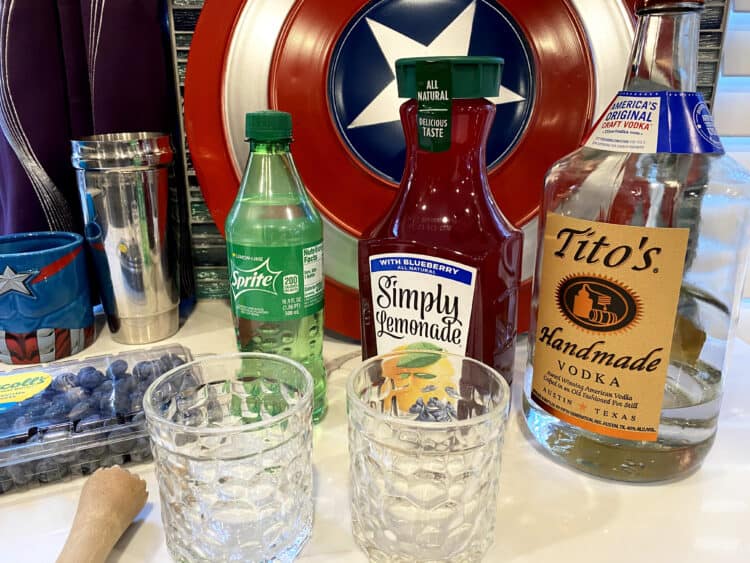 Falcon and the Winter Soldier picks up a few months after the blip, giving us some back story about what both Sam and Bucky are going through, while laying the foundation for another five episodes. Releasing these one week at a time is genius, taking us back to a time before we could record TV shows and the suspense was killing us! Each episode is longer than WandaVision's, coming in at 45-55 minutes per, and let me tell you, it goes by fast. The series has the typical Sam and Bucky humor, while tugging at your heart strings as you watch them each go through their own readjustment to post-Endgame life.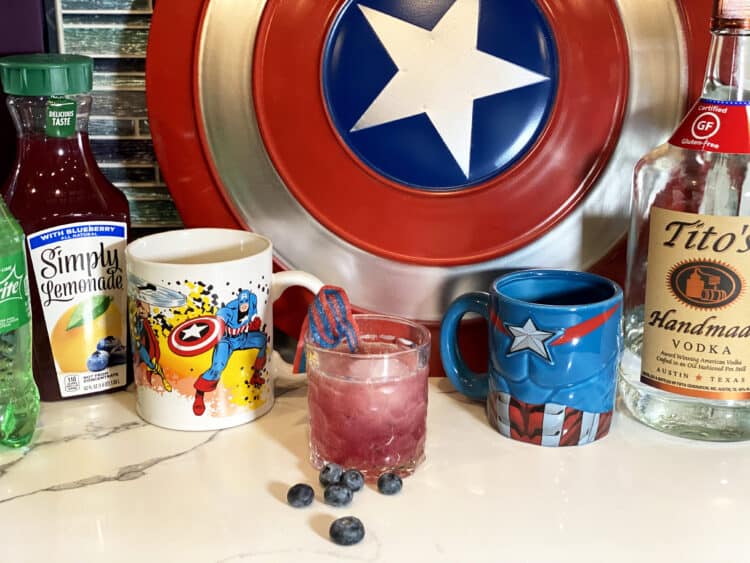 Make your cocktail, pop the popcorn, and settle in on the couch this weekend to watch episode 2 of Falcon and the Winter Soldier. Each episode comes out on Thursday night at midnight. Diehards stay up to watch it, but I'm off Twitter until Friday night, because the husband gets up at 3:15am for work, so this is the one exception I make to our diehard status and there's no way I want to watch it without him. (Be nice, don't spoil it for others.)
Here are some links to more of my Marvel cocktail recipes…drink responsibly!