Whenever I go to Trader Joe's or Sprouts, I always end up in the dried fruit section. Doesn't matter what it is, I've tried. Some are fantastic, some not so much, but I love to stock my secret office food stash with them. (Don't tell anyone; they're hidden behind the Cheez-Its.) When I heard that Melissa's Produce had a pink pineapple, the first thing I thought of was how fun crystallized and/or candied pineapple would be. So I set out to make it happen.
First, thanks to Melissa's Produce for sending me the pink pineapple! From the outside, it doesn't really look any different. Only when I cut into it could I tell it was any different from a regular yellow pineapple. It's a gorgeous pale pink, making it a beautiful addition to a fruit plate or salad or skewer, and the flavor is a delicious natural sweet that I could eat again and again.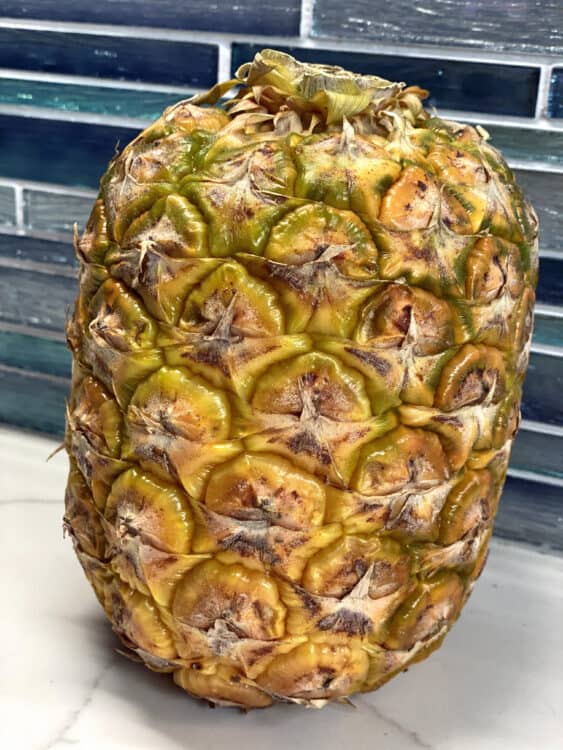 Candied or dried fruit is pretty similar, but candied requires the use of a sugar syrup. I played with my quantity a little, adding less sugar than I would for a typical candied fruit like orange peel. (If you haven't tried that yet, please do, you will be so pleasantly surprised!) I wanted the flavor of the pineapple itself to shine through. I only used about half of the pineapple for this, and the second half is being dried (in the oven, as my dehydrator is blocked in the garage right now by contractor equipment and other things from our renovation) without any syrup on it.
Initially, I wanted to use this pineapple as a topper for my granddaughter's birthday cupcakes. Then I put them in a bag in the closet and they disappeared. "Mom, those red things were so good! Can you make more?"
I can't be that upset about it when he puts it that way, right?
They were pretty good, and so easy to make! I am planning on making more so I can pack a little bag to take on a trip we're taking next month. They will make a great snack for an airplane ride, as they're a little chewy, a little sweet and not rock-hard or dry. Be prepared: they do darken significantly while drying, but during prep, they remain a shiny gorgeous pink that begins to turn red while they are in the heated oven. They may look a little like beef jerky, but I can guarantee you, they don't taste like it!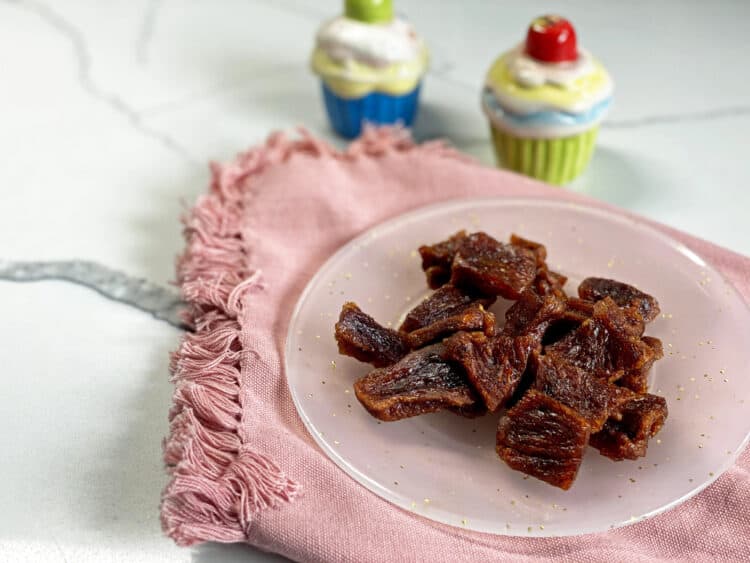 Crystalized Candied Pineapple
1 whole pineapple
1 1/2 cups sugar
4 cups water
Optional: 1/8 tsp cayenne pepper
Peel and chop pineapple into chunks or rings.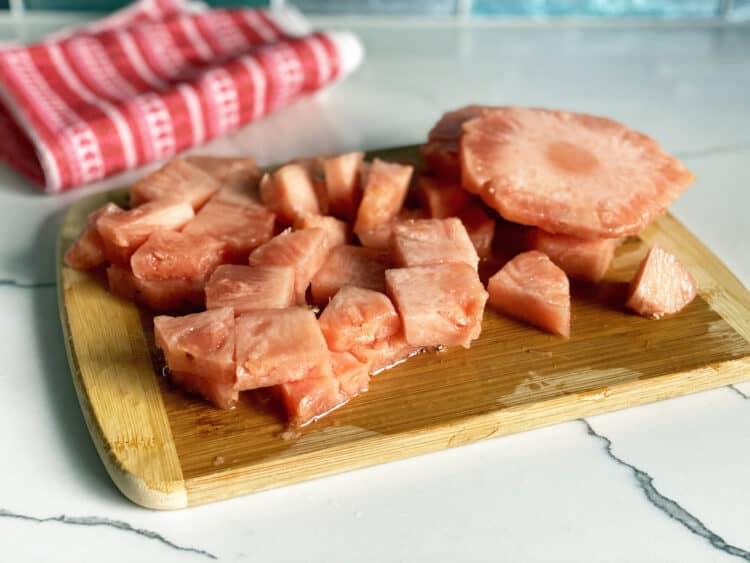 Combine water and sugar and bring to a boil.
Gently place pineapple into mixture. (Don't let it splash on it, hot sugar is the worst!) Bring to a simmer and once it gets to 230°, let it go for an hour. Keep an eye on it to make sure it doesn't burn. I stirred mine some.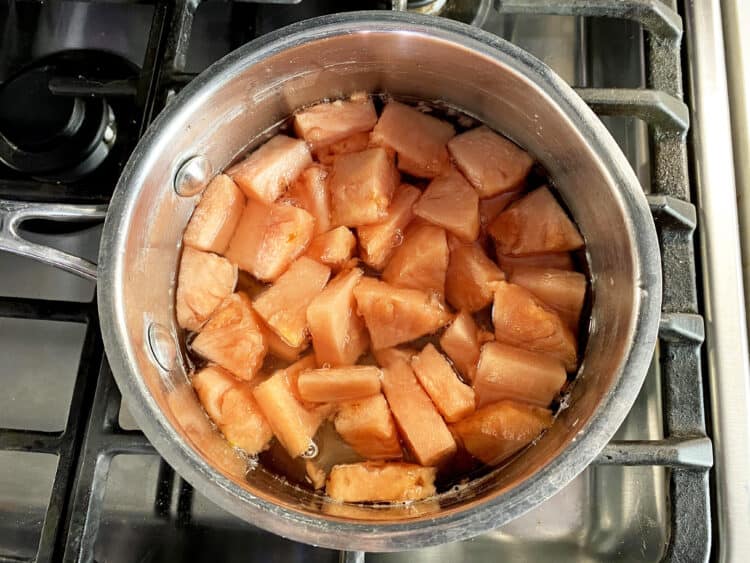 About 10-15 minutes before it is done, turn on oven to 200. Place parchment paper on a cookie sheet. Set aside.
Turn off burner, let cool a few minutes so it's safe to handle. Drain liquid.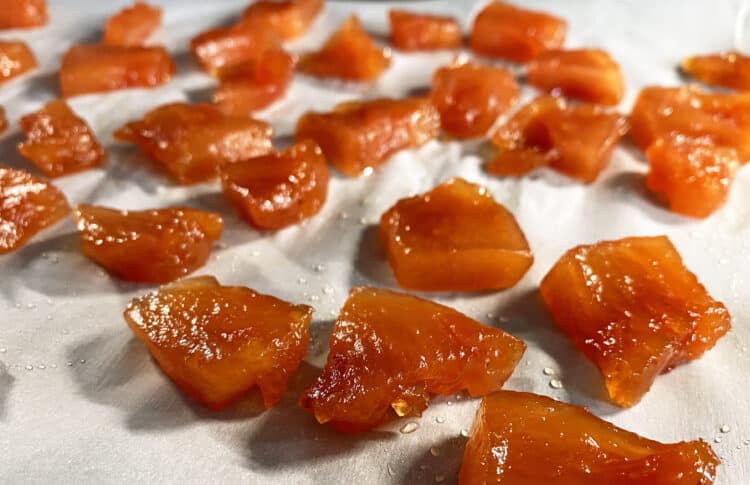 Place pineapple chunks on cookie sheet and place in preheated oven. At 30 minutes, check the pan and flip the pieces over. After six hours, turn off the oven and leave the pineapple in overnight. In the morning, it will be done!
Crystallized candied pineapple is easy to make, but not a childproof event due to the heat of the sugar, so plan accordingly. It is a fruit, but it's also like a candy, so it's a win-win if you have a sweet tooth!
Tips: if you want to spice it up, add the 1/8 tsp of cayenne! You can also save the liquid after it has cooled off; you now have a pineapple-infused simple syrup for cocktails or mimosas! If you don't have any pineapple on hand, it's possible to use other fruits similar in texture in the same way.