When all of our kids were small and living at home, money was tight. Raising four kids, giving them all they need while still budgeting for medical bills, a mortgage, quality food and all the regular monthly expenses, meant we had to get creative with family fun. A family movie night became a regular event and now that they're older, it's a tradition. Thanks to Paramount Pictures, who sent us a complimentary Blu-ray, we recently hosted an Instant Family movie night with all the kids and we had a blast!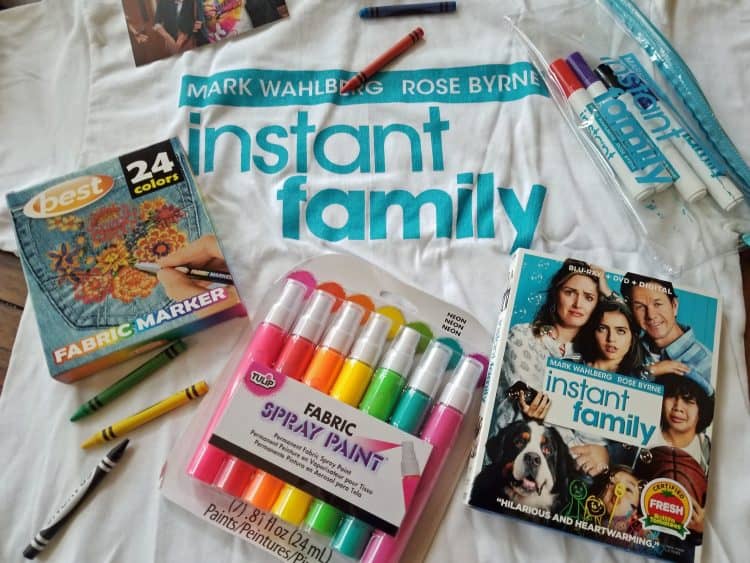 If you haven't seen the movie yet, get ready for some lighthearted fun for the whole family. In short, it's the story of a married couple who decide they want to add a child to their family via adoption. They're a sentimental duo who are somewhat easily swayed into fostering a set of siblings, once the foster care representative shows them the family photo. That scene sets the tone for the rest of the movie, as we get to know the couple, Pete and Ellie (played by Mark Wahlberg and Rose Byrne).
Pete and Ellie are so into the idea of becoming good parents that they're almost pushovers. They put their heart into it all and as a result, they quickly learn how parenting is a rollercoaster ride. As they settle into a new home and a new life, they grow to love the kids, but they face obstacles, including breaking through the protective shell that Lizzy, the eldest of the siblings, has built around her head and her heart due to the situation from which they come.
Take a peek here at the trailer.
Parenting any foster kids means you don't always know what will happen, but you do know that love is your guiding force. Patience, flexibility and persistence pan out, as Pete and Ellie learn…eventually.
Paramount also sent us a fun t-shirt painting kit, making it a fun family night for less. When hosting a family movie night, you don't need to spend a lot of money. Popcorn, lemonade or iced tea, cookies and either a movie-related game or craft round it out. The craft doesn't need to cost a lot of money. T-shirts are usually about $5 at Michael's (or even less on sale or on Amazon.com) and fabric markers run less than $10. Another option is 5-6 basic colors of fabric paints for $2 or less.
Another fun movie night activity is cookie decorating! We didn't do it for our Instant Family movie night, but we've done it in the past. Basic sugar cookies (made ahead of time so they are cool) and frosting in several colors, some sprinkles and not only does everyone have fun together, but you've also made your snack at the same time! If there are people who don't live at home, they can have a take-home memory, too.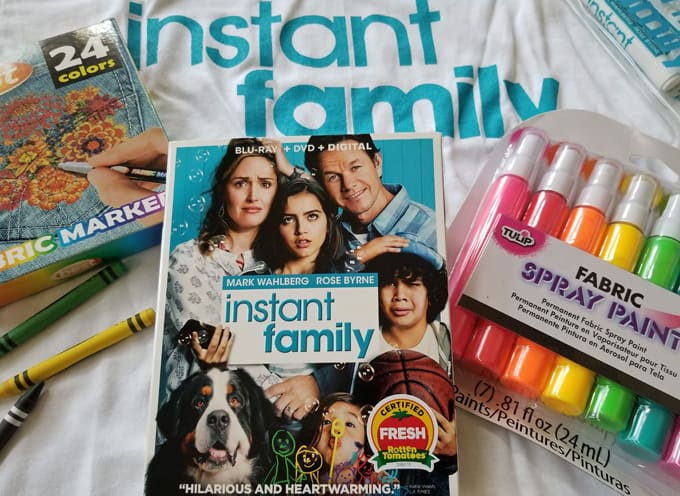 Instant Family runs 118 minutes and is available now on Blu-ray, DVD or digital download. If you're looking for some laughs that pull at your heartstrings, it's one more way to enjoy Mark Wahlberg's ability to play any character from comedy to drama.