Beauty and the Beast: A true tale as old as time, right? Right. This beautiful Disney movie remake is going to be released this Friday, March 17th, and you have to go see it. I will also be posting a review on Friday, but right now, I'm going to be sharing some fun information from the cast interview!
At this press junket, which was held at the Montage Hotel in Beverly Hills, we got to talk to the following members of the cast:
·         Emma Watson ("Belle")
·         Dan Stevens ("Beast / Prince Adam")
·         Luke Evans ("Gaston")
·         Josh Gad ("Le Fou")
·         Audra McDonald ("Garderobe")
·         Gugu Mbatha-Raw ("Plumette")
·         Bill Condon (Director)
·         Alan Menken (Music by)
But before getting to speak to everyone, we got to enjoy a beautiful musical presentation by Alan Menken himself. He created some of the gorgeous music for this movie, along with other songs from movies produced by Walt Disney Animation Studios, so it was such a treat to watch him perform. And guess who also decided to join him on stage?

That's right, that's Josh Gad who played as Le Fou, and Luke Evans who played as Gaston. They were absolute naturals as they performed their song "Gaston," which is such a fun scene in the movie!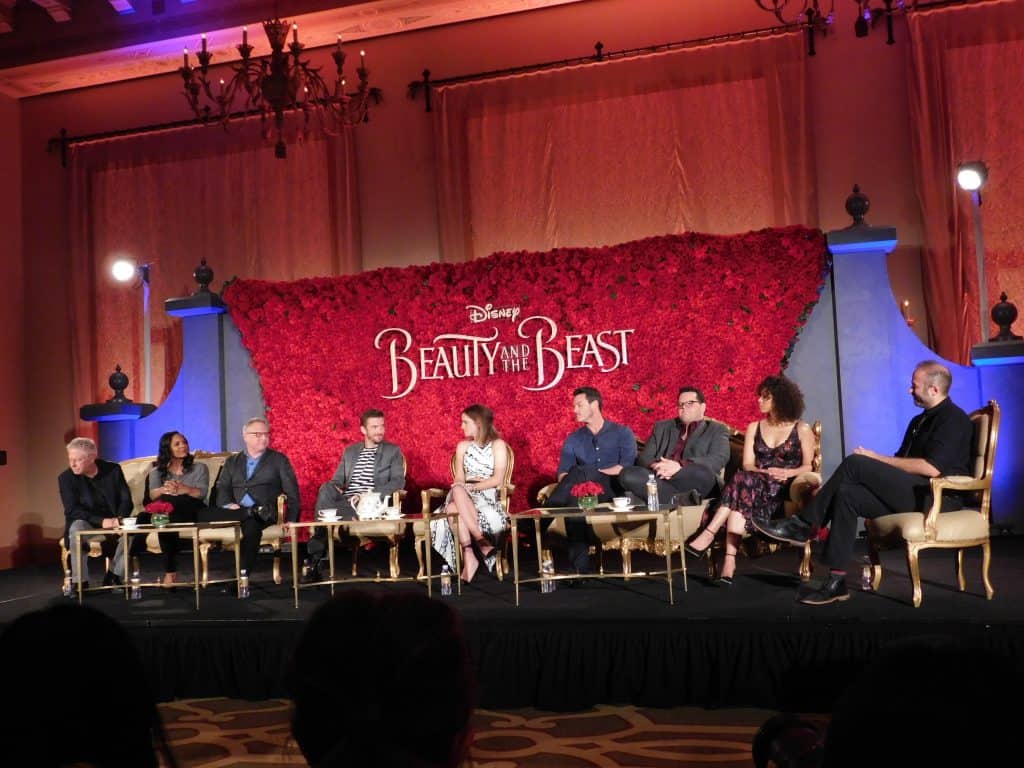 So here is a full picture of what everybody looked like. Isn't that a beautiful backdrop? They even had the cutest directions everywhere, like little roses and teacups placed everywhere. And of course, like any other person planning on taking pictures, I'm also a lover of good lighting anywhere I go!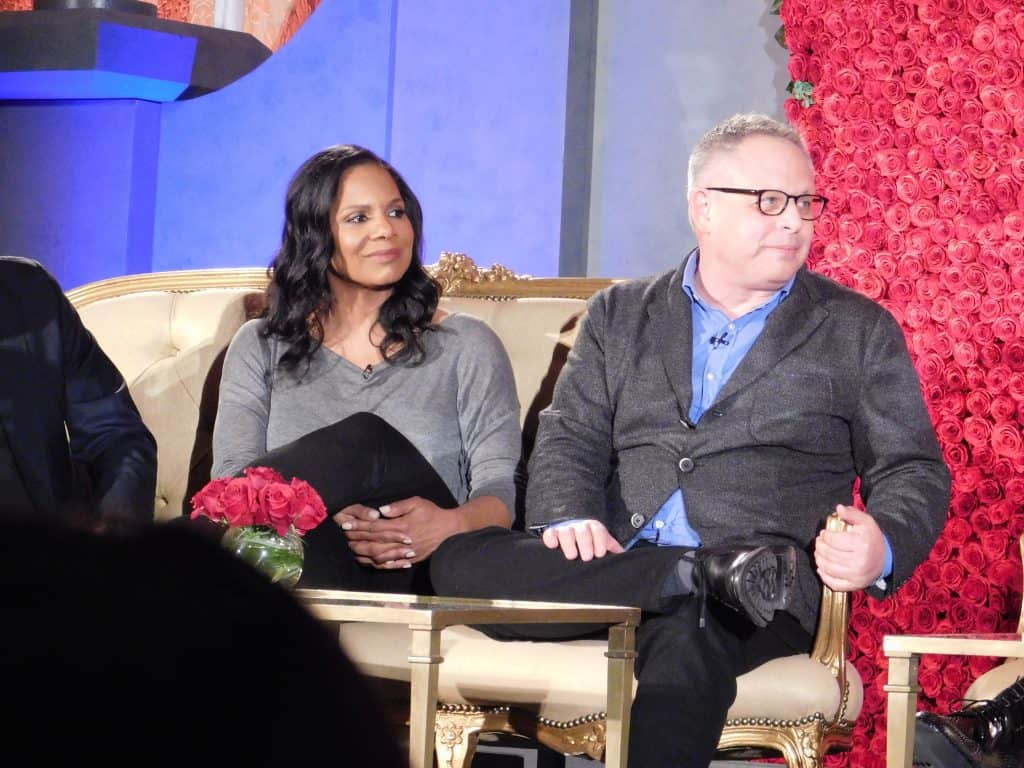 The first question went to Bill Condon, the direction, about what was the process for adapting Beauty and the Beast to a live action movie? I think that was really the biggest question on everyone's minds. So many people consider the original animated film to be a favorite movie, so I couldn't even begin to imagine the immense pressure of taking on this role. He even addressed it in his answer, to which his first statement was, "get over the terror first." He explained to all of us how the animated version, like any animated movie, is a little more of an exaggerated style of storytelling, so they had to make it more realistic in this transition.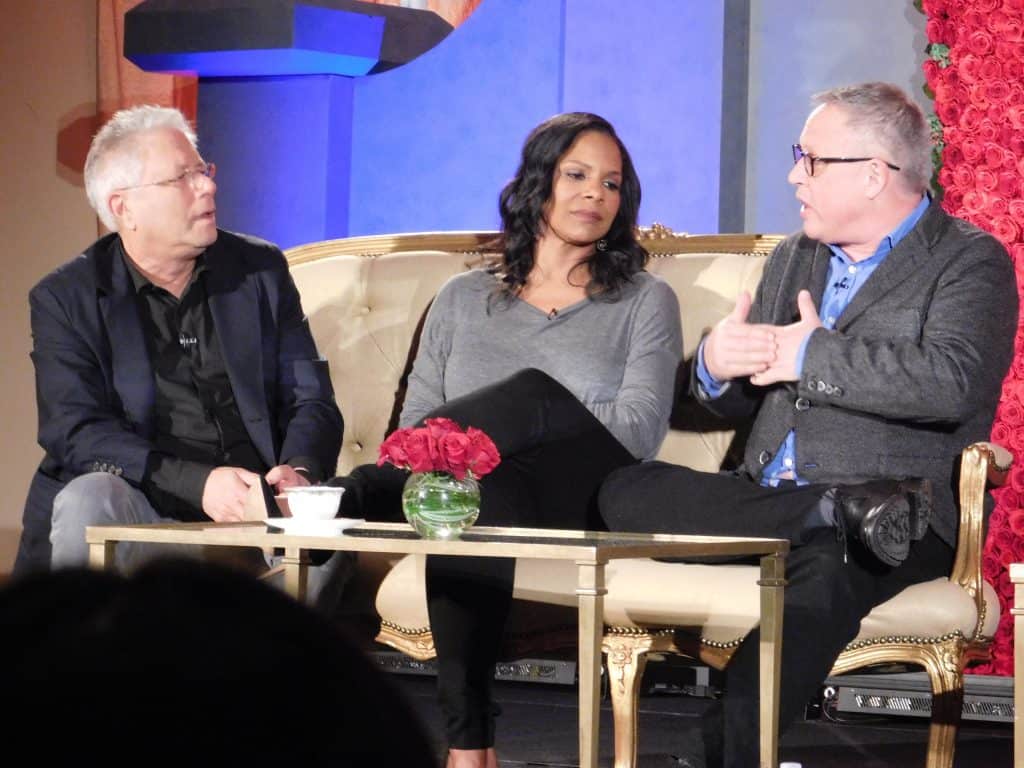 This topic led to Alan Menken explaining to us how they really had to build upon their individual storylines, and in the case of this movie, the songs and the music was a huge part of the story. Creating the music for a musical is so in depth, and in his own words, he explains, "You know, and they call it musicals and I'm the composer, but the truth is it's a director, it's a choreographer, it's a lyricist, it's a book writer, it's a composer, it's an orchestrator, it's an arranger…it's everything put together." Later on, Bill and Alan were asked about how they used songs as "storytelling devices," and they greatly elaborated on how in different types of musicals, "people sing when it's no longer enough to speak," in terms of some of their dramatic emotions.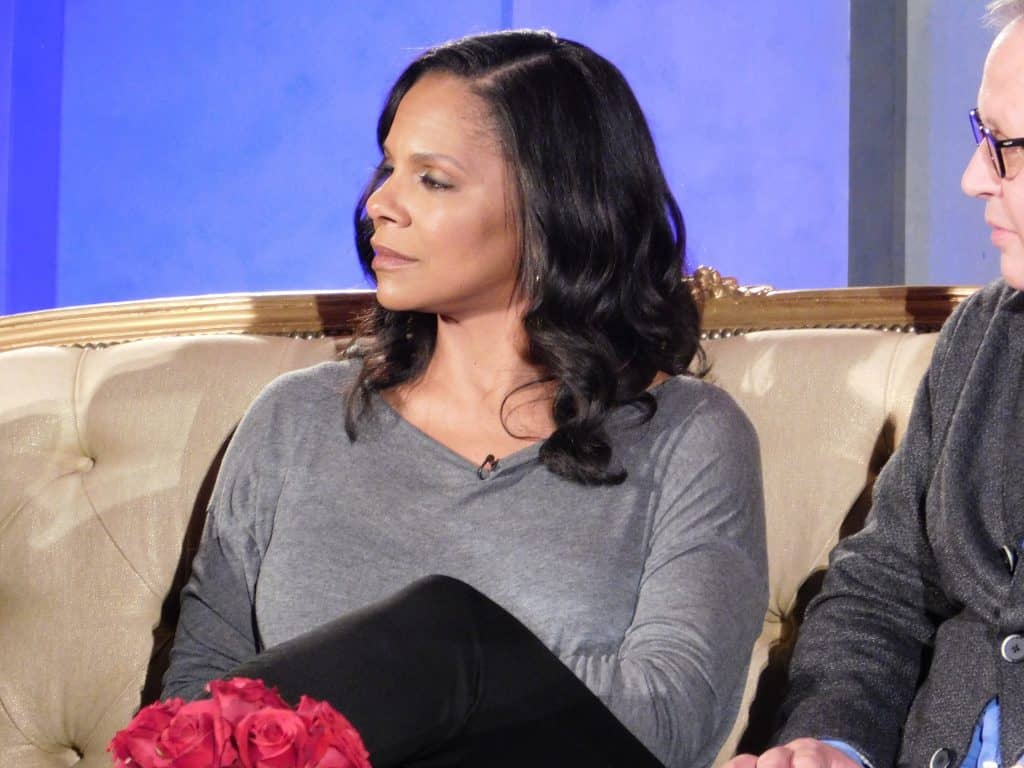 One big thing that Audra McDonald elaborated on was how much of an importance it was that Emma Watson portrayed Belle. As many people know, Emma Watson is a motivational activist, and Audra described to us how big of a deal it was to her, since Emma is such a huge inspiration to tons of girls everywhere. Audra's daughters are just a couple of the many who admire Emma Watson, so seeing her portray Belle as a smart, independent, brave young woman is a huge deal in today's society. Between that factor, and an incredible creative team, of course you want to be a part of something that special.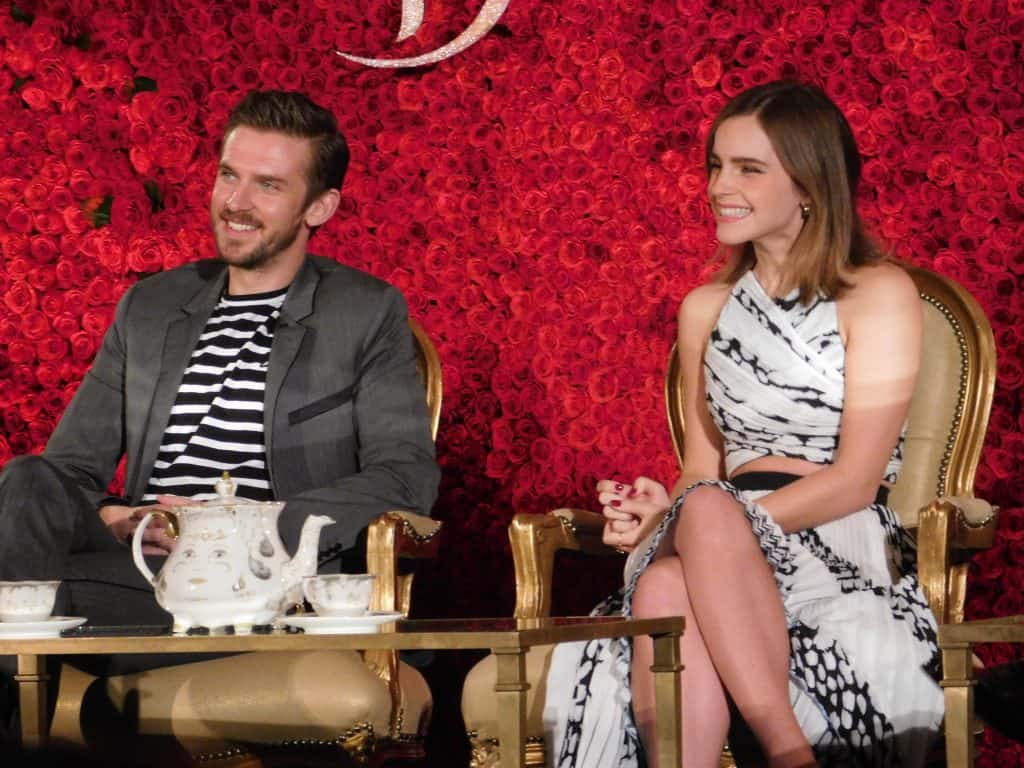 How cute is this picture of Emma Watson and Dan Stevens?
Emma, being the activist she is today, was asked how she went about modernizing Belle. Of course, Belle was always a smart young woman who was always known for somewhat sticking out in the crowd. She loved to read, and was always trying to expand that kind of knowledge to other younger kids in the village. Even though Belle never quite fit in with the rest of the community, she never lost her individuality, and Emma really wanted to bring that to life, saying that she saw Belle as "an activist in her own community," and she really wanted to channel that idea and expand on it.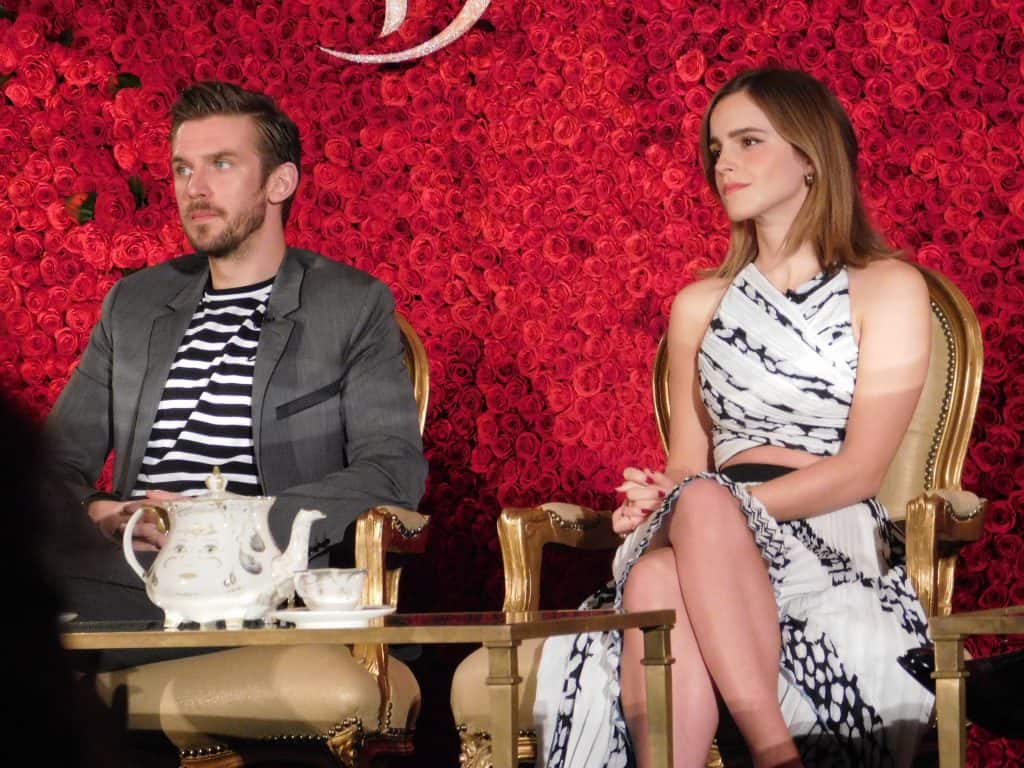 Dan Stevens also had to take on a big role in order to bring his character to life. But differently from the others, he had a whole other challenge to take on: sizing up. During filming, he actually had to wear a full muscle suit while walking with stilts! I don't know about you, but that's something I'd never be able to do myself. In the story, the Beast was also a lover of dancing before he was transformed into the beast, so Dan took it upon himself to train himself as a dancer in order to prepare for this role. One of the most iconic scenes in both this movie, and the original animation, was the waltz in the ballroom. It's a huge turn-around scene for the Beast and Belle, and Dan joked about how he'll always dance with his costars when he's getting to know them now, whether a waltz is in the movie or not. I'd love to see those behind-the-scenes!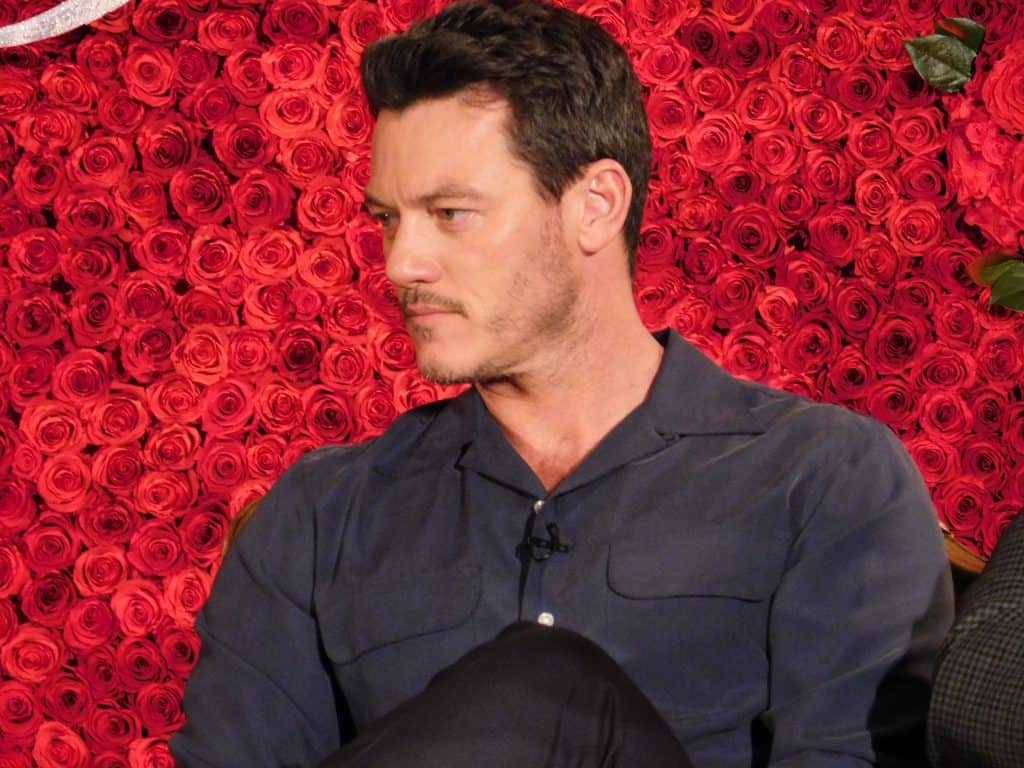 Now, Gaston. Just like in the song, "No one fights like Gaston." To many people in the village, Gaston was a hero of sorts. He was the handsome man of the village, and so many people looked up to him. To Luke Evans, it was important to make sure that the audience started out liking Gaston, instead of immediately recognizing him as the "villain." One thing that Luke wanted to focus in on was Gaston's pure humanity. You watch other movies, and the villain always has magic powers, a book of spells, something that forces others to follow their path. But in Gaston's case, he was full human. Instead of those powers mentioned before, he is able to gather a mob of people just through his own words and actions, which is even more terrifying, as Luke says, if you think about it.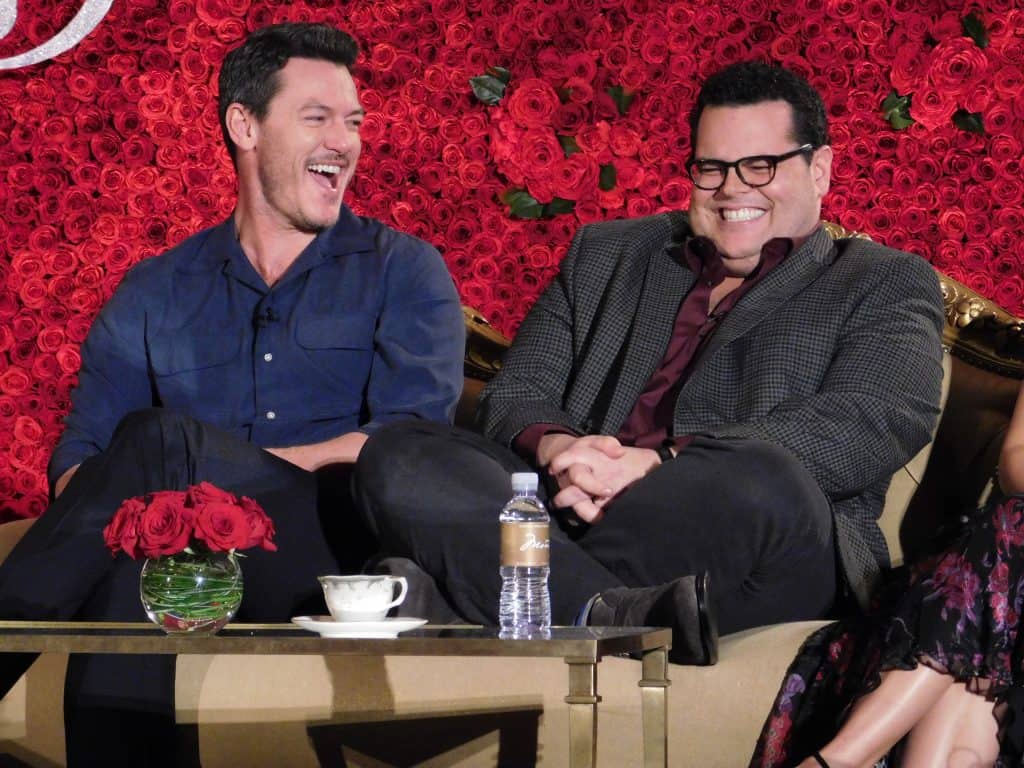 So far, there have been all these deep stories about the meanings and inspirations behind characters. But have you heard anything about a horse yet? No? Well you're about to, because Josh Gad is traumatized.
Josh has this absolutely hilarious story about his horse during the filming of this movie, about how "all our horses need to do is walk side by side." But of course, it never has to be that simple. He explained that this experience was supposed to be calm, as Luke Evans and his horse got along great and had done this simple walk together before. But no, Josh's horse was running around set, as the horse's trainer was laughing, telling Josh how his horse has never done this before. Coincidentally, the horse's name was Buddy, but as Josh said, "this horse was nobody's buddy." After this movie, Josh even said he doesn't want to ride a horse in another movie after this. "In the sequel to Beauty and the Beast, I drive a DeLorean." Please Disney, make this happen!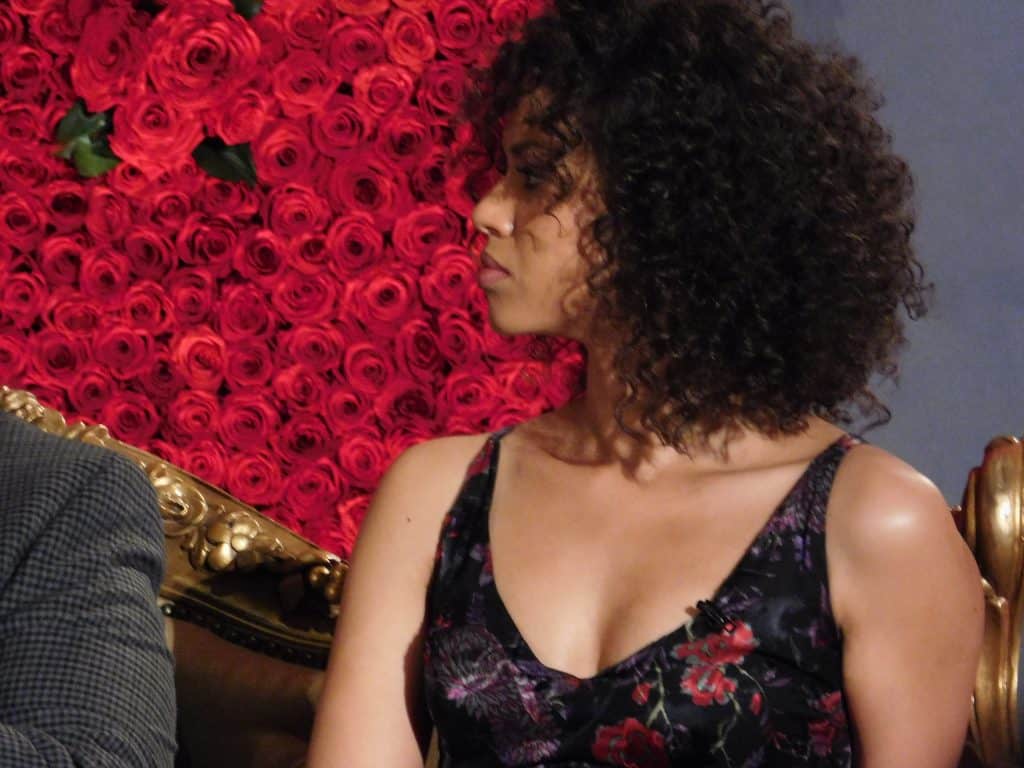 One of the biggest challenges in doing this movie was the voices. So many of these characters are inanimate objects, with the spirits of all these humans in them, so these actors and actresses had to learn how to inject all of their emotion and personality into these objects. Gugu, who played the lovely feather duster Plumette, had to learn how to portray her character, while having the opportunity to not be limited by her own face and body in this movie. Gugu shared a dialect coach with Ewan McGregor, who played Lumière, and she says how one of her most interesting challenges was learning the dialect, and learning how to embrace her inner child while playing her role.
Beauty and the Beast is a beautiful movie, and I got such an interesting perspective from each of these incredibly talented people. I could go on and on about their stories and experiences that they shared with us during the cast interview. Watch the trailer below, and seriously, when this movie comes out, you need to go see this. I know I'll end up seeing it again in the next week, I know you'll love it just as much as I do!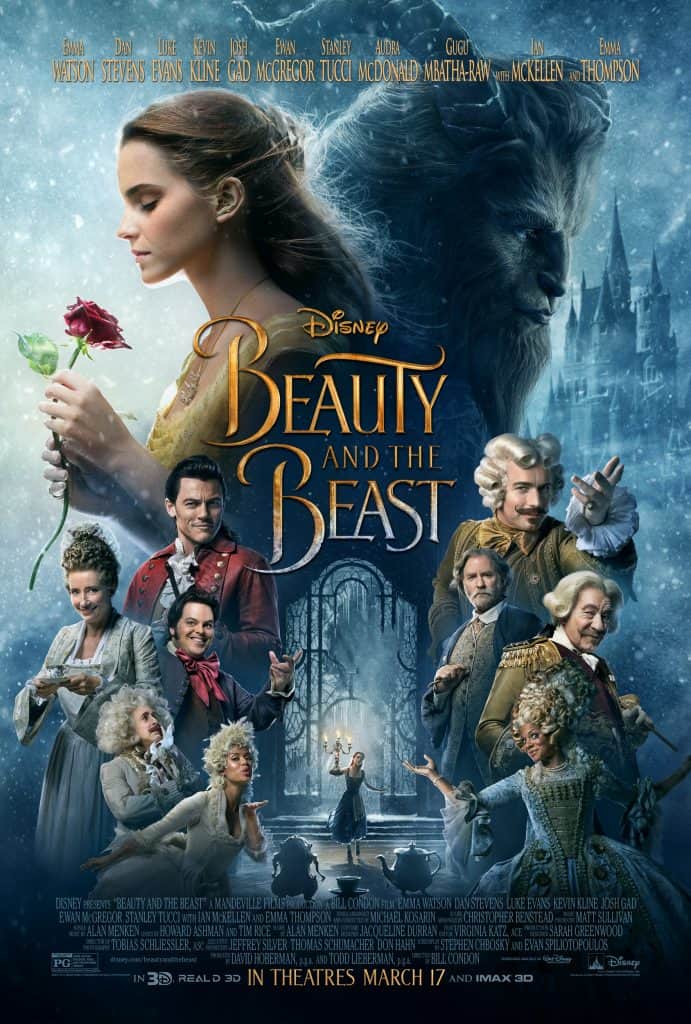 Here's the trailer one more time, in case you haven't seen it!