It feels like just yesterday, but it's been over a week now since I attended the D23 Expo. It was a whirlwind weekend where I learned so much and was surrounded by others like me, who eat, breathe and sleep Disney and Marvel. I am already looking forward to the next expo! (They only hold them every two years so I've got a while to wait!)
The main expo hall at the convention center was full of booths and displays, and many were selling Disney and Marvel gear. I spent so much money over the weekend, and I have to admit that I haven't even put all of it away yet. The husband put up additional shelves in my office to house my growing Funko POP! collection, but if I buy anymore, we're going to have to hang more shelves from the ceiling as we're kind of at critical max.
This will not stop me from getting more POPs, let's be clear.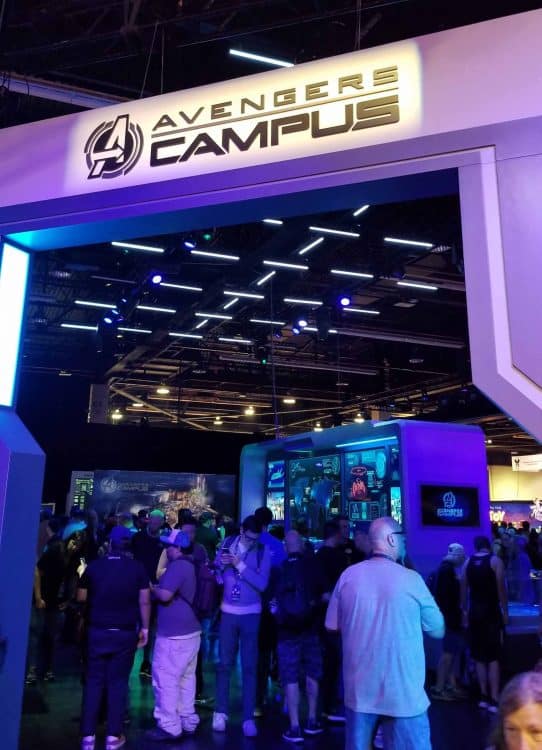 There were so many fun things to see in the expo hall, but one of my favorites was, of course, the Avengers Campus area, where I wanted to get all the latest Avenger Campus news. Getting to play with the new WEB (worldwide Engineering Brigade) technology, and some of the original Tony Stark technology, was a dream come true. Who hasn't watched the Avengers movies and not wanted to play with the 3D rendering equipment?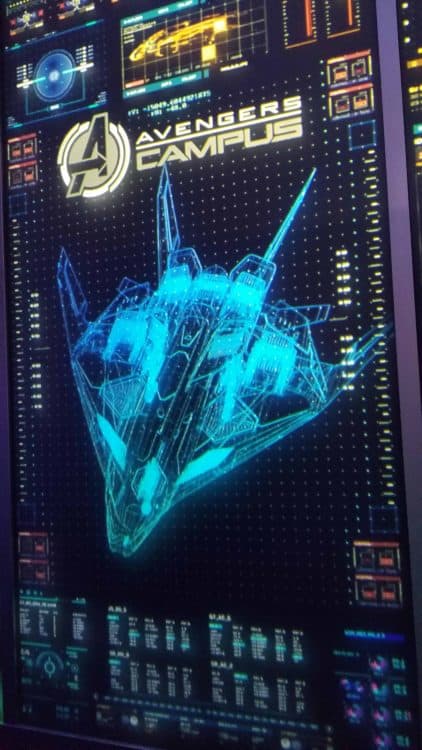 If you haven't, are you even a real Marvel fan?
Ignore the bad aim in this video. I was so excited to play with the technology, but I am not ambidextrous, which is clear in this video….but Stark technology!
Here are a few random photos I took in the Avengers Campus area, followed by some footage from Disney Parks/D23 press. (I took several videos, but my geeking out may be over the top so I really like the one Disney Parks took instead!)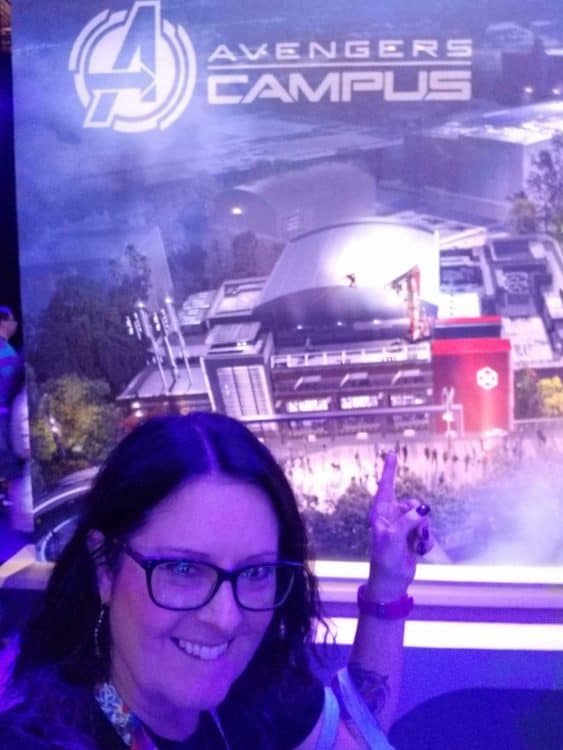 The new Avengers Campus is set to open at Disney's California Adventure in 2020. If you've been to the park in the last year, you've probably seen the barrier around the old Bug's Land that says Stark Technology on it.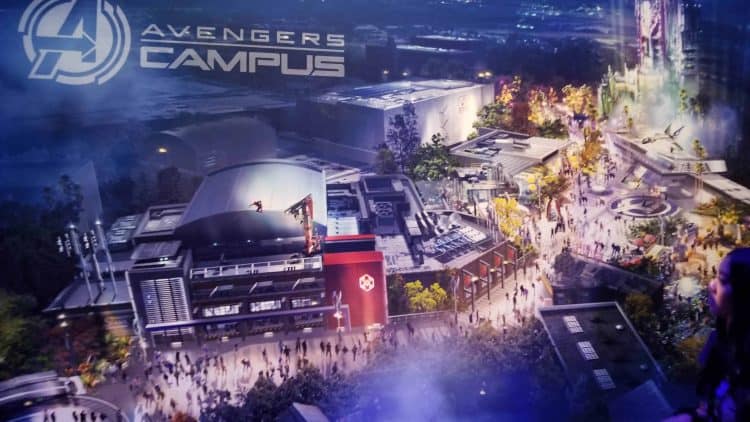 A foundation of the campus is going to be the new Spider-Man experience, a ride-through attraction dedicated to the superhero. Want to sling a web like Spidey? The Web Slinger vehicle will allow you to do that, too, as you help Spider-Man collect Spider-Bots that are causing trouble.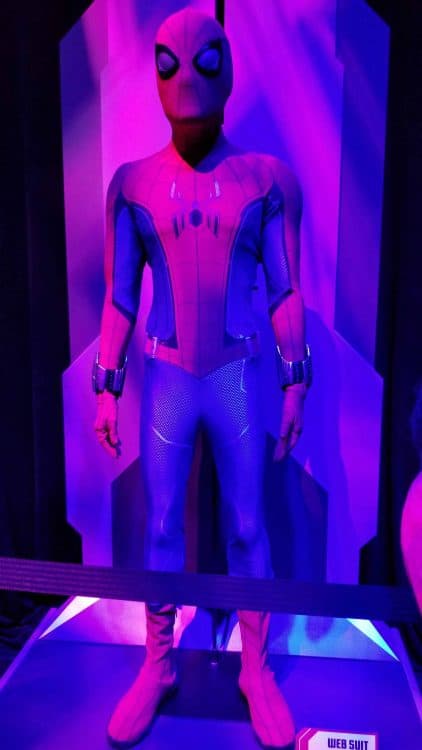 Another key building will be the Avengers HQ. This is where you will find me every time I visit…and since I have an annual pass, that will be often. Picture a Quinjet on the roof, along with some favorite Avengers. The Avengers will also be wandering the park, including Doctor Strange and characters from Asgard, Wakanda, Guardians of the Galaxy and more. (Let's be honest though — they had me when they said Asgard.)
And that rooftop Quinjet? There's going to be a ride, where you board a Quinjet and help the Avengers in an adventure to save the world! This one's still being worked on so there aren't a lot of details available, but it could take place above Wakanda and for sure it's going to be a lot of fun to fight alongside the Avengers!
Ant-Man and the Wasp will also wander the park, but to experience the Pym particles up close, you'll want to visit the Pym Test Kitchen, where Hank and the team will be testing their latest experiments to shrink and grow food. (I would like you to grow that glass of wine, please, and shrink that raisin.)
At the expo, lots of details were unveiled, far too many to cover in one post. I'll be back in a few days to talk about some of the fun Marvel Comics facts I learned at a panel all about the 80 years of Marvel comics. I thought I knew a lot about Stan Lee, but I learned so much more! (Remind me to tell you about the "no prize" envelope!)
Check out some of the Avengers Campus WEB gear that we saw at the Mickey's of Glendale booth. The and ShopDisney had so many fun products! The lines were long but worth it, with all the unique items available for purchase only at the expo.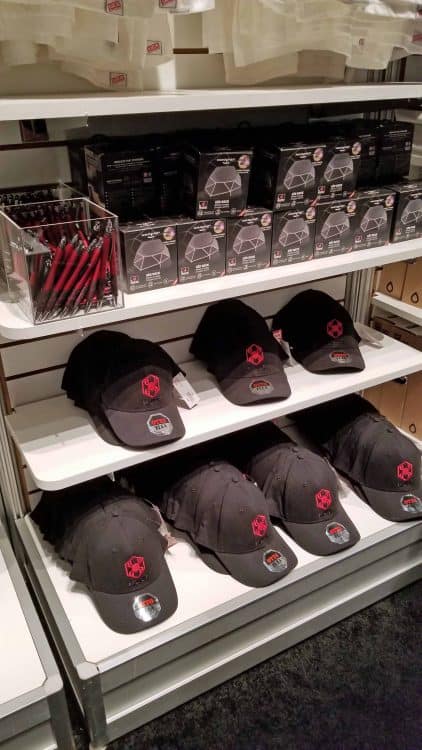 I bought the husband one of those caps, and I bought myself this Avengers water bottle. BPA-free and solid, it's my gym water bottle now. (I like stainless steel flasks, but I love going into the sauna and I can't take stainless in there.)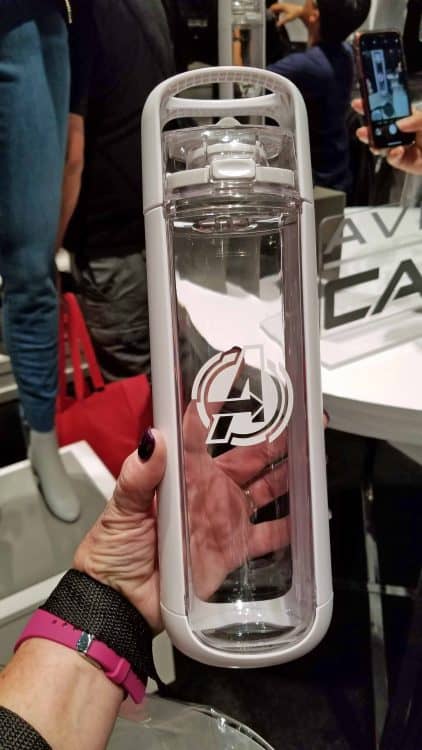 The variety of clothing is really big, too. Jackets that zip themselves up into backpacks, hoodies, so much….. I almost bought this one but I had a list of other things from the Disney Dream store and Box Lunch Gifts that I needed to grab. That list never ends though, let's be honest. There were so many new Marvel things at shopDisney that I wanted, too. (I shared a long list of items on my Instagram stories the weekend of the expo, so if you were watching, you got an early preview!)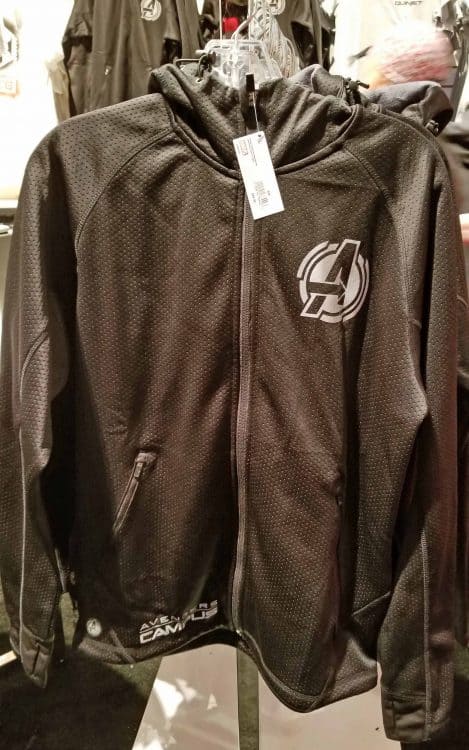 If you've been thinking about attending the D23 Expo, start making your travel plans! It's truly the ultimate Disney fan event and you'll make so many fun memories! You can see my post on Disney+ here, where I talk about the new programs and movies coming up. You're going to want to subscribe!
If I get more Avengers Campus news, I'll be sure to share what I can! I need to go unpack some more now. I've got some really unique Thor jewelry to put away….enjoy this D23 Expo Disney Parks video!