Last year, you may remember geeking out here on the blog that I got to attend an award ceremony where the guest of honor was Kevin Feige. Not only did I get to cover that wonderful event here on the blog, but I got to meet Kevin…who then showed my Thor/Loki tattoo to Peyton Reed. I died, it was so amazing. And Ryman Arts knows how to put on a party. Food, fun exhibits and a whole lot of inspiration by way of the talented students of the Ryman Arts program.
This year, the annual Sklar Creative Visionary Award will be presented to Academy Award winner Hayao Miyazaki!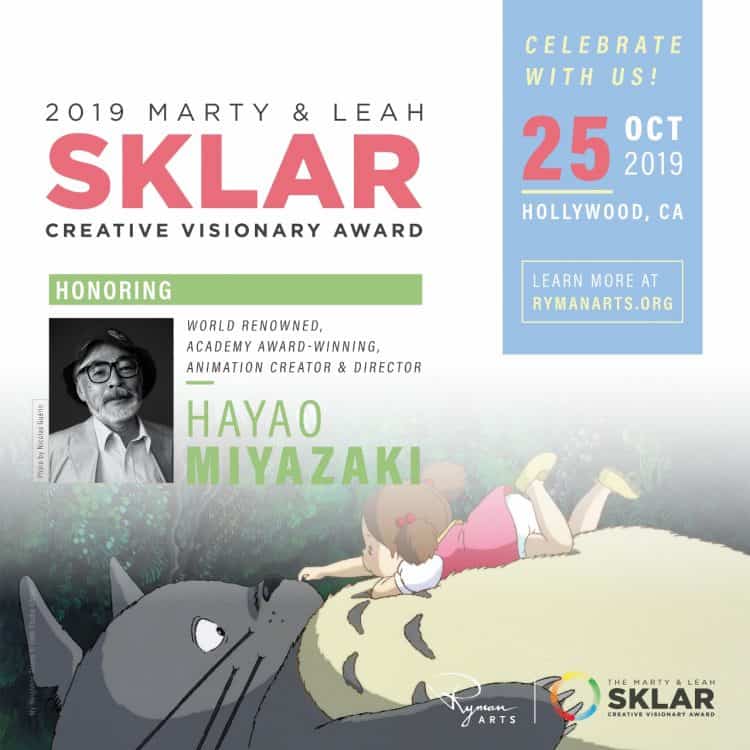 The Sklar Creative Visionary Award is presented annually by Ryman Arts to an individual whose distinctive contribution to the creative community and whose leadership in the art world has made a significant impact. Hayao Miyazaki, whose work spans over fifty-years, truly exemplifies this award. The artist and director has 10 feature films and 11 television series to his credits and is currently working on a new project at his animation film studio, Studio Ghibli in Tokyo, Japan. Along with many other accolades, Miyazaki was presented with the 2014 Academy of Motion Pictures Arts and Sciences Honorary Oscar for Lifetime Achievement along with two Oscar nominations and one win for the 2001 animated film, Spirited Away.
He also produced Kiki's Delivery Service, a show my oldest daughter watched quite a bit when she was really little!
The Sklar Award is named in honor of the co-founders of Ryman Arts, Marty and Leah Sklar. The late Marty Sklar was the legendary president of Walt Disney Imagineering. His wife, Leah Sklar is an education advocate and played a key role in defining the mission of Ryman Arts. This Los Angeles based non-profit has engaged over 21,000 youth from diverse communities around Southern California since 1990 and mentored over 6,000 promising art students, helping them prepare for a creative life through college and beyond. Many alumni currently work in positions in the entertainment field. Last year's Sklar Award recipient, Kevin Feige, and his Marvel Studios creative team, were some of many professional mentors who worked with Ryman Arts students, believing in the mission of giving back to the next generation of artists.
The Sklar Creative Visionary Award will be presented at the annual Ryman Arts dinner & program on Friday, October 25, 2019, 5:30pm-10pm, Neuehouse, 6121 Sunset Bl., Los Angeles. The event is open to the public, so if you want to be there as Ryman Arts honors Mr. Miyazaki, you can purchase tickets (as of September 10) here on their website.
Read more about last year's event here. Being in the same room with so much talent, it was an honor to have been invited. Thank you again, Ryman Arts! What a night!