My cookbook shelf is getting pretty full, to the point of having to create a new area — not a problem for me, I promise — but until we figure out where we're going to put it, any space left on my current shelves is prime real estate. To make it onto the shelf, the book has to have a lot of creative recipes, new flavor pairings and be an inviting book to read. Beach House Baking, by Lei Shishak, given to me courtesy of Skyhorse Publishing in order for me to do a review, will be on one of those shelves by the end of the day.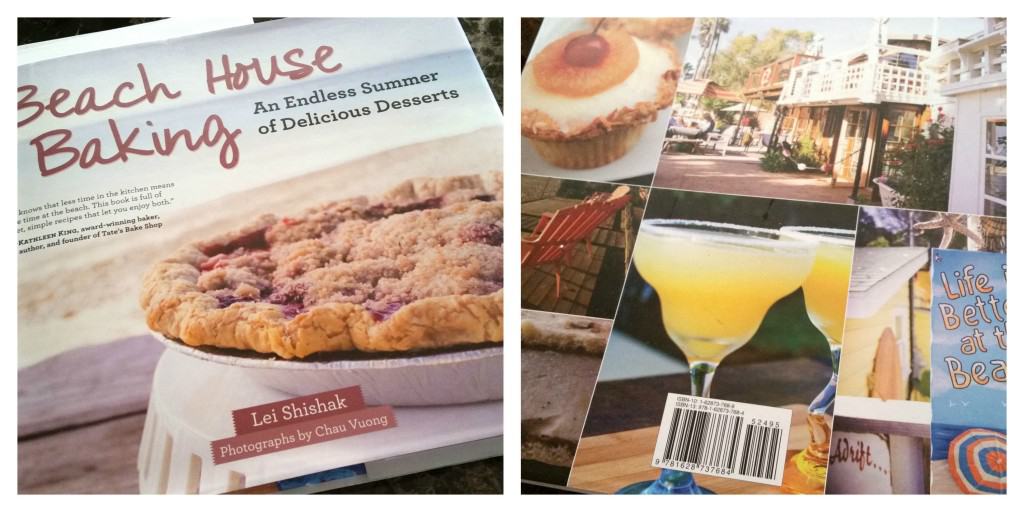 Before then though, I have to clean it off, as it's got some flour and a splattering of batter on it. I'm one of those people who likes to read cookbooks, not just flip through for ideas, and that means my cookbooks get well-worn and messy as I frequently page through it as I'm standing at the counter waiting for the oven to beep or for the mixing to complete. Beach House Baking is no exception.
This 216-page cookbook lays flat and invites you to immerse yourself in Lei's beach stories and descriptions. Each recipe, with a unique, catch and descriptive name, takes one page for the text and another for the pictures — I love that, as pictures really give an idea of what to expect or aim for, or maybe even how you want to change it up. Published in May 2014, it's sure to be a hit if you favor cookbooks with a variety of categories (cupcakes, cookies, beverages, pies/tarts, scones, muffins, etc.) and you like the beach vibe. This entire cookbook speaks of lazy days on the deck watching the waves, munching on a tasty treat, or early mornings in the sand, wrapped in a blanket and drinking coffee. It even gives you a recipe for quick, strong Cowboy Coffee! As a coffee drinker, I have to admit I haven't ever had coffee made that way, but I am anxious to try it. You'll have to read the book itself to see what that is!
Each recipe is easy to follow, with ingredients clearly broken into portions of the recipe so there's no confusion, and the recipes are quick and simple. Lei is a graduate of the Culinary Institute of America in New York and has a lot of experience as a pastry chef at the Stonehill Tavern at the St. Regis Monarch Beach in Dana Point, California, and she currently resides in Dana Point, a beach town known for a very distinct lifestyle with beautiful waves, laid-back nightlife and shopping and eating to keep you busy for days.
Our first recipe to try was the margaritas. These aren't for the faint of heart, as they have a strong tequila flavor and you may only want one, and we loved the addition of agave syrup. We only wished we had an ocean view while drinking them, but instead settled for our balcony at sunset. Just like the rest of the recipes, they were quick to make and didn't require a trip to the store for odd ingredients.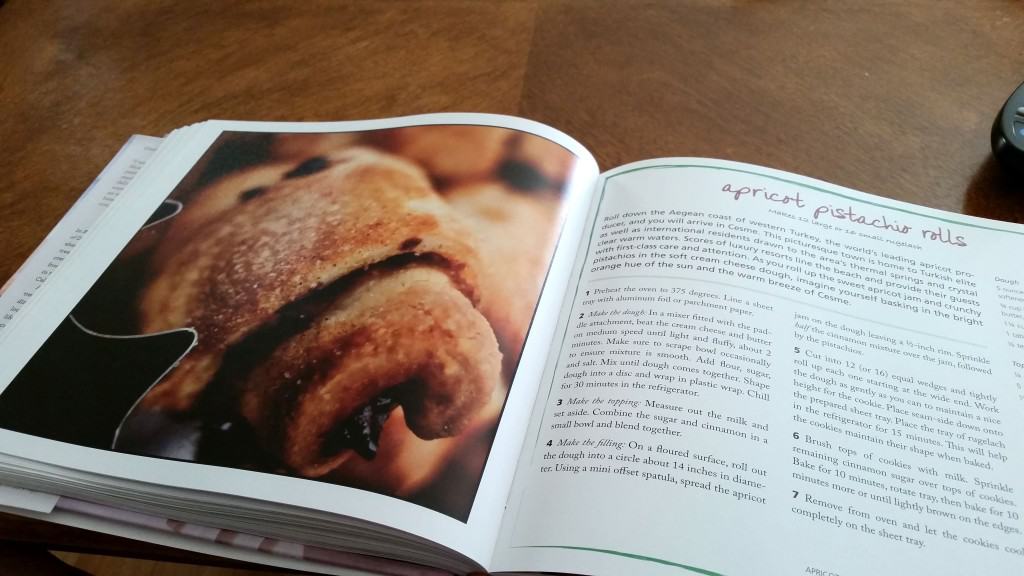 Next up was the Apricot Pistachio Rolls, basically a rugelach. The dough came together quick, and during the 30-minute chill period, I prepped the filling and topping and even started on chocolate chip cookies, requested by Little Dude for school lunches this week. He was unaware that I was making the Apricot Pistachio Rolls and I'm excited for him to see them, as he takes pride in his lunches since his friends gather around and comment on how everything's homemade and his desserts are one-of- a-kind. (Score one for mom!) For him, I did have to leave off the pistachios — nuts are still a sketchy area for him, but I love anything apricot and the husband loves rugelach, frequently throwing it in the cart during a Costco trip. Now I can make it from scratch!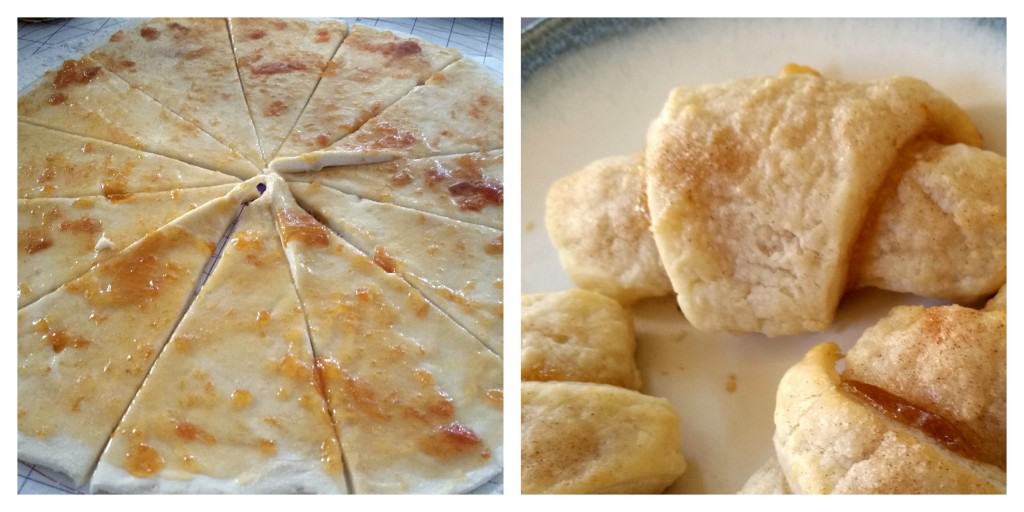 The rolls were comprised of a dough, a filling, and a topping. Each was easy and the directions on rolling out the dough, cutting into crescents and filling/topping were clear.  I'm not sure what we're making next. We ooh'd and ahh'd as we looked at the pies but I think the Ooey Gooey Pecan Tarts are going to come second to the Lemon Ricotto Cracked Cheesecake, recipe below. (And with each of these desserts comes an extra hour of Zumba.)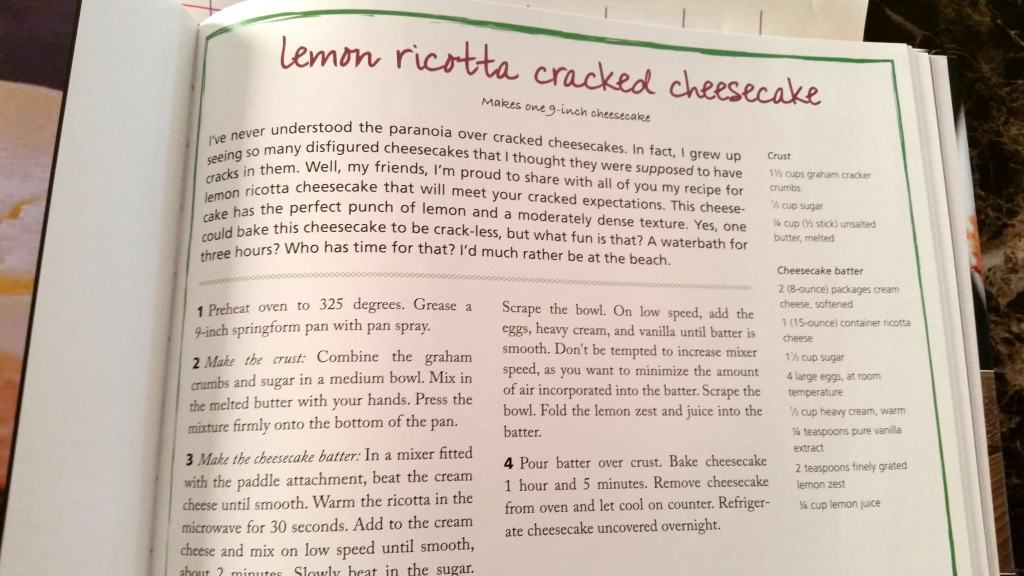 Doesn't that sound fantastic??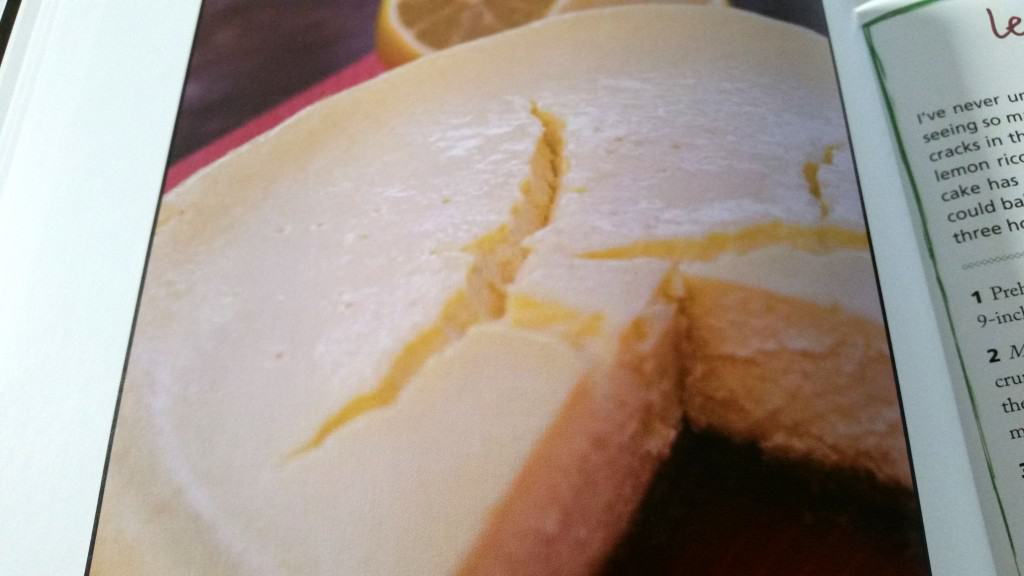 Doesn't that look fantastic??
You can find Beach House Baking at Amazon or other book stores, online or brick and mortar, but be sure to schedule time to read through before you decide what to make first. Make a cup of coffee and settle into a comfy chair or loveseat to decide. You won't need to write up a grocery list, you'll just need a little time and you'll have a wonderful new dessert to share in no time at all.
Let me know your favorite recipe…I'll be over here drinking margaritas and munching on my apricot pistachio rolls…