Creating frozen food recipes can be a massive timesaver in the kitchen, but it can get a bad rap. Some people consider it to be lazy or unhealthy or just not as good as freshly-cooked food…and while some of that may not be untrue at certain times, overall, using frozen food recipes to get a delicious dinner on the table fast is a undervalued reality.
Did you know March is Frozen Food Month? I know, I didn't know it was a thing either, but now that it is, let's talk a little about it. As a busy mom of four, and a grammy to 1 and 1/3 babies (if you didn't see already, we have another grandbaby on the way!), I have days where cooking together is a chore. I'm tired, I'm burned out, or there just isn't enough time. How many can raise their hands to at least once now and then forgetting to thaw meat?
My hand is up super, super-high right now.
Frozen food is way more than TV dinners and pizza. With stores like Smart and Final, you can find so many choices to feed the family. Big bags of sweet potato fries, family-sized servings of orange chicken, sleeves of pre-made burgers of various kinds, cauliflower rice…the options are endless in using frozen components to make your own entree or get something on the table fast.

I visited my local Smart and Final earlier this week to stock up on produce, fill a couple of empty spots in our wine cabinet, give my sons snacks like chips and crackers, and to round out the meals. The cheese and meat selections are fantastic! I also hit up the frozen food area to help us on those nights where I work later in the day or just don't feel like an involved meal. I grabbed that large bag of First Street frozen sweet potato fries and a Sun Harvest frozen breakfast bowl to microwave really quick tomorrow morning before I head to the botanic gardens with my girls and the baby.
Using Frozen Food Recipes to Save Time and Get Creative
I love a good parfait, something different as a snack or breakfast, so I also threw a large bag of First Street frozen mixed berries into my cart. The First Street line is the Smart and Final brand and we've always had good luck with the quality and variety. I also bought First Street plain Greek yogurt and made a plan to bake a batch of granola for the perfect parfait.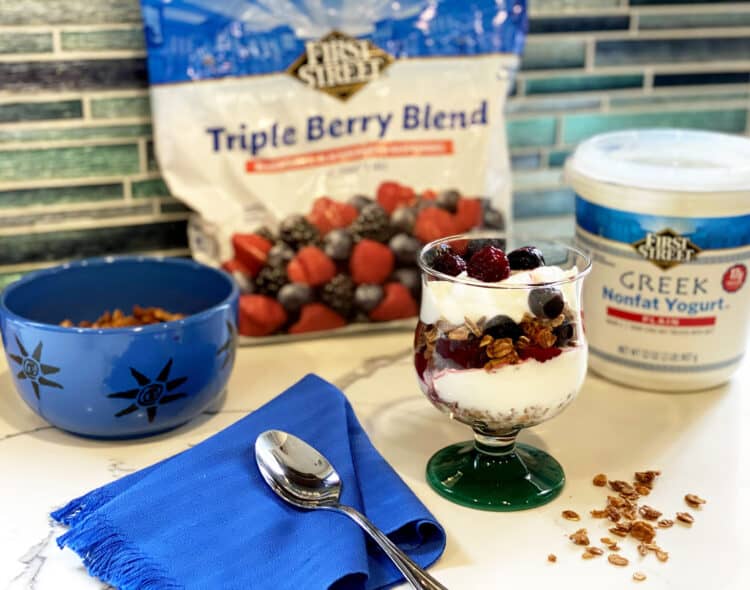 If you haven't made your own granola yet, you're missing out. It's SO easy, there's almost no real recipe…but here's what I did so you can recreate it yourself.
Homemade Granola
1/2 cup brown sugar
1/2 cup honey (of any variety)
1/4 cup coconut oil
4 cups quick or steel cut oats
Salt
Cinnamon and/or nutmeg
Melt the sugar, honey and coconut oil together in a small pan on the stove. Stir until combined and fully melted.
Pour liquid over oats in a large bowl. Stir until the oats are all covered.
Sprinkle over salt and cinnamon/nutmeg. Mix to combine once more.
Pour onto oiled cookie sheet. (I used Pam cooking spray, but coconut oil would probably work.)
Bake at 250° for 75 minutes, stirring every 15-20 minutes. Let cool after, breaking apart when it's cool and storing in airtight container or zippable plastic bag.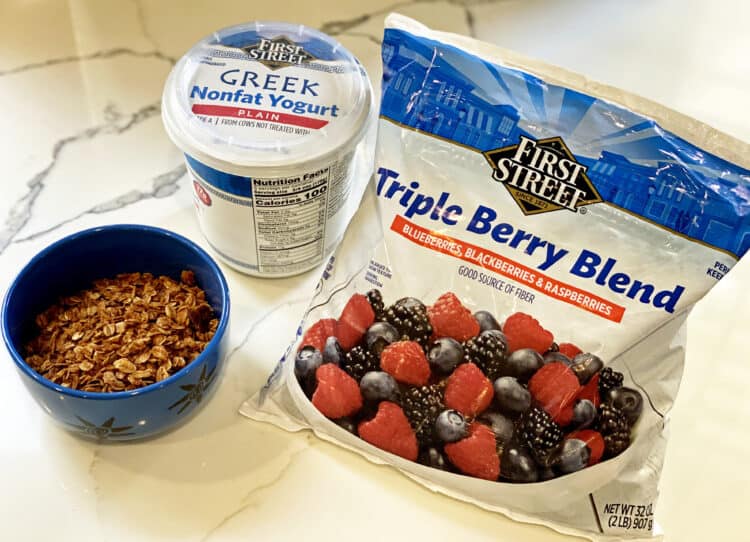 See how easy it is? There are so many variations you can use. Maple syrup in place of some of the sugar adds a great flavor. A teaspoon of vanilla or almond extract shakes it up. Mix in dried fruits (cranberries, chopped apricots, cherries, raisins) and maybe some almonds or chunks of dried coconut. The flavor combinations are endless!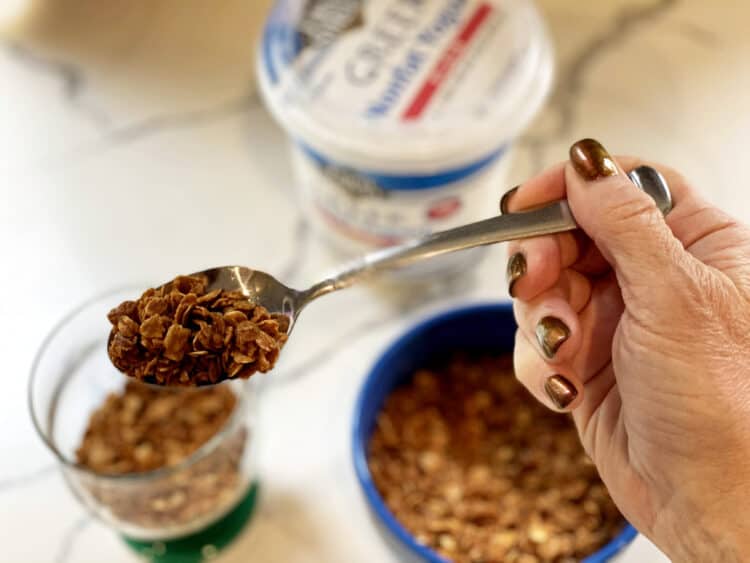 Once you have a good granola, putting together a parfait takes just a couple of minutes. Find a pretty glass — because parfaits should always be enjoyed visually as well — and layer the granola, yogurt and berries, at least two layers of each.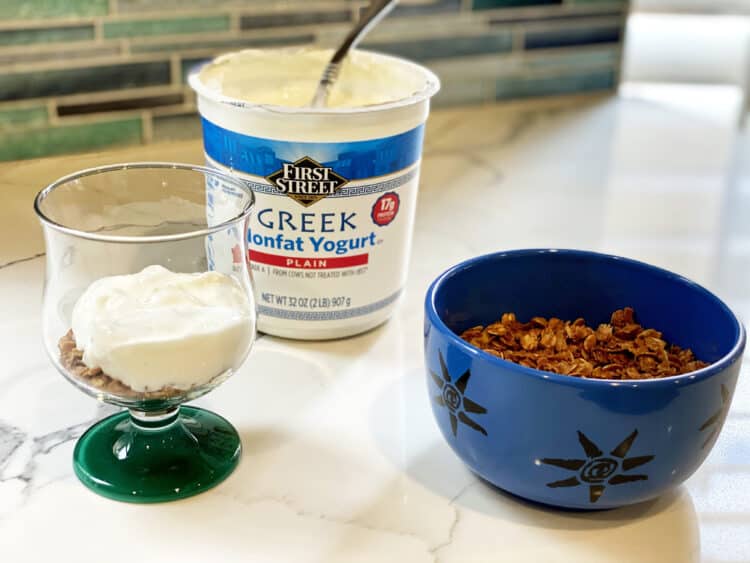 Serve and enjoy right away! I enjoyed mine in front of the fireplace this morning. It is cold in Southern California today.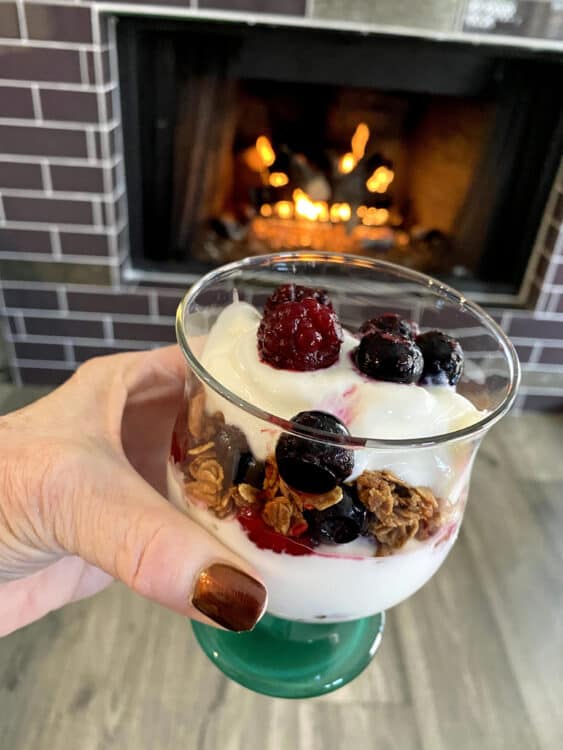 If you're on-the-go and want to enjoy a parfait, place the berries and yogurt in a container with a lid. Put the granola in a small airtight baggy and grab a spoon. You could always put the berries and yogurt into a disposable coffee cup and take a plastic spoon, so you can throw away your serving ware after. (It's not ecologically the best plan, but if you don't want to carry around dirty dishes, it's the next best thing.) Those hot coffee cups used for tailgating or camping work perfect for this!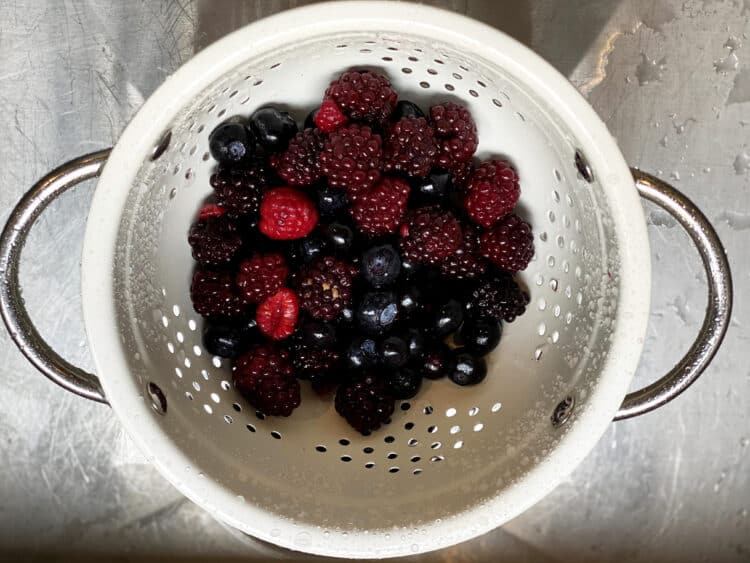 Making an grocery list based on a few frozen food recipes is so easy. Spend a few minutes looking at what you have before you head to the store so you can mentally pair things up while you're in the frozen food section.
You can cook rice in your Instant Pot and dump in the frozen preseasoned/marinated meat for a one-pot meal that looks like you spent far more time. We plan on making a sweet potato fry 'nacho' meal next week, where we make a cheesy sauce and top it all with chopped green onions, ground turkey, black beans and whatever else sounds good at the time. One big pan of this can serve the four of us on a busy weeknight.
There's no shame in using frozen food for any meal of the day. We all need to eat, and sometimes, we need to eat fast and without the added work. Or we just are out of ideas and that bag of tots covered in a few cans of turkey chili sounds heavenly. (That's not just me, right? This is a favorite of ours!)
Frozen food can also be healthy, so don't count out any particular type of dietary restrictions when you think about using something frozen. Chances are, you can sub in healthier choices and come up with something new that your family will love, and they won't even know it was frozen or that it's healthier than the norm!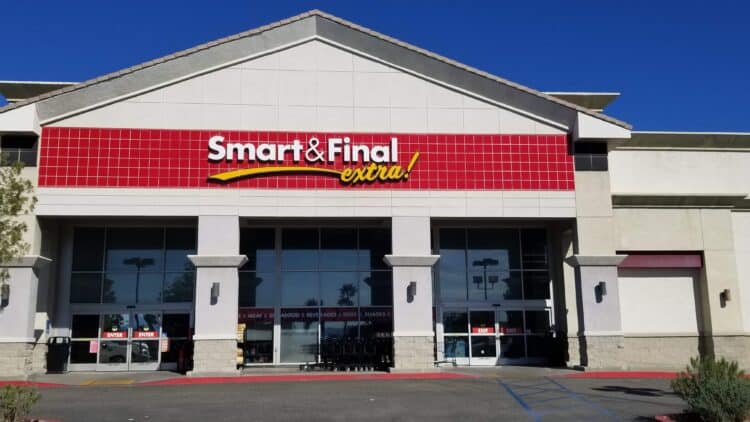 If you shop at Smart and Final, be sure to check out the Blizzard & Beaches Sweepstakes currently taking place. Customers who spend at least $40 on participating Frozen Food Month items in store will receive a $10 off* coupon on their receipt plus an entry code to enter for a chance to win a trip anywhere they choose – in the sun or in the snow – plus other hot prizes!
Prizing:
Grand prize: Trip for two to a hot or cold destination of winner's choice, $1,000 spending cash and $250 Smart & Final gift card. *Trip prize awarded as 2 airline vouchers, a hotel gift card, a $1,000 gift card, and a $250 Smart & Final gift card.
First prizes: 10x one-year streaming subscription to service of winner's choice (Netflix, Disney+, Hulu, etc.)
Second prizes: 30x $100 Smart & Final gift cards
Enjoy my homemade granola recipe — change it up and make it your own! And don't be afraid to start using frozen foods in more of your recipes so you can use that saved time to be with your family instead of in the kitchen!