Last Saturday, I got to attend a special blogger brunch at Tortilla Jo's in Downtown Disney in Anaheim. Anything Downtown Disney is a blast, and Tortilla Jo's is known for their margaritas, so starting my Saturday with the new Tortilla Jo's brunch menu sounded perfect! The event was hosted by Tortilla Jo's in conjunction with Gigasavvy, and I got to take the husband for brunch so I could try out the new items and share them with you. Not a bad gig, right?
I've said it before about Gigasavvy events, and I'll say it again: you can't go wrong when you enter an establishment and get handed a beverage immediately. This time, it was the first of my bottomless mimosas. And by bottomless, they weren't kidding. Every time I got even close to the end of my glass, they were there to refill it. Tough work I have here…
Tortilla Jo's Brunch Menu for Our Tasting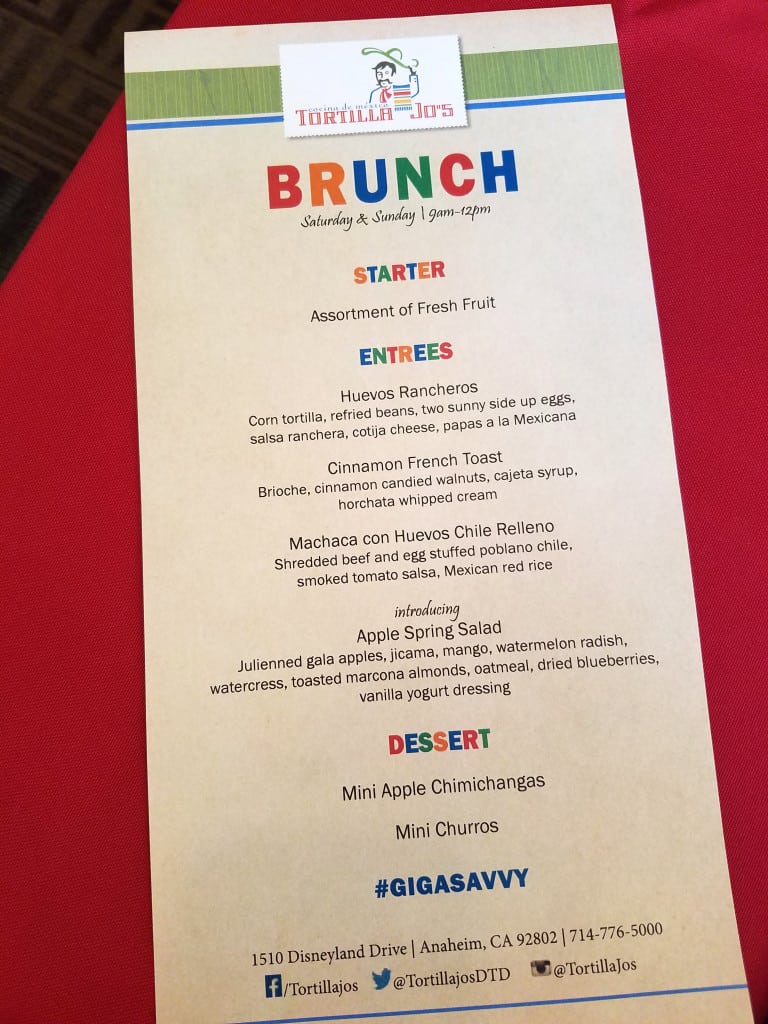 The brunch menu was presented to us along with never-ending tortilla chip bowls and our choice of salsa: red mild, chipotle and green. I think the chipotle was my favorite, but I did end up helping put away a couple of bowls of the red first.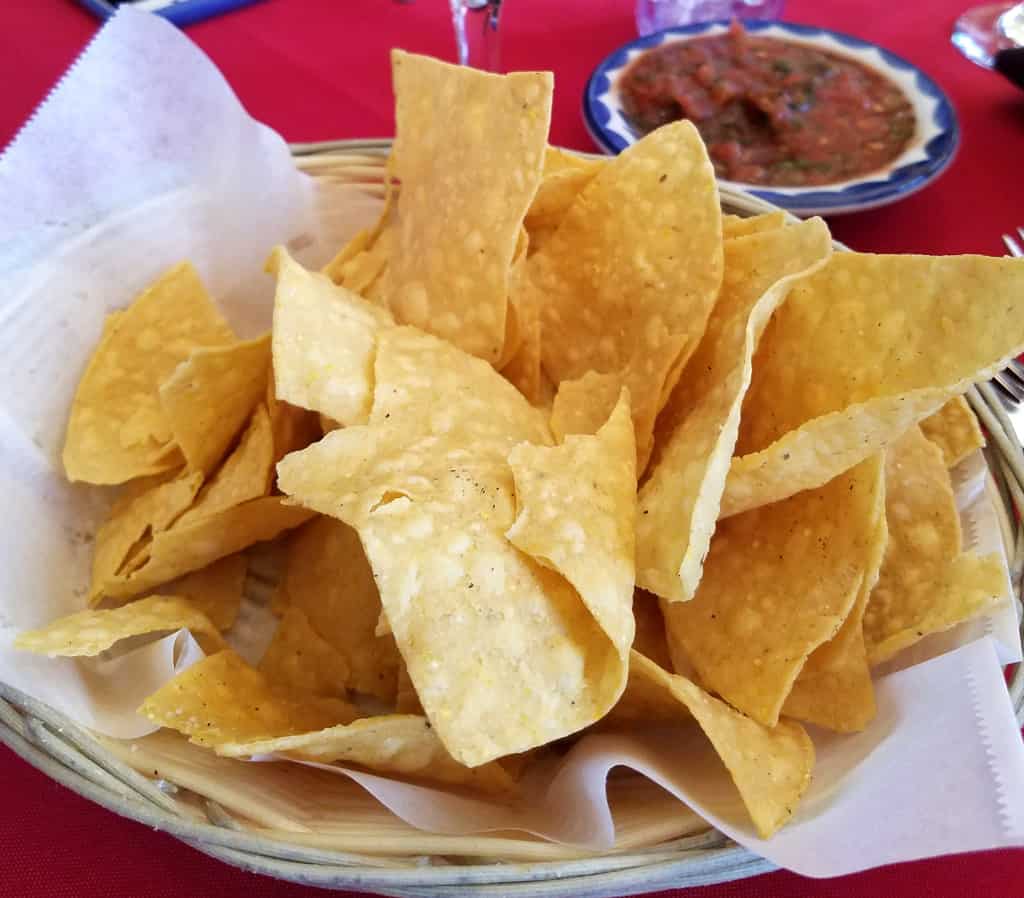 Next up was the fresh fruit plate, beautifully displayed and full of a large, colorful variety of fruit, such as raspberries, blueberries, melon, strawberries and more. Perfect balance to the salty chips and salsa.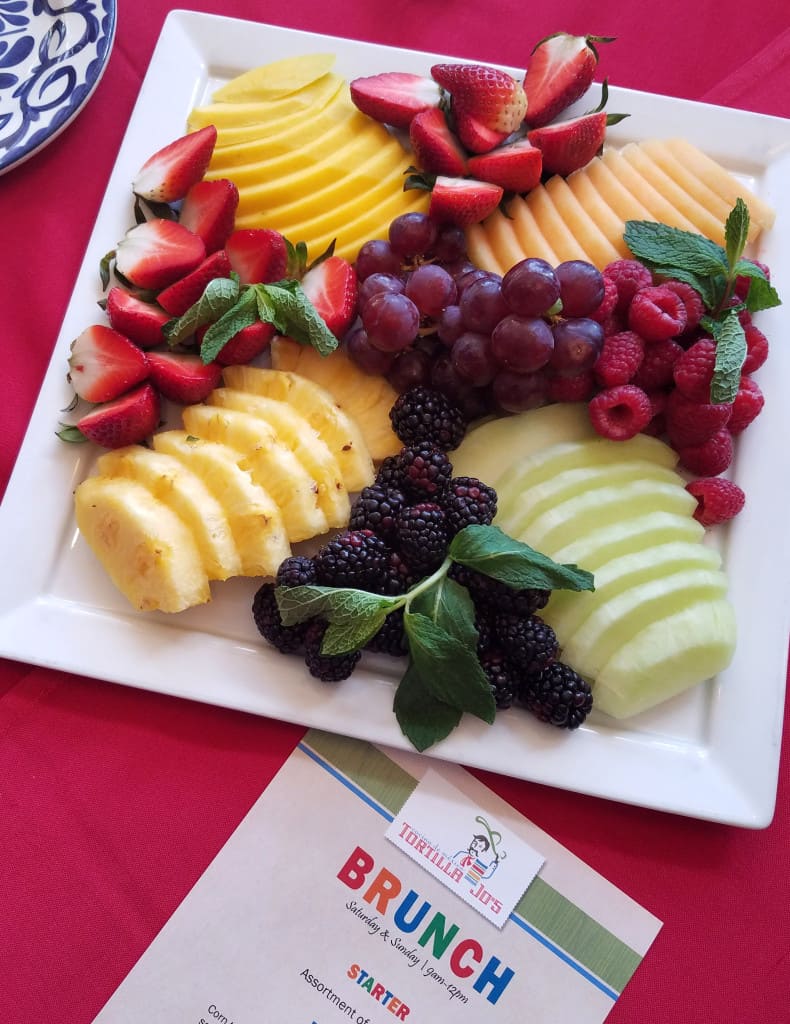 Everything on the table was so colorful. The whole restaurant has a beautiful authentic Mexican food atmosphere and there are brightly colored and patterns crocks and serving ware all throughout. We sat upstairs, spread amongst four long tables, enjoying the view of Downtown Disney and the front of the House of Blues. The location alone is amazing. (And parking for brunch was easy, using the Downtown Disney parking lot.)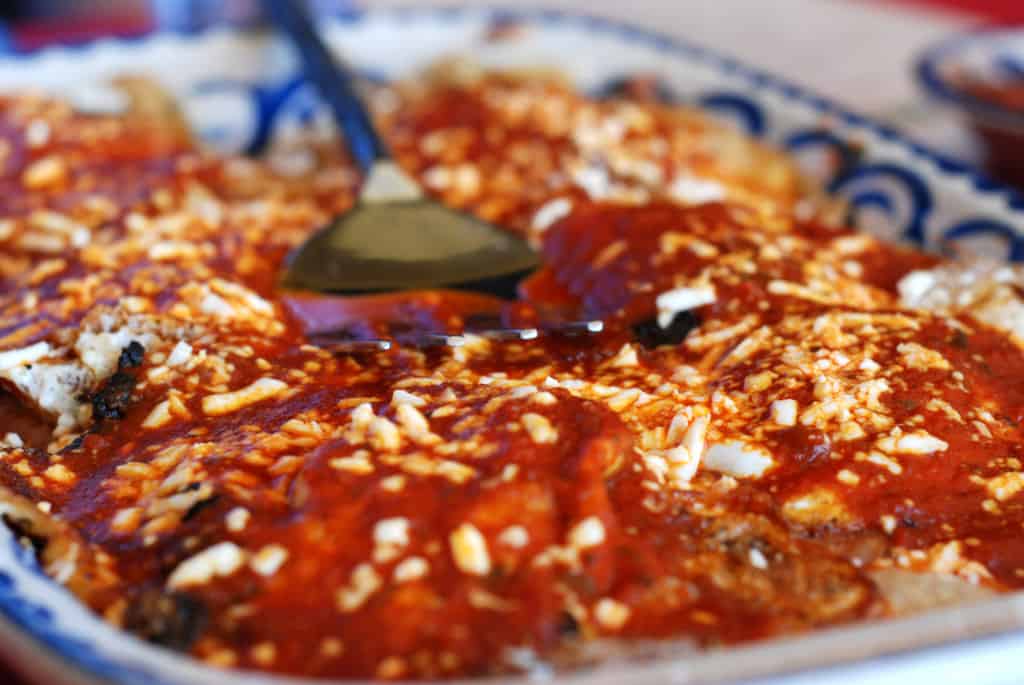 Those huevos rancheros were probably my favorite item. I love the entree itself but Tortilla Jo's version was spot-on legit. So good, with the perfect blend of spice and seasoning to mix with the flavor of the cheeses and eggs.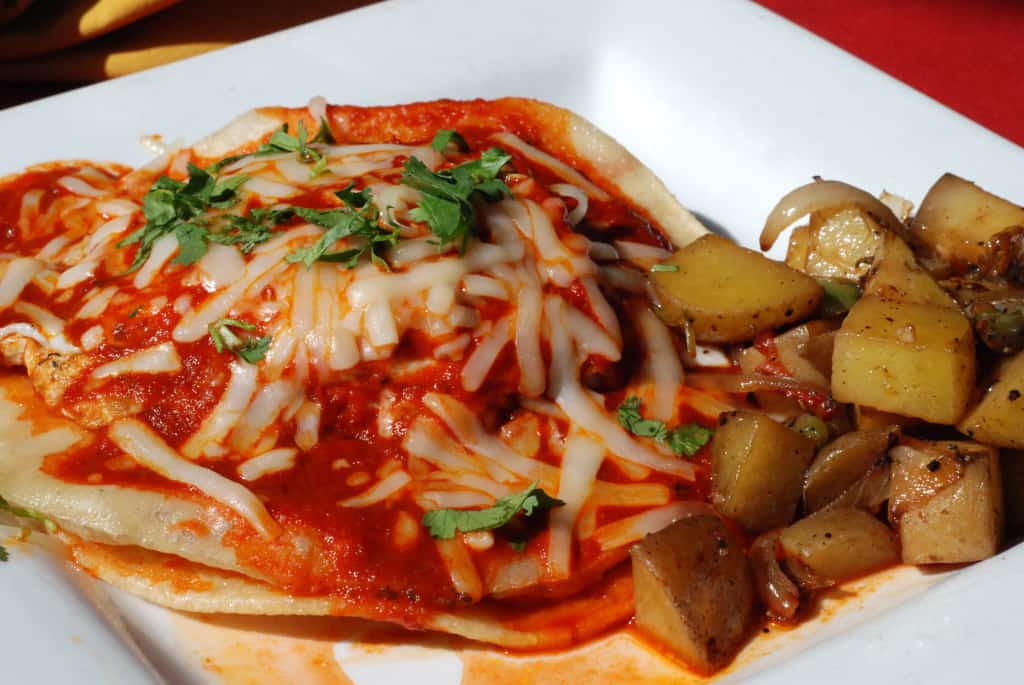 Food that looks as pretty as this really does taste better. Proven fact.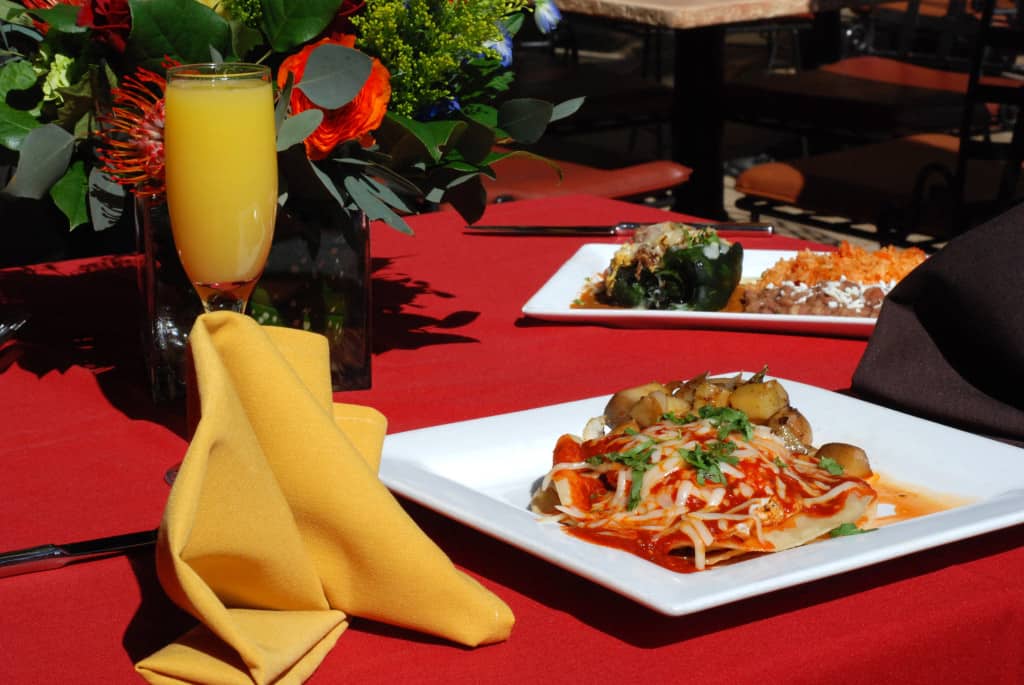 The outdoor seating at Tortilla Jo's offers an uninterrupted view of Downtown Disney and the people strolling along the shops. (We did some strolling ourselves, heading, of course, straight to the Marvel selection in D-Street. Too early to get a custom case for my new Galaxy S7, but we'll be back, D-Street!) Isn't this basic table setting just perfectly elegant for a brunch date?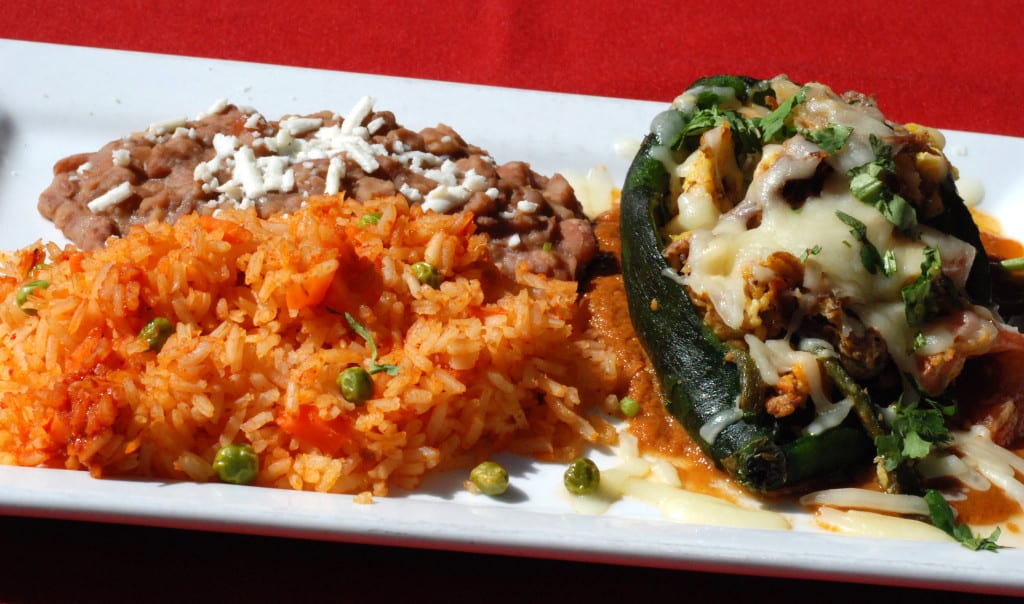 Sadly enough, I couldn't try the Machaca con Huevos Chile Relleno. I LOVE chile rellenos, and it's hard to find them made just the right way, but it was obvious from watching the husband and everyone else eating them that Tortilla Jo's pulled it off. Jealous. (I can't eat red meat, it hates me.) Isn't that a beautiful plating too?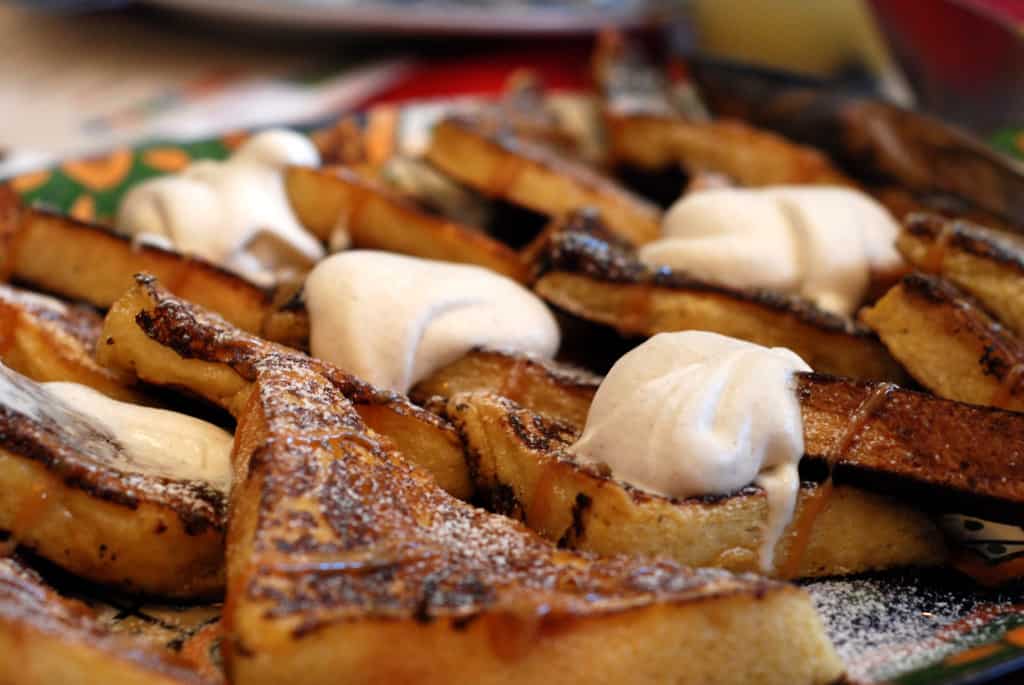 That plate went on for miles. It was one massive platter of the Cinnamon French Toast made with brioche and covered for cajeta syrup, candied walnuts and horchata whipped cream. Doesn't the description just make your mouth water? I may have three…or four..pieces of this. I had to make up for the chile relleno I couldn't eat.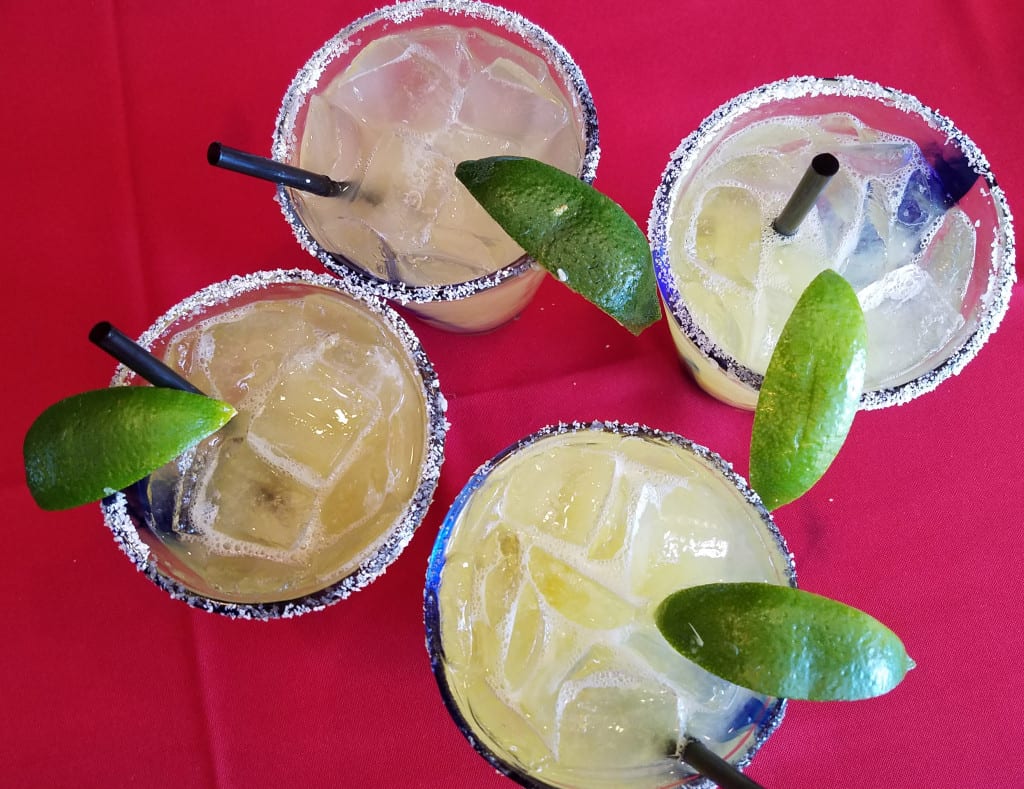 When they started bringing out margaritas, it got quiet for a moment when our end of the table pondered which flavor: house? Peach? Mango? Cadillac? The above four, which — to be clear, belonged to four different people — were two peach and two mango. The mango was probably the best mango margarita I've ever had. It had almost a creamy feel to it, yet was as mango-y without having any pulp or texture to be offputting. It was smooth and had just the right amount of tequila to taste it but allow you to have two margaritas without stumbling away. And they're just pretty. I loved the bottomless mimosas — and somehow ended up with one more at my side later — but I happily moved away the champagne glass to drink those babies. We're planning on making Tortilla Jo's a stop on future Disney visits! (Annual passholders, unite!)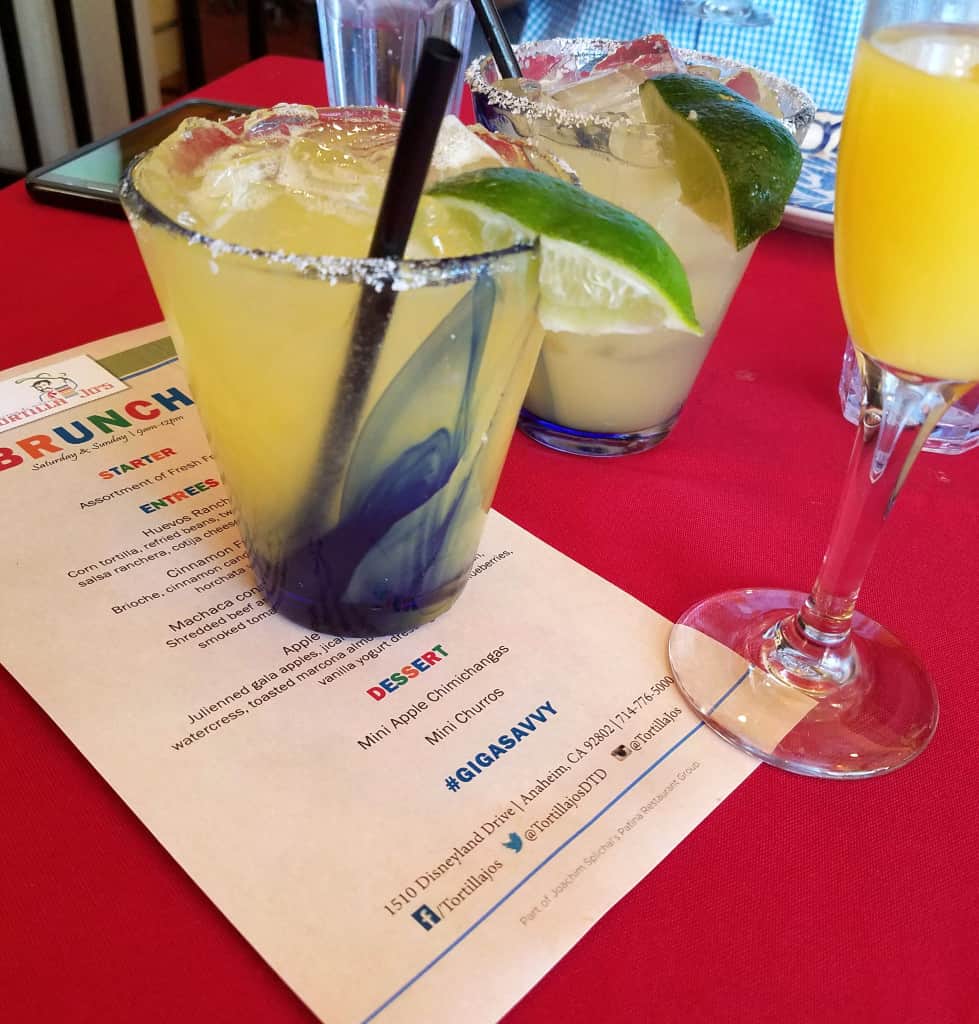 You can't have a big, fancy, delicious Mexican meal without dessert, and we were treated to mini apple-filled chimichangas and mini churros. They were just the right size to fill the few spaces left in your stomach after all the above fantastic food. The apple pie flavor in the chimichangas was tangy and the churros were so light, I could have probably eaten more but decided to stop while I was ahead. I had Marvel shopping to do after and needed to be able to walk!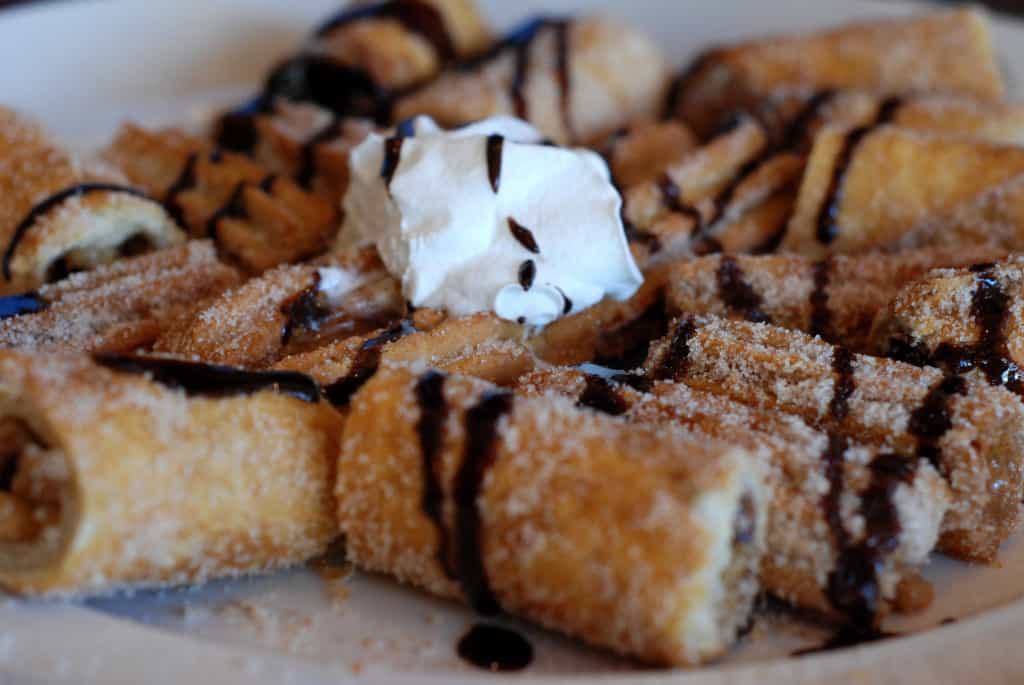 And now you're hungry, right?
Tortilla Jo's is open seven days a week, beginning at 9am on Saturdays and Sundays for their weekend brunch, so you can get a hearty meal before your visit to the park or shops. For further information about the location, visit their website here. Get there before brunch ends at noon! Follow them on Instagram for more mouth-watering photos. Tortilla Jo's is a great location for families or couples and with their easy accessibility to the parks, you can visit before or after hitting the rides or before a concert at HOB. Or like me, before shopping for a Marvel backpack!
Enjoy the new Tortilla Jo's brunch menu and when you visit, let me know what you think and which kind of margarita is your favorite! I'll be heading back soon to try the peach. And a lot more chips and chipotle salsa.