Sunday in Los Angeles means brunch, hikes, ball games…and now, the thunderous roar of race cars on a quarter-mile track at the Los Angeles Coliseum. And we're so here for it. The Busch Light Clash at the Coliseum aims to bring new fans to NASCAR while fulfilling the need for California race fans to get more local track time.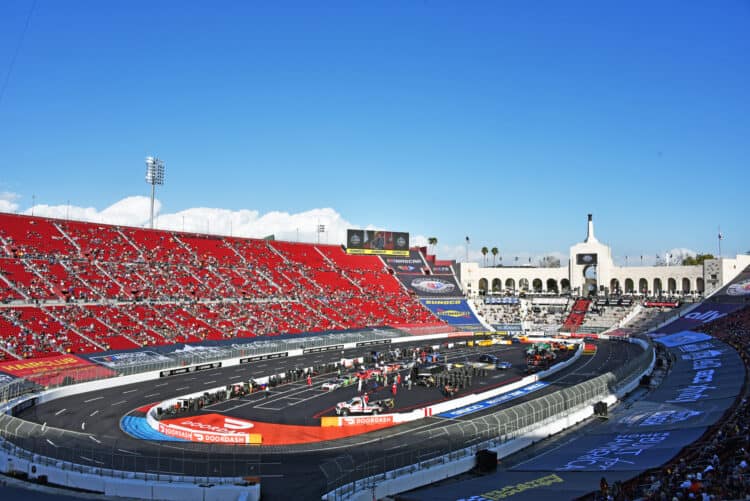 This new addition to the NASCAR is not a points race, meaning it doesn't affect where drivers land in the points or if they get in the championship. It's basically an exhibition, where drivers get to try out their cars and the sport reaches a new audience in an untraditional environment. The Busch Light Clash is not a new race, to be clear, but it's new to Los Angeles, and California's doing its best to welcome new fans to the sport and endear them in time to purchase tickets for the Pala Casino 400, taking place in Fontana on February 26. (Buy your tickets at the Auto Club Speedway website.)
So, What IS the Busch Light Clash?
Most NASCAR tracks are permanent, but the Busch Light Clash turns the LA Coliseum into a short-track just for the one weekend. Setup of the track is pretty amazing to watch. There isn't a bad seat in the house, and everyone's close enough to get a good view of the many slides, bumps and spins. Then there's the smell. It's a race fan's dream.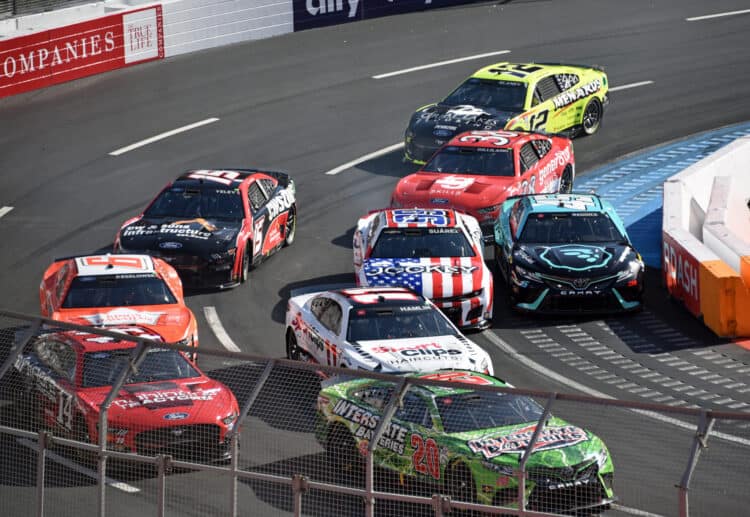 The Clash at the Coliseum does have its challenges though. There's no room for traditional pits, so if there are issues, you pull into the center of the oval. Cars can line up in close proximity to each other, amongst stacks of spare tires. Last year, drivers who were eliminated from the race due to a wreck had to stay in the center for the remainder of the race, some standing on cars/tires to get a better view.
Barriers at tracks are built to withstand the tons of pressure when a car hits them, allowing press and other staff to get fairly close to the track. Not so at the Clash. The barriers can and will move if far less pressure is exerted, so spectators and press alike are held further back. It doesn't hurt the view at all, but it does limit seating inside the Coliseum.
The Clash begins with four qualifying heats. The top five in each heat advance to the main race, and if you don't win one of the first two, there's the Last Chance qualifying rounds. Driver intros started at 4:50 pm PST, with the race beginning soon after the Grand Marshall (Rob Lowe, this year) gives the command to start their engines. This year's flyover was a little late but no less spectacular.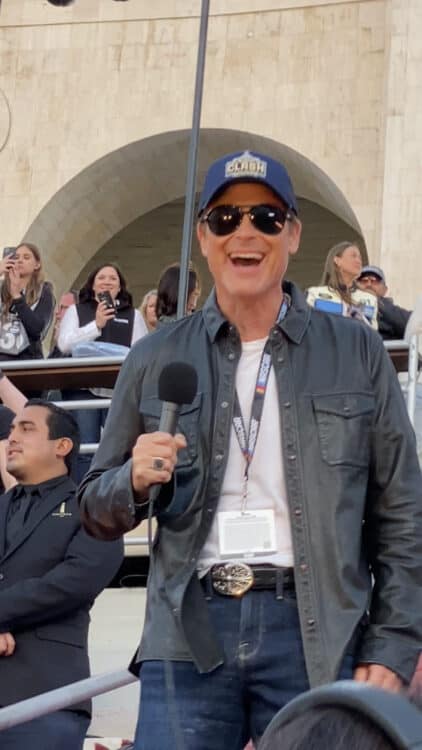 The main race itself is completed, in theory, in two halves, with a short concert in between. This year's entertainer was Wiz Khalifa, who may have had some questionable vocabulary in songs with so many children around, but the pre-race concert of Cypress Hill also had many in the stands grooving. And when I say in theory, it's because cautions are common in short track racing, as passing happens mainly in the turns. If it can't happen simply by cutting down on the track, it may involve a bump and run, which basically is what it sounds like: use your front bumper to nudge them out of the way, and you when they slide up the track a bit, you take advantage of that space to pass. This year's Clash had 16 cautions, some of which were longer than others, and there was one flagging situation due to a hole in the track that had to be fixed.
Not all passes happen cleanly though, resulting in spins. There were a lot in Sunday's race, but Martin Truex Jr., driver of the number 19 car, came out barely ahead over Ty Dillon (as in less than a second) and Kyle Busch came in third.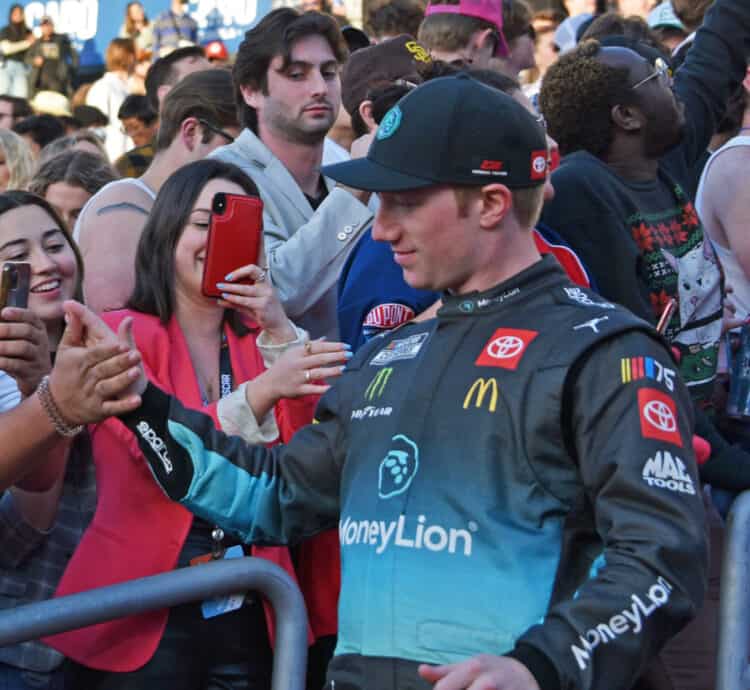 Driver intro happens near the peristyle entry of the Los Angeles Coliseum, and the drivers walk down through the stands to the track. Above, you'll see Tyler Reddick, Bubba Wallace, Kyle Busch, Martin Truex, Jr. (the winner), Daniel Suarez and Kyle Larson on their way to their cars.
NASCAR cup races are point races, where drivers receive a certain number of points based on their final position, if they lead laps and if they win one of the three stages, along with a few other qualifiers. (A stage is one session of the race; the first two are shorter, and the third stage is the longest, all dependent on the laps and how big the track is.) The Busch Light Clash has no points, so winning, losing, not racing, makes no difference on your championship possibilities in the Cup series. There are three winners, all of whom received their trophies on top of pedestals at the Coliseum, much like Olympic medal ceremonies. (Apparently there was some backlash that this wasn't televised, but I was at the track and not watching it on television so I can't say firsthand.)
If you're a regular reader here on the site, you know I'm a huge NASCAR fan. I wrote a primer on the basics of NASCAR racing, which is a great place to start. I've shared years of social media content, including videos, photos, driver interviews and special events, in addition to posts here on the site. My goal is to help other prospective or new fans to understand the sport, learn more about the NASCAR season and to give it a shot. I still hear, after all these years, that it's just a bunch of left turns, but I promise you, it is so much more. Wins are due to strategy and skill, not just luck of avoiding a wreck or a blown tire.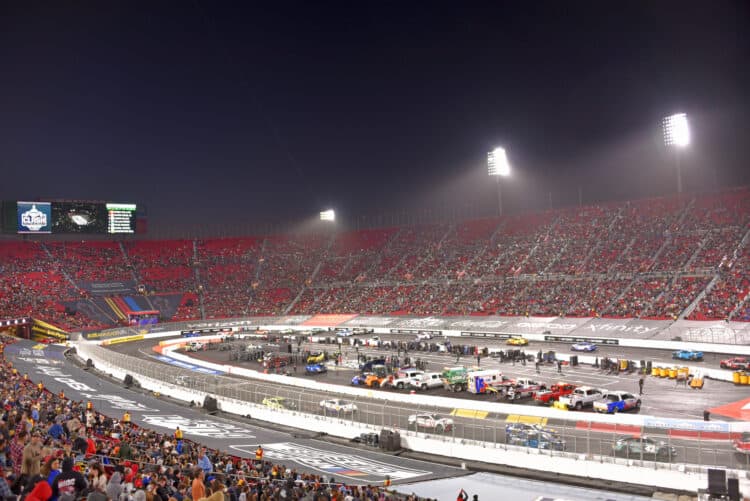 NASCAR is a great family sport. It's loud, so I recommend ear plugs or headphones for the younger crowd, and perhaps sit further back from the track. Most tracks no longer allow smoking in the stands, but you will see a lot of people enjoying beverage. I do want to say that the Busch Light Clash happens basically on top of the USC Campus, so there's a section of seats dedicated to USC students. This year's broadcasting apparently featured a lot of footage of that crowd dancing and holding up beers. This is honestly not indicative of a normal race or the rest of the stands. People all over drink but that's not a typical representation of an average NASCAR race. I hope those students become fans, but I think many were there for a fun day and a couple of cool concerts. And beer.
Entertainment at tracks vary. There are a lot of country music performers; Dierks Bentley is common. We've been treated to so many good shows over the years: Lifehouse, Buck Cherry, Candlebox, .38 Special, Night Ranger, Collective Soul and so many more. Some take place infield, while others happen outside the track in a fan area surrounded by gear haulers and food sellers.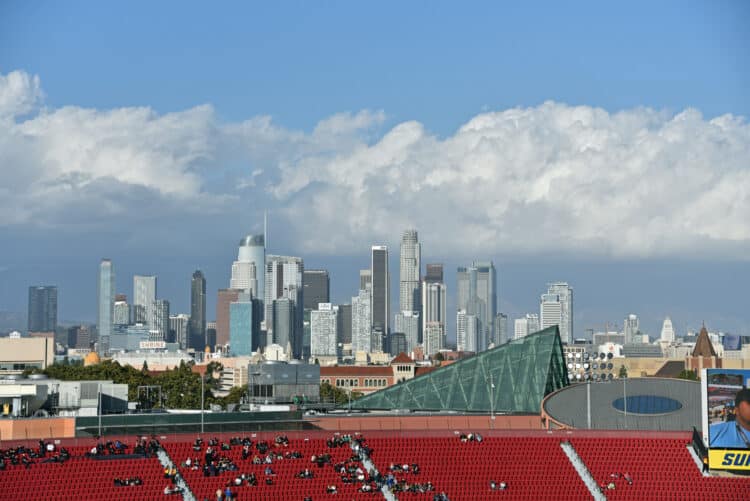 The Busch Light Clash at the Los Angeles Coliseum is special for more than the fact it brings new NASCAR rans to the race. It's a fantastic excuse to travel to Los Angeles for the weekend and enjoy many of the local venues. The Hollywood sign is visible from the suite and press stands, and the skies cleared just in time, on the heels of a chilly week, to see it. LA traffic is tedious at best, so give yourself a lot of time to get in and out of the stadium, and buy your parking pass the minute you have a ticket, as the main lot will sell out. Parking is available in local lots, unaffiliated with the Coliseum, starting at $25 and getting a lot higher, and all will involve a little walking, some of which will be at night. Plan accordingly.
The fan experience at the Busch Light Clash is a great starter day as well as for diehard fans. Christmas Tree Lane is where drivers appear at various times throughout the weekend, and qualifying happens on the day before. Gear is available for purchase all over (right next to the $7.25 water bottles…just so you don't have sticker shock) and lines were surprisingly short due to so many options. If you want to go the VIP route, 1923 is on the 7th floor (complete with a buffet and private bars) and suites are on the fourth floor.
This year, you can purchase 75 years of NASCAR gear. We feel like we've been fans for a long time now (almost 20 years) but it's humbling to see how long it's been in existence before we started watching.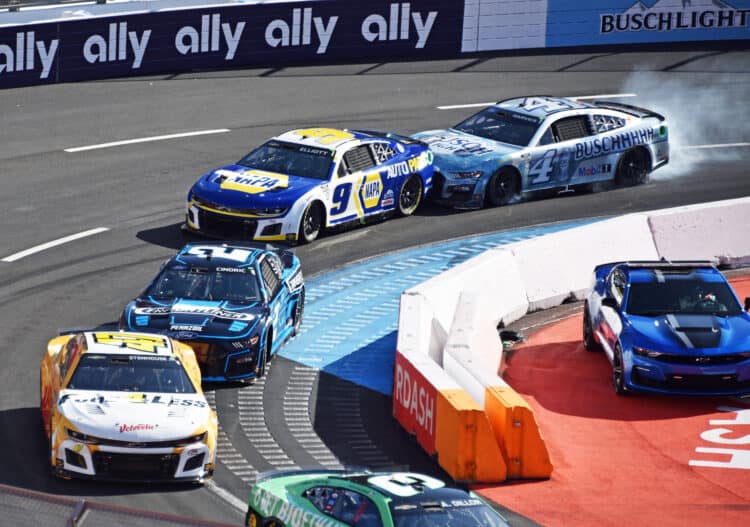 Race energy is palpable, and if you have a chosen favorite driver, it's hard not to stand up and cheer or yell when he gets bumped. Tempers get a little heated and sometimes you'll see payback when there's a bump, intentional or otherwise. And there are intentional bumps. The personality clashes aren't just face-to-face, and periodically come out on the track. There's a lot of footage available online of driver interviews after talking about interactions they had on the track.
There is still time to buy your tickets for the Pala Casino 400 at Auto Club Speedway in Fontana on February 26. Fontana is a two-mile track, and this year's race is historic as the track is being changed to a 1/2-mile track before it reopens for NASCAR racing in 2024. This means that Southern California won't have a Cup race in the 2024 season, which is a big bummer, but at least we'll have the Busch Light Clash again in 2024 at the Coliseum. And it gives us an excuse to travel to both Las Vegas Motor Speedway races in 2024, and maybe even Phoenix. Who else will I see there?