We're longtime visitors to the OC Fair, and we jokingly refer to it as fried food day. I mean, fried foods are the epitome of visiting any fair, but OC Fair food in 2022 elevates it to a new level.
We were invited to the opening day of the OC Fair last Friday as press. My daughter and I headed down early, maximizing the time we were available to eat all the things, shop and enjoy the fair vibes. As always, it did not disappoint.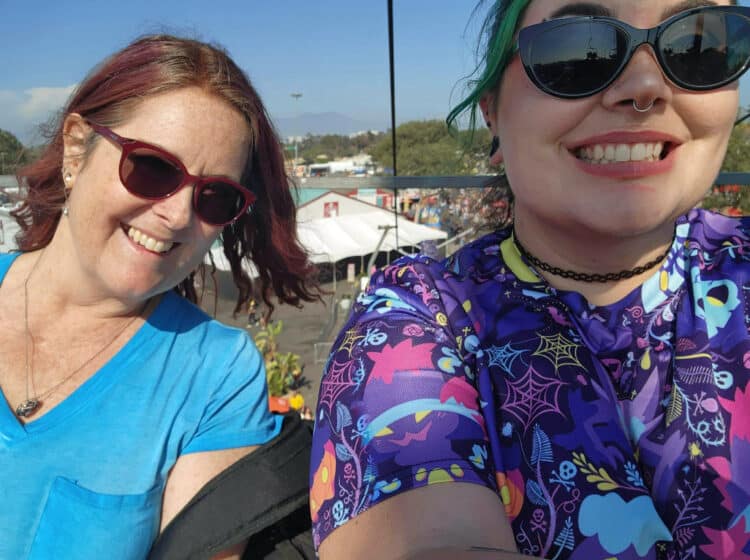 Our day began at the promenade stage, listening to the latest on speciality produce, presented by Robert Schueller, Director of Public Relations for Melissa's Produce. Melissa's had provided us the tickets for the event, in partnership with the OC Fair. Each year, we learn more produce tips from Robert's presentations. I mean, Melissa's offers more than 1500 types of produce, so how could we not?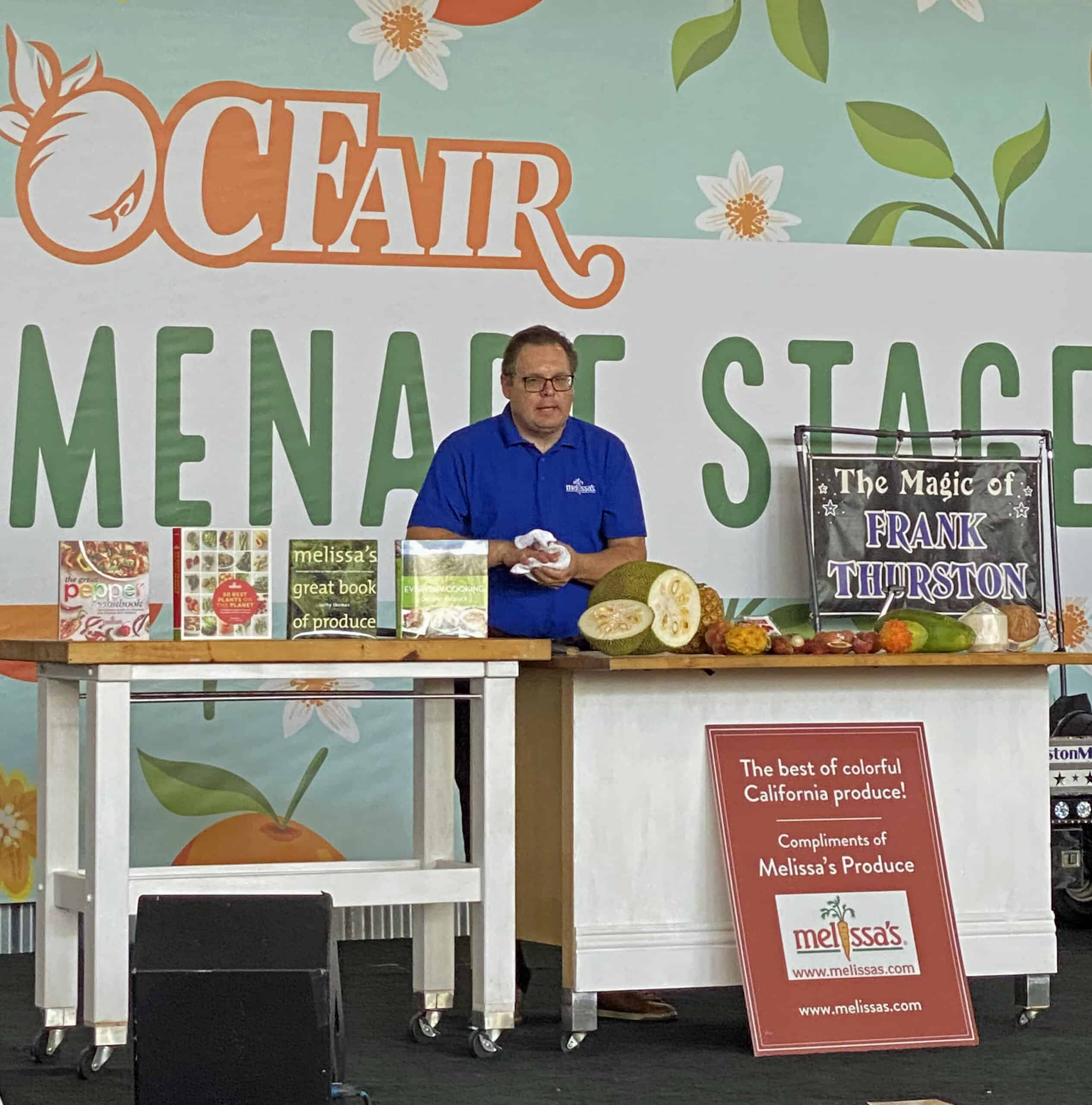 Fun fact: Did you know that there's a watermelon that's yellow on the outside? It's called a Sunshine Watermelon!
Robert also gave another presentation at 2:45, which was immediately followed up with a "Walking Tour of Concessions," a tour of the midway with Dominic Palmieri, aka the Midway Gourmet, where we made stops at quite a few of the food booths….starting with Chicken Charlie's, the creator of the deep fried Oreo.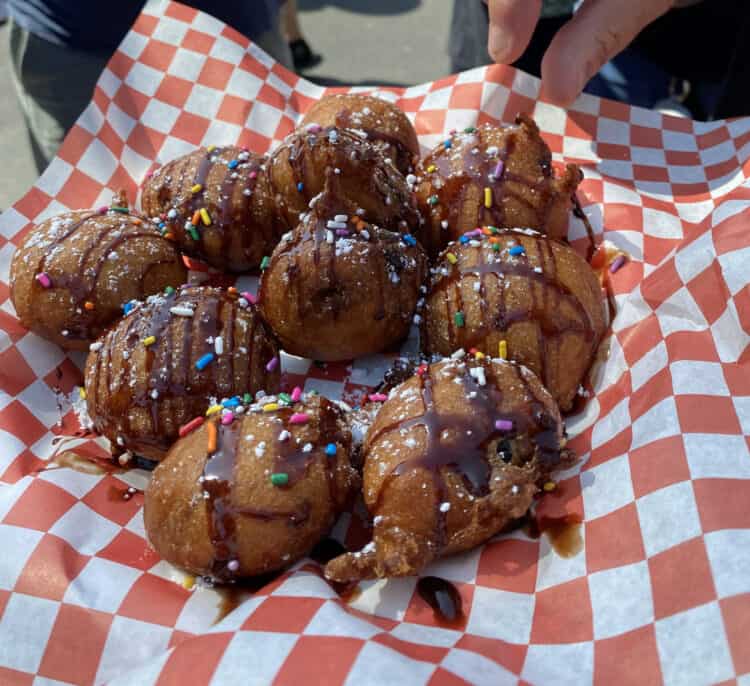 My hero.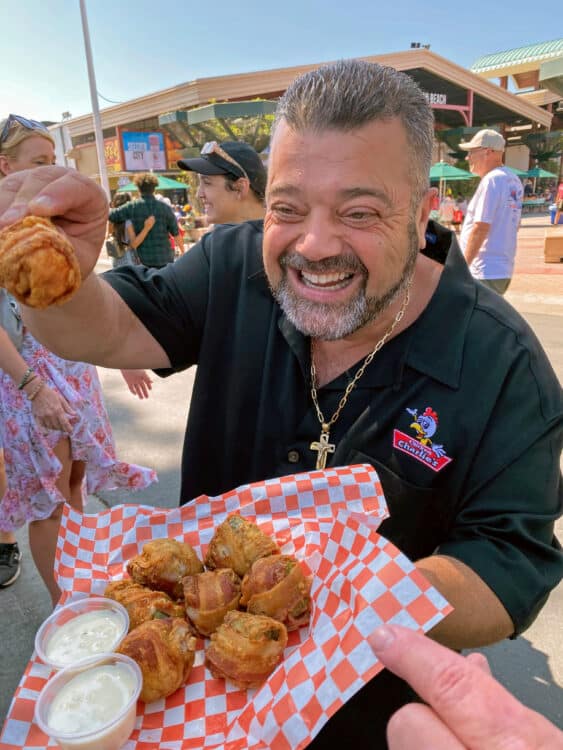 On any normal day of life, we are typically healthy eaters. OC Fair food though is too big of a temptation to avoid, so we throw that out the window and eat it all….including those Deep Fried Oreos. We also tried Deep Fried Butter. It is NOT what it sounds like, I promise. Its appearance is similar to a Deep Fried Oreo, but inside is fluffy, moist and buttery. No, there's no chunk of butter, and it's surprising because the amount of butter that is in the middle of the light batter is about the size of a thumbnail. It's definitely something I recommend you trying!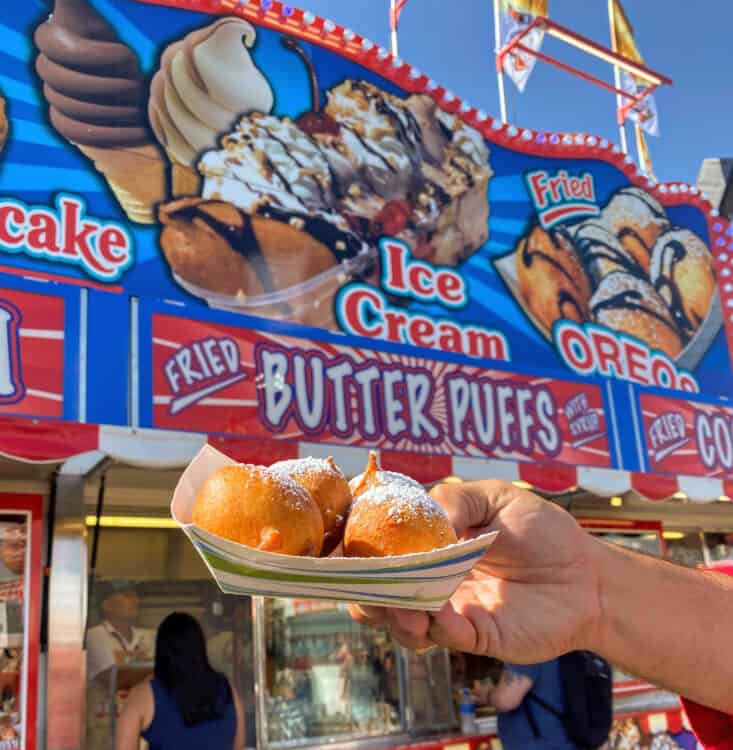 We tried the Kool-Aid Chicken Sandwich and Deep Fried Avocado — which was a favorite of mine.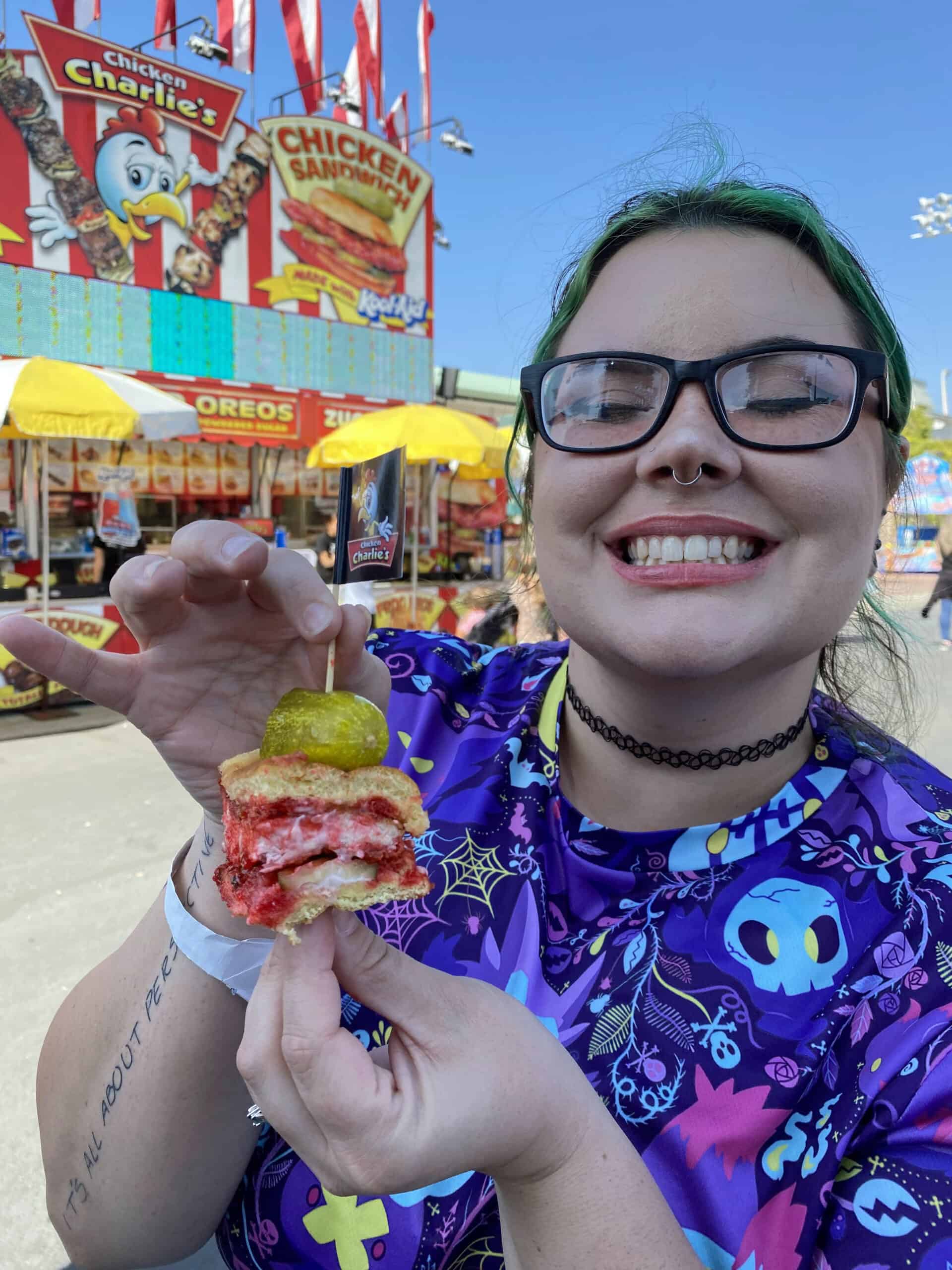 Then we headed further down the midway to try nacho cheese and Cheeto-covered pickles and Cap'n Crunch Chicken Sandwiches at Biggy's. Again, don't knock it til you've tried it. That Cap'n Crunch sandwich really comes together in a delicious way. And it's fun!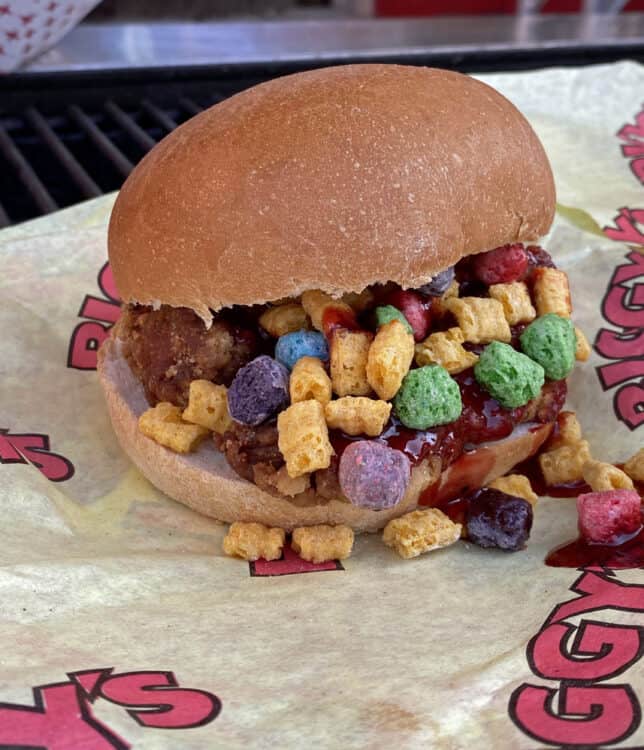 Our last treat of the day was a Watermelon Dole Whip Taco, over at the Nitro Treats/Dole Whip booth. It's a huge slab of fresh watermelon with a hole carved in the center, full of pineapple Dole whip ice cream, topped with a sprinkle of Tajin. So good, and so refreshing. (And Dominic, you made me a little teary when you held up a full-sized portion for us to take photos, then gifted it to a family walking by. The smiles on the kids' faces! Sniffles.)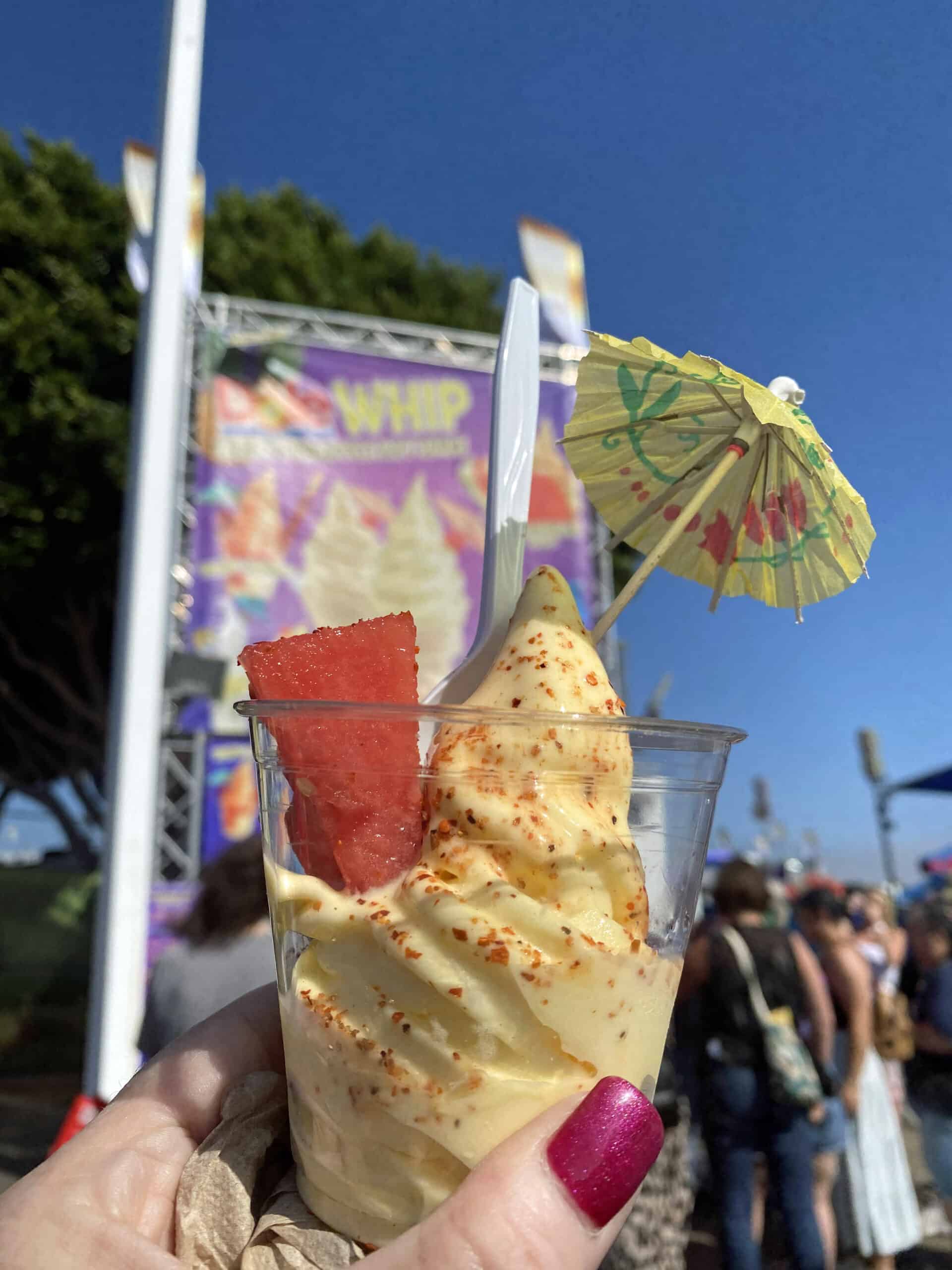 The OC Fair runs through August 14, and is held at the OC Fairgrounds at 88 Fair Drive in Costa Mesa. It's not far off the 55 freeway, and took us less than an hour to make the drive during the day from the Inland Empire. This is the first year we've not gone to our more local fair, and I'm thankful for the invite. We stayed until it began to get dark, so we could wander the shops, get a henna tattoo, try a glass of wine in the wine courtyard. (Tip: house wine is $10 for an 8-ounce glass, and a wine that you choose is $14 for an 8-ounce glass. The house wines are just as brand name and delicious, so the extra $4 may or may not be worth it to you.)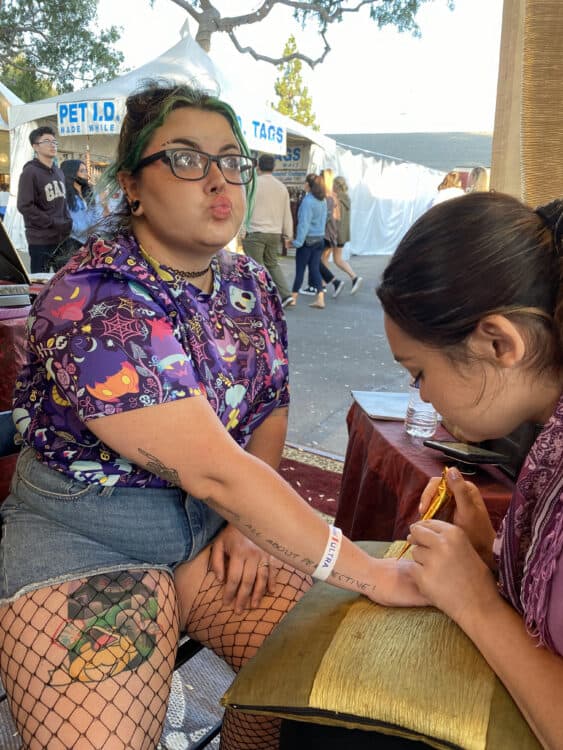 Tickets are available at the fair's website. Adults are $12 – $14, depending on which day of the week you attend. Seniors and youth are $7, and children five and younger are free. Parking is an additional $10, and some of the lots can be a bit of a walk, so wear comfortable shoes. Tickets are limited, and there is no guarantee of walk-up ticket availability. (Last year, they did sell out some days.) They are keeping the number of daily guests at a bit of a lower number this year due to safety for the pandemic.
Masks are not currently (at the time of this writing) required, nor are guests required to show proof of negative COVID test or vaccinations. (Please check your local news and county websites in the event this should change due to the new COVID variant.)
One thing you don't want to miss is the Centennial Farm, where you can see the new little piggies. One mom has six piglets snoozing quietly in her pen, and another mom-to-be is awaiting delivery any day now. You can watch the 24/7 Pig Cam online here!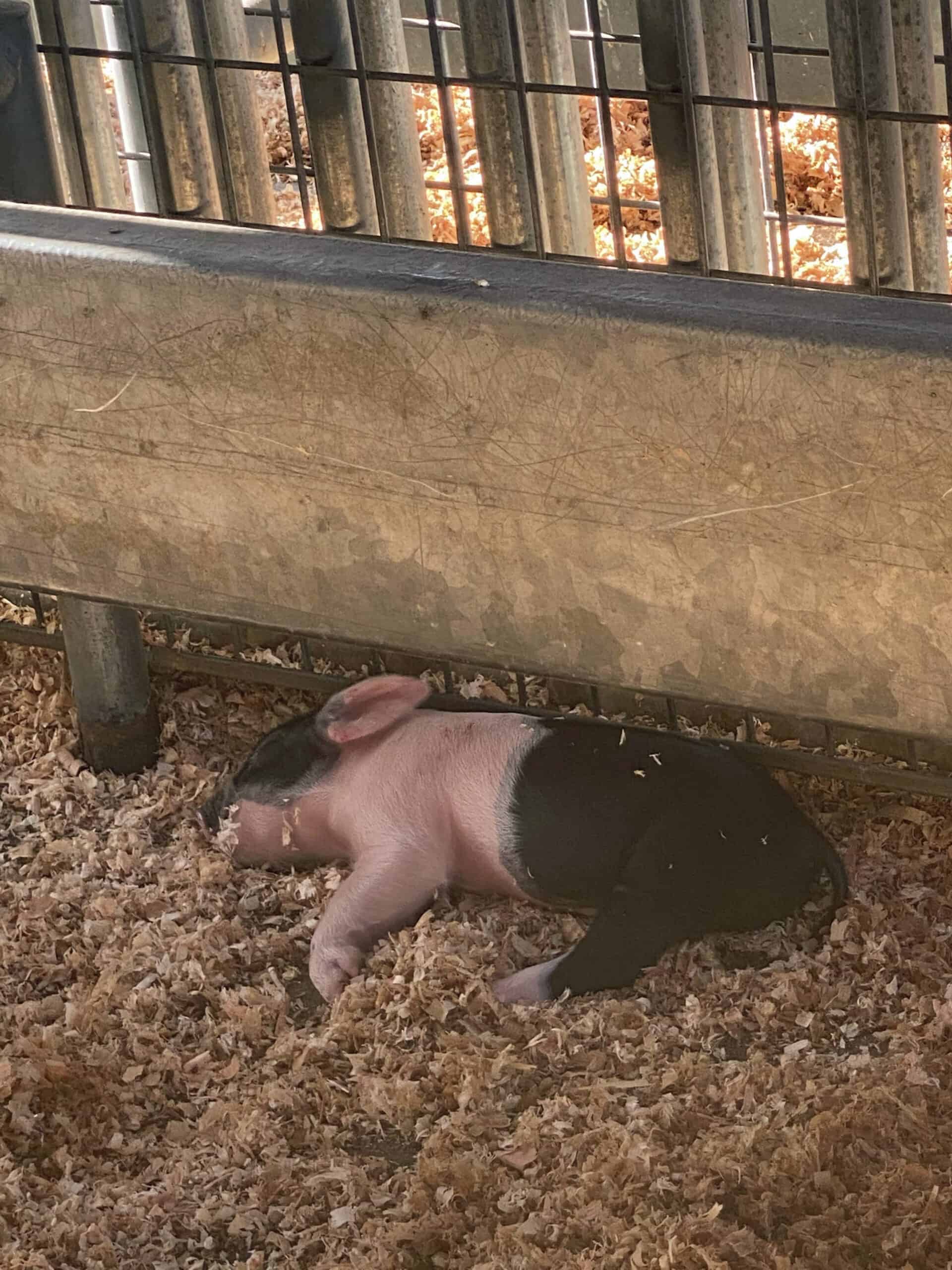 You can pick up a OC Fair Food Guide at the entry gates. It is a map of the entire fairgrounds, highlighting what types of food each vendor has available. Food prices worldwide have gone up, so prices are a little higher than normal but it's to be expected.
The OC Fair food is a mix of old favorites and new fun. Don't go if you expect to eat healthy food. It may be available — there are a LOT of vendors — but that's not why we go. We splurge for the day and then spend the next couple of days drinking a lot of water. Life is short, life a little dangerously, right?
Thank you again, Melissa's Produce, for a fun day at the Orange County Fair!