Here are five NEW Black Panther facts and trivia you didn't know! 
To celebrate the in-home release of Marvel Studios' Black Panther, I am sharing five stellar secrets from the making of the epic super hero saga, Black Panther! The mighty <ahhh, I love using that word> new Marvel movie is released digitally in HD, 4K Ultra HD™ and Movies Anywhere on May 8 and on 4K Ultra HD™, Blu-ray™, DVD and On-Demand on May 15.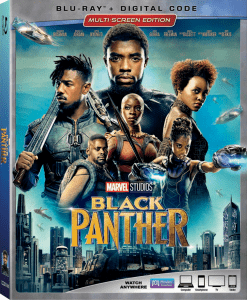 SUPER HERO SECRET #1
THE COMIC BOOKS WERE A HUGE INSPIRATION FOR THE FILMMAKERS
When it comes to the inspiration behind the story of Marvel Studios' Black Panther, director and co-writer Ryan Coogler admits that he delved deep into the history of the acclaimed Marvel comic book series. "We pulled from all of the comics," Coogler explains. "When you watch our film, you will probably see something from every writer that has touched T'Challa's character in the Black Panther comics. Everything from Stan Lee and Jack Kirby's initial runs through to Don McGregor, Christopher Priest, Jonathan Hickman and Brian Stelfreeze. We grabbed from it all. Each writer left their own mark, so Agent Ross [played by Martin Freeman in the movie] came from Christopher Priest's run and the character of Shuri came from Reginald Hudlin's run. Each run left something for us to pull from, but we pulled from absolutely all of them."
SUPERHERO SECRET #2
THE ATTENTION TO DETAIL ON SET WAS MIND-BLOWING FOR THE ACTORS
"It was incredible to walk on to the Wakandan sets," enthuses Danai Gurira, who plays Okoye in the movie. "Our production designer, Hannah Beachler, was amazing. I remember walking into the Tribal Council room and thinking, 'This room is stunning.' The floors were see-through. There were massive, beautiful panther statues. The throne was very African. The entire décor was very African. It was an amazing experience, which was very rich for my character because I stood there and I thought, 'This is like nothing else on the planet and it's my character's job to protect it.' Hannah pulled from lots of awesome traditional African esthetics. You don't get to see it in the movie, but she also designed T'Challa's office, which was another amazing room on set. We shot some scenes in there, which were left out of the movie – but the office was constructed and it looked amazing."
SUPER HERO SECRET #3
THE PRODUCTION TEAM TOOK A TRIP TO SOUTH AFRICA TO RESEARCH THE MOVIE
"We took a really important trip to South Africa to do a ton of research for Black Panther," reveals production designer Hannah Beachler. "We went up and down the country, which helped immensely when we started to create the sets. It was incredible to see all the colors, the textiles and the way things were built. In the end, we shot a lot of plates and second unit footage in South Africa. We shot footage in Uganda, which was used to show the farm land and open space of Wakanda. It was beautiful. We also shot at Victoria Falls in Zambia. When the fighters come flying through the falls and get to the challenge pool; that flight through the falls is Victoria Falls. But when you get to the challenge pool, what you see behind them is a bit of Iguazu Falls, which is in South America. We smashed the two together because we wanted a horizon."
SUPER HERO SECRET #4
SEBASTIAN STAN WAS ONLY ON THE BLACK PANTHER SET FOR ONE DAY
"The tag scene with Bucky [played by Sebastian Stan] at the end of the movie came as a wonderful surprise to me," explains Letitia Wright, who plays Shuri in Black Panther. "I was so happy when I read about it. Props to Ryan [Coogler] for adding it to the movie. This scene was shot quite late in the production, but I really enjoyed it. It was a beautiful day on set and I thought it was a great way for us to find out where Bucky had been hiding in Wakanda. We shot the scene in a forest area somewhere in Atlanta, but it only took a day. Sebastian was really great to work with. He's a good chap."
SUPER HERO SECRET #5
THE IN-HOME RELEASE IS PACKED WITH DELETED SCENES AND OUTTAKES
Marvel fans can delve deeper into the wondrous world of Wakanda with the exclusive bonus features packaged with the in-home release of the movie. Not only are there behind-the-scenes featurettes and never-before-seen outtakes, but there are also a number of deleted scenes. "There are a couple of scenes with Okoye and W'Kabi [played by Daniel Kaluuya] that I would love people to see," explains Danai Gurira. "There's a scene between Okoye and W'Kabi, which takes place after Killmonger tells us what he's going to do with the kingdom. Okoye is very disturbed by her man seeming to positively respond to Killmonger. There's also a scene where W'Kabi and Okoye go head-to-head. Okoye pushes W'Kabi to a place where all the rage he had towards T'Challa comes out. I hope some of those moments end up in the deleted scenes."
Wakanda forever!!