In a new movie coming to AppleTV on December 11, hand-drawn animation brings the characters to life in a way like no other. Wolfwalkers is an astoundingly beautiful film, from the depth of the detail in the drawing to the compelling story life. This Apple original film is going to be a new family favorite combining an emotional story with some important messages.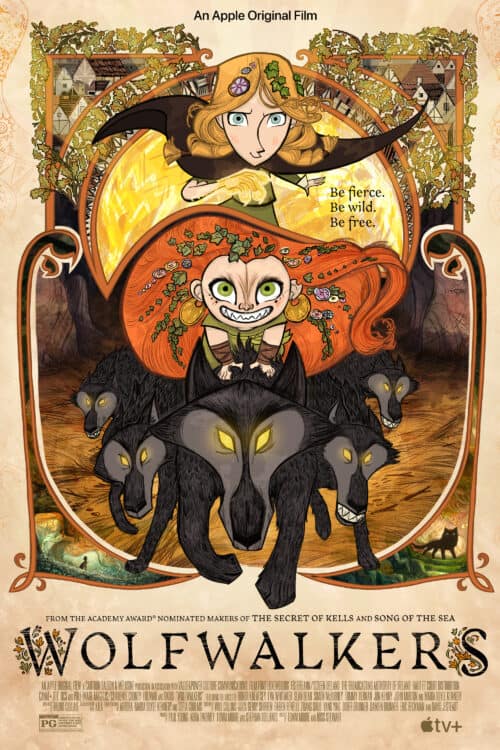 An Apple Original Film, "Wolfwalkers" is the latest from two-time Academy Award-nominated director Tomm Moore ("Song of the Sea," "The Secret of Kells") and director Ross Stewart ("The Secret of Kells"), and co-produced by the award-winning animation studios Cartoon Saloon (Oscar and Golden Globe nominee, "The Breadwinner") and Melusine Productions (Oscar nominee, "Ernest & Celestine"). "Wolfwalkers" makes its North American world premiere at the Toronto International Film Festival this year and will stream around the world on Apple TV+ following its theatrical run.
In a time of superstition and magic, a young apprentice hunter, Robyn Goodfellowe, journeys to Ireland with her father to wipe out the last wolfpack. While exploring the forbidden lands outside the city walls, Robyn befriends a free-spirited girl, Mebh, a member of a mysterious tribe rumored to have the ability to transform into wolves by night. As they search for Mebh's missing mother, Robyn uncovers a secret that draws her further into the enchanted world of the "Wolfwalkers" and risks turning into the very thing her father is tasked to destroy.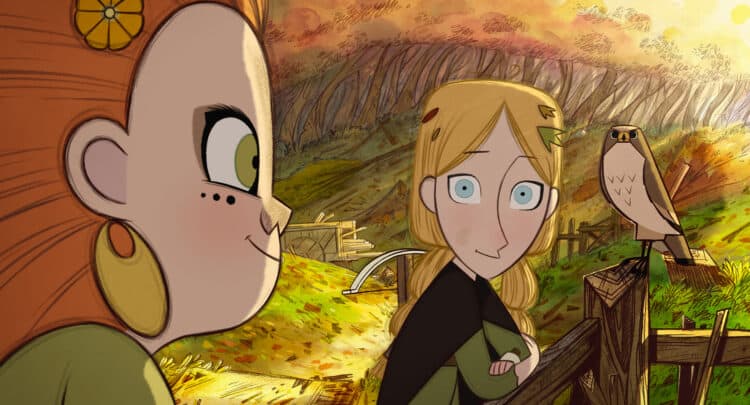 To celebrate the upcoming release of Wolfwalkers on AppleTV, I was invited to attend an animation tutorial with the animators who created the characters, as well as the director. In attendance in a fun Zoom call were filmmakers Tomm Moore (Director) and Ross Stewart (Director) as well as Maria Pareja (Art Director) and Grainne Fordham (Layout Artist).
Here are some highlights from the event, where we were talked through drawing two of the characters and some nature scenery. My attempts to draw Mebh were not worthy of sharing, but I did really enjoy giving it a shot. Here's a picture of a tree I drew during the Q&A. I studied Art and Psychology in college, and clearly, not much of that Illustration training stuck…but I do feel motivated to try drawing again.
AppleTV sent me this gorgeous box of goodies, which included a hard copy of Wolfwalkers, the Graphic Novel. It's a gorgeous hardcover book full of illustrations from the movie. They also sent me two notebooks, colored pencils, cookies to paint and a dessert cake. (YUM.)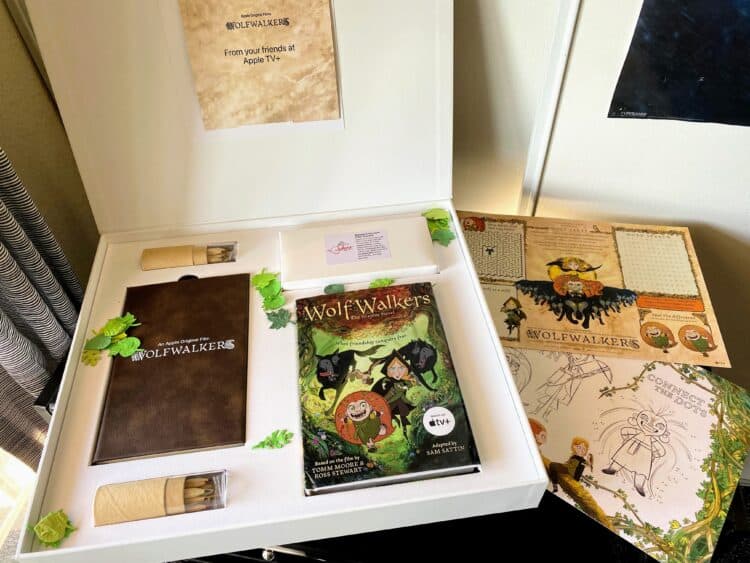 The box also included activity sheets, and I've uploaded one here so you can download and print it out, too. They're great to go along with the movie or to just have independent movie-related fun.
Did you know that each second of film requires 12 drawings? That explains why animated movies take years to make, especially when it's hand-drawn animation and not CGI. This one took seven years, with three in production. Once you see all the details in the movie, you'll be amazed it didn't take longer!
If you remember the Song of the Sea film, you'll know how talented the animators are and some worked on both films. The artwork is poignant, it draws you in and if you could think in pictures, you'd find the color schemes perfectly fitting.
Hand-drawn animation makes this film what it is. The story line is beautiful on its own, but each stroke of the pen and pencil is obviously done as a labor of love to bring this story to fruition in all its glory. I won't give away any spoilers, but as this story draws to a close, you'll feel the emotions of the characters and you'll have a new perspective on wolves, tribes, family and more.
Give Wolfwalkers a view on AppleTV. The service costs $4.99 per month but there is a one-week free trial available. I used my free trial a couple of months ago and then was lucky enough to get a free year's membership with the purchase of my iPhone. It's worth the money, especially now that we're stuck at home longer.