If you're looking for a new cocktail recipe for Thanksgiving, my Blood Orange Mojito may be the one you need! Utilizing just a few fresh ingredients and no fancy bar equipment, you can knock out unique seasonal cocktail for your guests in minutes.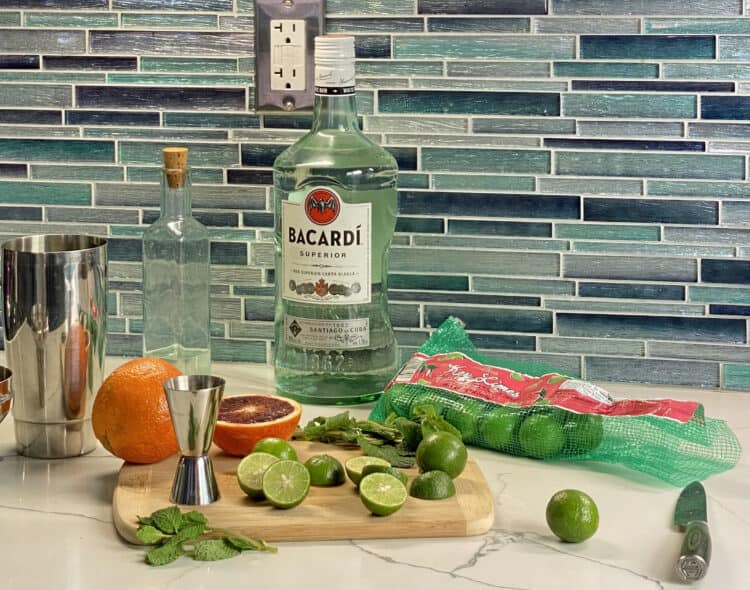 Jump to Recipe
To help create this Thanksgiving cocktail recipe, Melissa's Produce gifted me with a box of produce, which included Seedless Lemons, Key Limes, Golden Berries (a personal favorite), sugar cane, fresh mint lines, guava paste and a bunch of Blood Oranges. There is so much goodness in this box that I actually created two recipes. I'll share the other recipe in a few days, but I have a hint: it utilizes the guava paste and some smoky mezcal. It'll be a treat.
First though, if you're unfamiliar with a Blood Orange, you need to try one! Imagine an orange but with a sweet kick and a gorgeous red center. The juice really is a blood red that tastes great on its own and is a fun alternative to a glass of OJ with breakfast. It also makes spectacular cocktails with a new spin on traditional recipes.
Keep reading for the Blood Orange Mojito Recipe!
Isn't this a gorgeous fruit? look at those colors!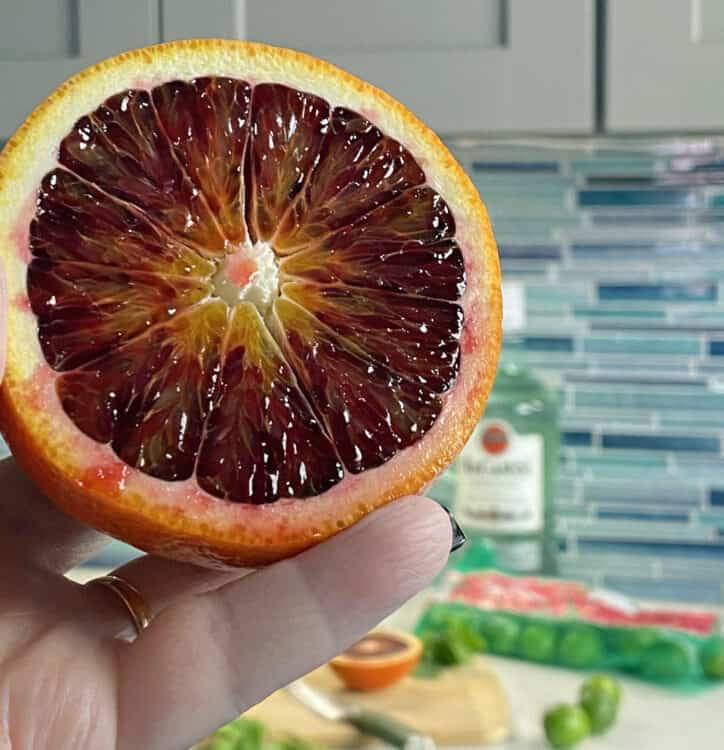 In fact, this entire recipe is a cornucopia of colors! (See what I did there?)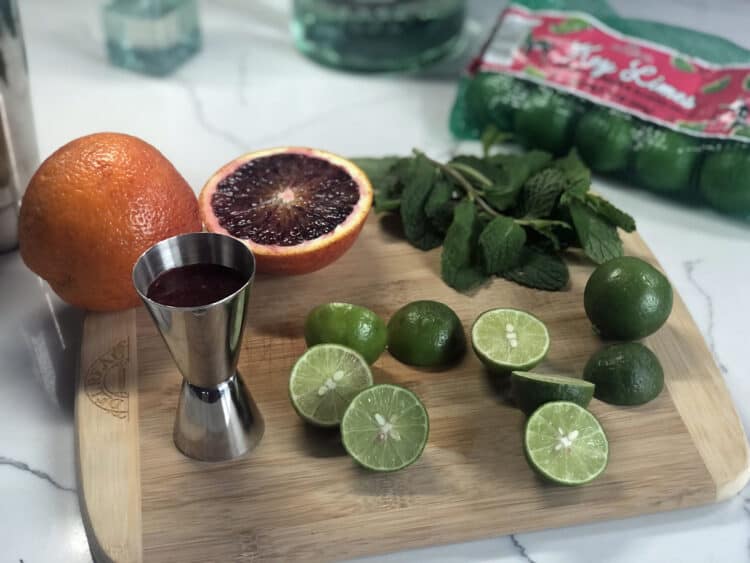 Blood Orange Mojito: A Thanksgiving Cocktail
Ingredients
2

ounces

quality white rum

1.5

ounces

fresh Blood Orange juice

1

ounce

key lime juice

.5

ounce

simple syrup

5-6

fresh mint leaves

thin slice of a Blood Orange for garnish
Instructions
Muddle the mint with the simple syrup in a cocktail shaker with a strainer, then add the remainder of the ingredients, ice and shake 15-20 seconds.

Pour in your favorite shallow glass, add a cube or two of ice (the bigger, the slower it melts) and top with a thin slice of a Blood Orange. 

If you prefer to go a little more traditional mojito-esque, add a splash of club soda. 

Gently lay the orange slice on top.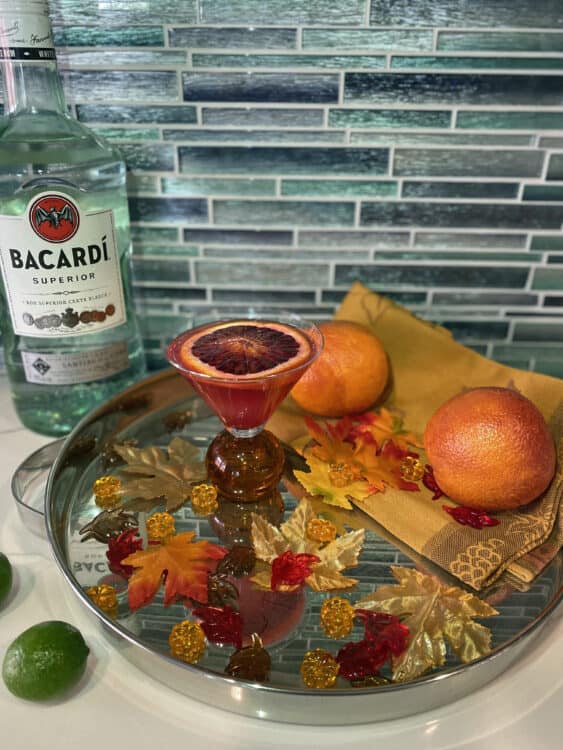 Not every holiday dinner needs a signature cocktail, but we have a lot of fun adding one specific drink to every menu. When searching for a good cocktail for Thanksgiving dinner, you're likely to find quite a few drinks leaning towards pumpkin and bourbon. No hate on either — I'm a big fan of both — but offering a unique beverage option separates each holiday from the last. It's easy to make an Old Fashioned as the go-to cocktail, but we can do that any day of the week. It's Thanksgiving — go big or go home, right?
If you have non-drinkers in the bunch, this Blood Orange Mojito can easily be turned into a cocktail with the omission of the rum; replace it with a little more of the Blood Orange juice and some Club Soda, or a lemon-lime soda. Fizzy, sparkly and equally colorful without any of the alcohol.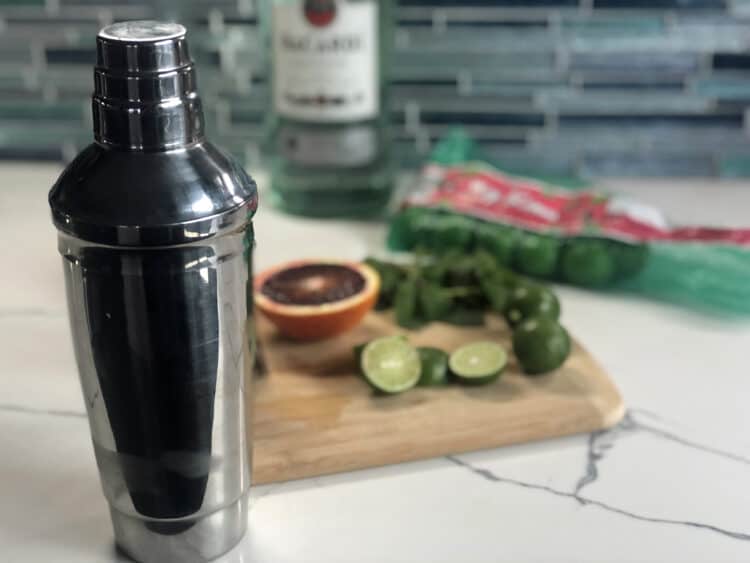 Whatever glass you choose for this Thanksgiving cocktail, keep in mind your garnish choices. Blood Oranges are bigger than typical oranges, so one thin slice was the perfect size to lay on top of my mojito and it filled almost the whole glass from edge to edge.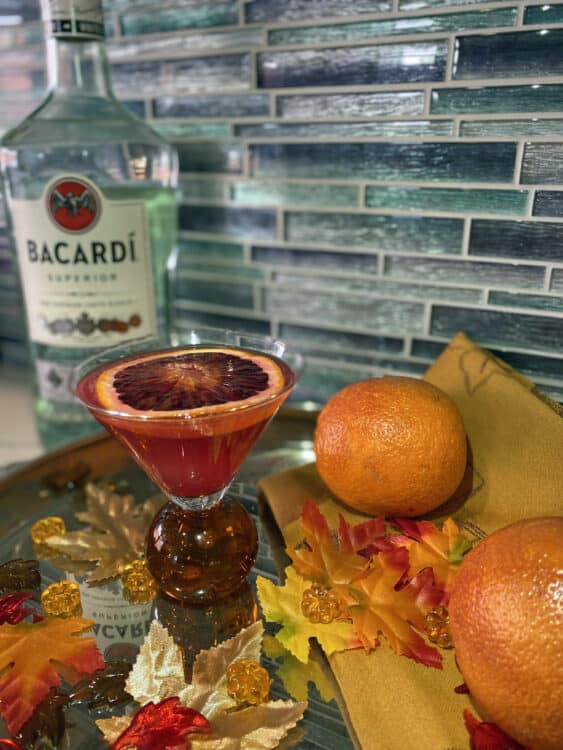 It made it even more beautiful! You can also cut a tiny line into the orange slice and affix to the side like you commonly see in bars. Whatever you prefer! The mint that gets muddled is mostly strained out of the drink when you pour from the shaker, but a few of the small pieces may come through; this adds to the presentation and flavor, so you don't need to use a fine mesh strainer. The one in your shaker should suffice.
Enjoy this Blood Orange Mojito recipe! If you make it, let me know what you think. One last tip! The juice of a blood orange can stain, so keep a cloth close if you have white countertops as I do; mine aren't really porous but I also keep Infuse chemical-free lavender cleaning spray handy just to be on the safe side. The juice can also stain your clothes, so keep that in mind if you spill!
I'm creating my newest cocktail recipe later this week, but here's a couple of others I've created here on the blog. Enjoy!