It's going to be a hot week here in Southern California, and a refreshing cocktail on the balcony, after the sun goes down, may be just what's needed after a long work day. I created this guava cocktail recipe that's perfect for sipping as you relax or making for friends at your own happy hour. It's a guava mezcal cocktail with only four ingredients (five if you go for the extra zing) and it's a fun addition to your mixology menu.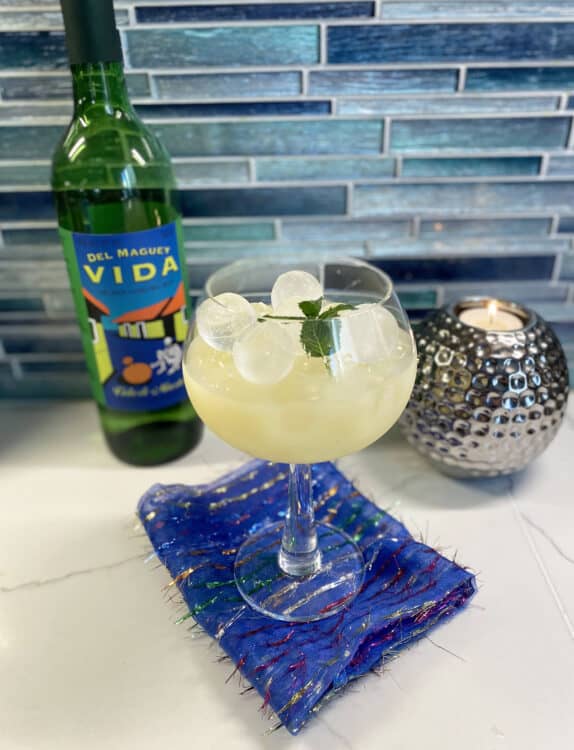 If you're unfamiliar with guavas, they're a delicious fruit that is 100% edible, even the skin. The fruit has a very powerful scent, and each time we'd open our refrigerator, the whole downstairs of our home smelled like guava. It's a unique floral-type of scent that's pretty strong, but the flavor of the fruit itself is mild. You can chop and smash it for cooking, muddle it in cocktails, or in our case, turn it into a syrup or blend to make into a nectar of sorts.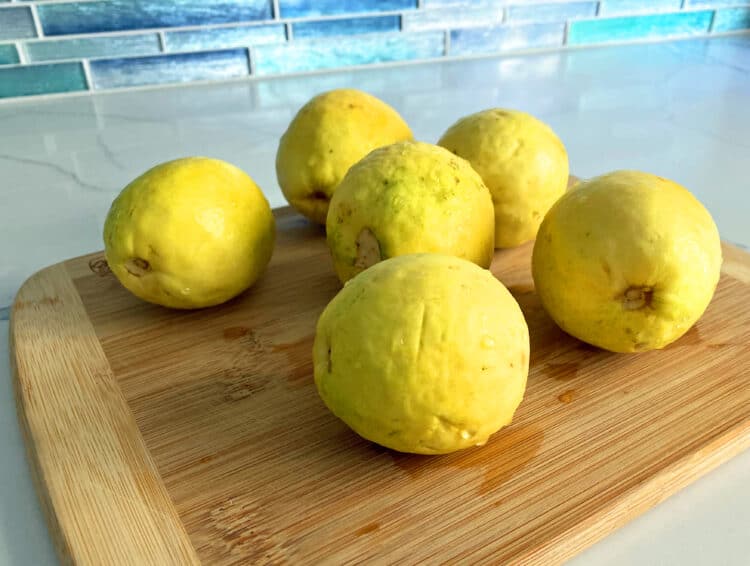 Blending it into a juice is incredibly easy, and it can then be stored in a sealed jar in the refrigerator or frozen for use at a later date. The syrup is just as easy. Below I share how I did each one, because my recipe calls for both a little nectar and a little syrup!
Important note is that you can skip using fresh fruit and just buy the nectar, and using some of it, you can make a guava simple syrup. You'll miss out on some of the fun though!
How to Make Guava Nectar
To make the nectar, or basically a thicker form of juice, cut each guava into at least four pieces and place into a blender. I used a Ninja with the bullet style of container, and puree until there are no chunks left. Don't go too long though, or you will blend up the seeds. (The seeds are edible, but I'm not a fan, so I always cut them off the fruit before I eat it.) Strain the puree into a jar and refrigerate, disposing of the seeds.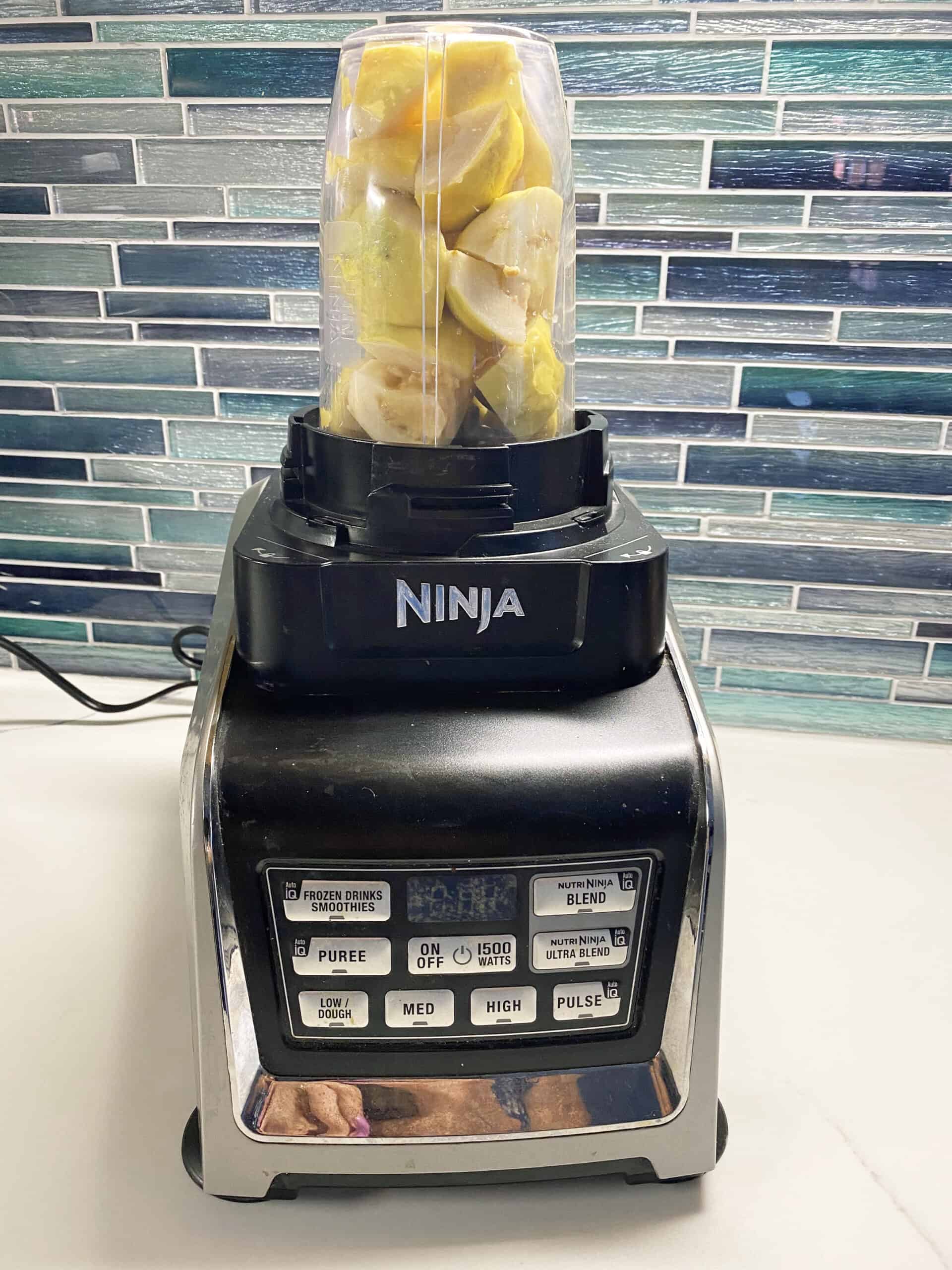 How to Make Guava Simple Syrup
Making a syrup takes about 15-20 minutes, and then some time to cool before you can use it, so plan ahead. Simple syrup can be made in large proportions, but I used 1 cup of sugar and 1.5 cups of water in a small pan. Stir and bring to a simmer. Drop in two chopped guavas, muddle slightly, and turn down the heat to very low, just enough to slightly bubble. Stir sporadically, muddling the guava more as you go. Cool, strain and refrigerate.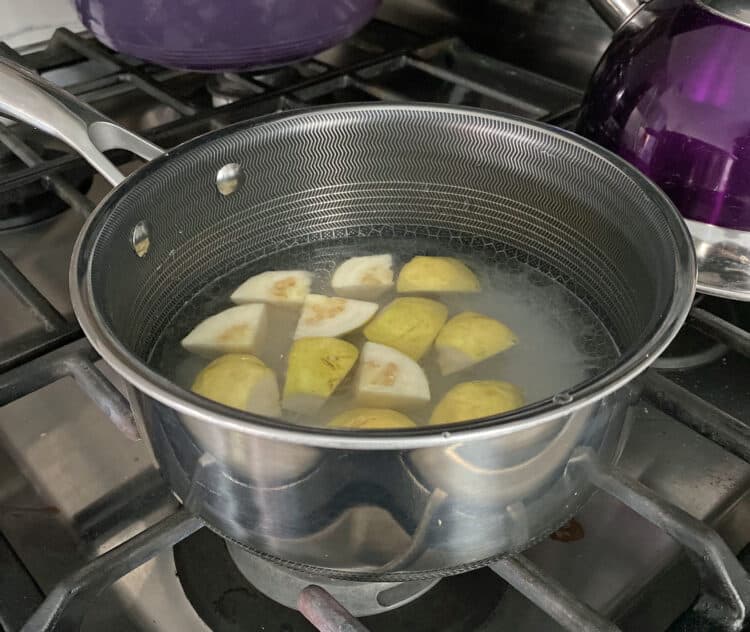 If I could only pick one type of liquor to keep in my bar, it would be a good bourbon, without hesitation. Up next would be a quality mezcal, the smokier, the better. This Del Maguey Vida brand is a favorite, and I have two types here in our bar. The flavor difference is a matter of notes, a grade of smoke level and creaminess that you wouldn't really notice unless you try one, cleanse your palate, and then try the other. There are other flavor profiles in there, but I think we each find them different, so it's fun to have a small gathering and ask everyone to bring a different mezcal for a tasting. Just have a lot of food on hand and Lyft apps on all the phones!
Get this gorgeous guava mezcal cocktail recipe below!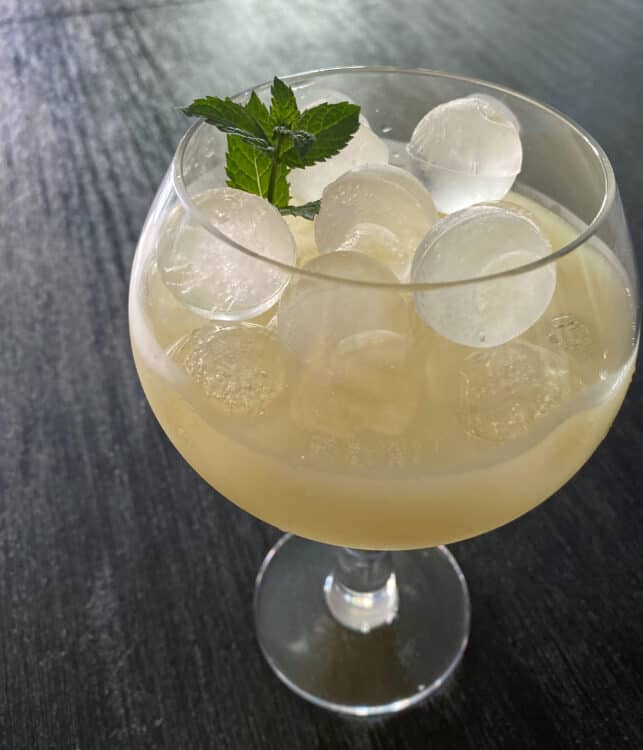 Guava Mezcal Cocktail
2 oz mezcal
1 ounce guava nectar
1 ounce guava simple syrup
1/2 ounce lime juice
Put it all in a shaker and shake vigorously — and when I say vigorously, I mean for about 25 seconds! You want the nectar to break up and for the simple syrup to bond. (Alternatively, you can mix the nectar and simple syrup in a separate tiny bowl/cup and then pour in your shaker.) Garnish with a fresh mint spring, which blends really well. (And that scent!)
If you're in for even more of a tang, pour 1-2 tbsp grapefruit juice on top as a float. It makes it even prettier and gives it a kick.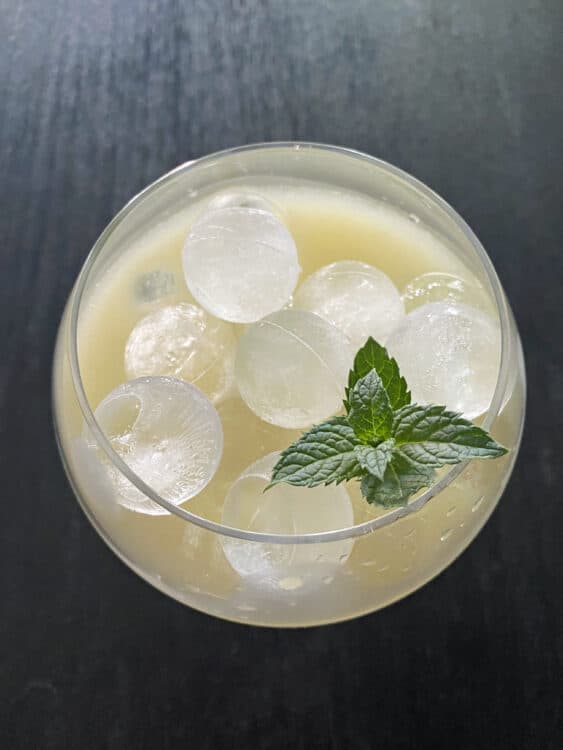 Wherever and whenever you enjoy this guava mezcal cocktail, or any alcohol, please drink responsibly! Don't drink and drive, use a ride share app or a designated driver, and don't mix alcohol with antibiotics.