Here in my part of California, it was only 105 today. We're cooling down though, since yesterday was 106.
If you're not living full-time in an air-conditioned building, you're sweating it. Step outside and you feel like you're in a sauna due to the humidity.
Blech. I hate humidity. It was #14 on the list of Things I Hated About Living in the South.
Hot, humid nights call for a quick easy cocktail to enjoy on your balcony or patio…ha, no, in my house with the a/c and TV on, looking forward to cooler days. It's been a busy week and only the varsity football team played tonight, so we're all staying in and resting up for another busy week, and the husband and I decided to experiment with a cocktail. This berry-jalapeno mix is what we came up with! It's got a bite to it, a good sweet and tart combination that's refreshing and light and is easy for anyone to make.
Berry-Jalapeno Cocktail
2 cups fresh or frozen berries
1 fresh jalapeno pepper
4 tbsp agave syrup
6 ounces vodka
Club Soda
Put the first three ingredients in the blender or smoothie maker. If it gums up your blender at all, add just enough club soda to loosen it up and mix everything. Pour 1/2 into each of two glasses; add 3 ounces of vodka, a lot of ice, and a couple of ounces of club soda to taste. Garnish with another 1-2 slices of the jalapeno and serve icy cold.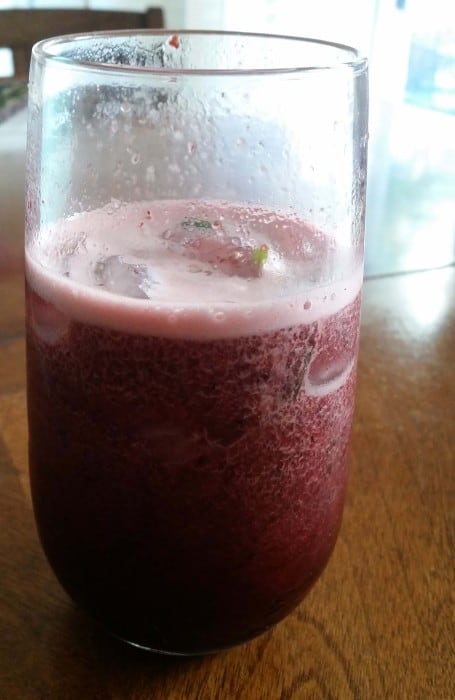 (And be kind, this is a totally spontaneous post so I didn't pull out the fancy camera. Keepin' it real today.)
Take your glass, pick a comfy seat and enjoy! It's got a nice taste of berries (we used mixed raspberries and strawberries, frozen) and you get a small chunk of the jalapeno now and then, which isn't hot but just a little spicy. If you like smoothies, you can skip the club soda…or add a scoop of ice cream…ahh, the possibilities.
Hope you're cooling off — but not too much — in your neck of the woods!