This week, we celebrated Earth Day, a holiday started back in 1970 and designed to help us become more conscious of the planet and its resources. It has evolved over the years, and social media makes its even easier for us to be mindful of the importance of being sustainable. When I grocery shopped last week at Smart and Final, I had the holiday in mind as I chose the ingredients for my new spicy scallop stir fry recipe, made using bay caught scallops, one of the best and most sustainable methods for harvesting scallops.
We try, on a regular basis, to shop and eat in a way that helps the planet as much as we can. Less trash in the landfills, less waste and less contribution towards unsafe use of our limited resources is the goal, and it's not always easy to do. It was great to see that Smart and Final had so many wonderful options! In addition to the bay caught scallops, I purchased wild caught shrimp and a cart full of organic vegetables, many of which were locally grown. I can feed the whole family affordably while helping local businesses thrive. Win-win!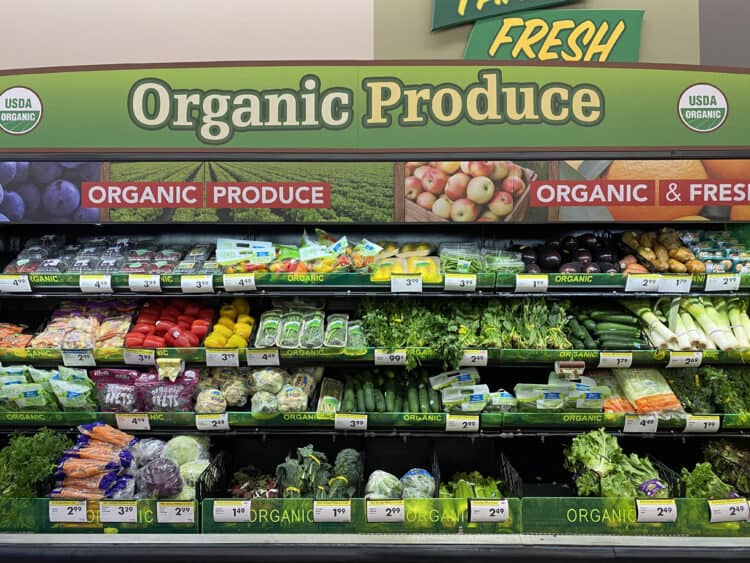 My Spicy Scallop Stir Fry recipe is SO easy. We love spicy food, but you can control the level of heat in this recipe to meet your preferences because the spice in this recipe comes from one ingredient: pepper jelly!

I purchased my jalapeño pepper jelly from a local cottage supplier, so I don't know the ingredients, but I will say it's definitely not a mild flavor — and we love it! It does have red pepper flakes and it's a gorgeous red and orange color. You can purchase jellies like this at Smart and Final and typical grocery stores, or you can make it yourself with a recipe you find online. (I don't have one I can recommend, and since my heat level may not match yours, I won't share a specific link. There are so many available if you search!) Not all jellies are full of sugar and artificial ingredients, so look carefully to get low-sugar or other healthier versions; they are readily available!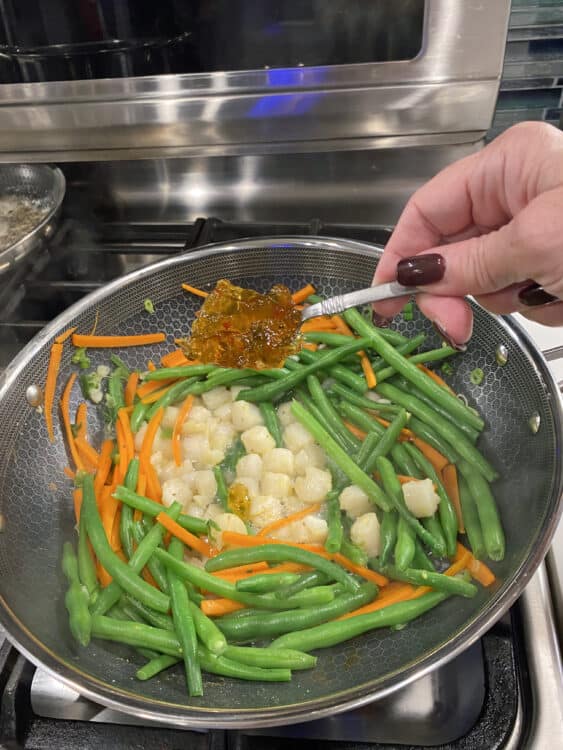 Stir fry recipes are a wonderful addition to a weekly family menu plan. The beauty of a stir fry is that you can change it up weekly, depending on what vegetables you have available. Serve it with rice or pasta or just on its own with more proteins, it's really a versatile entree that can even all be made in one pan.
I chose to serve my Spicy Scallops Stir Fry over angel hair pasta, lightly drizzled in browned butter. It was a great balance for the heat in the scallops and veggies. I had purchased these organic green beans at Smart and Final in their organic produce section, which, by the way, is huge and very inclusive. It's also very affordable by comparison with other stores. (If you have a Smart and Final Extra! store within driving distance, you'll find more options in all categories.)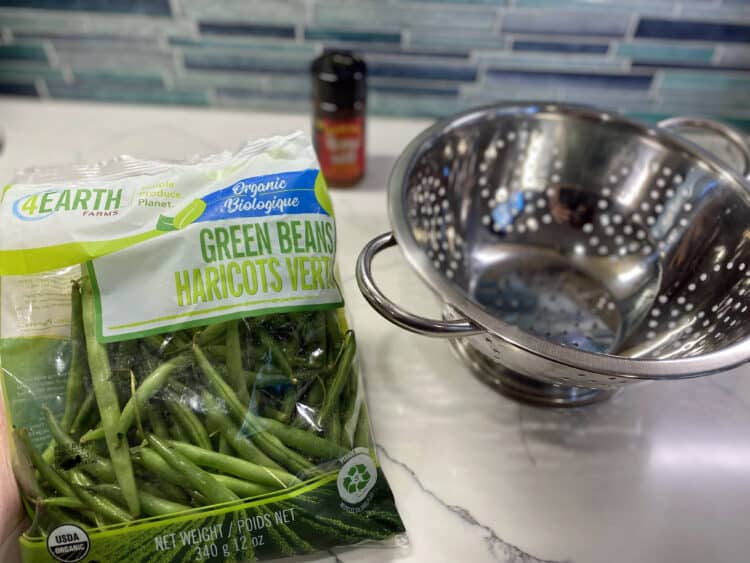 Along with green beans, I used match stick cut carrots and green onions. I wanted to simplify and really taste each specific vegetable in addition to the scallops. Sugar snap peas, broccoli or broccolini, baby corn, bell peppers and green zucchini strips are also great options.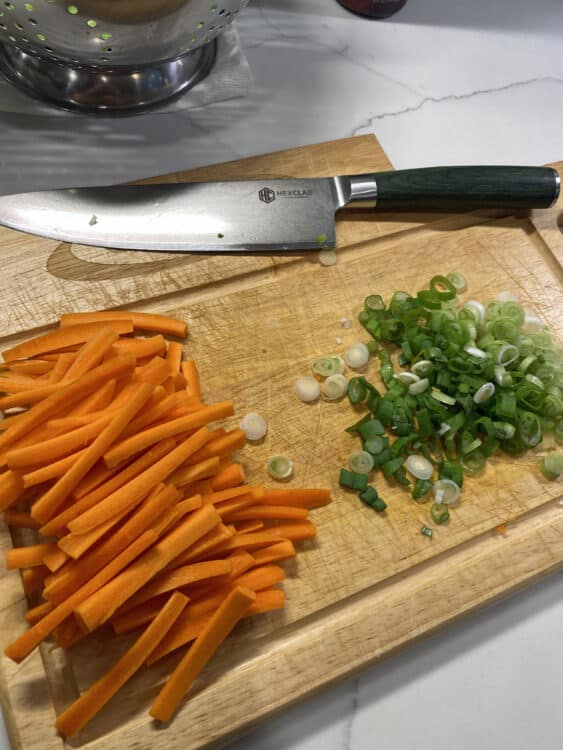 This recipe took less than 20 minutes to have on the table, but it will take three pans: one for the browned butter (which takes about the whole 20 minutes), one for boiling water for the pasta (which takes 3-5 minutes if you use angel hair like we did) and the third for the spicy scallops and stir fry. I used two regular sauce pans and a wok pan, all three from Hexclad, my favorite line of cookware. (Non-stick without any coatings, and they go from stove top to oven.) If you do it without the pasta, you can make the stir fry in just one pan though! We just wanted to stretch the meal a little and make enough for the husband's lunch at work the next day.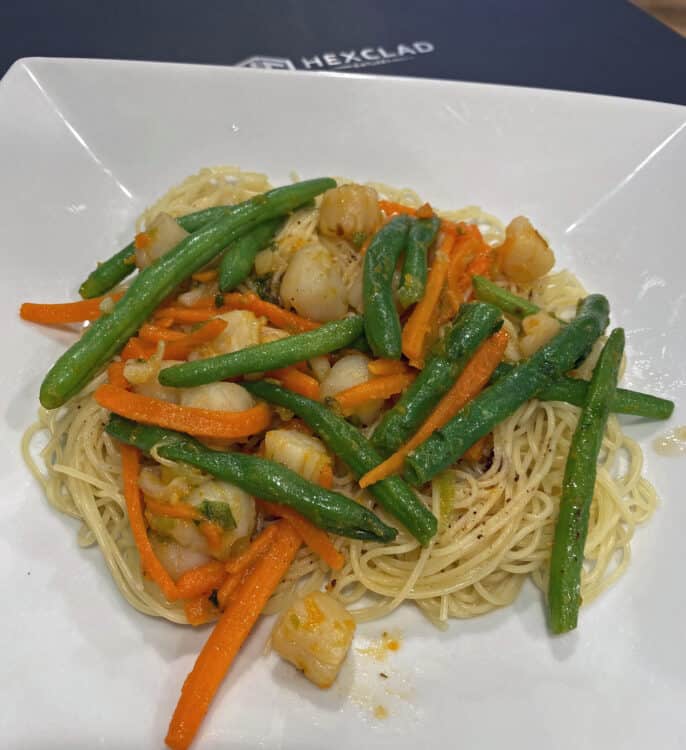 Spicy Scallop Stir Fry
Ingredients
1 pound baby/small scallops
fresh green beans, whole
carrots, cut match stick style (I used four carrots)
3-4 green onions, chopped to use both green and white ends
2-3 tbsps of your preferred pepper jelly
salt and pepper (I used a wine-infused sea salt)
olive oil (I used Garcia de la Cruz EVOO)
Heat wok pan and olive oil.
Drop in all three vegetables and stir fry for a few minutes.
Make a hole in the center, pushing veggies up the wok pan sides, and drop in scallops.
Add salt and pepper. Drop jalapeño jelly in the center of the pan, stirring until it melts; then combine pepper jelly with veggies and scallops.
Continue heating, lid on, until scallops are cooked through.
Serve over pasta or rice or eat as is. Enjoy!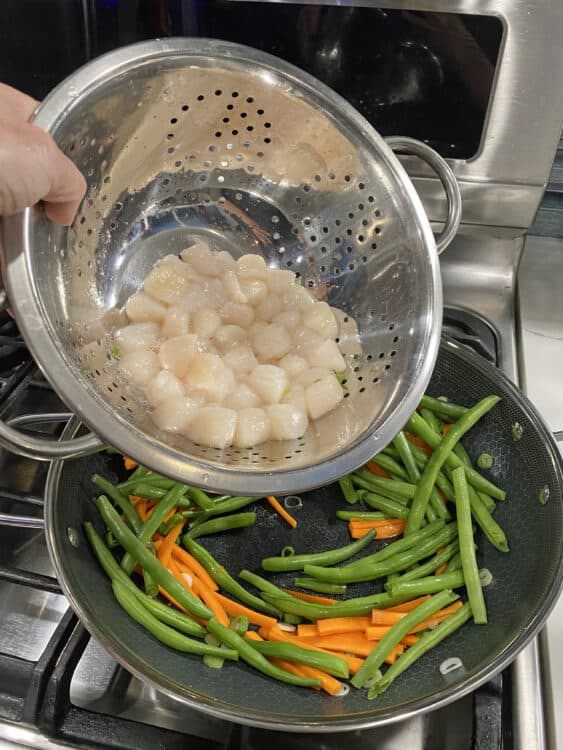 Spicy scallop stir fry was a big hit with the family. It was also a big hit for me, but not just because it tasted amazing. I loved that I could get all the ingredients easily as I shopped my whole grocery list at Smart and Final AND that it was done so fast. After a busy day, or a day where we don't feel good (we were both sick last week), it's so great being able to serve something healthy, delicious AND good for the planet without a long time over a hot stove.
If you're not shopping at Smart and Final, give it a go! It's no longer just a store you visit when you need large quantities of party supply food and gear. It's for your regular weekly shopping, and you'll appreciate the wide variety of frozen foods, meats, alcohol, canned goods and everything else you may have on your weekly shopping list.