Last week, I received a gorgeously abundant box of fresh produce from Melissa's Produce. It contained a long list of vegetables, ready to inspire recipe creation during a time when getting things at the grocery store isn't a sure thing. After considering all the delicious things I could make, I decided to start with my take on bacon cheese stuffed pasillas, like a chile relleno without the batter, and a veggie pasta recipe.
The veggie pasta recipe is simple yet tasty, and my goal with it was to come up with a dish that was easy to make yet didn't require a lot of fancy ingredients while highlighting the true flavors of the ingredients. The bacon cheese stuffed pasilla was one of three ways we ate pasillas this week, and probably my family's favorite. Both recipes went well together and were on the table in under an hour, including prep time.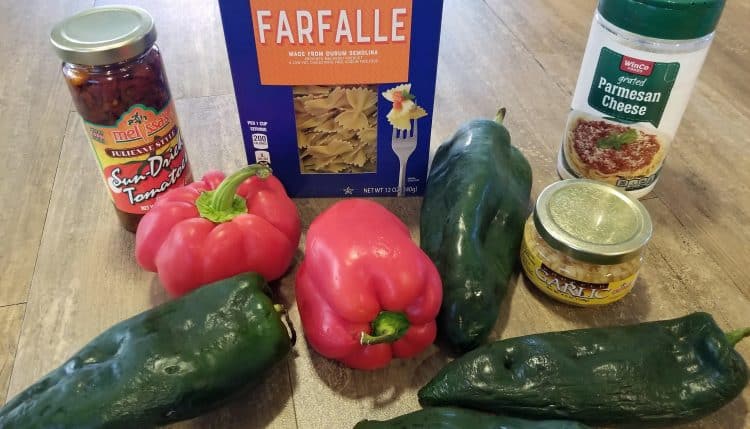 One question I got asked when I was telling someone what we made is: are pasillas hot? No, while they've got some heat, they are not what you'd call hot. Some peppers do have more heat than others but overall, they're a flavorful chile that you can enjoy in various ways.
If you've ever had a chile relleno, you know the joy of biting into a hot, melty, spicy bite. Chile rellenos can be made with different peppers, but they are typically dipped in a batter and then fried. I love them, and they are fabulous inside of a burrito (think Miguel's Jr.) but I didn't want to add another level of work to our dinner. This is a nice middle ground: an oozy, cheese stuffed pepper that serves as a side and can be baked while the rest of the dinner is being prepared. Try these two following recipes together and let me know what you think!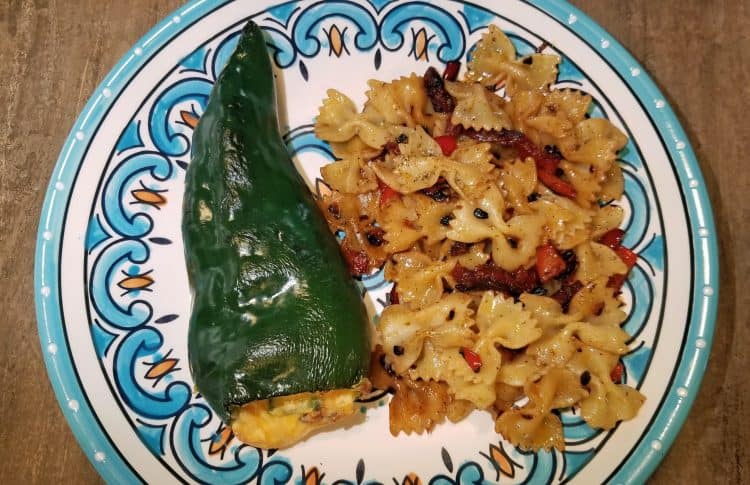 Bacon Cheese Stuffed Peppers
Ingredients
4

Whole Pasilla Peppers

1/2

cup

cream cheese, softened

1

cup

shredded cheese, Mexican blend

Monterey Jack would work, too.

2

slices

crispy bacon, in pieces

1 1/2

tsp

chili powder

Your preference of heat level

1

tbsp

Costa Azul hot sauce (or Sriracha)

1

tsp

garlic powder

Salt and pepper, to taste
Instructions
Pre-heat oven to 375 degrees.

Slice top off of pepper and remove seeds. Trim what you cut off and chop into small chunks. Leave remaining pepper whole.

Mix remaining ingredients in bowl, including chopped leftover tops of peppers.

Place in oven-safe pan; use tin foil to create a lift so peppers sit at an angle so cheese mixture stays inside when it melts.
While those are in the oven, prepare veggie pasta. Try not to drool as house begins to smell like ooey, gooey melted cheese.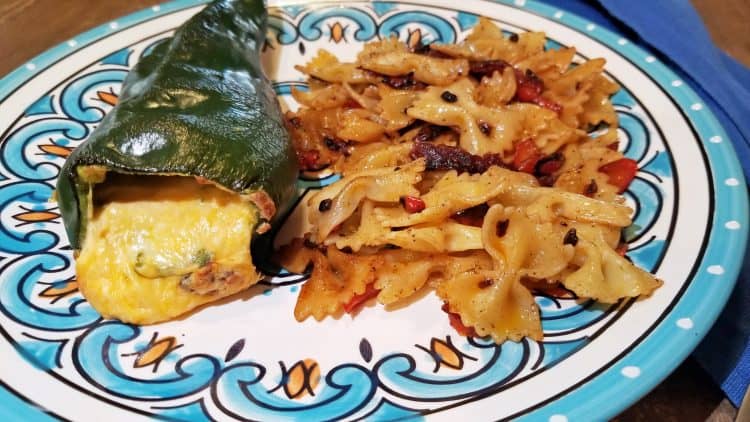 Veggie Pasta
Ingredients
1

pound

uncooked Farfalle (bowtie) pasta

1

tbsp

olive oil

3

tbsp

sun dried tomatoes in oil

2

whole red bell peppers, chopped in semi-small chunks

2

tbsp

fresh minced garlic

1/3

cup

parmesan cheese (fresh or dried)
Instructions
Set pasta to boil in heavily salted water.

While pasta is cooking, heat olive oil in large frying pan.

Add sun dried tomatoes and red bell peppers. Saute until semi-soft. Stir now and then.

Add garlic. Continue to stir.

Cook pasta to al dente. Drain, reserving 1/4 cup pasta water.

Add pasta to frying pan ingredients. Mix.

Completely combine, then add pasta water and parmesan cheese. Stir and serve.
As this cooks, you'll be already salivating over the bacon cheese stuffed pasilla peppers. Isn't it gorgeous as it cooks?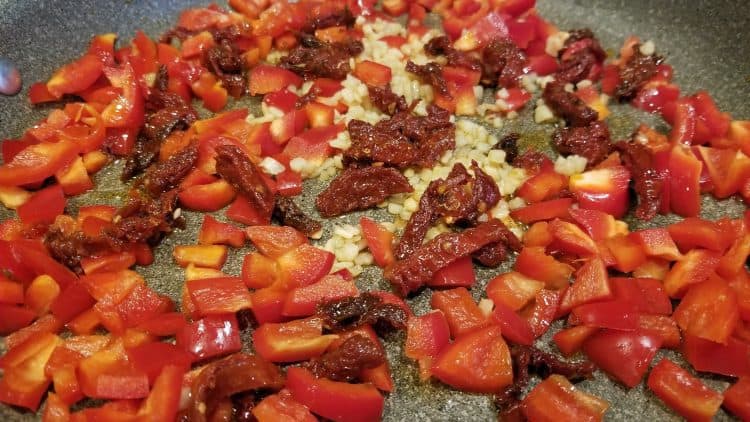 It's a lot prettier than the cheese mixture, which looks less appealing but tastes so good. You know you're going to steal small tastes.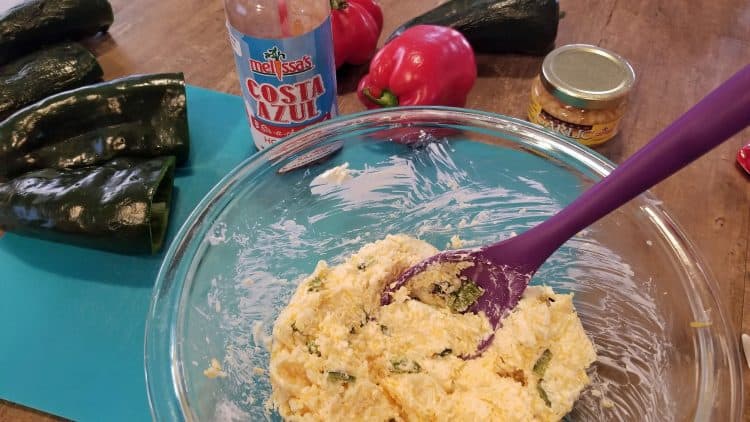 Like I said in the ingredients listing, you can use regular Sriracha, but Melissa's Costa Azul is my favorite now. It's like Sriracha but a little more 'hot sauce-y.' Try it, I think you'll like it.
In fact, try both of the above recipes. They are inexpensive, quick and make for a nice summer meal you can serve your family or guests. Cooking every night during quarantine gets boring, so I've been really seeking out unique recipes, or at least different takes on old standbys. These two fit the bill and won't break the bank.