If you like music and food…and, well, who doesn't…then you'll like the new Rock and Brews.  Rock music from all eras, spectacular food, a variety of menu options and a music-themed environment full of conversation inspiring decor, the new Rock and Brews is going to be a popular destination.
Rock and Brews has quite a history. The first location, in El Segundo near LAX, opened in 2012. It's now one of 15 locations scattered throughout the country, with the corporate headquarters located in Southern California. The brainchild of Paul Stanley and Gene Simmons. restaurateur Michael Zislis and concert industry/merchandisers Dave and Dell Furano, Rock and Brews got its name when Gene, Paul and Dell met and the question came up: What's better than rock and brews?
If you agree, Rock and Brews is the place to visit. Created as a haven for those who love craft beers, Rock and Brews is an engaging, active and fun environment. It may not be where you go for a romantic, quiet evening but it's definitely a top choice for a fun date night or group outing. The new Rock and Brews, located at the San Manuel Indian Bingo & Casino, is a 5,500 square foot restaurant on the second story of the casino. Within a few minutes of the 210 freeway off the Highland Avenue exit, it was only about a 20-minute drive from our house. (And can you believe I haven't ever been to the casino before?)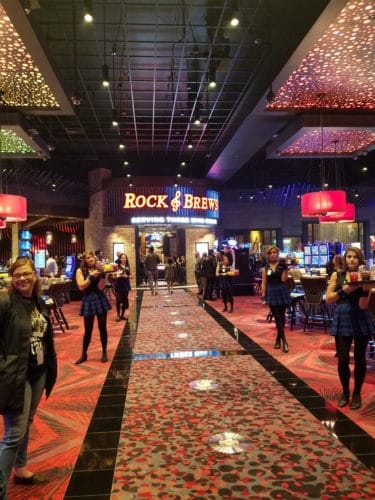 Rock and Brews offers up a wide selection of choices for anyone, but let's talk about the beer. They include international and craft beers, with an emphasis on local brews. Using a state-of-the-art draft system, the varieties rotate but always include lagers, pilsners, pale ales..fruity, hoppy, whatever your favorite, it's available in the rotation. There is also a wine menu and most restaurants also offer full bars.
The San Manuel Indian Bingo & Casino happens to be a full-bar location with a large selection of handcrafted cocktails, so of course, we had to sample some. We tried the Metal Mule (made with house-made ginger syrup), the Ginny Hendrix, the pineapple mojito, and a regular mojito. All four rocked but the mule was my favorite. That syrup made it stand out above a typical mule.  Put it on a metal mug — which you can buy as a souvenir, for an additional cost — and it stays cold and delish your entire meal.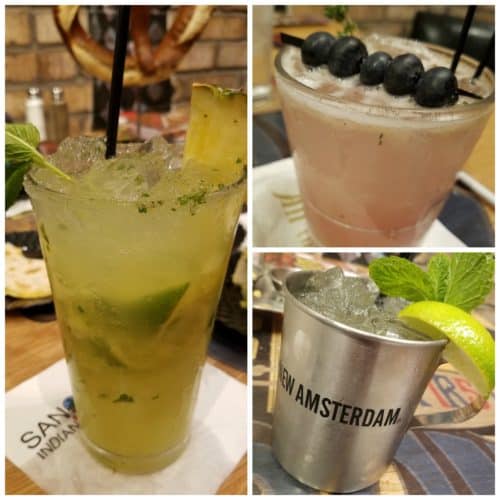 The menu includes many different types of food, all made with the highest quality, locally s0urced and fresh ingredients. Appetizers are known as "Opening Acts," and there are Headliner, Front Row, VIP and of course, encore selections as well. We sampled quite a few appetizers, but I think our favorite item of the evening was the huge pretzel. While most of the Rock and Brews food is made in-house, the pretzel comes from Munich, Germany, and it's unlike any other pretzel we've had. First, there's the size. It's enormous.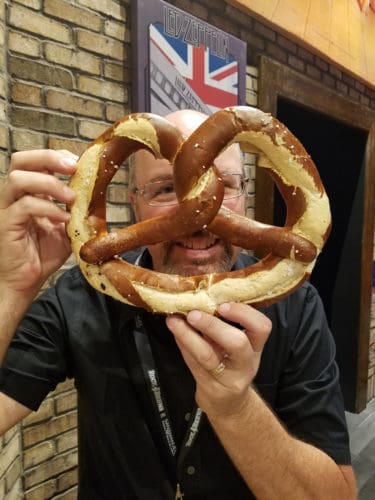 The consistency though is what grabs you. Light and fluffy, with just the perfect texture and chew, it melts in your mouth. Lightly salted, it comes with a trio of dips. My favorite was the wasabi mustard, which more than a few times threatened to blow the back of my head off. I was a little too liberal with my dipping, as I was distracted by the music and the activity around our table. We'd been lucky enough to be seated right next to the stage, thanks to the hostess who asked us our preference on activity level. Crazy or no? We went with crazy, and it paid off. Perfect seats with a good view and open access.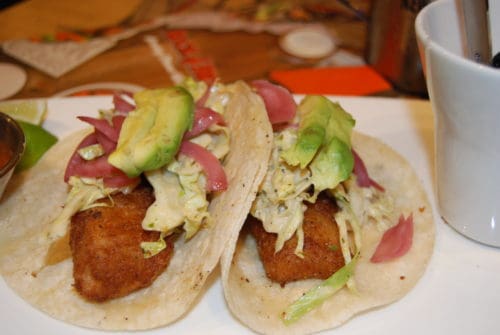 We also had the Baja Beer-Battered Soft Fish Tacos, in addition to trying the Flatbread topped with grape tomatoes and cilantro, Sgt. Pepper's Jalapeno Poppers, Bruschetta and Chicken Quesadilla with Roasted Poblanos. So. Much. Food. The jalapeno poppers were on the spicy side and were perfectly baked with a crispy outside. Every item was a good compliment to the unique drinks and rock atmosphere.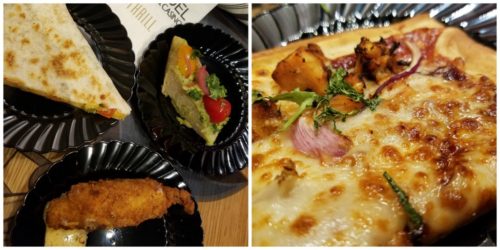 We also happened to get to meet the chef in passing — as I shared on social media during my live coverage from the press event, I told him to smile big, his food is fantastic!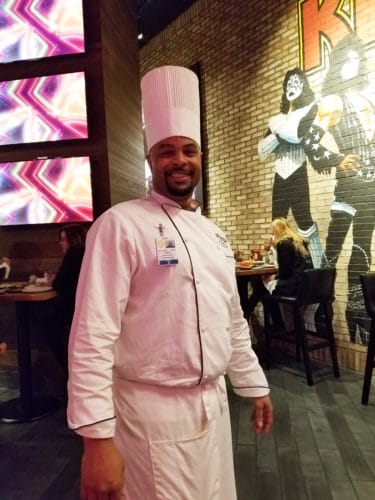 But it's not just about the food. The restaurants include collectible, one-of-a-kind memorabilia and life entertainment. When we visited for the pre-opening media tasting, Brandon Bennett was there as Elvis, along with performers as Jerry Lee Lewis and Johnny Cash.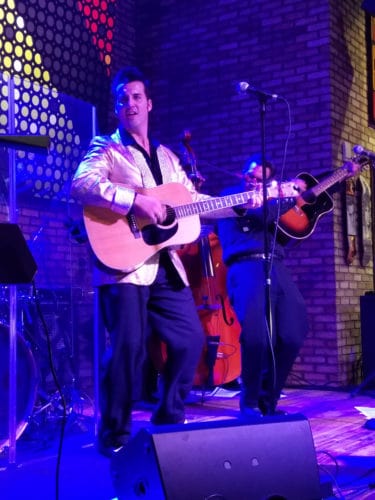 The walls are covered in rock paintings and posters, and the ceilings covered in in-sync digital monitors matching the big screen behind the stage. Even the bar is surrounded by the screens.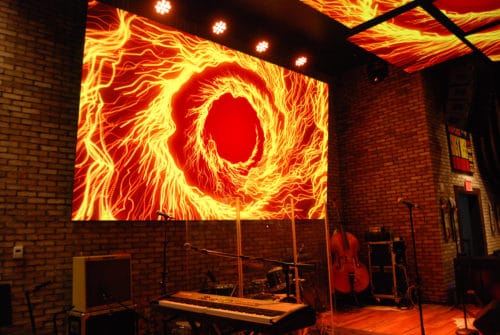 We happened to be seated under the hand-painted KISS mural, next to a cool T-Rex table.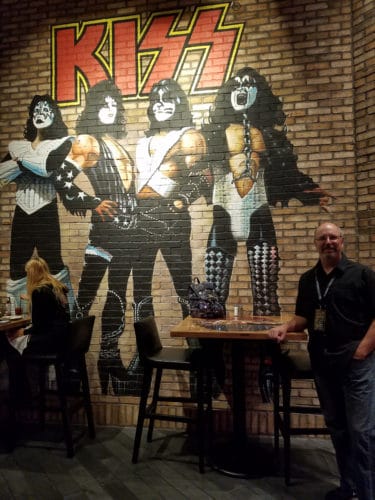 There's not an area in Rock and Brews that isn't related to music in some way!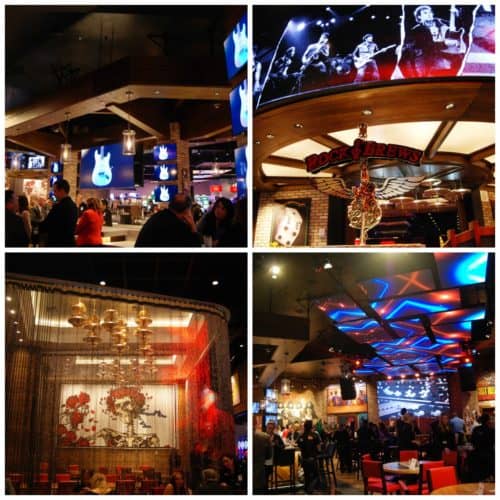 Whatever the celebration, even if it's just a night out to have dinner, you can't go wrong with Rock and Brews at the new San Manuel Indian Bingo & Casino. (I've only visited this location, but other locations are just as awesome though. There are several here in the Inland Empire now, too.) This type of restaurant fits the "dangerous cupcake" California lifestyle perfectly, so it's being added to our list of date night destinations, or maybe even to celebrate one of the many upcoming birthdays in my large family.
Check out the new Rock and Brews — serving those who rock!