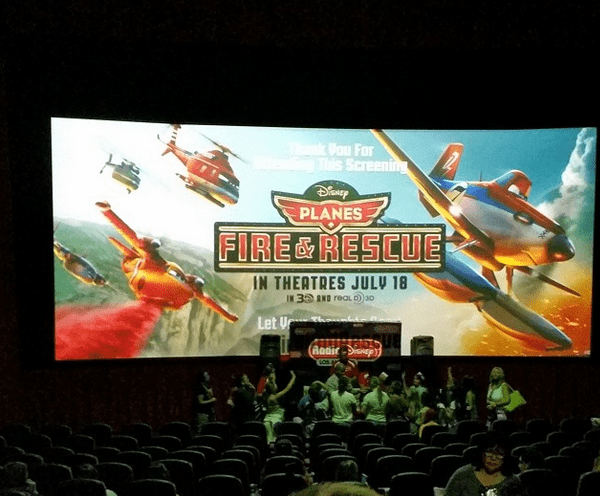 We were lucky enough to be invited to a pre-screening of Disney's movie, Planes: Fire and Rescue, down in Irvine on Wednesday night, and let me say, what a treat! Cars was one of my youngest son's favorite movies ever and this movie is along those same lines, so if you liked Cars, you really need to see this one. (I didn't see the first Planes, the kids went with someone else so I can't tell you about it in relation to this one.)
Before I mention the movie, I want to give a shout-out to Radio Disney and all the staff for making the wait time so much fun! Trivia, dancing, hula-hooping and music, it was a great time. Our drive took a little over an hour and we left immediately after work, so we'd hit up the snack bar the minute we got our tickets and hand-stamps. We were given a very cool poster and a kite, too!
The movie was nothing short of adorable. It was 3-D, and wow, 3-D has come a long way! It wasn't crazy 3-D, in "in your face with shark fins" kinda 3-D but a very well planned way that makes the planes and fires look real. In fact, the fire scenes were so realistic, you almost forgot it was animated when you were watching. The voiceovers were all well-done and the "scary" scenes weren't over the top for even the youngest of ages.
My favorites? Hearing the giggle of the little children in our row right when the movie first started and planes zipped across the screen. So fun! I miss that stage! The CHoPs reference was hilarious for those of us on the older side, and when I was in wine country this past weekend, I kept looking for little tractors that looked like Niblet! (That's a new favorite word. Ask my husband.) The story line, of course, has a good message and isn't something political that you get tired of hearing about halfway through. We loved it all and enjoyed the ending, which came at the perfect time — a lot of movies are too long for the smaller set they're intended for, and this was just the right length.
And watching Dusty Crophopper's actions? Loved it! I am a new fan and I want to ride in Dusty's plane!
Thank you, Disney, for the wonderful evening! We loved Planes: Fire and Rescue!