As a lover of ALL THINGS Marvel, I was excitedly waiting for Ant-Man to come out. We got to see it a couple of weeks ago, and I can honestly say it's moved to the top three of all-time Marvel favorite movies. It was that good. Meeting the cast the next day solidified my feelings, and I'm going to share with you some of the press conference details so you can understand why, too!
The press conference at the Disney Studios in Burbank was another fun day at "work" — the cast obviously gets along well together and they were fun to listen to. When Paul Rudd was asked, in brief, why he took the role, Evangeline Lilly quickly spoke up and said "Me." And it went from there, with a lot of witty exchanges, funny commentary and candid discussion with a team who is clearly thrilled to be a part of something so big as another Marvel hit.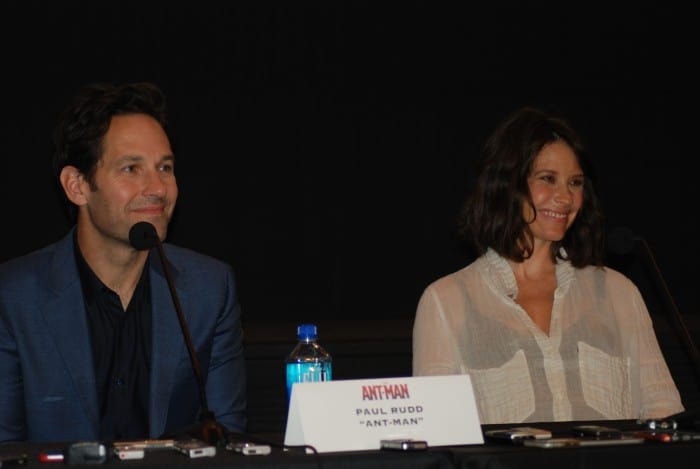 Paul Rudd and Evangeline Lilly
In attendance at the conference were:
Paul Rudd ("Scott Lang/Ant-Man")
Michael Douglas ("Hank Pym")
Evangeline Lilly ("Hope Van Dyne")
Corey Stoll ("Darren Cross/Yellowjacket")
Michael Pena ("Luis Pena")
T.I. ("Dave")
David Dastmalchian ("Kurt")
Peyton Reed (Director)
Kevin Feige (Producer)
When talking about Ant-Man with others, I've run into a few people who were surprised at the creation of a movie about a superhero that is the size of an ant. Everyone's surprised when they learn what Kevin Feige, Producer, reiterated in the press conference: Ant-Man was a founding member of the Avengers! (Did you know that?) Kevin shared with us that when you looked at Avenger movie posters, you'd notice how everyone had been featured in a movie except for Ant-Man and Wasp, so this 12th Marvel movie takes care of that. And as Peyton Reed, the Director, confirmed: it is a weird movie. And that's exactly what we want! Kevin briefly discussed the humor aspect, how they didn't start out seeking to be humorous — just a good movie that happens to be funny– and the casting choice of Paul Rudd. This one part of his reply says it all:
"We cast the guy we thought could be a kickass superhero, who happens to be funny."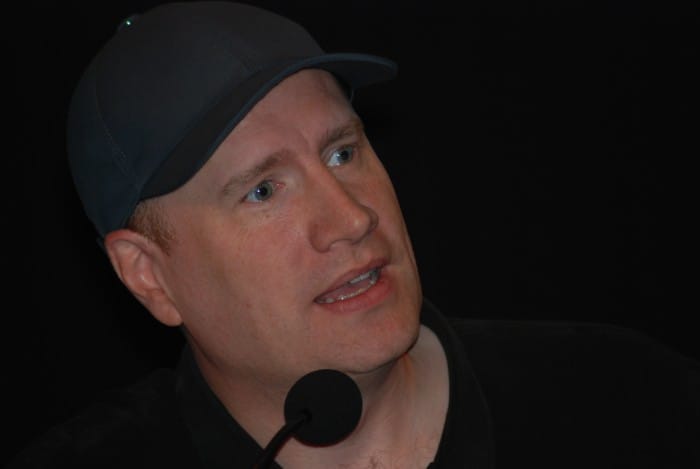 Kevin Feige
I'll go into more details on the movie in my review, which will come out on Friday morning (so check back) but I can share that it was planned to be an exciting adventure and Marvel doesn't disappoint. A lot of the questions in press conferences focus on how the actors prepare for their roles, and when asked how he prepared, Paul Rudd talked about how self-conscious he was that first day when he had to take his shirt off. David Dastmalchian, "Kurt," (who, by the way, is such a charmer) quipped that Paul ate "like one almond" that day, and Paul responded "I felt so bloated." You can see why this was such an enjoying press conference!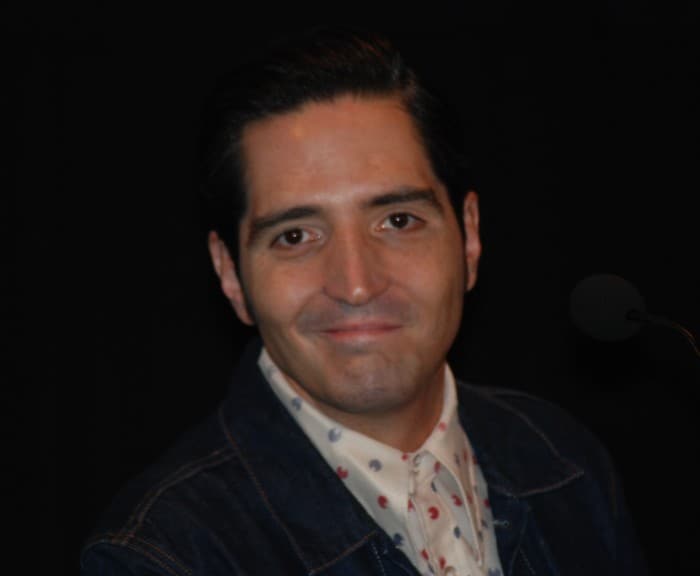 David Dalmachian
One of the highlights, for me, of press conferences is the personal stories that you hear from those involved. They personalize the movie that much more, as you can watch the movie and perhaps identify a bit more with someone's role. Paul Rudd made it so easy to like him even more by sharing his story about his nine-year-old son's experience seeing the movie with his dad at Disneyland. "Dad, Dad, Dad!" each time the commercial comes on now has to be such a gratifying thing for Paul, and he mentioned how exciting it is for him to share that with his family and son.
A lot of people also have discussed the lack of female characters in movies, especially superhero movies, and how they'd like to see Marvel take the lead on changing that. Evangeline Lilly's asked the question about her role and its part in making that happening, and I can't share details without giving away too much, but she shares how motivated and intent Marvel is on doing right by her character in Ant-Man. When you see the movie — no "if you see.." because you have to see it — you will know what I mean, and just a tip: sit through ALL the credits, all the way until the lights come on. If you are a Marvel geek like me, you'll know why… I wanted to share a quote from Evangeline that personifies that whole conversation:
"And you know, when I pick a role, one of the things that I aspire to is that somebody's parent will come up to me after the film has come out and say, "My daughter idealizes that character. You're her hero." And that's what we aim for, especially in this brand, right? We're in the business of making heroes."
While the entire cast was engaging to listen to, I have to give a shout-out to Michael Pena. His brand of humor interjected such a unique shot of fun into the conference. His character in the movie, "Luis," is hilarious. His speedy speech and excitement about what he gets to do will have you laughing, and while he doesn't talk that fast all of the time, it was easy to see why he could portray Luis so successfully. He had everyone laughing with his ad libs, which apparently also ended up in the movie. Now, every time I hear "It's a Small World," I will think of him.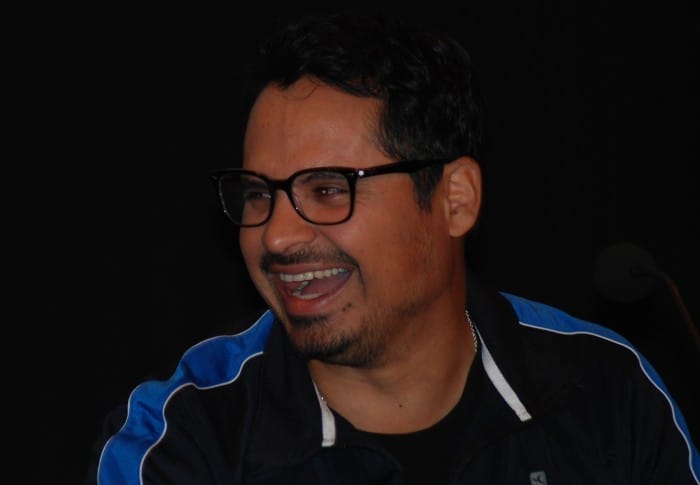 Michael Pena
And then there's Michael Douglas. Such an iconic actor, it was a big deal to sit across from him. He's got such a movie pedigree, you can't help but be impressed. He was fairly quiet during the interview, but not in a distant way. He seemed respectful of the opportunity for everyone to speak and almost took a back seat to others; for someone of his caliber, it could have totally gone a different direction but he was really enjoyable to listen to as he extolled a little on his feelings about becoming familiar with the Ant-Man and Marvel story, reading through two years of comic books to catch-up before filming. His candor was refreshing and his insight about the big picture of the plot, which I can't share (another reason to go see the movie) was really on point.
Michael Douglas
One of the things Marvel was challenged with during the making of Ant-Man was portraying the size of the hero without making him big, if that makes sense. He truly is the size of an ant, and that required making the rest of the objects and characters in each scene realistic, all the way down to the dust particles. The amount of time that went into learning about the ants and their world was impressive, and that comes across even in the discussions during the movie, between Hank Pym, Hope van Dyne (Hank's daughter) and Ant-Man, also known as Scott Lang. (It's so easy to continue to refer to him solely as Ant-Man!)
An interesting parallel drawn by Peyton Reed was the interplay between Ant-Man and his ride, Antony. I hadn't picked up on it initially but the relationship between Lone Ranger and Silver — what a neat idea to reference!
Michael Douglas and Peyton Reed
To be completely honest, I was not entirely familiar with Corey Stoll prior to seeing Ant-Man. What a mistake! Definitely not a problem from here on out. His role as the 'villain' is well-played, dressed in a sharp suit with the observant eyes and expression to match. He shared the technical difficulties in making his costume/suit appear as intended on-screen, mentioning that much of it ended up being CGI (computer generated) but you really cannot tell. As always, Marvel makes it all entirely believable, all the way down to enjoying the 'bad guys' and wanting your very own Antony!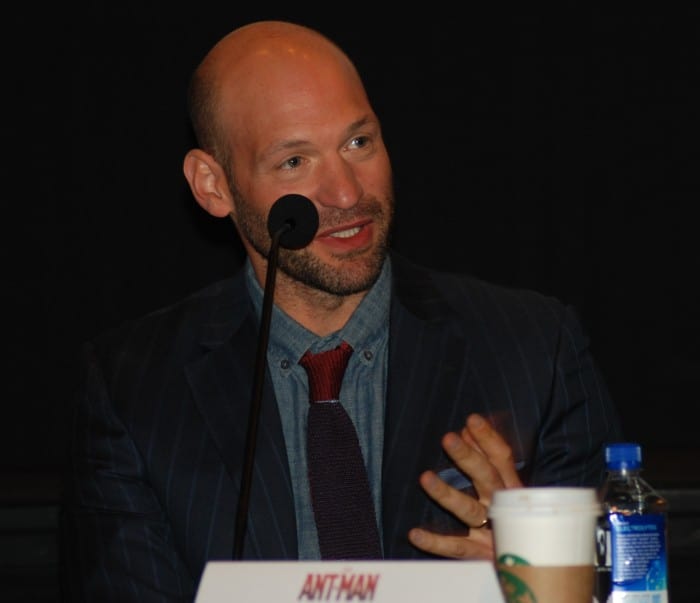 Corey Stoll
One hilarious part of the interview, one that everyone will remember, is the moment that a press member's cellphone — placed on the table in front of Paul Rudd, in order to record the event — rang. He answered it, without stating who he was, and told the caller politely that they were very busy in a press conference, so they'd have to speak later. The room erupted in laughter, and Paul's handling of it really shows a lot about his character. Genuine, nice and truly funny.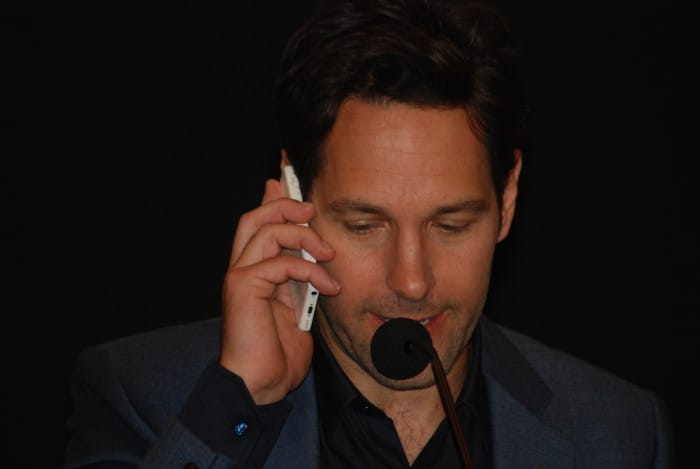 Paul Rudd, answering the phone
Rounding out the cast was the inclusion of T. I. as "Dave," a perfect addition to the ragtag team of Scott Lang's friends and helpers. New to the Marvel team as well, he didn't speak a lot but he was funny and truthful when he did, as evidenced by his funny quip and interchange with Micheal Pena, below:
T.I.: "I mean, I wanted to not mess it up, just come and contribute however I can, man, to the film, and you know, and Paul's an incredible leader and Michael's just the right amount of a-hole to where it comes out great on screen. You know what I'm saying?"
MICHAEL PENA: "Thanks, bro. That means a lot."
If you're looking for something to do this weekend, buy your family tickets to see Ant-Man. Don't be deterred by thoughts about how different it is from other Avenger movies, because those thoughts gets dashed two seconds into the movie. It's got a wonderful plot, so there is depth to the characters; Scott Lang's not just Ant-Man, but he's a loving dad who really wants to make a positive change in his life. The characters intertwine and quickly pull you into a story line that sounds so far-fetched but is entirely believable.
And I want my own Antony.