On Friday night, my husband and I were invited to go see Disney's newest movie, Into the Woods. We've done movie pre-screenings before but this was our first time in the Disney theater. What a treat!
As a child, I grew up reading Grimm's Fairy Tales. I remember clearly what the book looked like, and I believe I still have it packed away in a box of "things you must never, ever get rid of" for my kids. I lived in the country and read from an early age, and I read each fairy tale over and over. I was so excited to learn that Into the Woods incorporates them into the movie but otherwise, I had no idea what we were in for.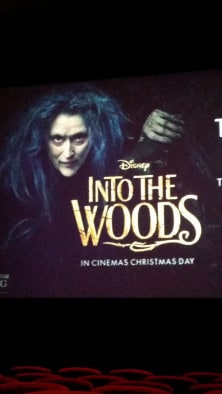 The studio was packed to the gills, with a bathroom line equally long. There was no way I was getting up during the movie. You know what I'm saying. As in any Disney movie, the special effects were astounding. When a certain giant roamed the village, you felt it. In fact, the whole movie rode the line on the edge of humor and suspense and just when you thought you knew where it was going, it took a different turn. All I need to say is Johnny Depp and you can imagine.
If you've seen any trailers, you know the cast is stellar. While Johnny Depp's involvement is pretty short-lived, you'll walk away talking about it but Meryl Streep headlines the movie and her voice is show-stealing. I have to admit that musicals aren't my favorite movie genre, but that didn't take away from our experience. Chris Pine was in the movie, who can say no to that? The "Agony" scene and his infamous line, "I was raised to be charming, not sincere." You'll have to see it to know what I'm talking about but I'll give you a clue: ripped shirt. Ahhhh…
Where was I again? Oh, yes, the movie.
I knew Anna Kendrick could sing but as Cinderella, she is cast perfectly, as is Emily Blount, whose voice will probably surprise you. I wondered the entire movie who Lilla Crawford was, and I'm going to be following her — no doubt she's got quite a career ahead of her.
The movie is a tad over two hours, so get your snacks and drinks before it starts. And that potty trip I mentioned. It could be a little darker for smaller children, but not in a scary way. I think all my kids would have been fine seeing it from age six or so, and maybe younger, but it is literally a darker movie based on its location and the premise of the witch, so keep your kids' level of maturity in mind given the length.
Go check out the movie. Don't rush. Take time to smell the flowers…Johnny Depp says so.
I did it on the way out, wandering through the outside of the studios getting some photos. This one of Christmas decor is a favorite, and is just a very small demonstration of what the campus looked like and Disney's vast, all-encompassing attention to detail. A long line of shiny, almost glowing, silver ornaments hanging at various heights combined with the ground lights and the color of the pillars? I loved the composition.