If you like Halloween haunts or you're just a big Halloween fan, you'll want to head over for Queen Mary's Dark Harbor 2017 and get the ship scared out of you!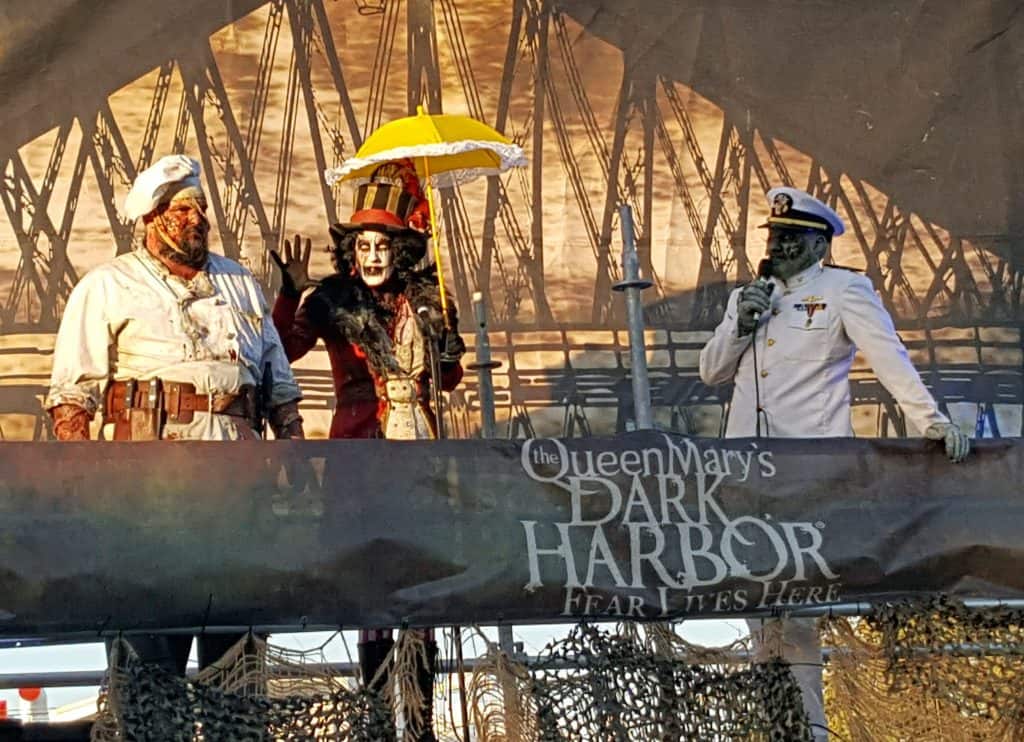 This year's Dark Harbor event is even better than before! Seven mazes — including the new FEAST, with a killer chef turned butcher — provide all the scares you need, but the scares aren't limited to the mazes. Monsters galore roam the grounds on and around the Queen Mary, as well as populating Panic 4-D, a virtual 8-minute maze in the on-board theater and the RIP Lounge high above the fray. We were given complimentary tickets on media opening night to experience it all and I left with very little voice left. I may have screamed a little.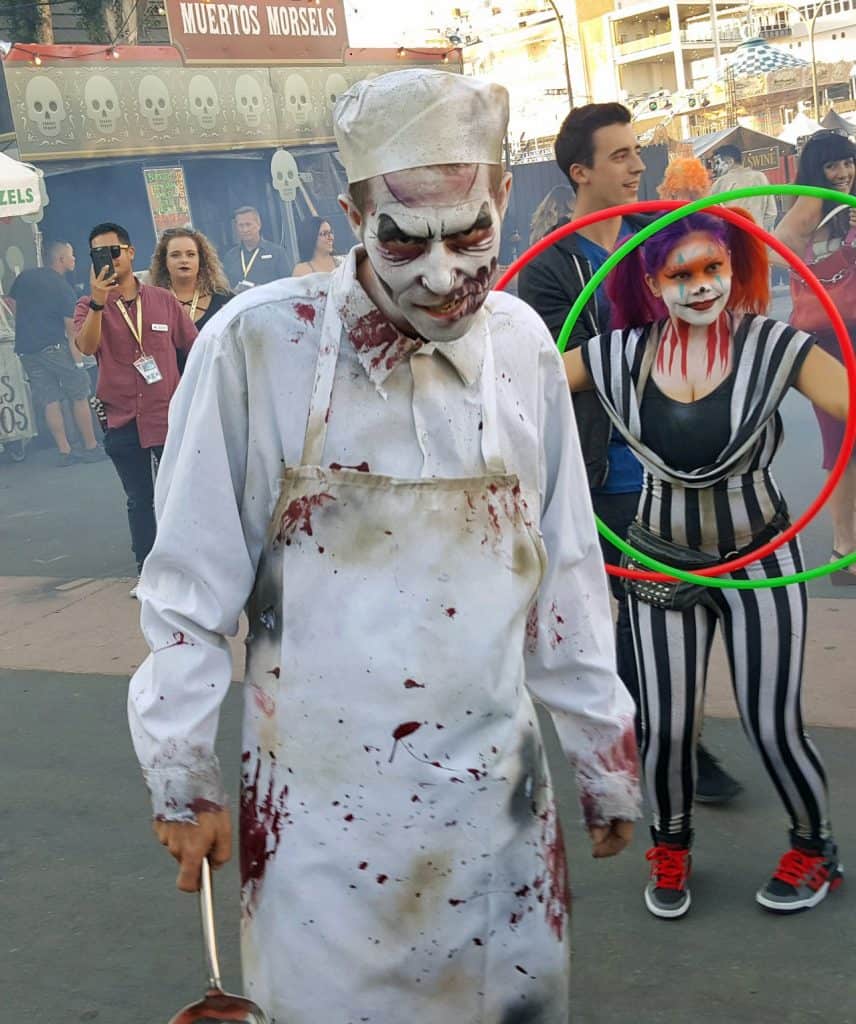 We ran into this lovely while imbibing in tacos and beer in the RIP lounge. Perfect entertainment to get us in the mood. (And look for the photo bomber in the back.)
Entertainment is all around, with three stages full of performers that will only add to the scary mood. Be sure to grab a schedule when you walk in the door, as there is constantly something going on on every stage depending on what night of the week you attend, such as DJs, freak shows and fire shows. Ride the Neverland swings or just wander the scary backdrops and foggy dark areas.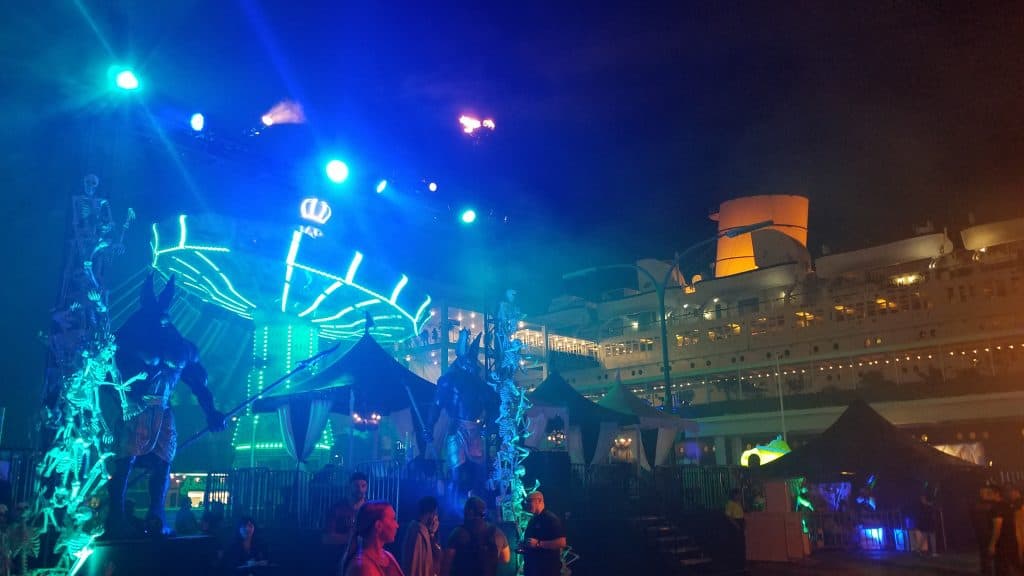 A popular show is the sliders, held over in Slider Alley, usually starting at 8:40pm and continuing at various times throughout the night.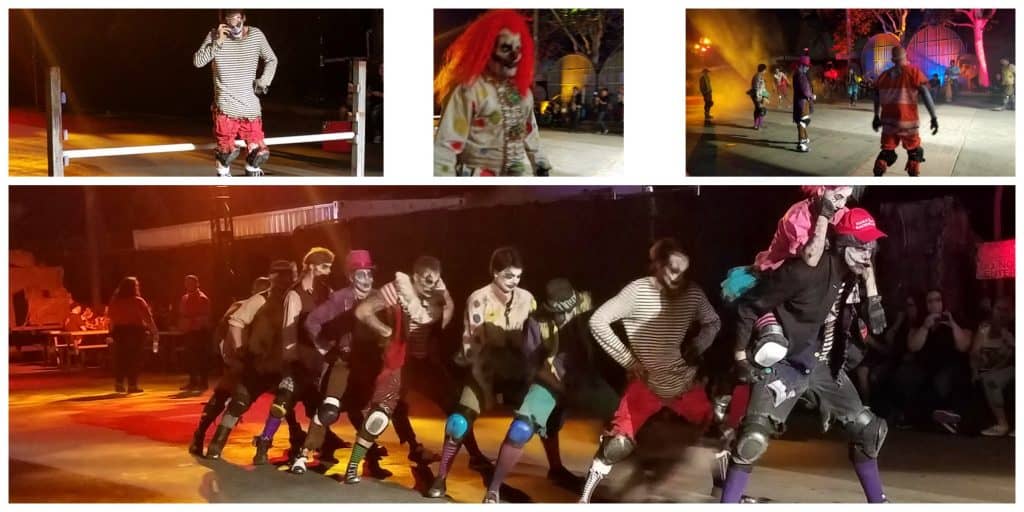 Humorous, creepy and 'wow-ing' you all night long, it's worth your time to check them out.
Food is everywhere, so if one vendor doesn't appeal to you, keep walking and you'll quickly run into another. Vegetarians aren't left out either, as there are options available to fit every diet. There are alcoholic drinks available as well as drinks for the younger crowd. However, the scares are realistic so it may not be an event suitable for children under 13. We did see a couple of children smaller and they were not smiling.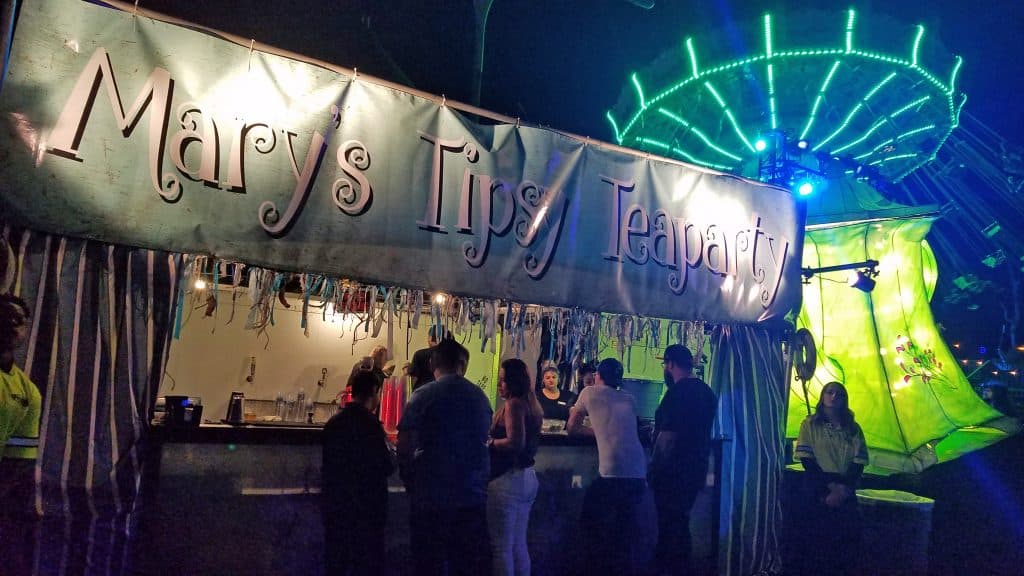 Throughout the evening, you'll run into many selfie opportunities. Take advantage of them, or buy a photo from the booth near the Intrepid maze, where you'll find photos that you can have taken when you walk into the entry.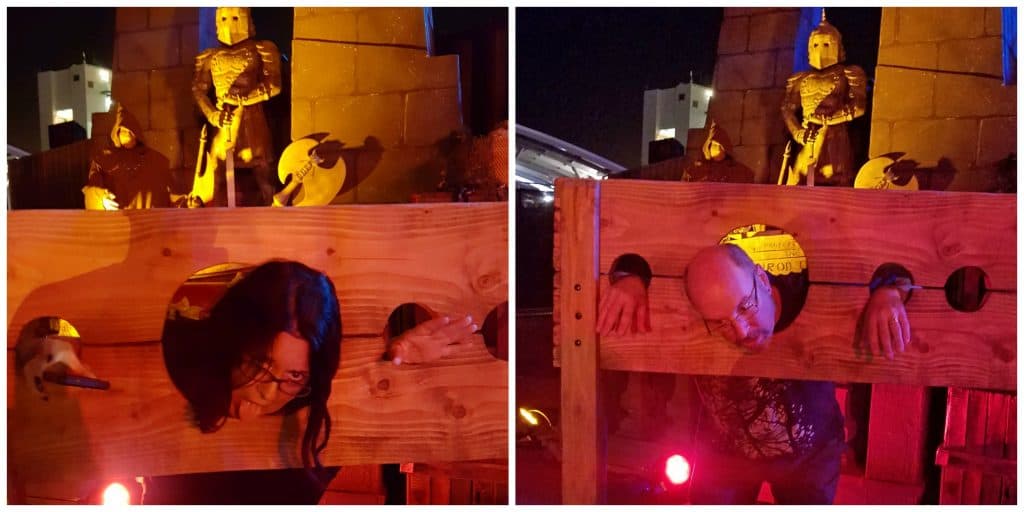 On media opening night, we were greeted by the Captain and some of the scare crew, as always. They are one creepy bunch. The chef from feast is not a big talker; he's more of a staring grunter and he totally creeped me out. Several of the mazes take place on the Queen Mary, so be ready to see the huge propellor and other ship innards that play into the effects of being chased by Scary Mary. She just wants someone to play with her!
This lady did not want to play.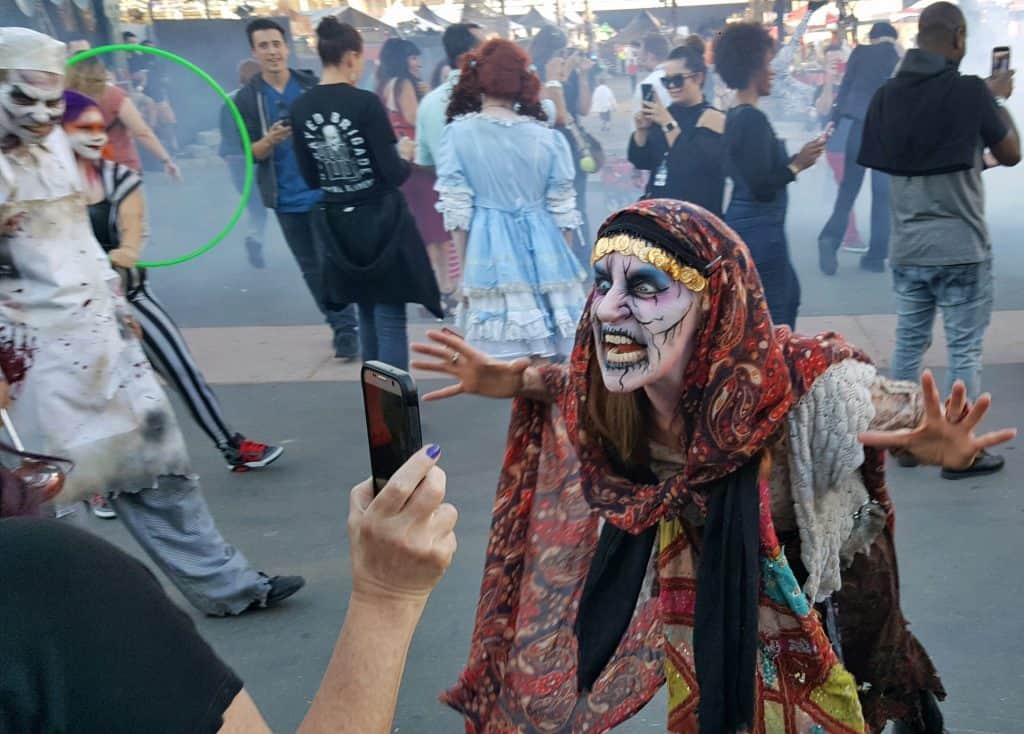 Nor did this very bendy guy, who we saw climbing barriers and up weird places all evening long. As contortionists and gymnasts go, wow. That two-sided head was tripping out everyone.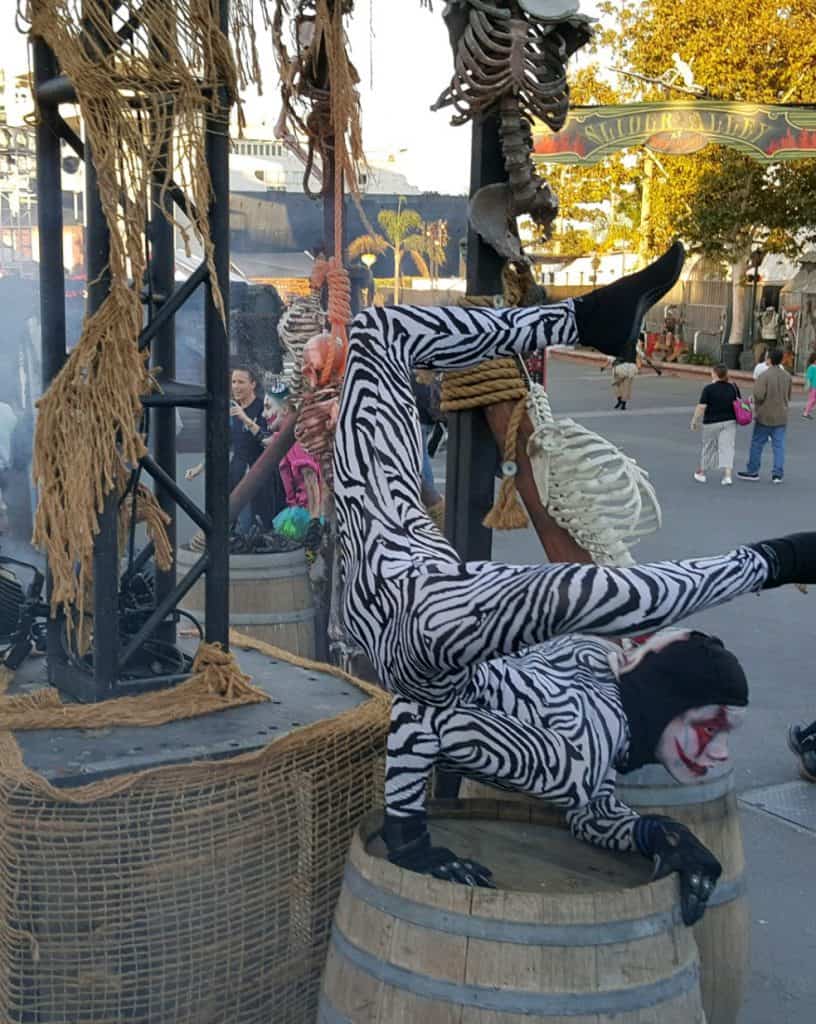 Stay on your toes. They are hiding everywhere.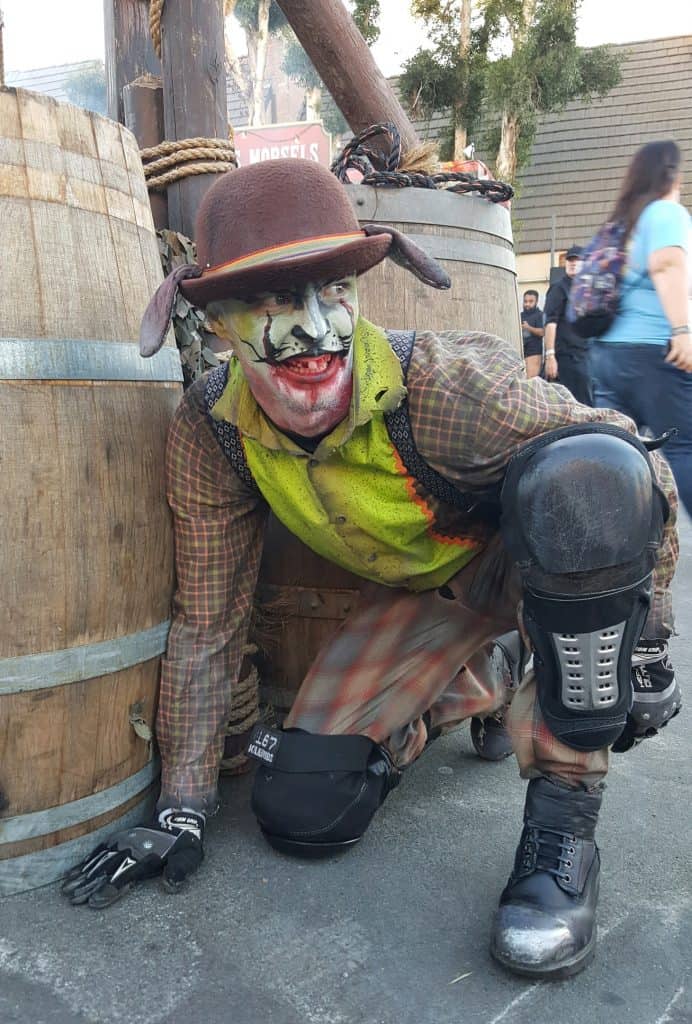 This is the one you want to watch out for though. The Dark Harbor Captain, he's creepy yet quite a talker.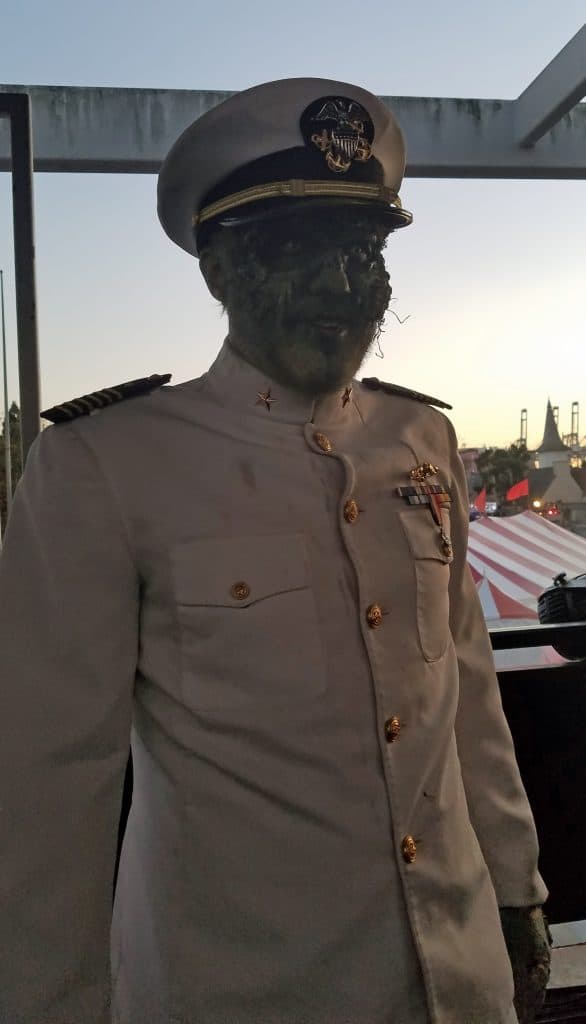 The creators of Dark Harbor 2017 did a fantastic job. The props are scarier than before and much like another very popular Halloween destination, there are no empty areas. Everywhere you go, you're in the midst of a scarefest.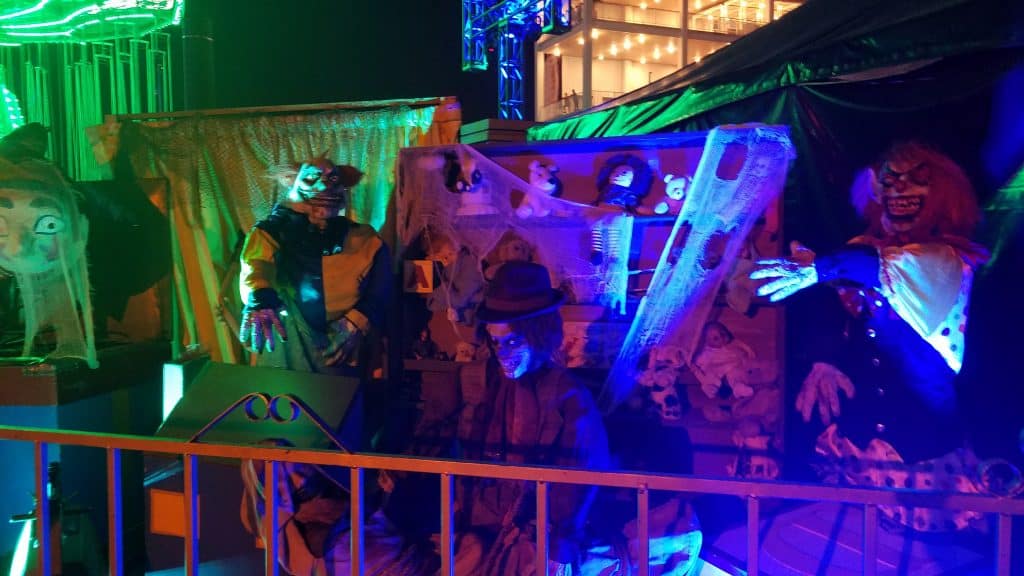 I have never been brave enough to get on this ride…something about swinging around in the dark alongside that ship is a hard stop no for me, but it was busy all throughout the night with very courageous souls screaming and laughing. I'm just hear to take the photos.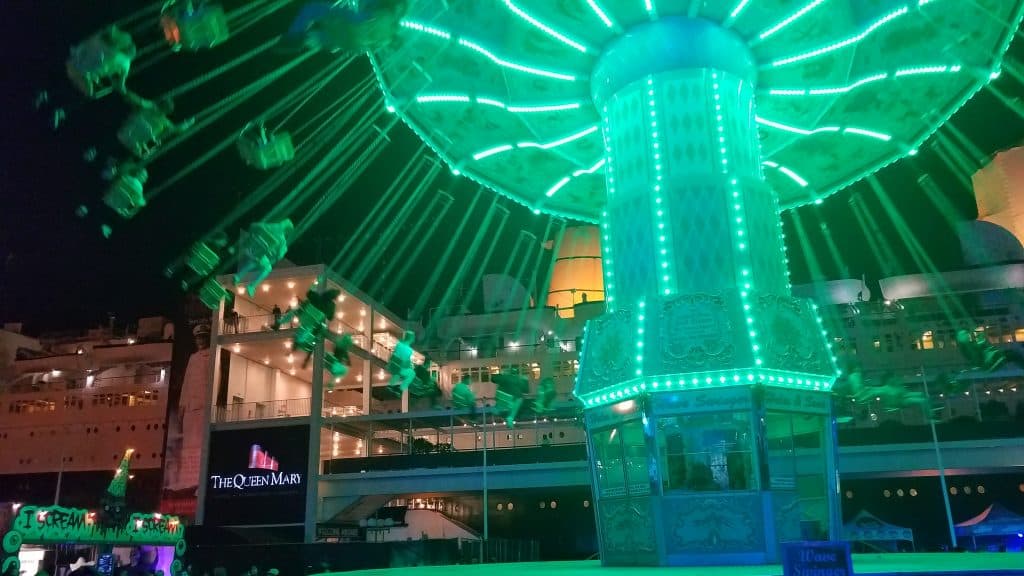 And pose for some, too….this guy looked lonely.
To buy tickets, head over to the Queen Mary Dark Harbor 2017 website. Tickets start at $24 per person, with front of the line passes available for an additional fee. (They are worth it as some mazes have longer lines; the ones closest to the front tend to build up quicker.) Parking is available on site with a few options. The scary fun ends on November 1, so buy your tickets soon! It is also open on Halloween. Dark Harbor 2017 will go quickly!