California NASCAR fans, NASCAR specialty license plates are finally going to be available, taking the idea of a personalized specialty license plate to a new level. Making it even better is the fact that the proceeds from each specialty place purchased will go to a partnership for two good causes: California's Outdoors for All initiative and The NASCAR Foundation.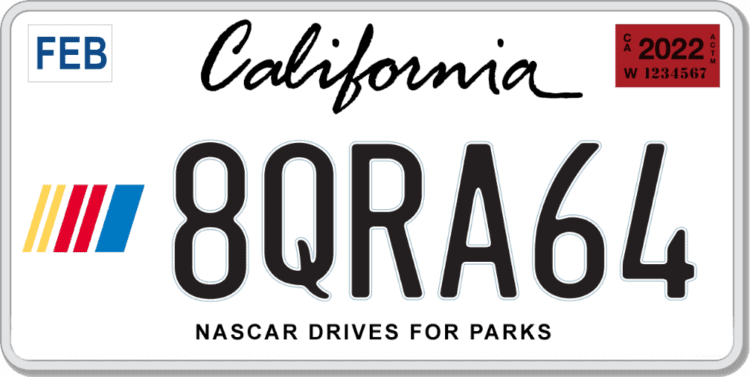 Outdoors for All expands outdoor access for all Californians, while The NASCAR Foundation works tirelessly to improve lives of children in NASCAR communities. Since NASCAR is involved from Los Angeles up to the Bay Area, that means these California plates will benefit a lot of people in our beautiful state.
"This is a wonderful way for NASCAR fans in California to not only show their love of NASCAR, but also make a tremendous impact," said Nichole Krieger, executive director of The NASCAR Foundation. "This initiative aligns with The NASCAR Foundation's mission, and we're excited to provide opportunities for greater access for Californians to the natural wonders of their state."
As a longtime NASCAR fan and race follower — from the west coast to the east coast — this option is a great way to display our dedication to the sport while giving back to our communities.
Where can we buy a California NASCAR specialty license plate?
Head to nascarplates.com to make your selection and place your order. If you're attending the NASCAR cup race or Camping World truck race at Sonoma Raceway this weekend, you can also sign up for the plates onsite. (When you watch the race, look at the new plates on the Toyota TRD Camry pace car as it leads the field to green for Sunday's Toyota / Save Mart 350, live on FS1!)
"Putting the new NASCAR license plates on cars will help kids and adults from all our communities get outdoors and improve their physical, emotional, and mental health," said California Natural Resources Secretary Wade Crowfoot. "Launching these specialty plates gives NASCAR fans a way to support racing, outdoor activities, and California parks."
To learn more about the California Natural Resources Agency, visit resources.ca.gov. To learn more about the NASCAR Foundation, please visit www.nascarfoundation.org/.