In mid-December, I had the chance to attend an interview with Austin Dillon at Auto Club Speedway. Open only to press and Auto Club Speedway hard card members, it was moderated by Dave Allen, President of the speedway. Austin was running a few minutes late due to a delay in his schedule there at the track, so the event opened with an informal Q & A session with Dave. It was a lively bunch in attendance and it was great to be amongst a group of such diehard race fans.
As the questions continued, we learned why Austin was late: he was filming a television show at the speedway, but we didn't learn which show it was. (Keep an eye out on Twitter though, because he did share that he's active on the platform so I bet you'll see it there as soon as he's able to announce the specifics. Find him on Twitter at @AustinDillon3.
My favorite comment of the Q & A session was this: "Auto Club Speedway has become the Disneyland of the west coast race world." I'd agree. Another guest asked if the truck series would be coming back to ACS. The answer was that ACS would love it, but it's not on the radar at this time.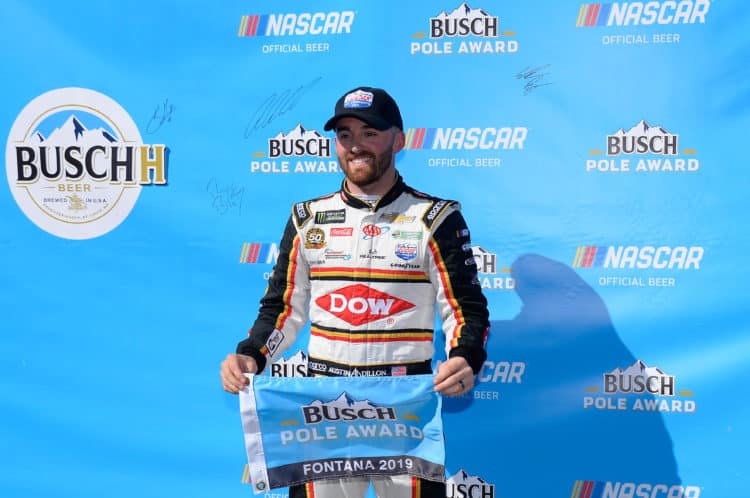 If you're not familiar with the sport of NASCAR racing, Austin Dillon is a Daytona 500 champion (2018) and he also won two races in the NASCAR Cup series, in addition to wins in the Xfinity series and his 2011 truck series championship. He now drives the #3 car for Richard Childress Racing Chevrolet, sponsored by DOW/Bass Pro/American Ethanol. He's the grandson of Richard Childress and the week we interviewed him, he'd just announced that he and his wife Whitney are expecting their first baby! Austin joked that due to the extreme interest in the baby from their immediate family, he wouldn't be able to see the baby until it was six months old.
Even funnier was his plan for a gender reveal, where he'd do a racing stunt to announce if it is a boy or a girl, but Whitney pointed out that he wouldn't be by her when they learned so he's agreed to do something more traditional.
Austin started racing when he was 15, so it was a bit later in the game, and if he wasn't a race car driver, he'd still want to stay in the sport, perhaps as a track president, particularly Dayton. Dave Allen quipped back with "If I can do it, you can do it."
When asked what he felt about the track surface, Austin's answer was as expected: don't touch it. Leave it as long as you can, because he knows when he gets to ACS, he'll be able to really race in a style similar to Homestead. The Auto Club Speedway track wears tires out, makes it slick and you have to go for it. ACS is one of Austin's favorite tracks and he's confident he can win on it. He's already been on pole here twice so there's no doubt that the 2020 NASCAR racing season will be a good one for the self-acclaimed "sneakerhead," who made sure he engaged with the kids in the audience at the Q&A.
The interview was fun and we learned a lot about Austin both personally and professionally. I hope we get to see him in the winner's circle this season!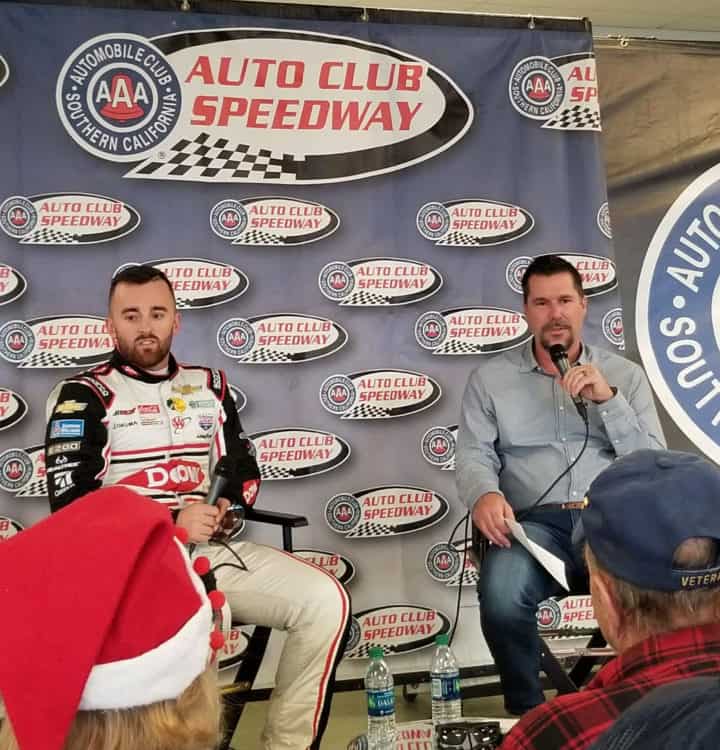 After the Austin Dillon interview was over, I had a quick minute to get a photo with Austin. Thanks for the invitation to the press event, Auto Club Speedway, and to Austin for being so kind and open with the fans!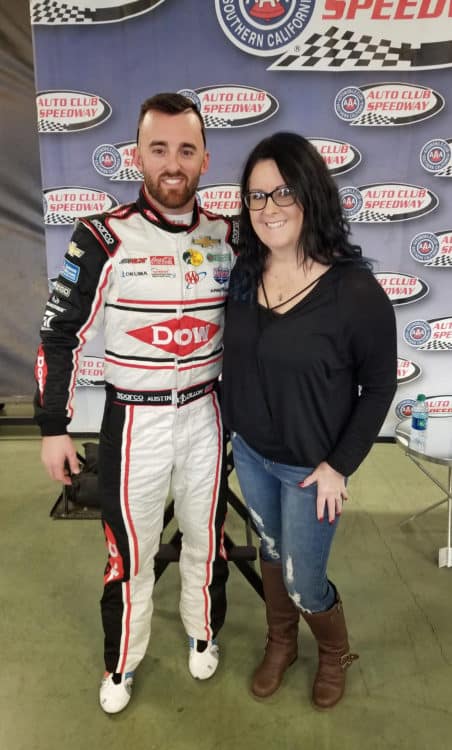 Then I took a moment to take a few pictures of my own beast out in the shadow of the grandstands. One of these days, I will get this beauty out on the track.