When we visited Alaska back in 1999, we had to choose excursions to go on four of the days where we'd be able to get off the boat. That excursion pamphlet laid out in front of us on the table, we were like kids in a candy store. So many options! We immediately chose to go sledding with the Iditarod-training dogs on a glacier, fish for crabs on a professional crab boat and take the Yukon train. We pondered the fourth choice a bit, but then decided on a whim to go on a kayak adventure. After all, how hard could it be to kayak in a glacier-fed lake?
Little did we know what we were getting into. We weren't very good…at first. We spun in circles, hit the sandy shore twice, and contemplated splashing each other heavily in our frustration. Then we suddenly hit our stride, and we were unstoppable. Maybe a little obnoxious even, as we pulled ahead in an attempt to show the rest of the group that no, we're not the losers anymore, the ones who couldn't stop circling.
The next day, with sore shoulders, we smiled at the memory of becoming a good kayaking team, and that was beginning of our interest in the sport. We live about an hour from the coast, and about 40 minutes from the nearest lake, so we don't get to do it often, so when we planned our recent Santa Barbara vacation, I was excited to be able to partner with Santa Barbara Adventure Co., where we were given a complimentary two-hour kayak session so I could tell you all about it. The photos below were all taken by our awesome tour guide, Scott, but the rest of the story is all mine.
Santa Barbara Adventure Co. offers a long list of tours, excursions and events for outdoor fun, education and exploration. We initially were going to take a sea cave tour, which is apparently as awesome as it sounds, but due to other commitments, we couldn't make it happen. (The tours begin off the Channel Islands, so you take the ferry from Ventura in the morning and then take it back again at 3pm or 4pm, so it would have conflicted with our anniversary dinner reservations that evening after our drive back to our resort.)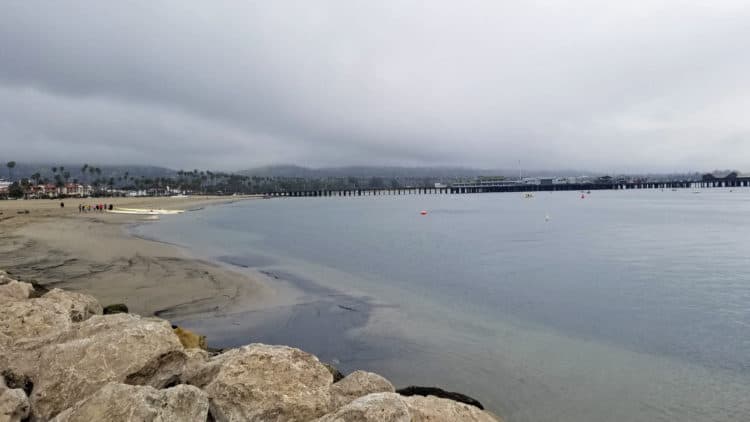 SB Adventure Co. recommended the harbor tour then, as it fit our schedule and originates and ends at the Santa Barbara Harbor by the pier. It's only about two hours long and is good for beginners and still challenging enough for intermediate kayakers.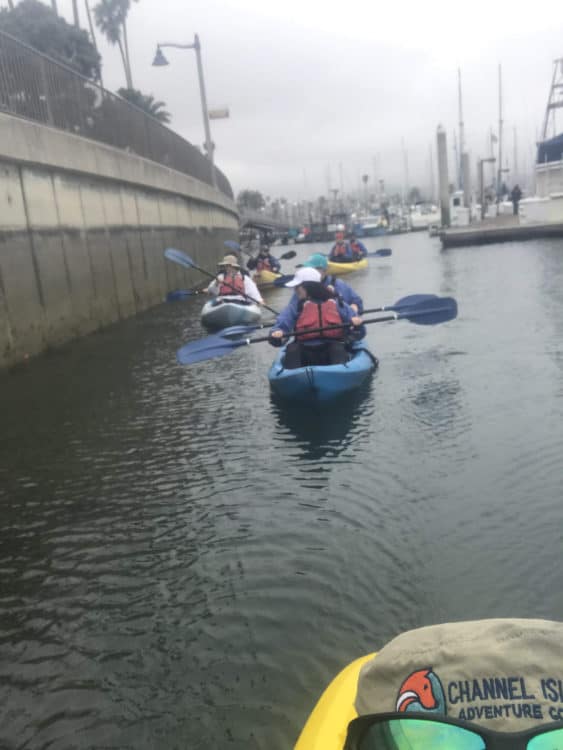 We met Scott at the edge of the harbor in the sand, near the boat landing. After donning safety gear, we also put on wet suits and/or jackets, as the day was misty and colder than we'd planned for. The husband sat in the back and I took the front seat. This meant, he essentially steered while I helped turn around or back up, and of course, paddle.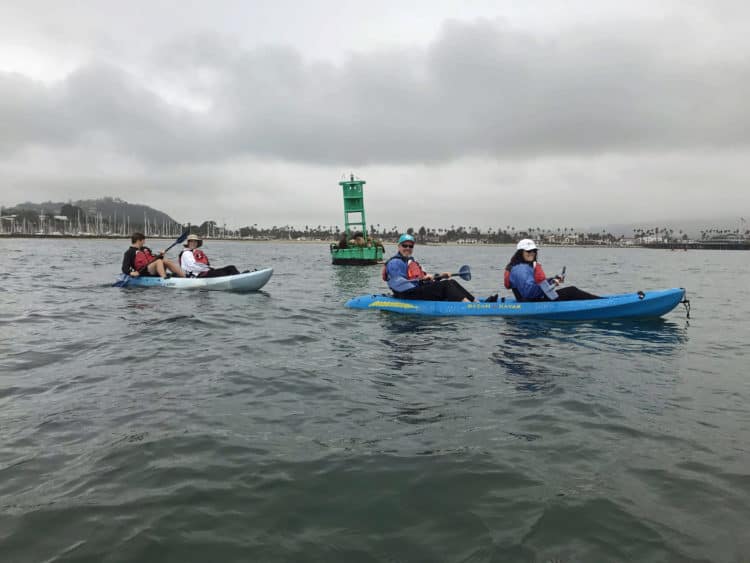 Kayaks are durable but they feel light, so it's all about balance. I'm far from a pro in any way, but we've done it enough to know we need to get our bearings, get comfortable, and use our hips to help us not tip over. Sounds easy, right?
It actually is, but when you're in an open body of water, you're also at the mercy of boats, waves and weather. That's why it's essential to have a warm-up so you can ensure you're ready before jumping into the deep end. Scott took us all around the harbor, giving us plenty of practice while giving us some great lessons about the environment, sea life, harbor activities and showing us sea stars, sea cucumbers, and more.
Not only did we get a chance to see seals up close in the harbor, where they lay on various equipment and boats, but we went a good ways out into the open water to see sea lions around and on a buoy. It was deeper than I'd expected, and there were some waves, but our tour guide stayed close and we weren't ever in danger. I have tipped from one in the past and the water looked cold, so I was a little distracted but tried to really just go with it. Success! I was able to enjoy it and stay entirely dry.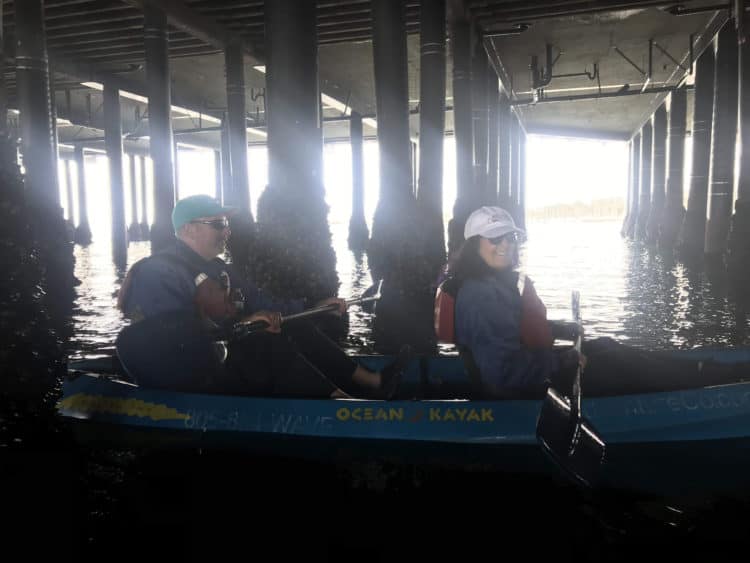 Along the way, we were given little challenges, like making a 90-degree turn, doing a 360, backing up, and our favorite, a slalom under the pier. Cars are actually allowed to drive on the pier, so we could hear the boards clatter while we were navigating around the columns that hold up the pier. Contrary to what it looks like from land, they are not all in a row, so it does require turns and twists. The big reward though is seeing the plethora of sea stars and other creatures living under the pier.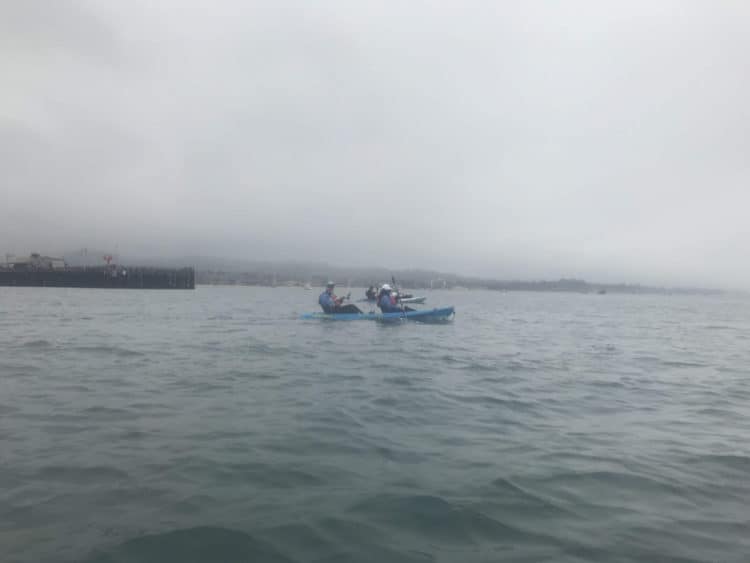 The tour went quick, and we enjoyed every second. After returning to shore, we shared our email addresses and headed off to Stearns Wharf to get lunch at Brophy's. (More on that in another post later!) I would definitely do another kayak adventure with SB Adventure Co.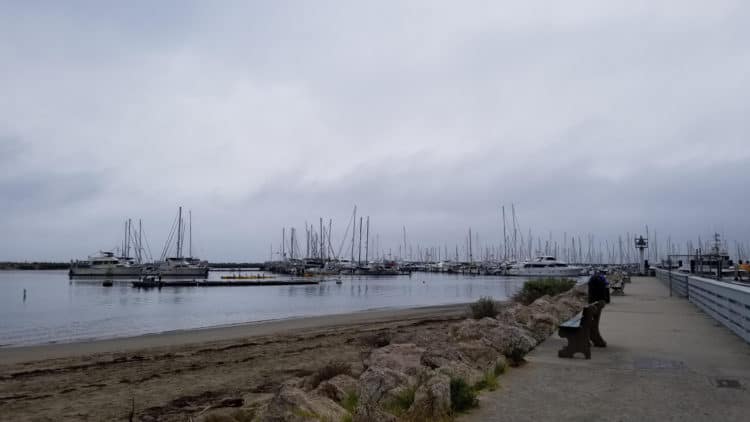 Learn more about them at the SB Adventure Co website. Their tour sessions are affordable, and reservations are required. There is an excellent FAQ page to help with decisions on what time to go, what to pack and what to do if you take a Channel Island Excursion. Ferry tickets are an additional fee, so be sure to schedule travel time to the pier, or if you want to get fancy, there is an air strip on board one of the islands. (How fun would that be? I love to fly!)
Take a kayak adventure if you never have. You'll see both the ocean and the coast in a new perspective, and you'll have a newfound respect for the ecology and wildlife. You'll also make some friends.