Yesterday, I shared the story of my puppy, Missie the Yorkie. At ten, she's not really a puppy anymore, but don't tell her that. She runs around chasing her squeaky toys, hopping up onto the bed and running around to follow me wherever I go. She's got quite the medical history that I shared here, so today, I'm continuing by sharing tips on caring for a special needs pet.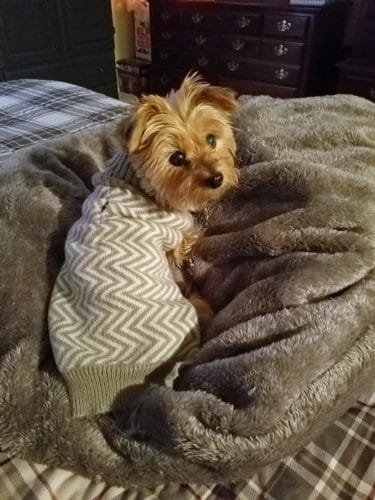 Caring for a special needs pet can affect your budget, but if you're all in, having that animal in your life is going to be one of the best things ever. Here are some things we've learned throughout the years.
Top Tips for Caring for a Special Needs Pet
Research your vet and his staff: start by asking questions. Put together a list of all your concerns, in writing, and ask them for some time to go over the list. If they don't have, or make, time for your discussion, consider finding a new vet. Some of the best vets aren't great with people, but they should still be willing to help you understand about your pet's condition, treatment, outcome and future. Ask about their hours, the services they offer, what specialists are available. See if they offer hospital services for round the clock care. Having a vet with 24/7 emergency services available can be a relief but if they don't, be sure they can refer you to a trusted emergency provider.
Stay off of Google as far as medical questions: go to the source, your vet. The internet stories will scare you. Just like you don't want to google your own symptoms, don't do it with your beloved pet.
Shop around for prescriptions and prescription pet food: you may be surprised at the markup on medical supplies. A prescription may cost $50 at your vet or $40 elsewhere, like Costco. You knew that regular pharmacies can fill animal prescriptions, right?
Get your pet's birth date: you'll need one. Ask your vet to give you the best guess at the age, in case you didn't get a pedigree or certificate like Missie came with. (She is actually an AKC pure bred with a show lineage! We never have shown her though.) You will get asked it at pharmacies when you fill prescriptions.
Create a pet folder: this will be where you keep everything related to your pet's care. This binder should have contact information for your pet's vet and/or specialists and the name/number of 24/7 emergency service providers. If you ever have to leave your pet and someone else needs to seek care, they can refer to this binder. It will also be easier for you to explain your pet's condition to another doctor if you travel. Keep all your pet's prescriptions, receipts, everything you have that pertains. This allows me to tell any doctor when Missie had surgery, what her dosages are and when she had teeth removed.
Fill prescriptions and purchase pet food ahead of time: don't run out. It's not a good idea to stop giving your pet's medicine unless your vet has indicated it's time to do so. Pet medication is real medicine, so the same safety tips you'd follow yourself are required for your pet. Prescription food isn't just readily available either, so have a back-up place to purchase it in case your first choice doesn't have any in stock. Keep a copy of your prescription on hand, and you may be able to save money by ordering food online.
Developing a good relationship with your food store is important, so you can ask them to order food for you without making it a big production. We always buy 15 cans in advance, so we have enough for 60 days. (One can = four days of meals.) We also mix in a few pieces of hard prescription food to keep her remaining teeth in shape. She also likes them as treats, and since she can't have any real food, those treats are important.
Above all, enjoy your pup: don't let fear and stress about the future allow you to miss out on any moment with your baby. Missie has kept me up at night, given me headaches and made me nauseaous. She's also given me so much love and joy that all the money is just a drop in the bucket. When she climbs up next to me at night, cuddles up along my tummy and lets out what we call her contented sigh, it's the best feeling. She's on my lap for hours each day and when I'm gone for more than 3.4 minutes, she rushes me at the door and gives me more kisses than my kids.
Caring for a special needs pet isn't going to be a walk in the park, but it's worth every second.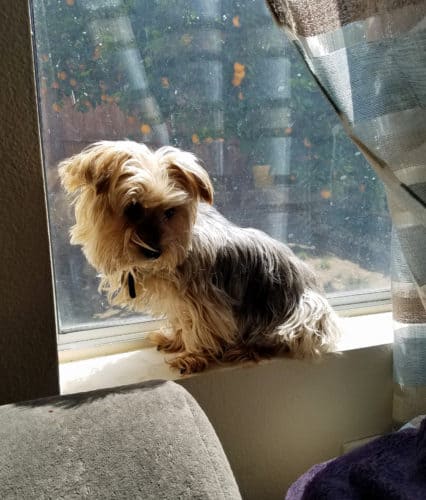 How much is that doggy in the window, the one with the waggly tail….
how much is that doggy in the window, I must have that doggy for sale.