Tis the season, that time of year where people are in and out the door on a daily basis and we find ourselves entertaining much more frequently than normal. I keep baked goods on hand, the hot cocoa shelf stocked and my coffee bar options full. Speaking of bar, I also make sure I keep affordable wines on hand. I love a good wine, but I don't always want to keep my $50 bottles out for open house use. (Don't judge, you know you do it, too.) I also don't want to serve boxed wine, so I keep my eye open for good wines that won't break the bank yet taste good. I also am a sucker for a pretty label.
Epicurious Wines, from the creators of Epicurious (the renowned food site of over 20 years) asked if they could send me some complimentary wine to try and share with my readers, and I tell you, the things I have to do for work! Tough job, right? Of course I said yes, and it was a good decision. These wines are fantastic!
Chardonnay is one of my preferable varietals of white, so I was excited to see it as one of their offerings. Chardonnays are considered a drier white wine, but not overly so, typically with notes of vanilla, apple, pear or citrus, depending on if some oak was added to the aging process. Epicurious Chardonnay is a wonderful blend. I found it to have a mild flavor with a tangy finish, and I picked out an apple note. Light and flavorful, I could drink this with almost anything, but it would be perfect with a chicken meal or salad. (I love reading labels and comparing them with my preferences, and the Epicurious label was spot-on!)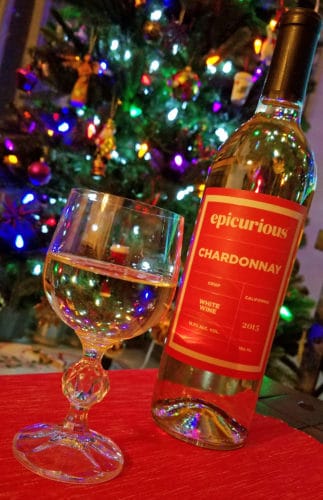 Then we cleansed our palates with some wine tasting biscuits (found at Total Wine and other wine stores) and cracked open the Cabernet Sauvignon. Epicurious suggests braised short ribs or bbq as choices for a meal pairing, but I had no problem enjoying a glass with a piece of cranberry bread by the Christmas tree…wrapped in a blanket, watching a holiday movie, because California feels like the Arctic to this weather wimp this week. The wine has a very berry aroma and taste, and a nice velvety feel going down. Smooth and easy to drink, it's a great addition to your party bar along with the Chardonnay.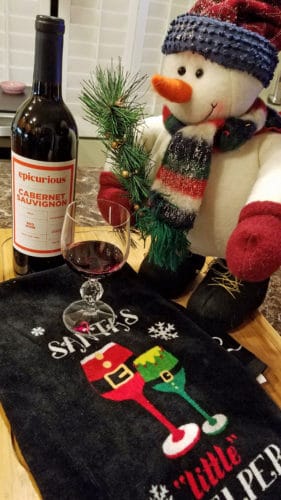 At $16 per bottle, I'd classify both of these as affordable wines yet they both taste like higher-end wine. No one will guess you paid only $16. Pick up a few for your next party and be the first one of the group to share these wines with the gang! My friends know our wine interest runs deep and that if we serve it, it must be good, so if you decide to drop by my house over the holiday season or into the new year, you'll find some of these Epicurious wines on hand.
Happy holidays and enjoy good wine!