The minute you walk into a Johnny Rockets, it's like being transported back in time. From the unique exterior to the interior color and theme to the mini-jukeboxes on the tables, it's like a time machine inside of a restaurant. With a menu full of fantastic burgers and fries, it's as much an event as it is just going out to get dinner. Known for their service and excellent shakes, Johnny Rockets knows how to make sure you have a good time.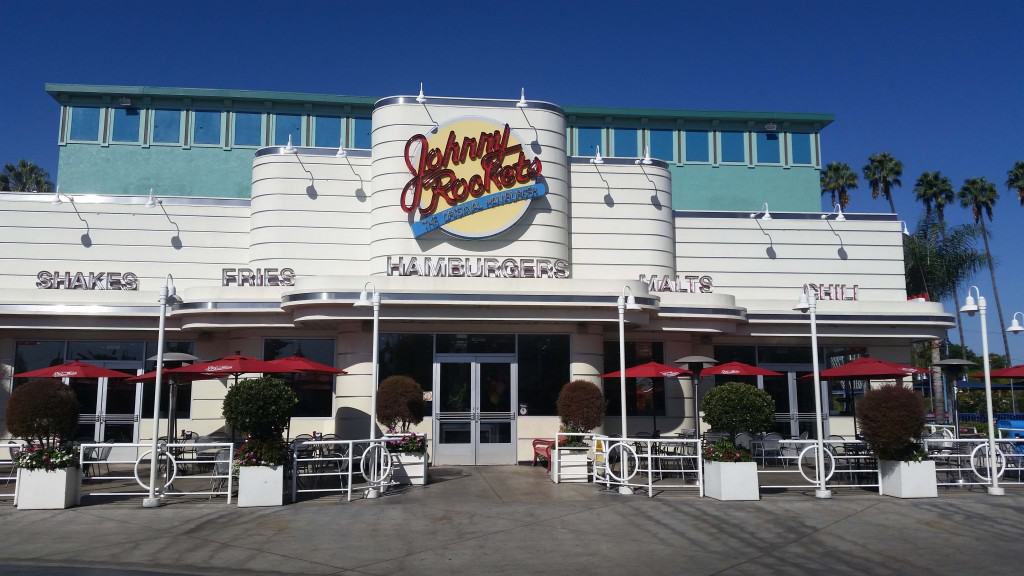 This past weekend, I had the opportunity to attend a special media event for National Shake Month, where Johnny Rockets treated us to their newest shakes before they were made available to the general public. (Thank you, Johnny Rockets! We were given a complimentary meal — and fun couple of hours — for the purpose of this post, but the photos and opinions are my own.) You can't go wrong when you tell your family that yes, you do need to get up early on a Sunday but you get to have burgers and ICE CREAM, essentially for breakfast!
The purpose of the event was to sample their two new shakes, Reese's Peanut Butter Cup and Goosebumps, but Johnny Rockets, being the gracious business that they are, pulled out the stops and had burgers, chicken sandwiches, fries and onion rings available as well. I'm a fan of their onion rings in particular, as they're crispy on the outside, tender onions inside, non-greasy and the perfect texture all around. (I may have eaten the majority on this plate.)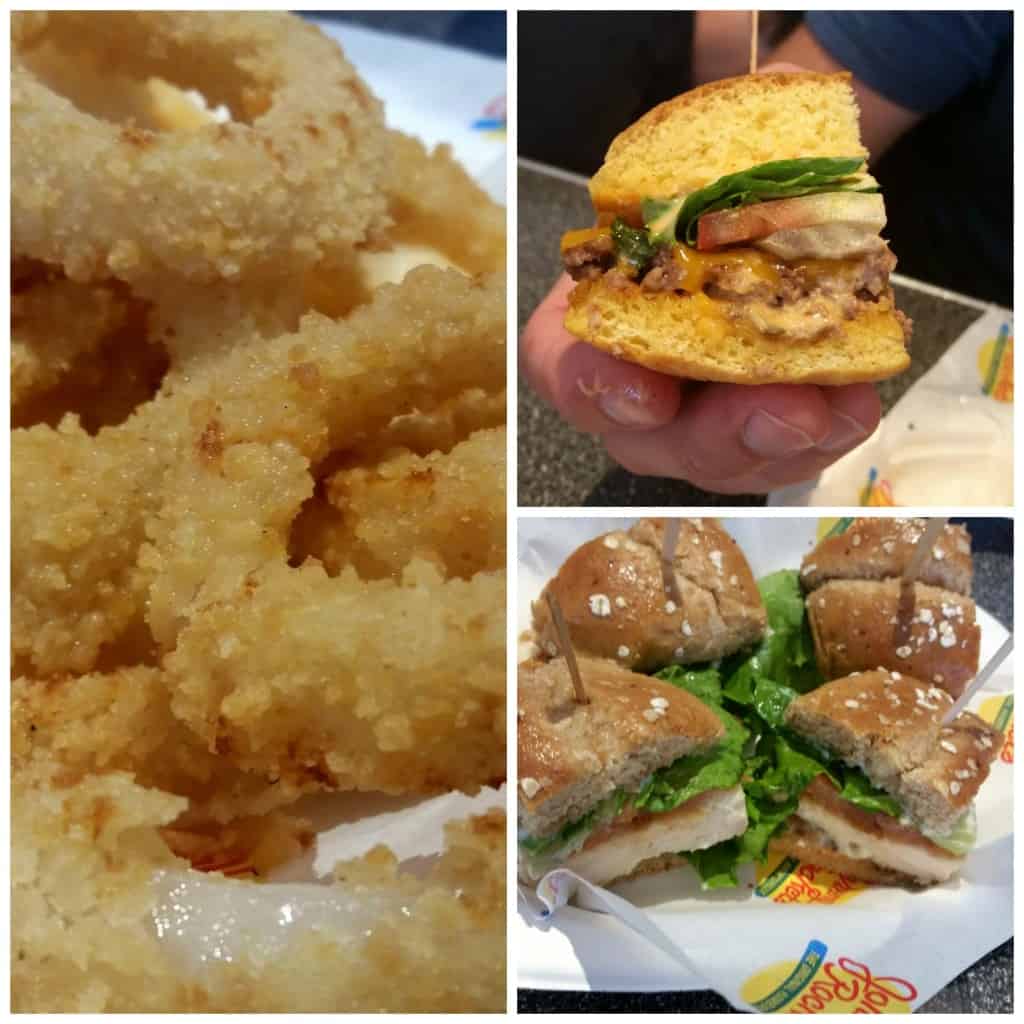 Don't those look fantastic? I can't eat red meat, so our host made sure we had an extra chicken sandwich on hand since the guys like to eat, too. So moist and delicious! But onwards to the focus of the day, the shakes.
Johnny Rockets has it down to a science. Not only is their entire wait staff dedicated to getting the food to your table on time, and with a smile on their face, but they literally put a smile on your plate. It wouldn't be a visit to Johnny Rockets without their ketchup art!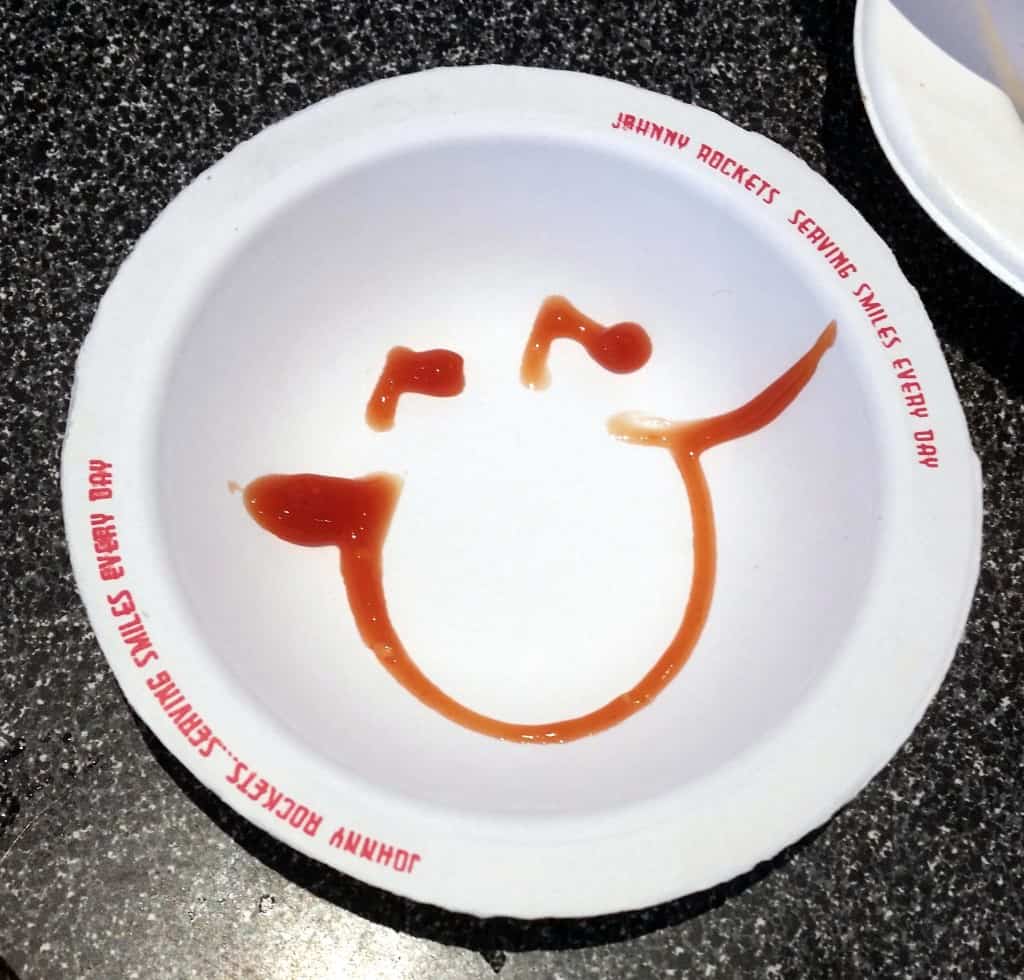 And speaking of the staff, look at this team…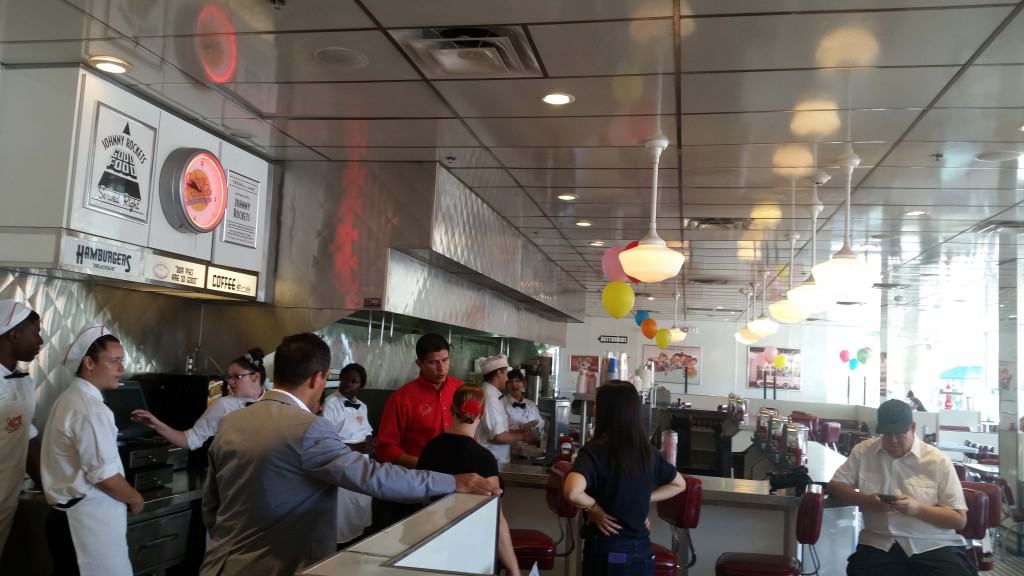 That tall man in the red shirt? That's the Regional Supervisor, David Archuleta, surrounded by dedicated co-workers, before our large blogger group got settled in for the morning. They had a lot of things planned for us!
And that included making these shakes. We were allowed behind the counter to watch the creation firsthand. It's no surprise, given the quality of all the Johnny Rockets items, that they use only name-brand items like these. And I share the secret recipe for the Goosebumps shake below!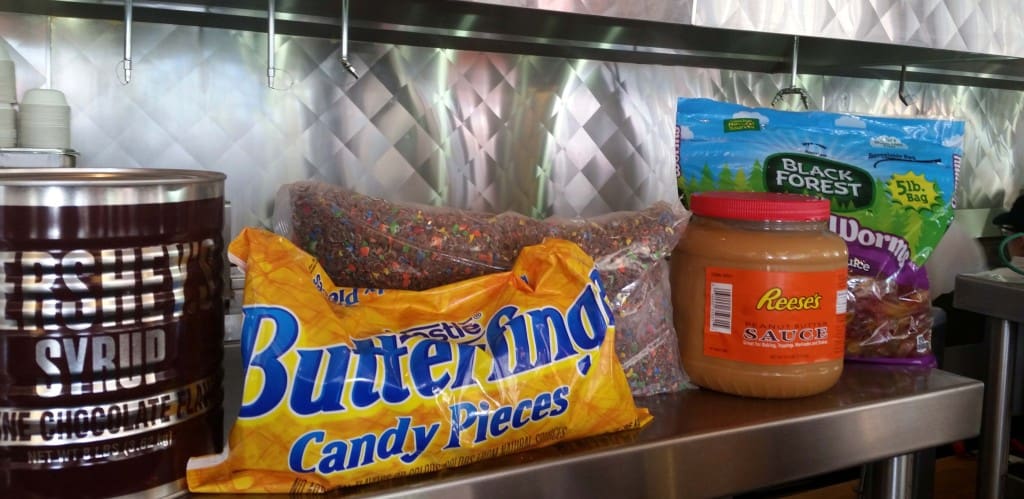 Did you notice that the Reese's peanut butter is sauce, not actually the regular butter we're used to? I wanted to go hide it in my car, but it was hot out… (And I have this weird thing about not taking things that aren't mine, but wow, that stuff looked amazing.) What isn't in that picture is the crushed Oreos, another quality product.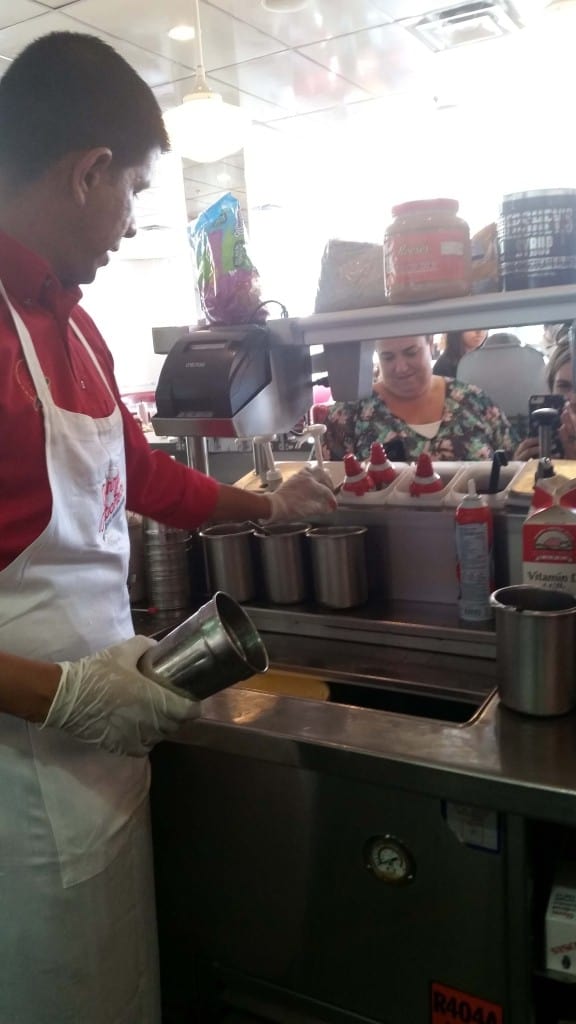 The shake bar is meticulously clean and organized. Making a shake is a routine, and each shake is made individually. One good thing to keep in mind is that there's a separate shake maker/blender for any shake that contains a peanut item, so there's no cross-contamination when the shake is being mixed. Peanut-allergic patrons, you're in good hands at Johnny Rockets! We got to watch the entire process for both shakes, and there were so many points where I wanted to grab the container and run to my booth. The shakes are the perfect consistency, just thick enough to get through a straw, and the chunks of flavor perfectly sized as well.
First, we tried the Reese's Peanut Butter Shake. With peanut butter sauce, vanilla ice cream, Reese's Pieces, whipped cream and a full peanut butter cup on top, how can you go wrong?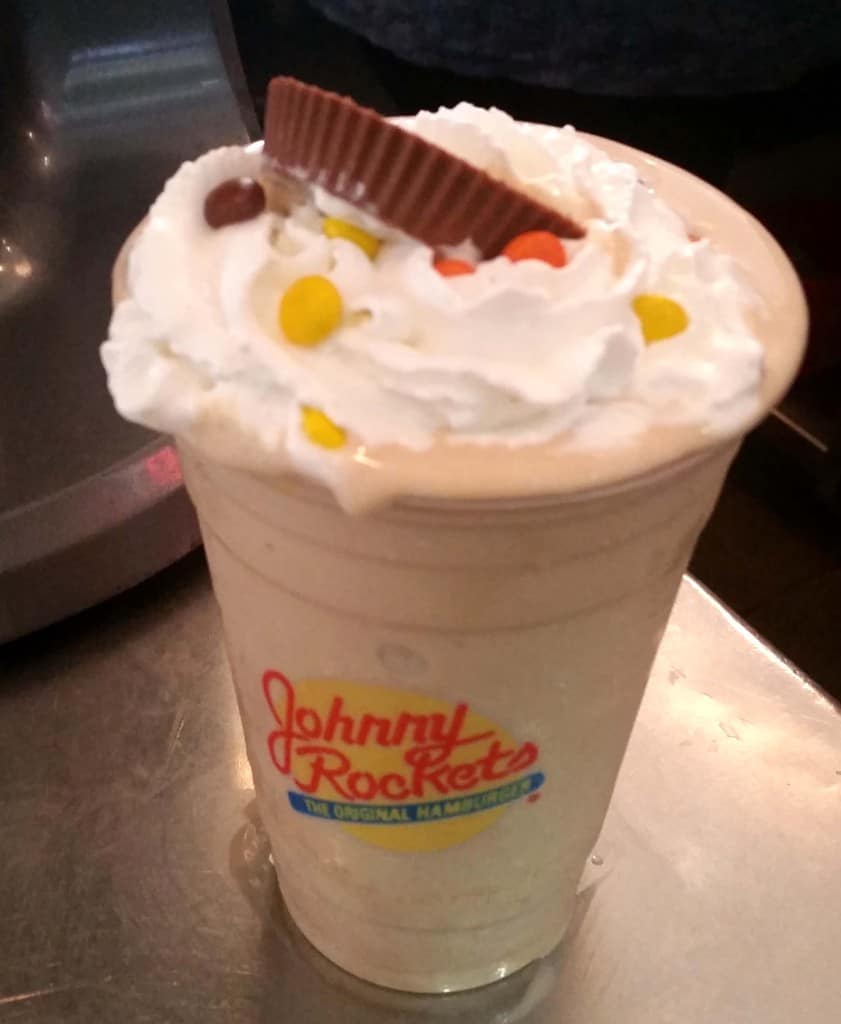 That's up close and personal with a shake that had everyone trying to photograph it quick so we could eat one!
Then we had the Goosebumps shake, handmade with 16 oz. vanilla ice cream, 6 oz. of milk, 2 tbsp of crushed Oreo cookies, 1.5 tbsp of chocolate syrup and gummy worms and whipped cream to top it off. Another hit! (Shhh, that's a secret recipe!)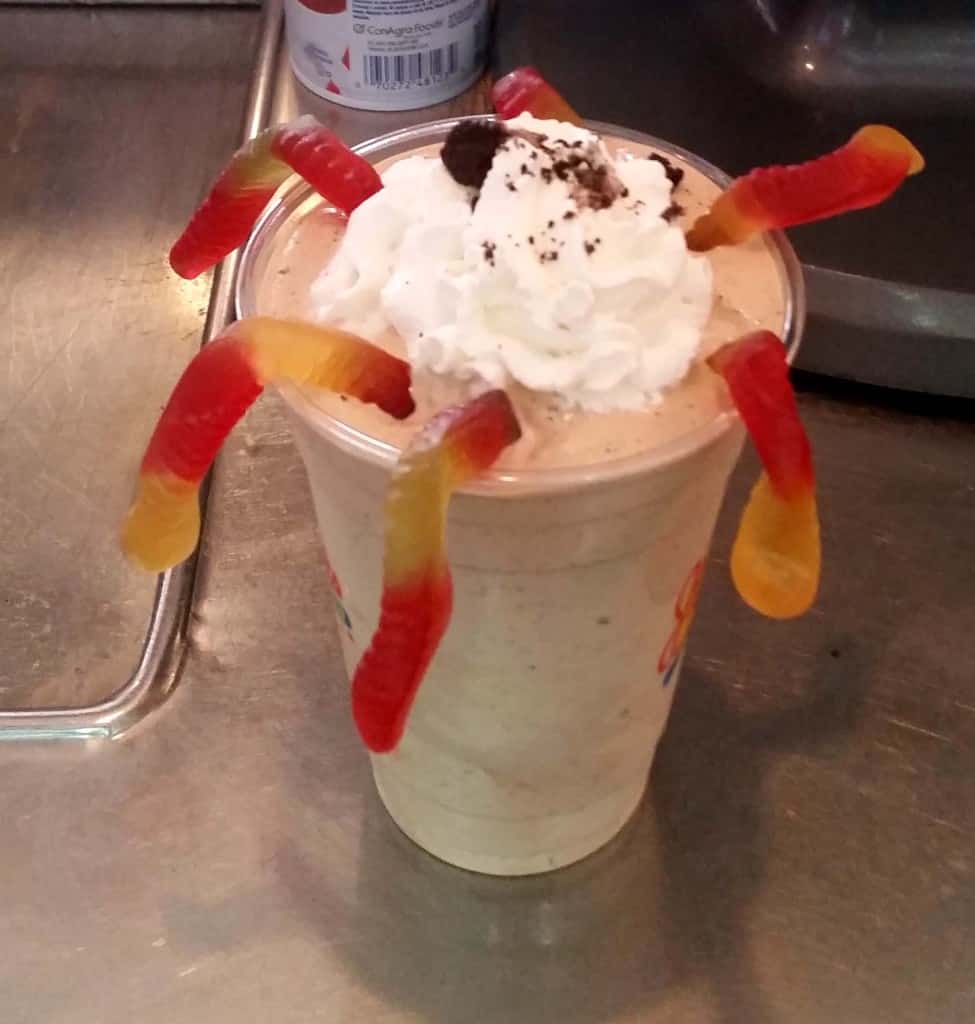 All that goodness resulted in this smile.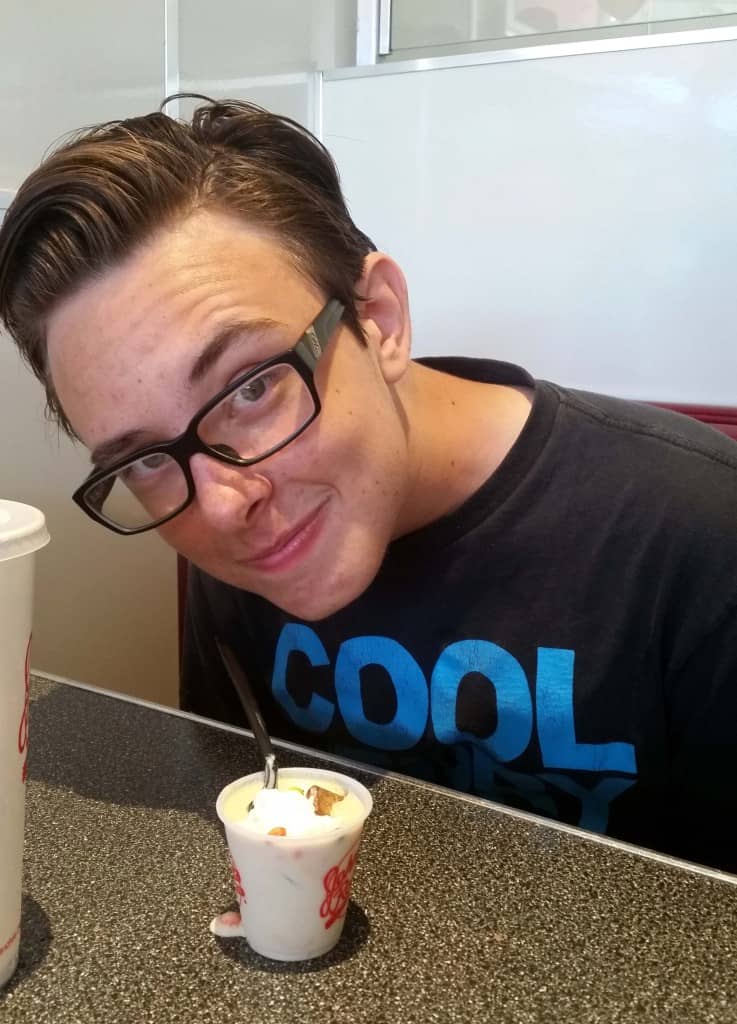 That's a 14-year-old football player who rarely smiles for a photograph, but give him ice cream? I didn't have to ask twice. He had two of the Reese's shakes, in fact. Shhh, don't tell anyone. He's trying to cut back so he's ready for the game!
Johnny Rockets, we left stuffed. The burgers, the chicken sandwiches, the fries and the infamous onion rings were so good, but the shakes….it's ice cream and you have Oreos and peanut butter. No further words are needed, right?
Both shakes are limited-time only and only available at participating locations, so check ahead of time, just in case. (Johnny Rockets always has a bunch of amazing shakes on the menu, so if you aren't close enough to try the two new shakes, you won't be disappointed with their other options.) The Goosebumps shake, available beginning September 21, was created in partnership with Sony, in honor of the premiere of the upcoming Goosebumps movie, due out October 16.
Visit Johnny Rockets website for restaurant locations. Johnny Rockets has about 330 corporate and franchise-owned restaurants in 32 states and 27 countries, including 15 Six Flags amusement park locations and 12 Royal Caribbean cruise ships. With any luck, at least one of the is near you! Don't be surprised if you find yourself singing along to the music as you eat. After all, even the staff gets into the act and may just start dancing!