Every year, I look forward to celebrating Christmas at Sea World San Diego, and this year is no exception. We were invited to attend Night Under the Stars, the Christmas party for media and the invitation felt like receiving the golden ticket. We love Sea World!
All the way down to Sea World, which is about a two-hour drive, the kids were talking about what was to come. We attended last year's party and the kids knew they were in for a treat, from the infamous hot chocolate to the world's biggest snow globe to the Rudolph the Red-Nosed Reindeer theme throughout Christmastown. And a bonus? The party is held in the Wild Arctic area, home to my son's two favorite creatures on the planet, other than his dog: the walruses, Mitik and Chouchou.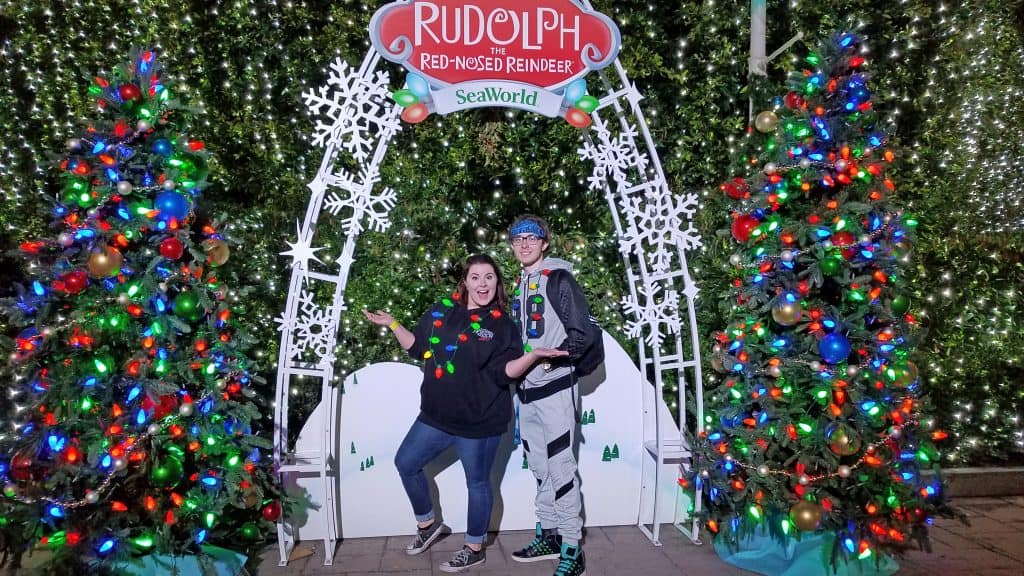 Ever since Sea World made my son's dream come true in September 2016 (which you can read about here), he has an affinity for those two beautiful animals. We try to visit Sea World frequently, and he always heads to Wild Arctic immediately upon arrival….and often, we return at least one more time before we leave for the day. Sea World's animal rescue history has always made them a favorite choice for a family fun day. We learn a lot about animals (like in their new Orca Awareness show), laugh at their antics (especially the dolphins) and ride on the Manta coaster. Then there's the food. You cannot go hungry at Sea World, and their chef makes sure all their food is spectacular.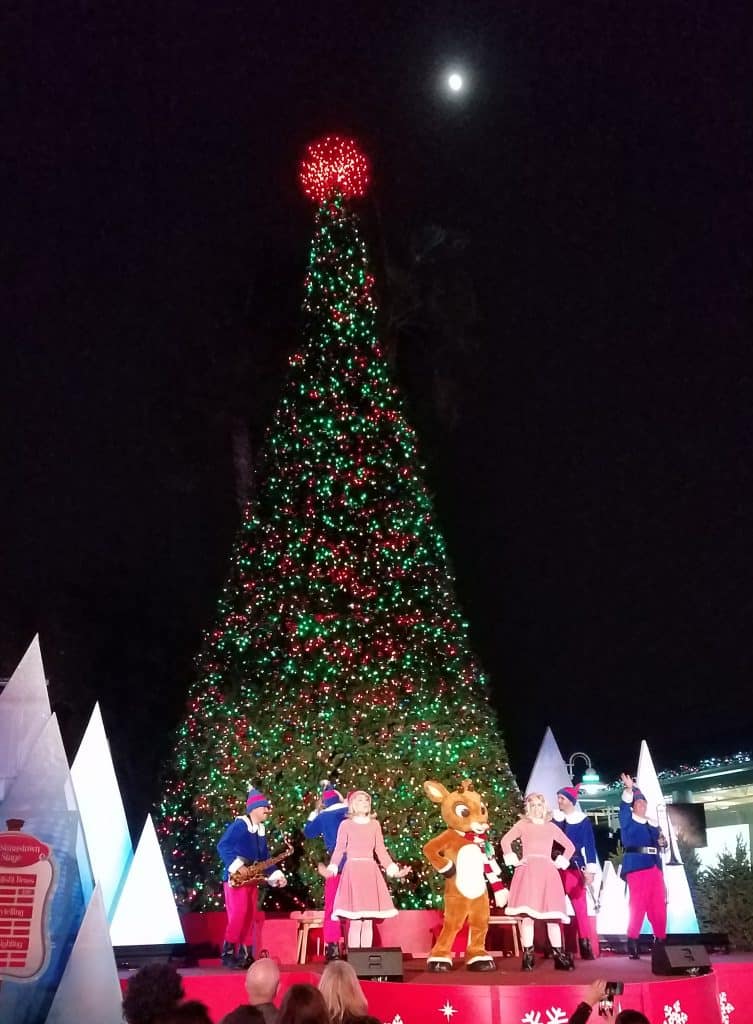 Christmas at Sea World San Diego is indeed a special place. The regular shows still exist, but there are temporary additions for the holidays that are unique to the season, from food to decor to the renaming of Manta to Merry Manta. All new this year is the nativity show, O Wondrous Night, sharing the original story of Christmas on stage with singers, dancers, puppets and live animals. (The camels! The goats! The donkey! They were all so cute!) The show includes traditional holiday music, lasts about 30 minutes and is beautiful to watch. You can read more about it here.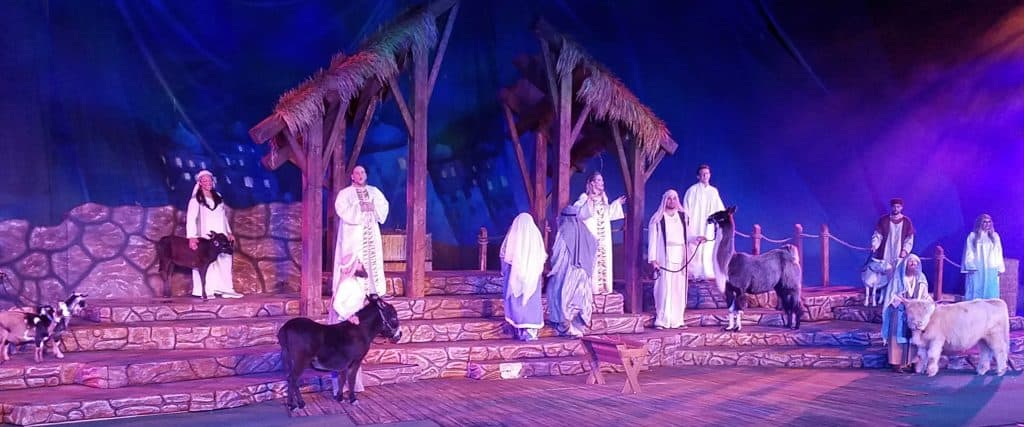 Open at 3pm, Rudolph's Christmastown is where the big guy lives…and I don't mean any of the huge sea creatures, but Santa himself. He and his wife reside in a cute little cottage where guests can put in their gift request directly to the source. My son asked Santa if he was on the naughty or nice list, and Santa said nice, but that can always change so he should always be good. My son, always quick-thinking, asked Santa how quickly the list refreshes, because he'd just given his sister a hard time. Mr. and Mrs. Claus thought that was funny, but Mrs. Claus gave him a good reminder that being nice is always the right thing to do.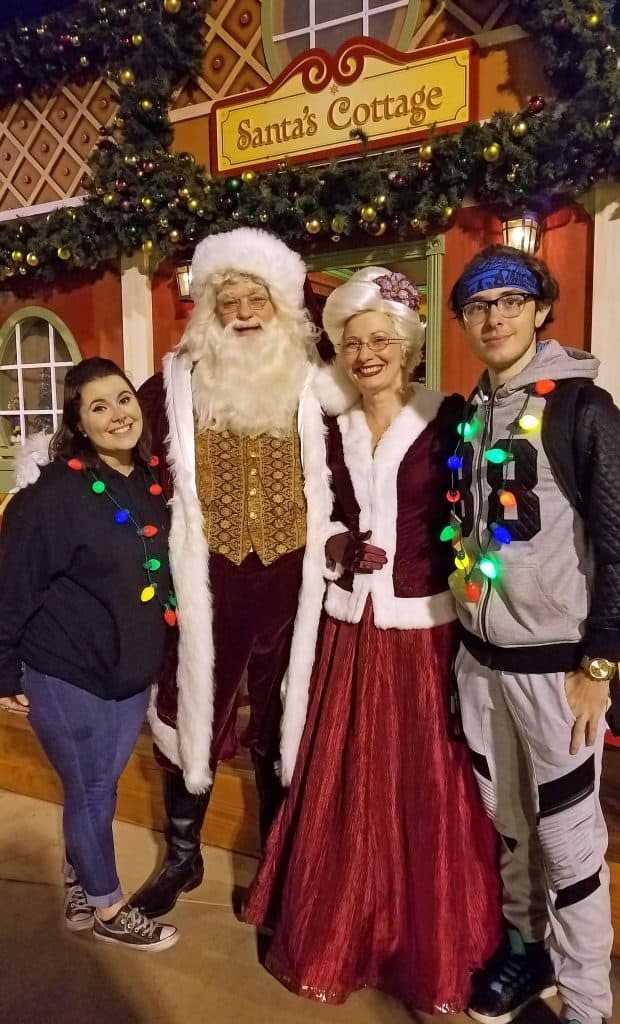 Holiday treats, reindeer and holiday performances..and snow…complete the magical feeling of Christmas. We enjoyed what was the biggest ice cream sandwiches we've ever seen. Red velvet, soft and full of melty ice cream. Those are donut holes drizzled in hot fudge sauce in the background. So much food, so little stomach space left after the mashed potato pizza and chicken chipotle sausage sandwich I'd already had. (I may have overdone but that pizza….)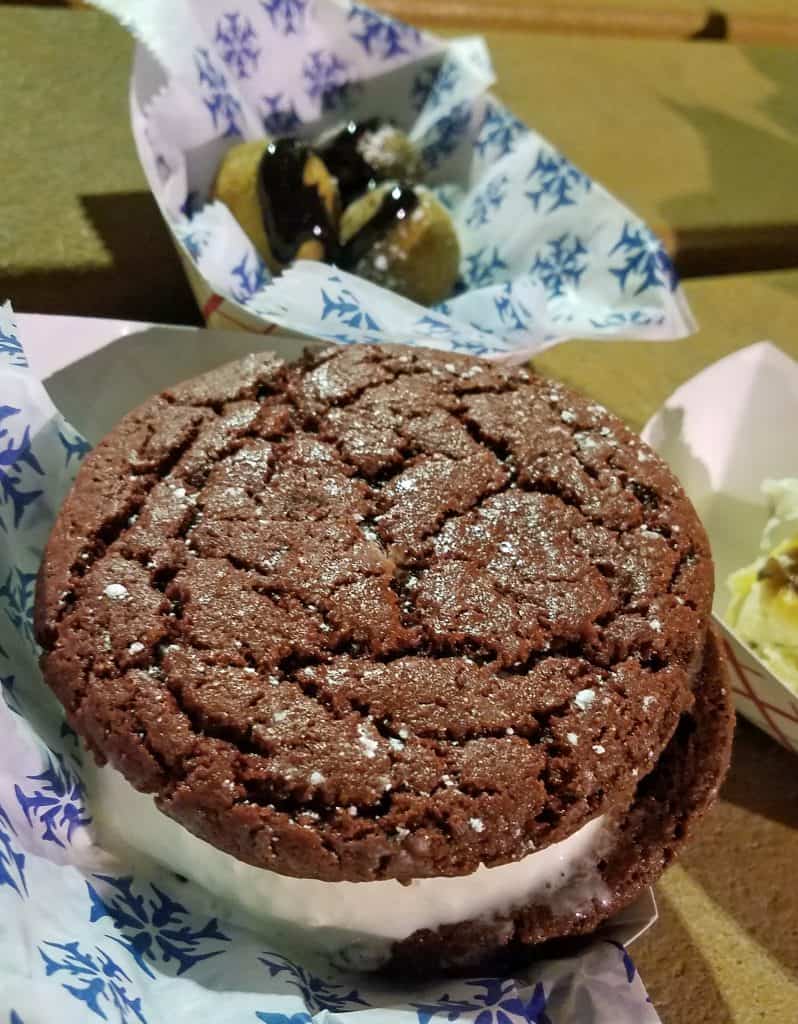 Rudolph also is available with photos and you may just see my personal favorite wandering the area: Bumble, the abominable snowman-turned-good guy from the Rudolph animated cartoon.
This was a surprise, so pardon the vertical video! I walked around the corner and THERE WAS BUMBLE!
I may have gotten a little excited. And I'm also the new owner of Bumble pajama pants and a Bumble coffee mug. Well played, Sea World, well played.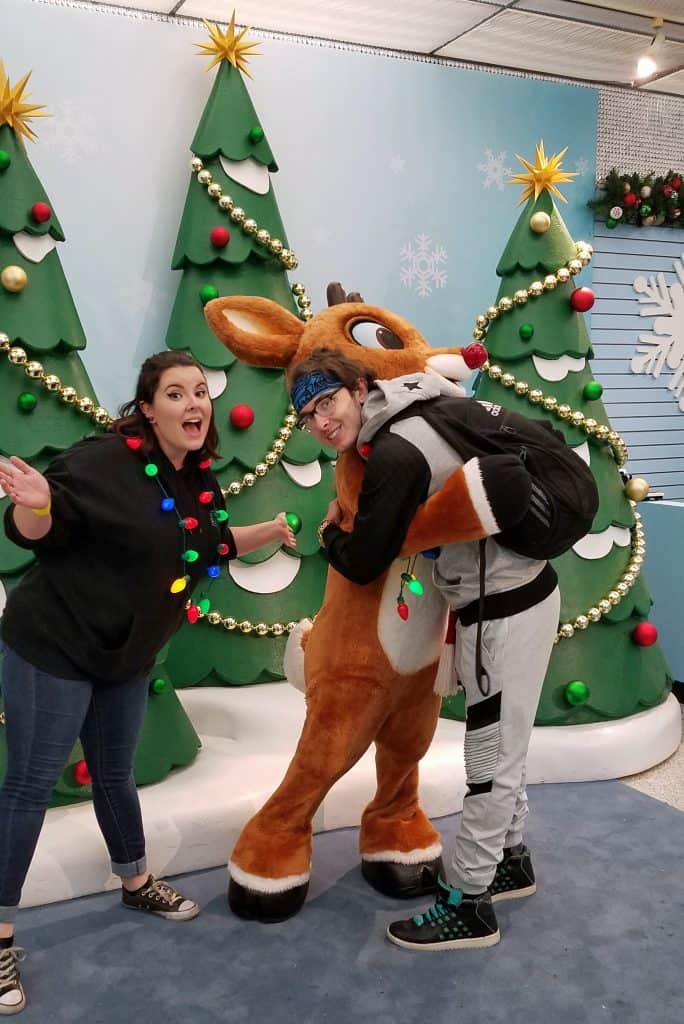 These two clearly have issues with being in front of the camera.
You can experience Christmas at Sea World through January 6. Right now, if you buy a one-day ticket for $89, you can get the rest of this year and all of 2018 for free. OR, for $10 more, you can get an annual pass that includes free parking (which is at least $17 per visit, depending on where you choose to park), discounts on your food and souvenir purchases, and other special events and things like two free guest tickets during certain times of the year. There's even an installment option for $8.34 per month, making it easy to purchase even if you're on a budget, with only the first month's payment due that first visit.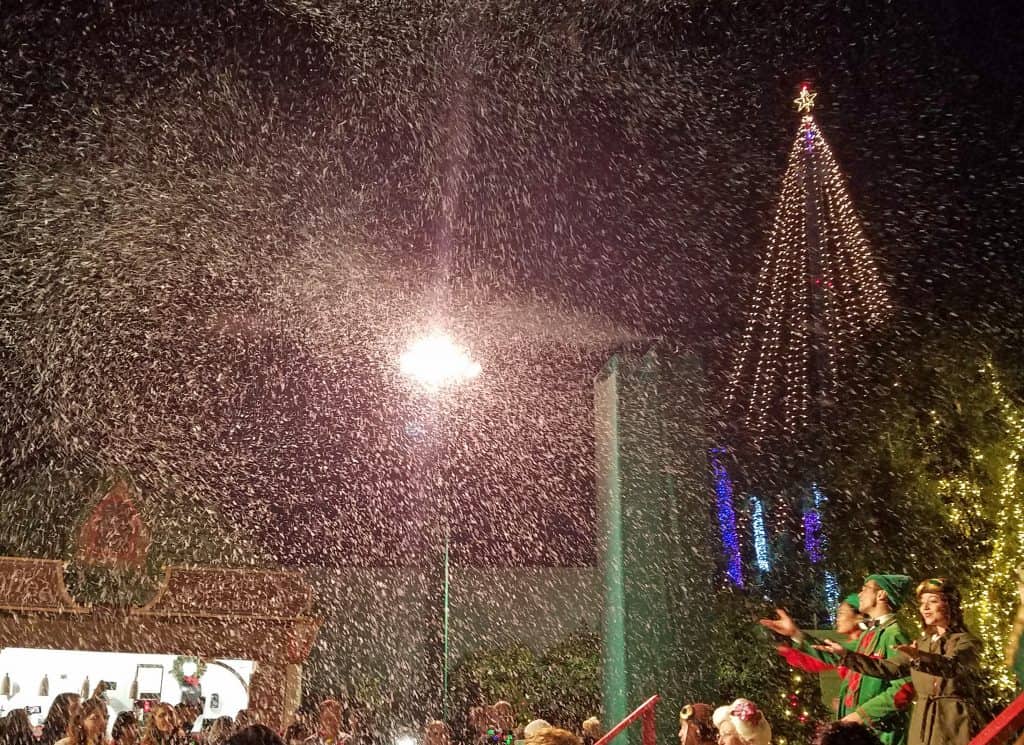 During this special holiday season, celebrating Christmas at Sea World is an affordable family fun day, up close to all the sea life you love while getting your photo taken with Santa Claus and eating treats. With so many things to do, the whole family will have a blast. Enjoy the snow, and tell Bumble I said hi!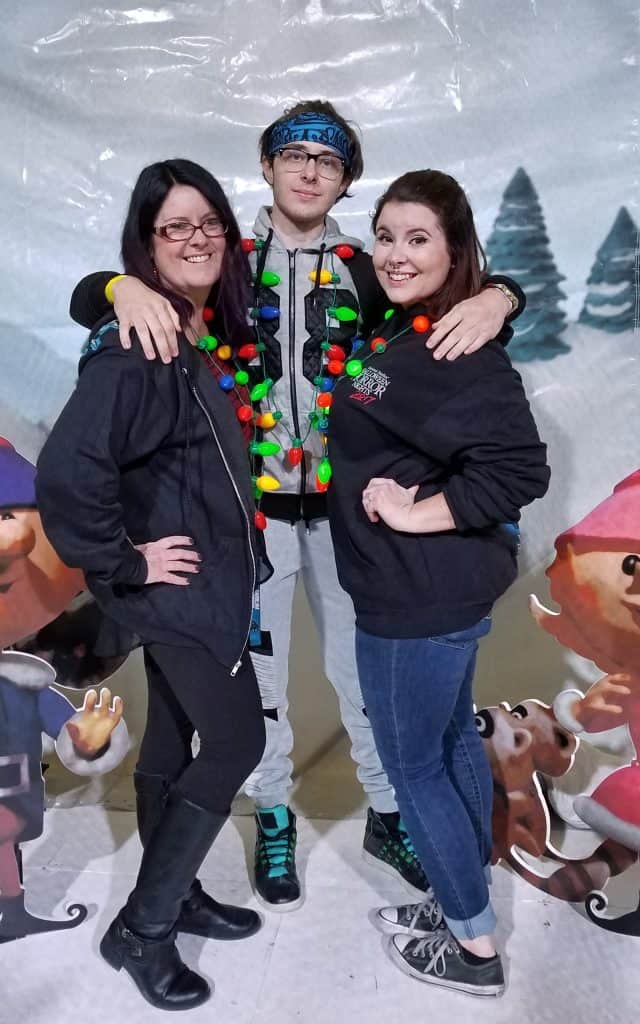 Active duty military or military veterans, whenever you go to Sea World San Diego, check to see if they're currently running their military discount program. Read more about that here!