Craft beer, food, wine, cocktails and sealife. That's the recipe for a perfect Saturday or Sunday, right?
If you agree, then you need to head down to the 2019 Seven Seas Craft Beer & Food Festival at Sea World San Diego, taking place every weekend through April 28!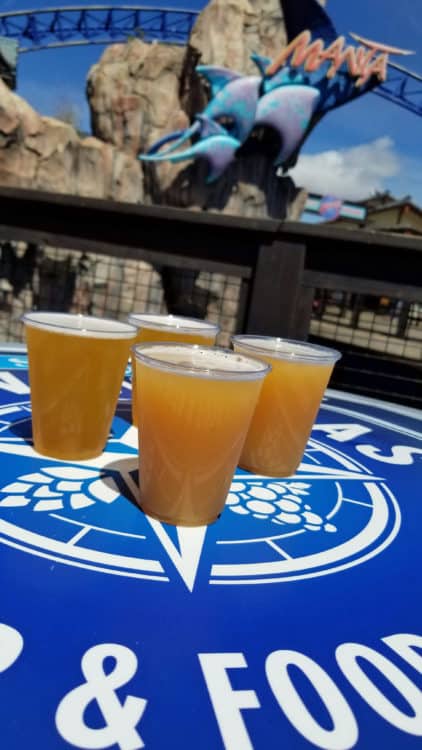 This was our second year in attendance, and it just gets better and better! This year, there are nine "flavors," or nine locales represented in food, with the new addition of Flavors of India. There are also three craft beer hubs, and a SoCal wine hub. (Guess which I visited? ALL.OF.THEM.)
There are also 33 new foods that were added this year, created by Sea World's new chef, Dave McHugh! He's got a very unique approach to the flavors, as you'll see below.

Scattered throughout the animal exhibits and food corners are three stages for entertainment: SoCal Flavors Stage, Polynesian Flavors Stage and French Flavors Stage. All three stages provide scheduled musical interludes, with a wide variety of local bands and musicians. The Polynesian stage has a dance show that's a lot of fun, the French Flavors stage makes you feel as though you're sitting alongside a French cafe, enjoying a pastry, and the SoCal stage is right by the SoCal beer corner and the wine hub, so the music goes along with the vibe of sitting on the grass and enjoying the bevs.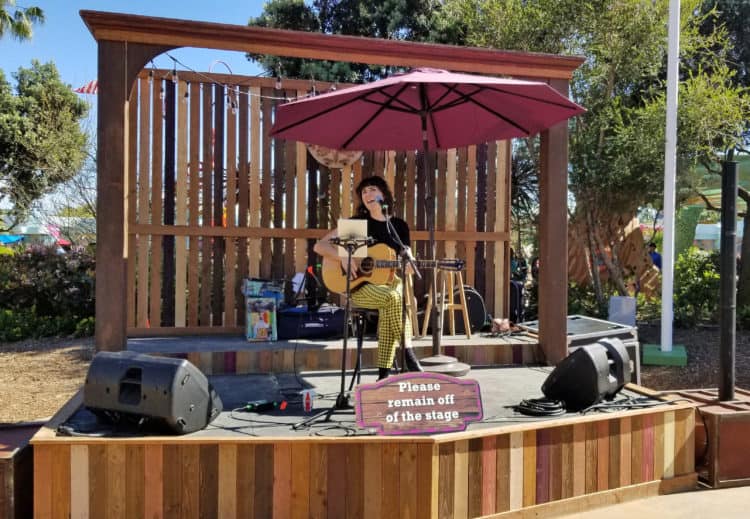 Tastings are available per taste — and they aren't tiny — or you can purchase a sampling card, which brings the cost of each item down. The 10-item Food & Drink sampler costs $50, and the 15-item card is $65. If you're going to get a lot, the $65 card is your best value, but 10-items are plenty!
As always, Sea World is committed to sustainable foods and farming, so all of the Seven Seas tastings give you a chance to see how their chef puts organic foods, regional produce, cage free eggs and sustainable seafood to good use in delicious food that keeps the earth in mind at all times
We spent all of last Saturday down at the park, mixing food and beverage tasting sessions with animal viewing enjoyment. My favorite animals to watch are the dolphins, and we stood there for quite a while enjoying their antics. I took this video right before we left — aren't they adorable?
My son loves the walruses, and we spent another 20-30 minutes in Wild Arctic saying hello to our friends Mitik, Choucho, Uquq and Dozer. They are gentle giants and every single time, I'm convinced that Mitik recognizes us! Their slow swimming is mesmerizing, and I always hate to leave. (See more about my son's best day ever, meeting the walruses up close, HERE.)
Our eyes are always bigger than our stomachs, and we run out of appetite before we run out of interest in foods. That means we always get to try less foods than we want, so we hit up all our favorites first.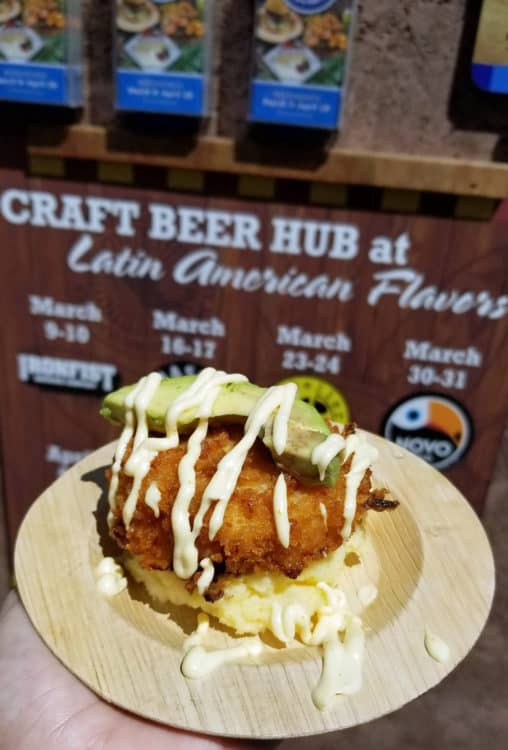 At the top of the list was this Causa Crab Salad from the Latin American Flavors area, more specifically, South American Flavors. It is new this year to the menu. Absolutely delicious, this is one of the biggest samplings we had, and we followed it up with a sampling flight of Groundswell beers.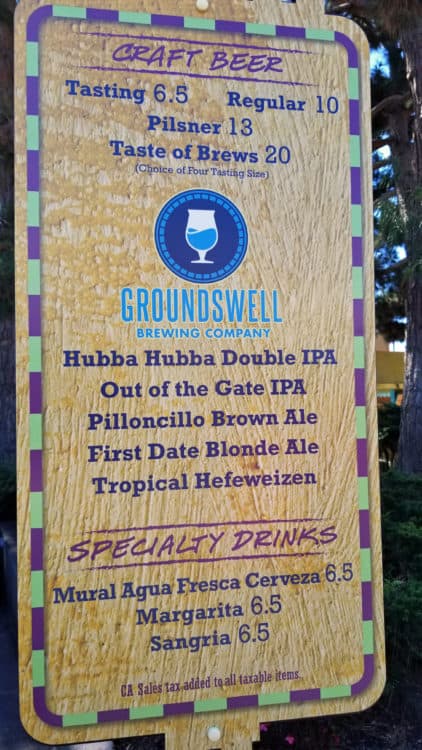 Each one of them was unique and flavorful, but my favorite was the Tropical Hefeweizen. I always prefer citrus-y beers, but that one stood out for all of us.
Another popular flavor destination for our group was the French Bistro Flavors. I tried this very different but altogether delicious Escargot Pistolet Roll. Yes, escargot is snails, but don't let that scare you away. If you didn't know what it was, you wouldn't think snail. It is inherently salty but the cream and seasonings pair perfectly; then you eat the bread bowl, lightly flavored from the filling, and it's another healthy-sized sampling.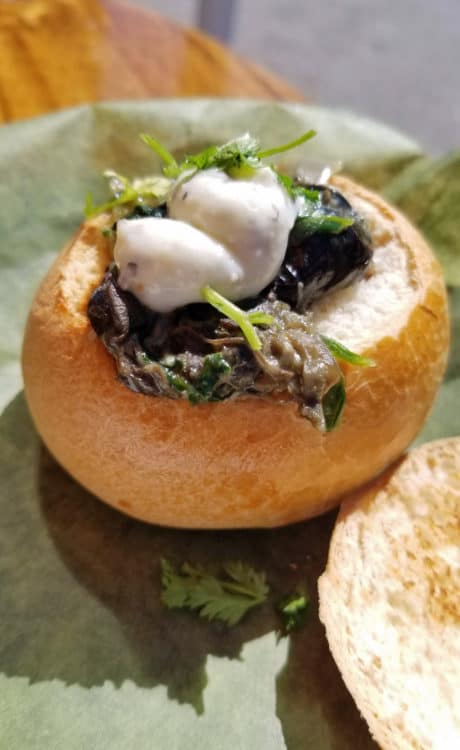 The family wasn't entirely into trying escargot, also a new addition this year, so they got the Lamb Chop Lollypop, paired with the baby onions. You cannot go wrong with lamb, and these pops were moist and tasty. Another winner!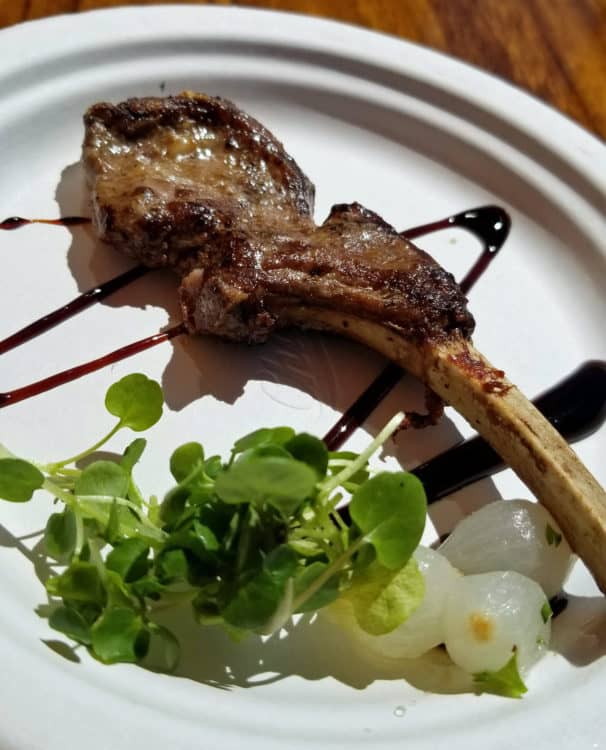 Speaking of lamb, the Grilled Lamb Slider from Mediterranean Flavors is a do not miss. It is such a moist burger yet it sticks together and drips this perfect lamb taste, atop a tatziki cucumber sauce. In a word: yum.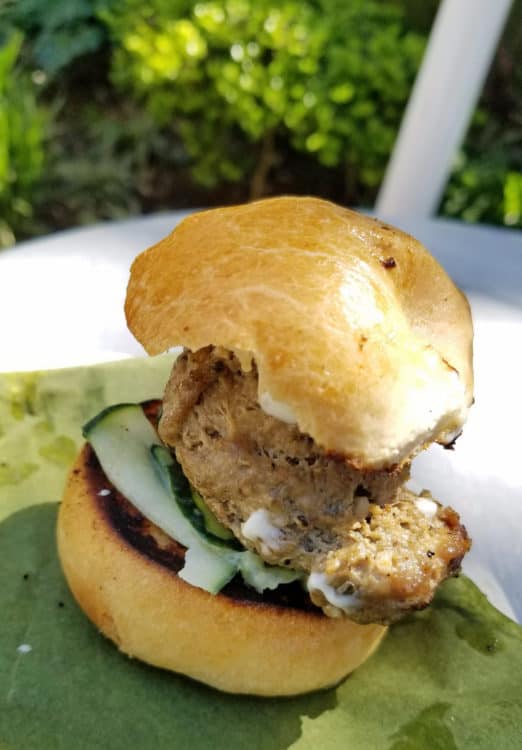 I tried a glass of the Fess Parker Chardonnay, out of Santa Barbara. (I'm actually headed to Santa Barbara soon for a vacation and that winery is on my list to visit. So good!) You can use your tasting cards there for glasses, or you can buy a bigger glass but given how many options you have, I recommend sticking to your tasting sample size. They do, however, have beautiful collector wine glasses available for purchase if you spend at least $20 at the wine area.
It was a hot day, so I also tried this mango daiquiri. It was so refreshing and not overpowering in sweetness, just the right amount of rum. We purchased these at the Polynesian Tiki Bar, where they also offer non-alcoholic beverages.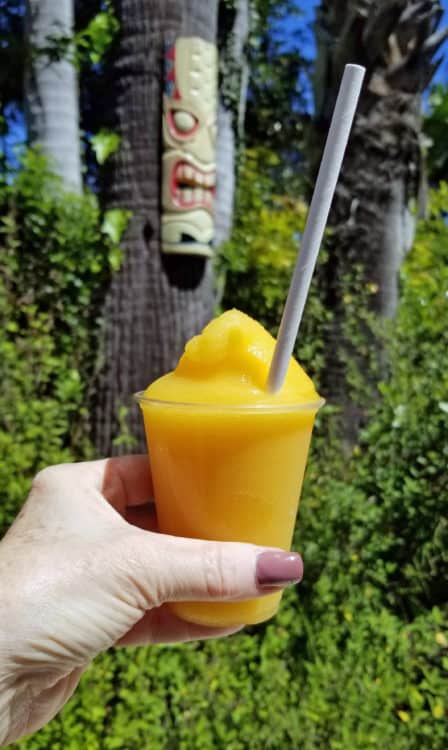 Right from the beginning, the Pork Belly Calzone at the Pretzel Flavors are of the SoCal section caught our eye. It is another big sampling, and I couldn't finish it all. It's a typical calzone, so it's not for a carb-free diet, but the inside is full of delicious pork belly chunks mixed with a tomato-cheese sauce. If you like Italian food, you'll like this one!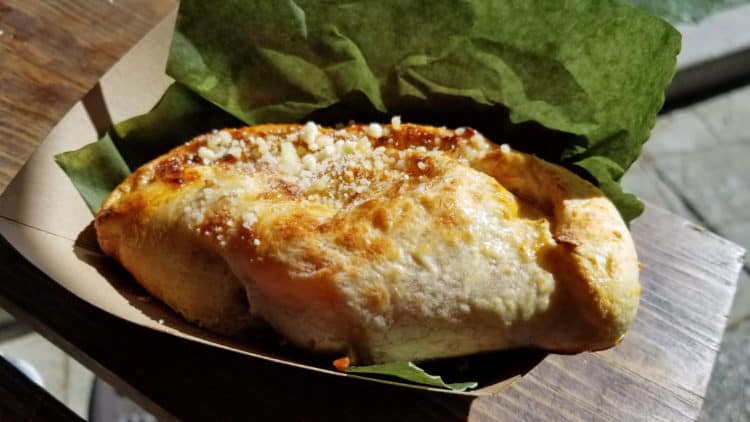 This take on a Lomo Saltado from the South American Flavors booth was reportedly delicious. I can't eat beef so I had to pass, but the mix of seasonings, potatoes, beef and a light sauce on top made me wish I really could try it.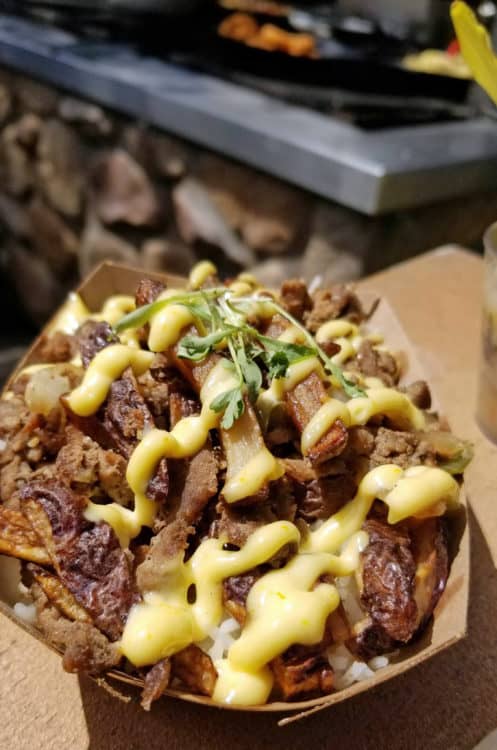 This Chimichurri Shrimp. No words needed, other than also at the South American Flavors booth. Can you tell which flavors we tend to prefer?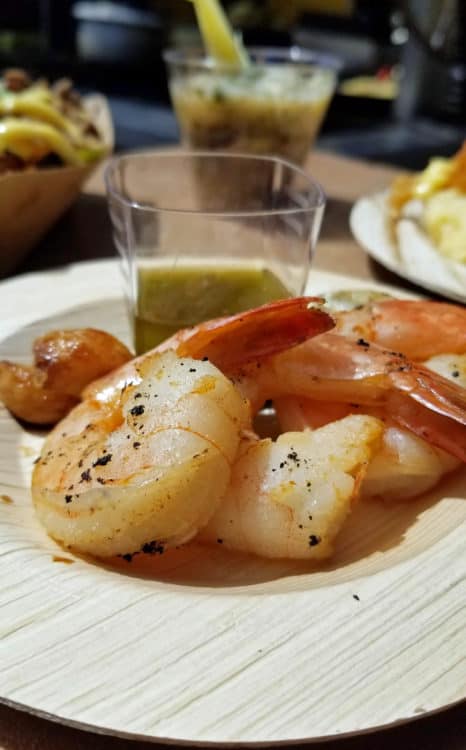 Dessert. You can never have too many, right? Technically, I guess you can, in which case you still order them but you share. I don't like to share my desserts, but I liked the South American Flavors so much, I had no choice. It was share or waste, and that's even worse.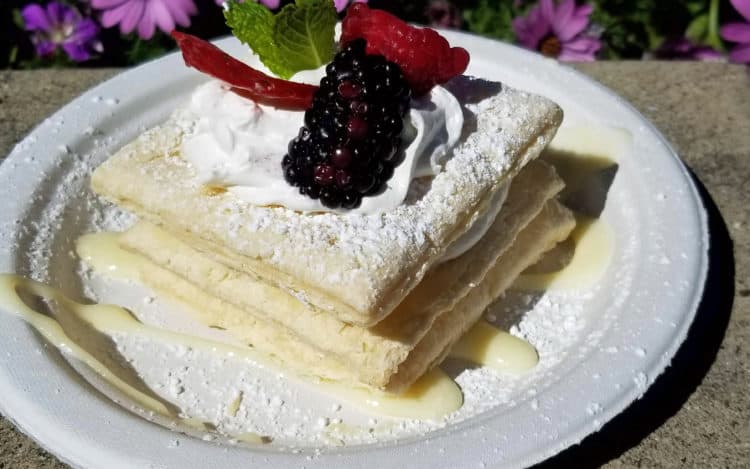 So I shared the above Napoleon Gateaux from the French Cafe Flavors booth. That booth is one you do not want to miss. It has five desserts, all offering different flavors and textures. The Napoleon was light puff pastry filled with a whipped cream, on top of a creamy sauce. We each took a layer, since it's harder to cut into bites without making a mess. So good.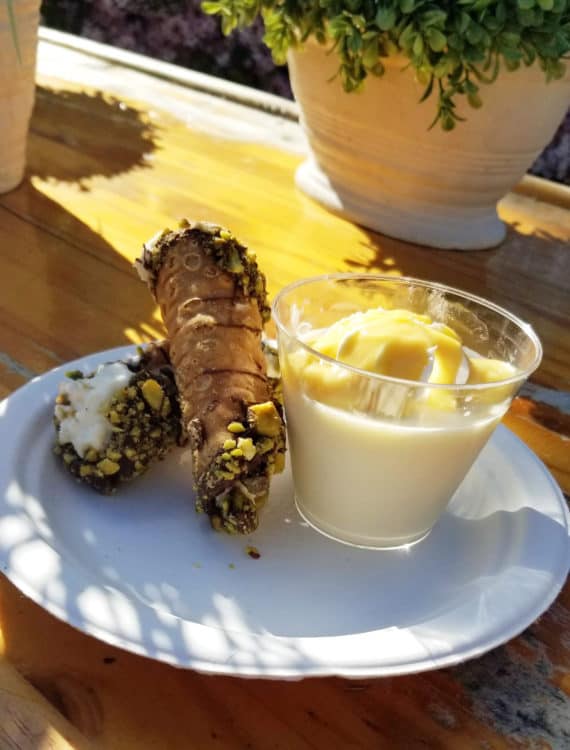 The above was my favorite though. It is a dessert duo from the Tuscan Flavors, the Panna Cotta & Cannoli Duet. Panna Cotta is one of my favorite desserts ever, and I was not bummed when the booth temporarily ran out of cannolis and had to give me two panna cottas instead. In fact, I was probably even happier.
I ate them both. That mango cream on the top is something I want to recreate at home, but then I'd have to go to the gym even more. Trust me, if you go visit the Seven Seas Craft Beer & Food Festival at Sea World San Diego, get this one. You're welcome.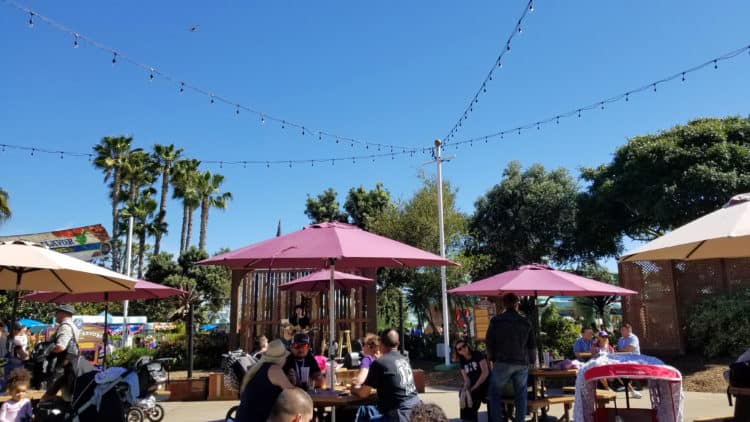 Spend some time lounging over in the SoCal area, hanging out on the grass. A lot of people were picnicking or sitting at the shaded tables, enjoying the music. We went on a perfect Southern California day, and there are a lot of those in San Diego. It's just about a two-hour drive from us so we make the most of it when we visit.
That includes seeing these guys. They have such personalities and while I'm pretty sure they're just sitting as is most naturally comfortable, I like to think they are posing for us.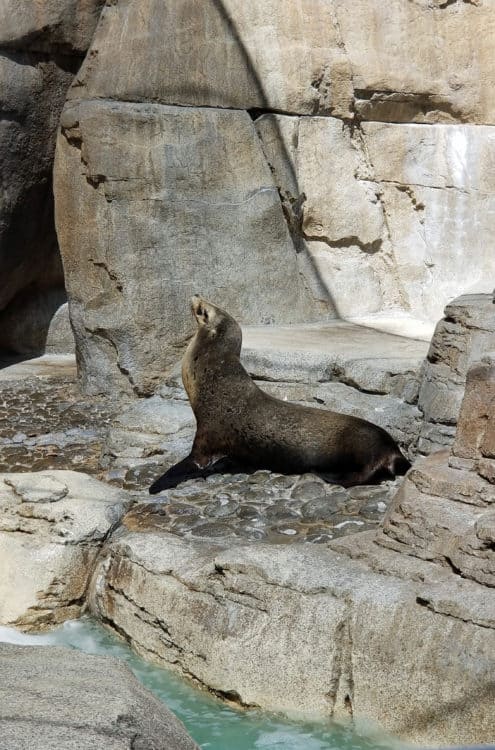 Isn't he regal?
Leave some time for rides. We always hit up one of the coasters first thing, and this time, it was the Electric Eel. It is such a rush. Have you seen my ridiculously goofy video taken on opening day? I could not stop laughing! (You'll also want to ride Manta, which we hit up later in the day. The line moves quickly and it's one smooth coaster.)
Sea World San Diego tickets are available for purchase online, but if you're going to go more than once per year, passes are your best bet. They can be purchased with a monthly payment of $7.99 (after a small down-payment) and with passes, you get free parking, automatically saving you that on each visit! You also get at least 10% off purchases.
The food festival entertainment is free with your admission, and everyone can purchase the food, so if you're planning a spring visit, head down now while you have all the additional food options. Let me know what turns out to be your favorite!
If you need more #SevenSeasFoodie inspiration, here is my post from our last visit! Also, if you're a military veteran, read more here about the Sea World military and veteran discount!