This last week, I've lost track of the number of times I've been asked questions about last week's Star Wars: The Last Jedi press junket. This is a good thing, so I thought in addition to sharing some of the insider cast scoop from the junket, I'd share some about the process itself. I didn't know what a junket even was until I began working in marketing/PR either. I've always loved this part of the business and am so lucky to be a part of it all.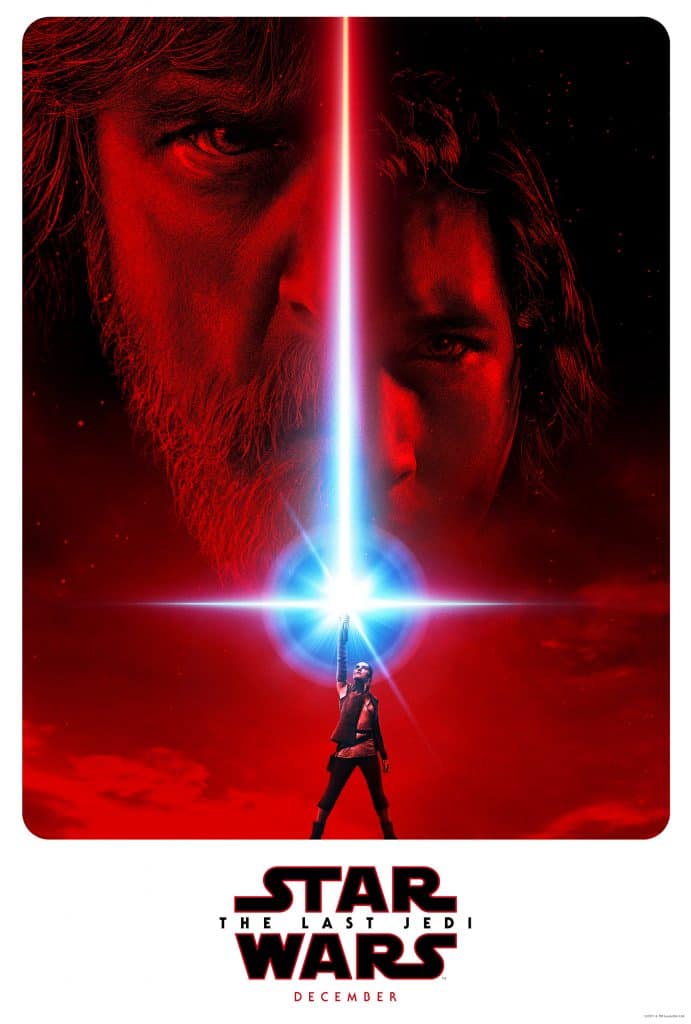 If you haven't heard that Star Wars: The Last Jedi comes out in two days, on December 15, you may be living in a cave. It's everywhere — TV commercials, internet trailers, ads, memes and billboards on the streets. There's a random one up here on the 210 that always makes me smile. Now that I've seen the movie already, even more so! (And NO spoilers from me. In fact, no words at all on the movie other than GO SEE IT.)
In attendance at the junket was a long list of the major talent involved in the making of Episode 9 of the Star Wars franchise.
·         Mark Hamill ("Luke Skywalker")
·         Daisy Ridley ("Rey")
·         John Boyega ("Finn")
·         Oscar Isaac ("Poe Dameron") 
·         Adam Driver ("Kylo Ren")
·         Gwendoline Christie ("Captain Phasma")
·         Domhnall Gleeson ("General Hux")
·         Andy Serkis ("Supreme Leader Snoke")
·         Laura Dern ("Vice Admiral Amilyn Holdo")
·         Kelly Marie Tran ("Rose Tico")
·         Director Rian Johnson
I got there early but didn't score on good seating this time, so I'll share only one of my cast photos.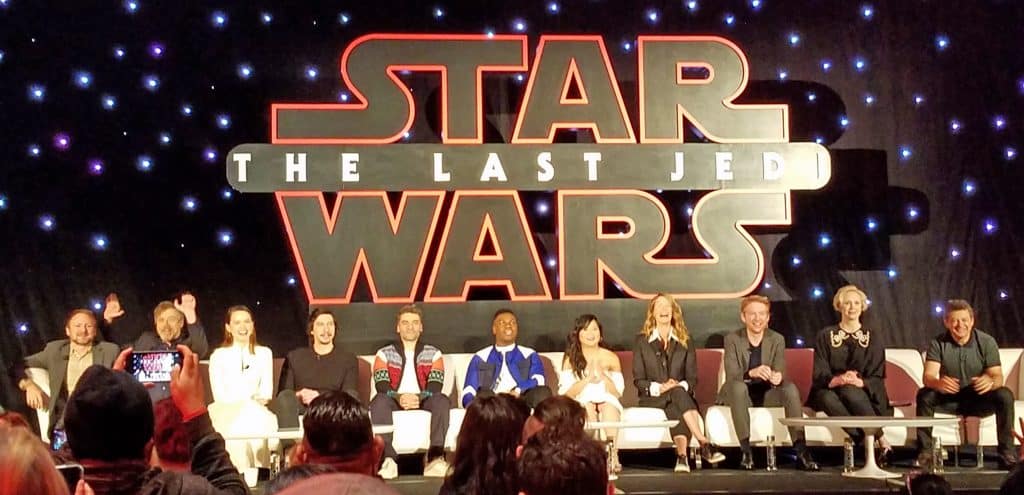 That will tell you why the rest of my photos are from the on-scene photographer who provided us with photos of the event. I did get a video of their epic entry into the junket though, which was a total surprise for everyone.
That got everyone even more excited. (Lighting wasn't really good so I apologize for any blur and darkness…but how cool is this, right?)
Moderated by Anthony Breznican, who writes about Star Wars for Entertainment Weekly, the junket was done a little differently this time. Normally, we see the movie first but in the case of something as big as a Star Wars movie, we hadn't yet seen it, so a lot was riding on Anthony. He nailed it with great questions that got the cast opening up, then press stepped in to ask some more questions though none of them were specifically movie-related due to the level of secrecy. (And let me tell you, it does nothing to hurt the vibe. If anything, it amped up the suspense.)
His first question was to ask the cast en masse what they felt about the this film felt differently. Mark Hamill, in typical sardonic style, quickly answered: "My answer directly will be in direct proportion to the amount of screen time I have."
Of course the audience broke out in laughter, and it continued from there. (And he promises later that his role in this movie as at least twice as big as his role in Episode 8. More laughter.)
Oscar Isaac, in answering the same question, addressed how Rian (the director) used this film as an opportunity to really push each character, to challenge them each with the biggest issues they've had to face yet and gotten to the center of each character.
As Daisy answered with a laugh, Adam dryly said "I agree with her." Clearly, this crew bonded heavily in this episode and I suspect we'll see them, many years from now, speaking as fondly of each other as Mark Hamill did Carrie Fisher.
Laura Dern is new to the Star Wars movie, and while her role as Admiral Holdo can't be explained much without giving anything away, Laura shared that yes, she's very much like the Admiral. She and Kelly, also new to the franchise, joked about geeking out to be a involved. This is something often said by new cast members of Star Wars and Marvel movies, and you can see it in their enthusiasm and almost amazement to be up on the stage with the group. It's so refreshing to see. Kelly's energy is almost one of OMG I'm really here, and she validates that by stating that she was almost crying even being there today. How often do you hear that?
Adam Driver is one of my favorites in the movie. Who doesn't have a soft spot for a villain who really isn't 100% bad? Glimmers of good or conflict…Adam as Kylo Ren is casting at its finest, and listening to him an interview, you can picture the costume on him as his mannerisms are similar, as are his voice patterns. He's hilarious yet calm with a dry wit that has you entranced. I could listen to him and John Boyega, with his gorgeous accent and big smile, speak all day long. When asked the impact of having to follow in the footsteps of big names like Mark and Harrison Ford on his portrayal of Kylo Ren, he says "I think everyone was just as equally terrified to figure out what we were doing and make sure we were looking at space." Again, laughter.
The press conference was over too quickly, so we headed back out to the hall full of displays and photo opps….which leads me to more of what a press junket is. We arrive, we often are led to a hospitality suite to enjoy food and beverages, which are frequently movie-themed. From there, we wander various tables, green screen photo opps, etc. For the Star Wars: The Last Jedi press junket, we got to choose a t-shirt to have custom designed for us right there. Check out this process, it was done in under 90 seconds!
We got to meet BB-8.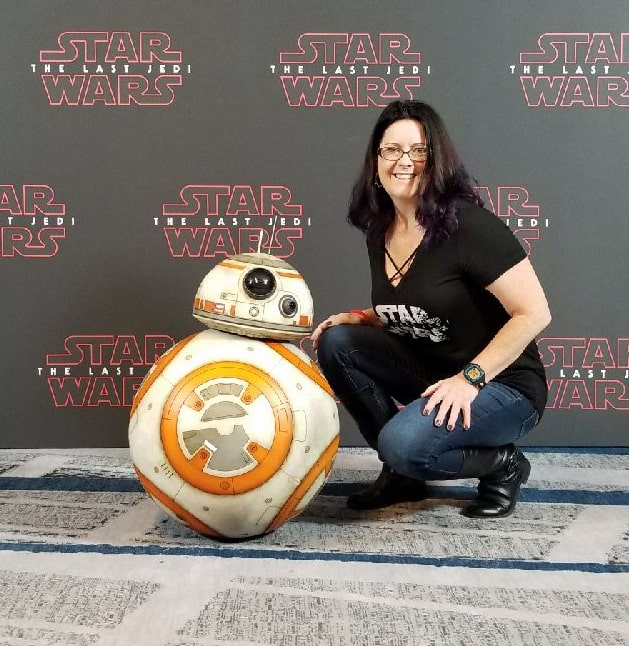 Got held captive by the Pretorian guards. Clearly, we were distressed.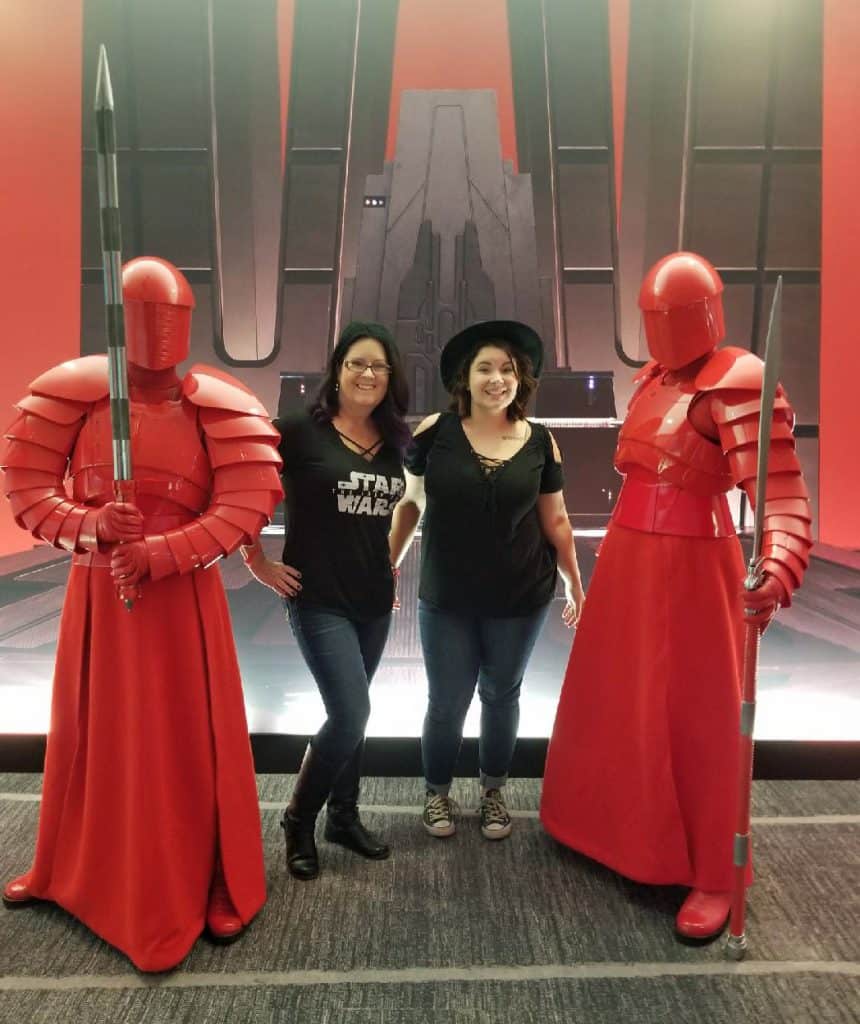 Met this guy, BB-9E.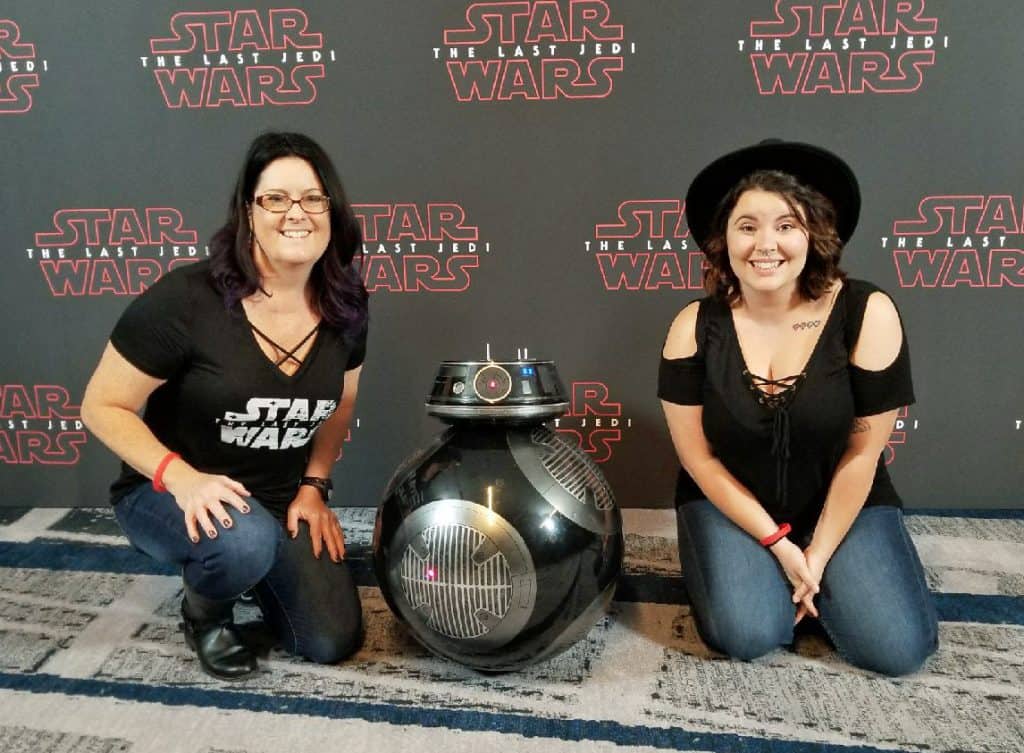 Saw some of the real costumes from the movie.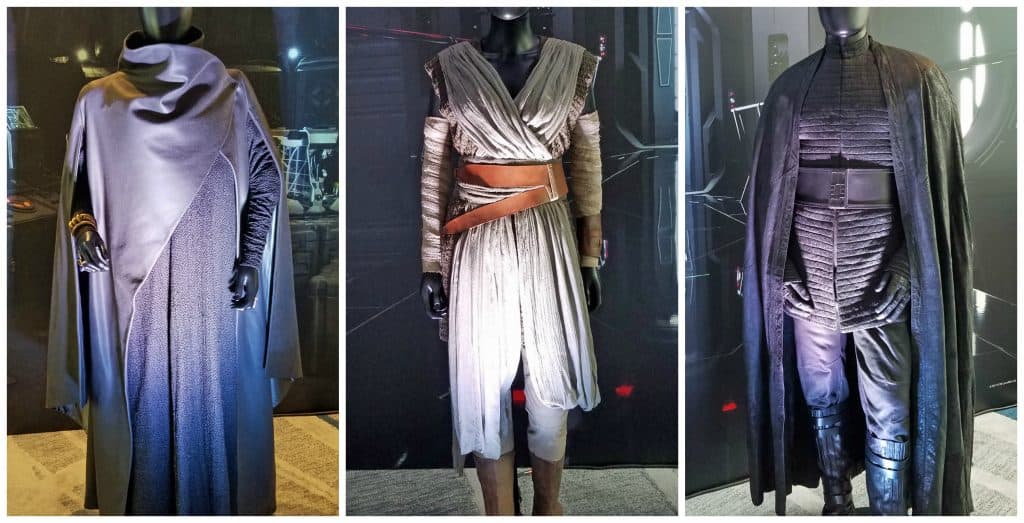 And this gear! I wanted it all.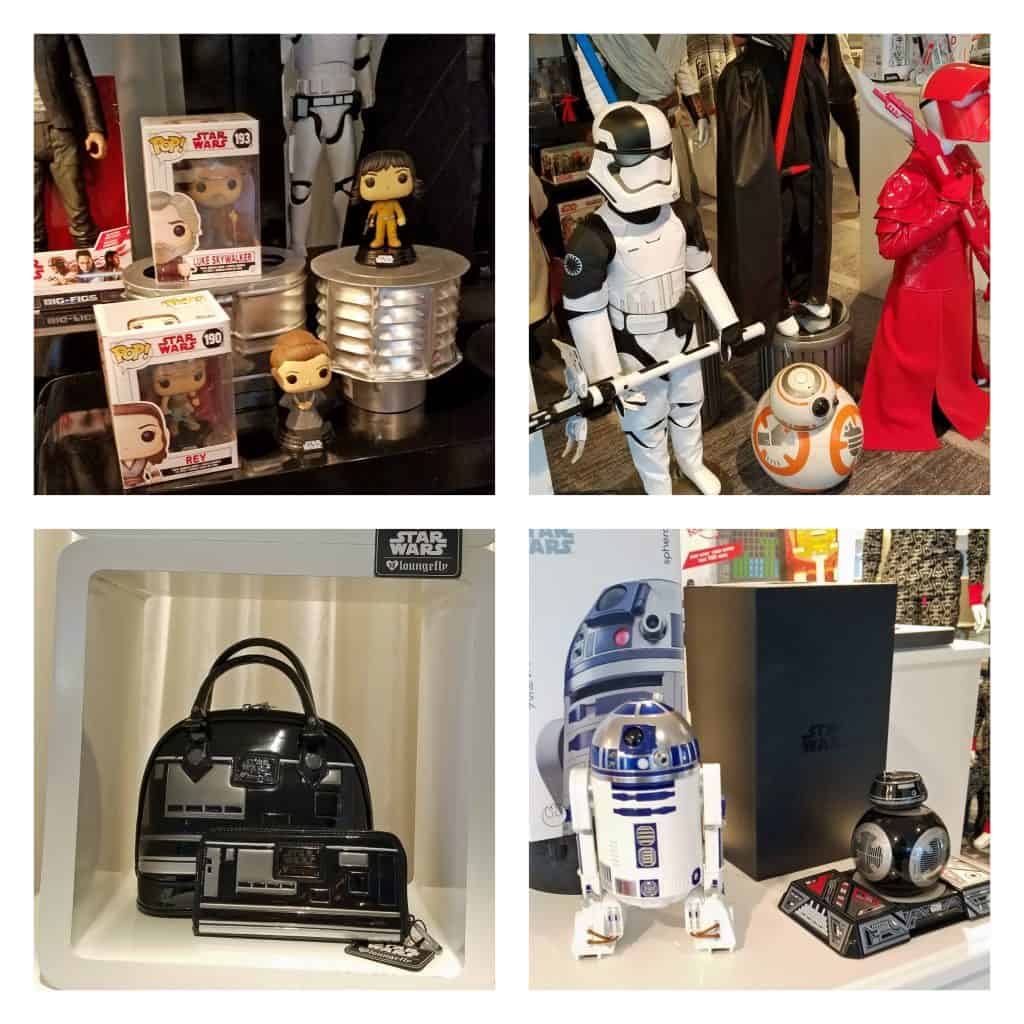 Until the movie comes out — if you're not already in line waiting outside of a theater — here's the official trailer. Enjoy!