This post about Chinese New Year traditions was sponsored by Ling Ling, all opinions expressed in my post are my own.
This year, Chinese New Year falls on February 16. It lasts about 15 days, ending with the Festival of the Lanterns when the full moon arrives. I got my ideas for a Chinese New Year meal directly from Chef Katie Chin at a recent Ling Ling Asian Foods event out in Los Angeles, but there's still plenty of time for anyone to put a fantastic celebratory meal for your family, including Chinese New Year traditions!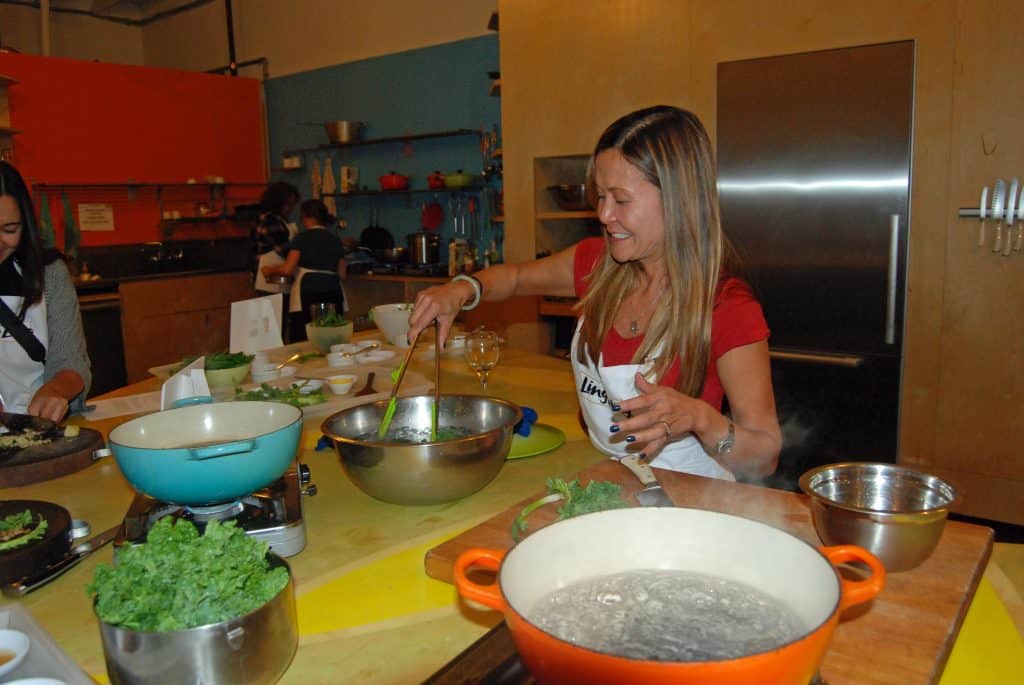 The event was held at Hip Cooks out in West Long Angeles, an urban kitchen focused on cooking classes for the novice cooks all the way through expert. The large space provides ample space to cook, watch a demo, enjoy a group meal and do some equipment shopping, all in one place.
Chef Katie Chin is one amazing lady with a smile that lights up the room. (It turns out that Katie and I actually worked on a project together in 2003-2004 during one of her Today Show segments, back when I worked for NBC Universal based out of NYC!) She has an energy that both excites you about cooking and makes you just be glad to be a part of the class no matter your skill level. She taught us how to make two recipes that evening, both sides that were quickly prepared and could fit with almost any protein entree: Kale with Ginger and Sweet &  Spicy Green Beans. Check out the color on this kale as it cooks!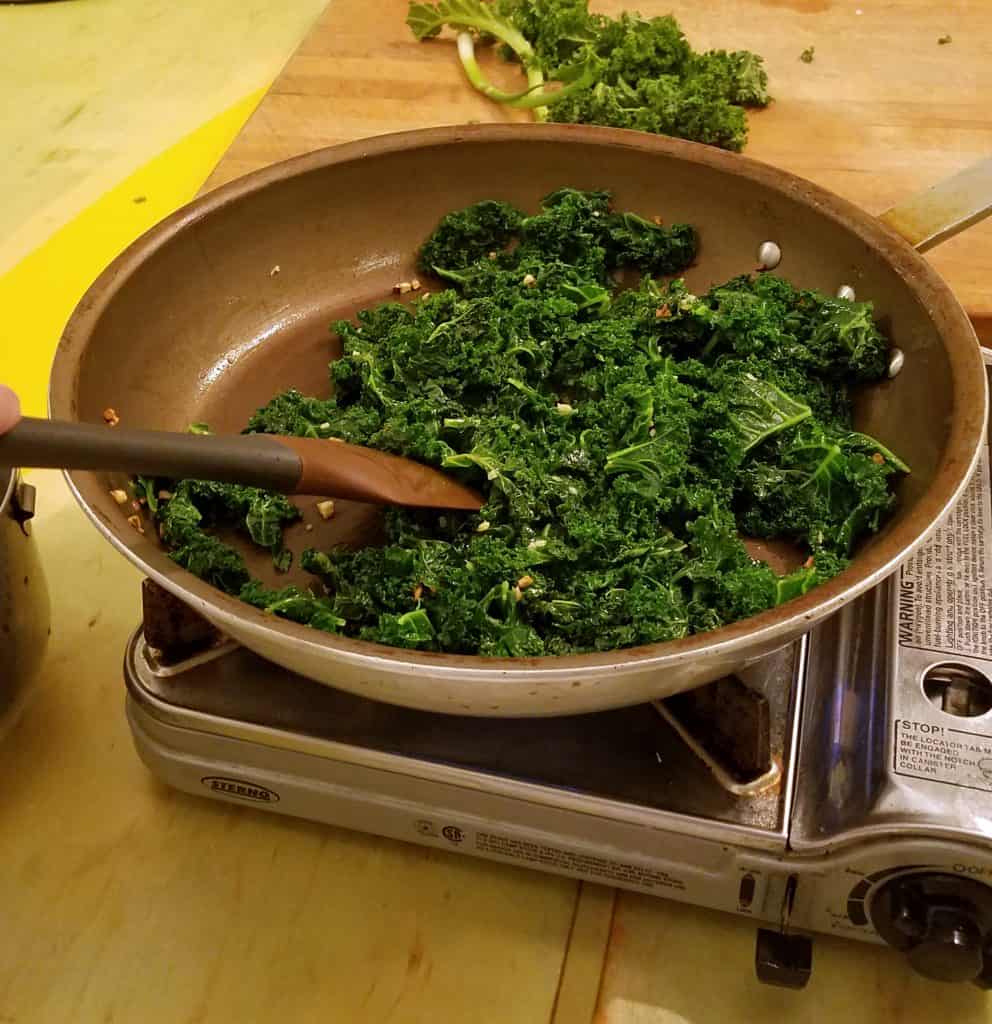 The two sides require a quick blanching of the veggies, then some sauteing with ginger, garlic and other spices and/or sauces. SO easy! I've already made the kale for the family and it was THE fastest plate of kale to disappear here. Ever. (We were all given a tray with the prep work already done, but even if you have to do it yourself like we do in our regular kitchens every night, it's still super-fast!)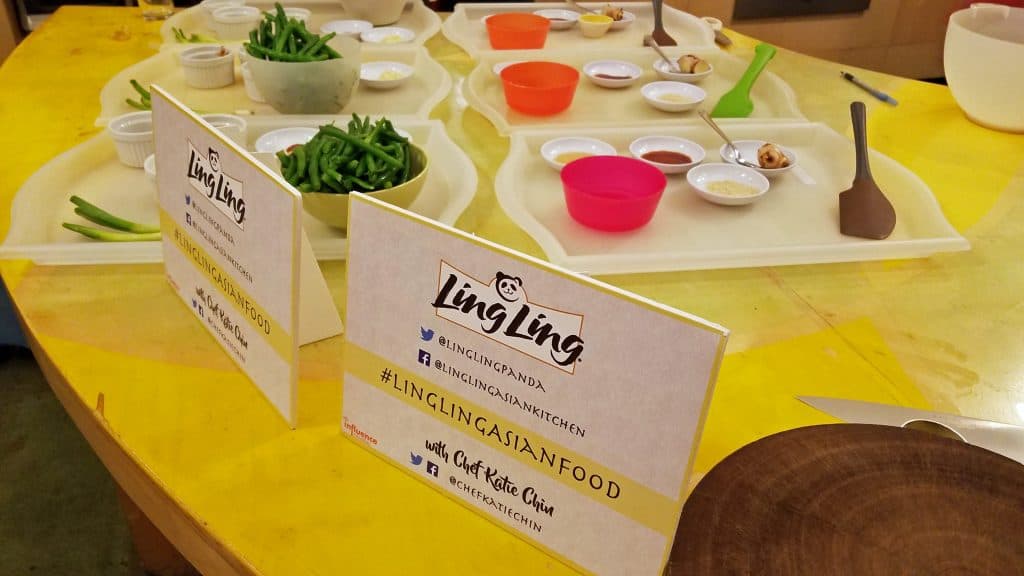 It was a fun evening with fellow bloggers and foodies, where we broke up into teams to do our cooking and then all sat down to the table together to enjoy our meal. Look at my plate!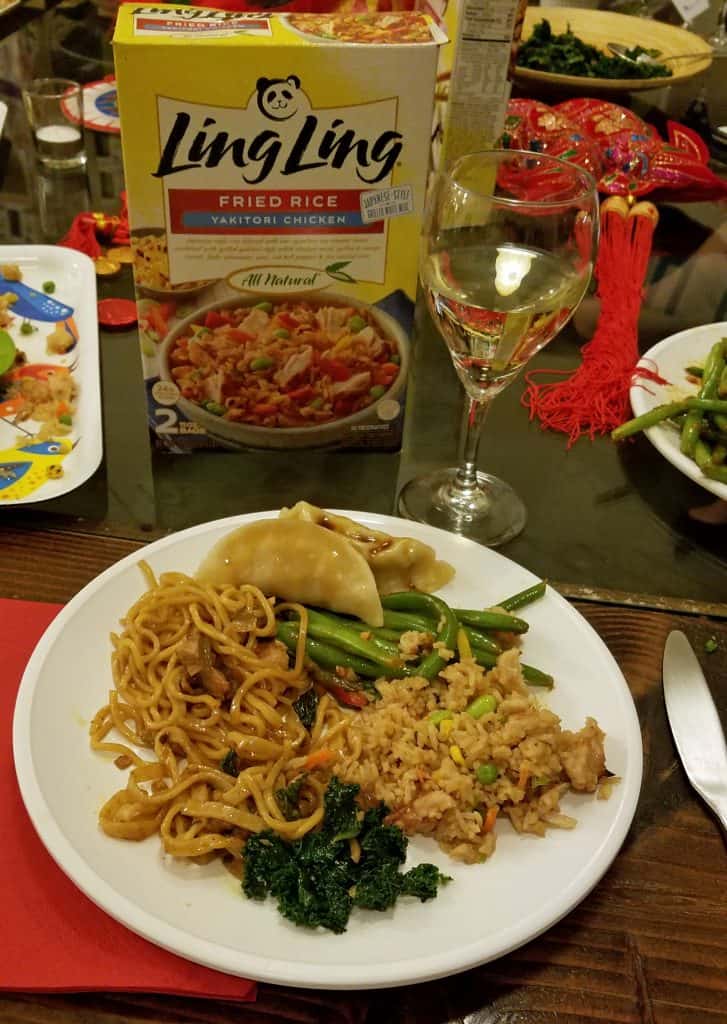 If you're not familiar with Ling Ling Asian Foods, they are delicious. They rank as quality foods that are not only tasty but convenient and affordable, minus all the words you can't pronounce. Meals made with these entrees come together quickly, ranging from Fried Rice to Drunken Noodles and Chicken Yakisoba. Then there are the pot stickers, the plate I made a beeline for as soon as we sat down. Oh Em Gee, I could have taken that huge platter and run off to my car, not caring if anyone was chasing me. (My car was quite a ways away down a side street, so chances are, they'd have caught me….) Plan accordingly, you can't make too many of these things, they WILL get eaten. (You can find where to buy them on their website location page.) And those green beans below? I helped make them….they were awesome.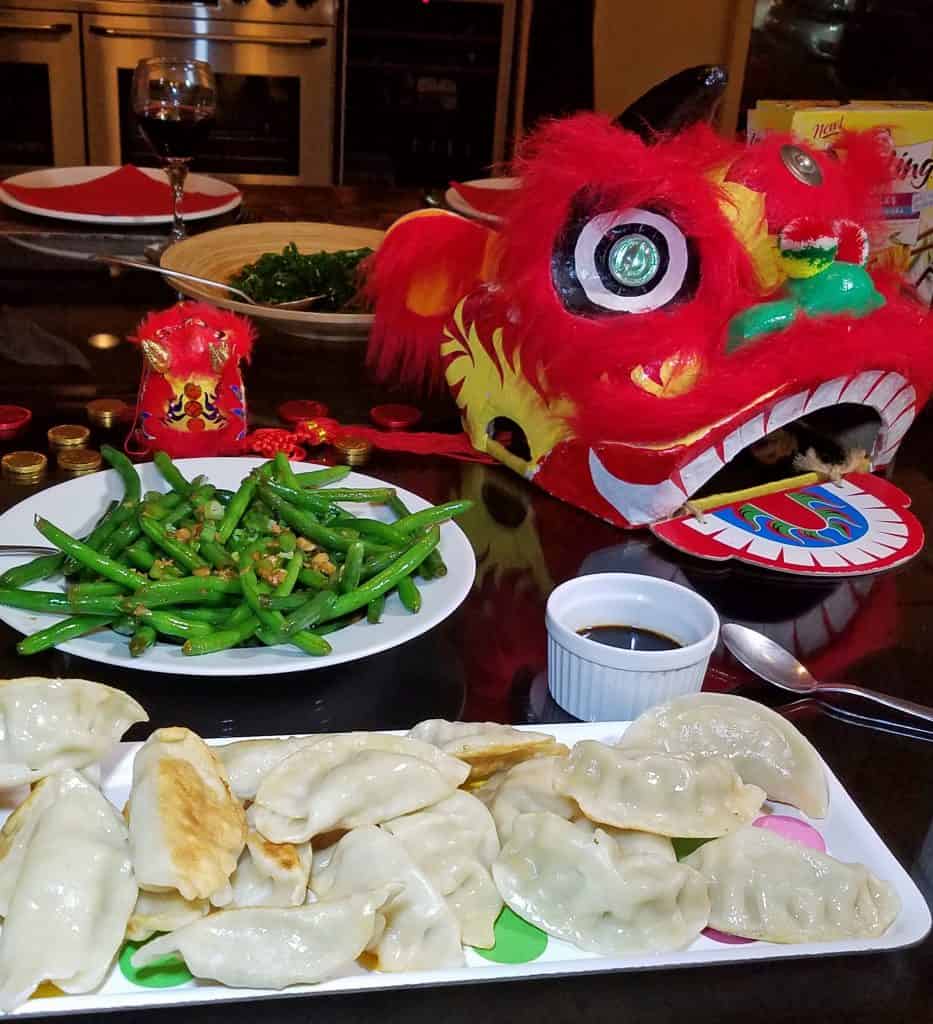 Ling Ling Asian Foods are Asia-inspired appetizers and entrees designed to help you get an authentic meal on the table fast. As you prepare the food, from frozen, you'll smell the ginger, the spices and your mouth will water. If you're like me, you'll be waiting to hear the ding of your timer so you can test it before the family gets to the table…someone has to make sure you heated it enough, right?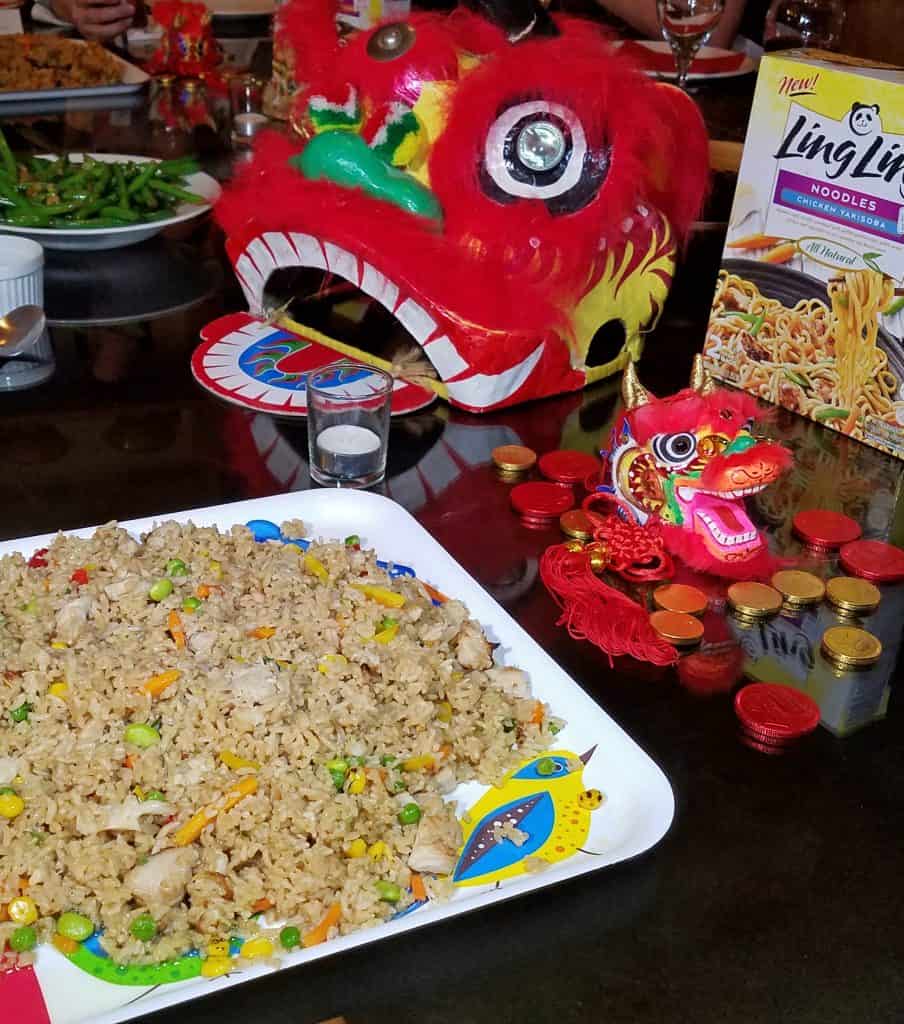 With Chinese New Year quickly approaching, Chef Katie shared a lot of information about the big day for those of us that weren't familiar.  It's so interesting! I didn't know the whole back story, but the holiday is tied to the Chinese lunar calendar and is traditionally focused on honoring the household, heavenly deities and ancestors. This year is Year of the Dog, but I learned I was born in the Year of the Snake. I have some Googling to do to understand more about what that means, but in the meantime, I fully intend on trying to abide by the traditional beliefs — what a cool way to keep your new year going well! I really want to try these Chinese New Year traditions!
Don't wash your hair: it will wash away your good luck for the year.
Don't sweep either, as you'll sweep all your good luck away.
Greet your friends with oranges or tangerines to ensure that your friendships will continue.
Hand out red envelopes, which signify joy and luck, filled with money so recipients can start the year with prosperity.
Watch your mouth: bad language will follow you throughout the year. <I'm getting out soap to incentivize myself.>
Wear new shoes and a new outfit to start your year out on the right foot. (Great excuse to shop, right?)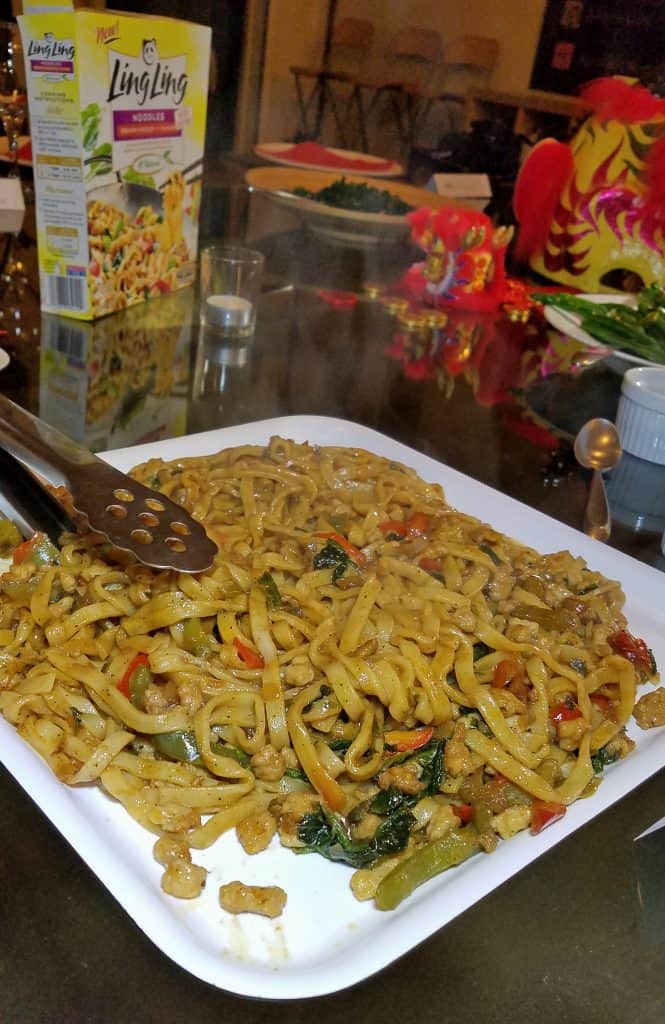 The evening cooking with Chef Katie was a blast! I learned a fast way to peel ginger — with the end of a spoon — and the importance of blanching veggies properly to maintain flavor, texture and nutritional value. I also had a lot of laughs and comaraderie with wonderful people.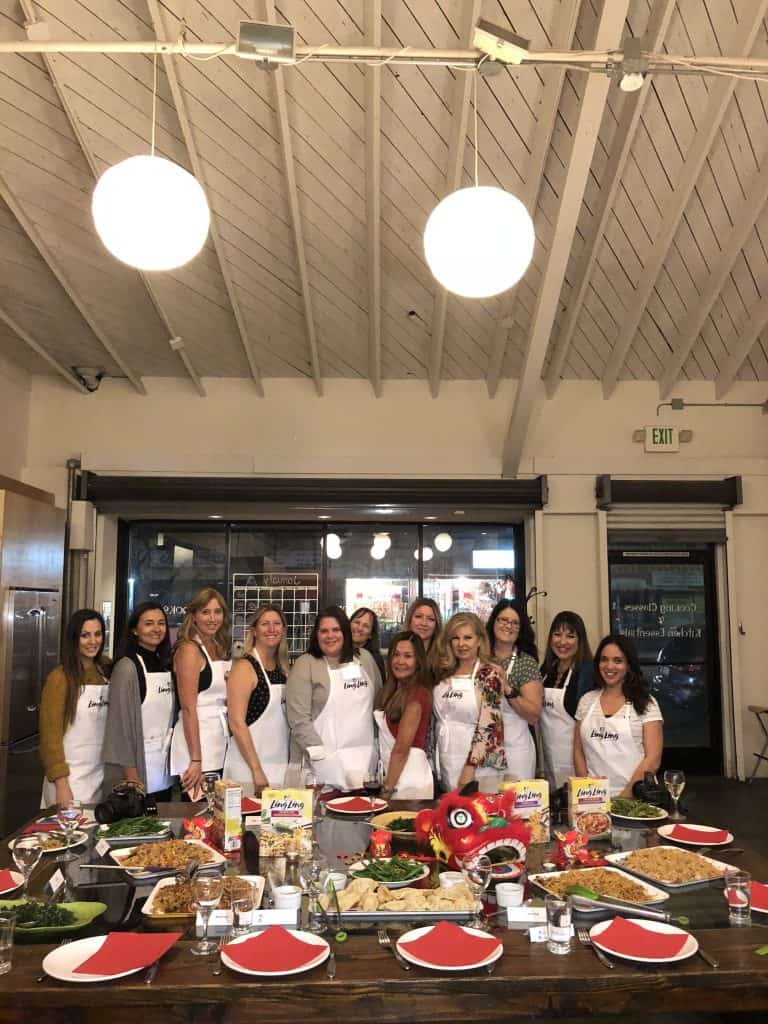 Kung hei fat choi! (Happy Chinese New Year!)