When you hear California Pizza Kitchen, you think pizza, right?
Not anymore! California Pizza Kitchen is now your place to go for new entrees, unique adult beverages and desserts, in addition to their existing fantastic pizzas, and you're going to want to try them all!
A few days ago, the husband and I were invited to do a media tasting at California Pizza Kitchen to try their new menu items, from food to bar drinks. Who could say no to that? We're foodies at heart and we love to showcase restaurants, events and entertainment, but we especially enjoying focusing on venues out here in the Inland Empire. Los Angeles and Orange Counties have fabulous options, but don't count out the Inland Empire chains and mom-and-pop locations for being just as good, if not better!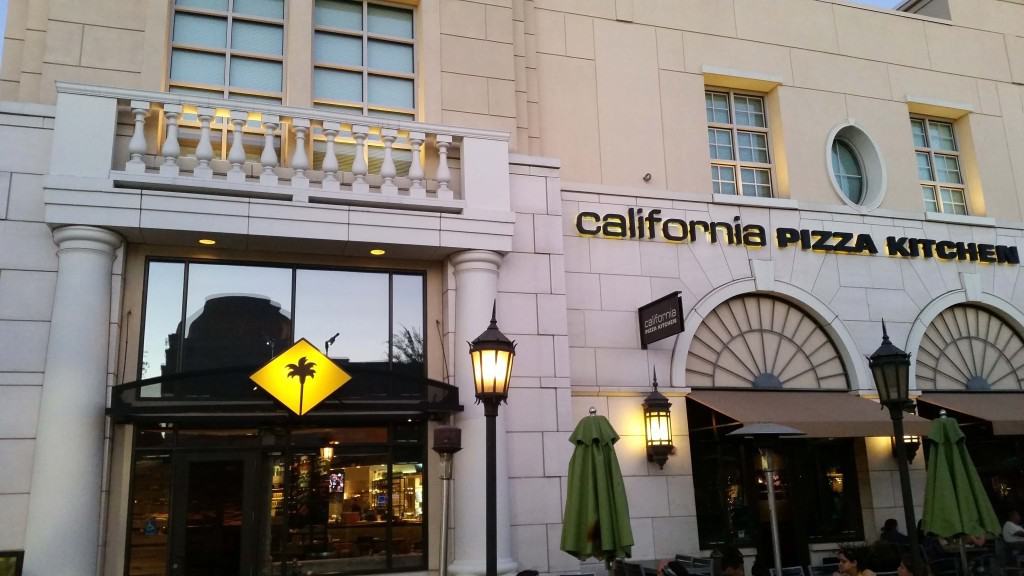 California Pizza Kitchen has locations all over the country, and we're lucky enough to have one right here in Rancho Cucamonga at Victoria Gardens, so that's where we went for our tasting. (The first new location to get the new menu is in Glendale, so it's not just available in Rancho!) We shop frequently at Victoria Gardens, so we were familiar with CPK; I've visited their happy hour maybe a couple times more than a couple of times, and we've had lunch there while shopping frequently. It's a popular spot, and even on a Wednesday night during the second week of school locally, it was still pretty busy. We were seated quickly though and given a nice spot in the middle of the restaurant where we could see all around us yet still have privacy during our meal. Our server was Jose, who was so helpful in recommendations and descriptions, he had us in the know on all the food!
First though, I took a quick tour through the kitchen with Jen, the manager on duty. I was impressed with the space and layout behind-the-scenes. It's a very spacious set-up, with room for everyone and all the equipment to be easily organized; so many separate sections allow for efficient productivity without traffic jams. The walk-in is huge, as is the prep area, and one interesting thing I learned, when I saw the pizza dough stored to rise, is that its rising location depends on the season as certain times of year make certain sections hotter/cooler. What a great way to save energy!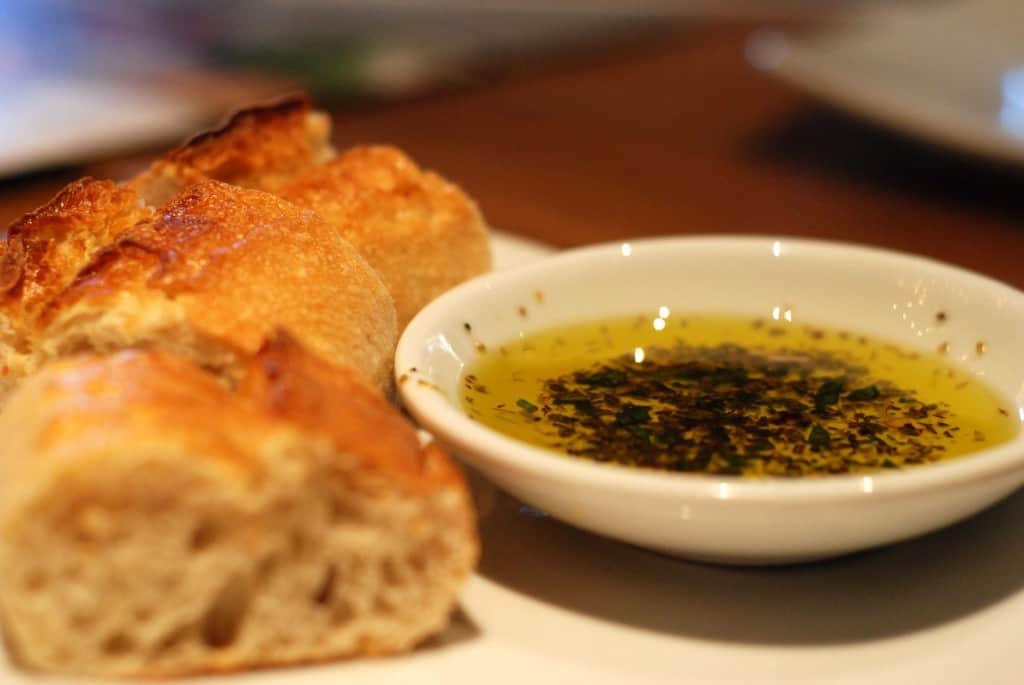 We were given the choice whether to choose entrees on our own, or to let the chef choose, so we chose the latter. They know best what we should try and we love the surprise! After a round of the house bread — perfectly baked to be crispy on the outside and chewy on the inside — served with seasoned dipping oil. So good! On a non-tasting night, I could have easily powered through the entire plate but I knew I needed to save room for the rest of the food.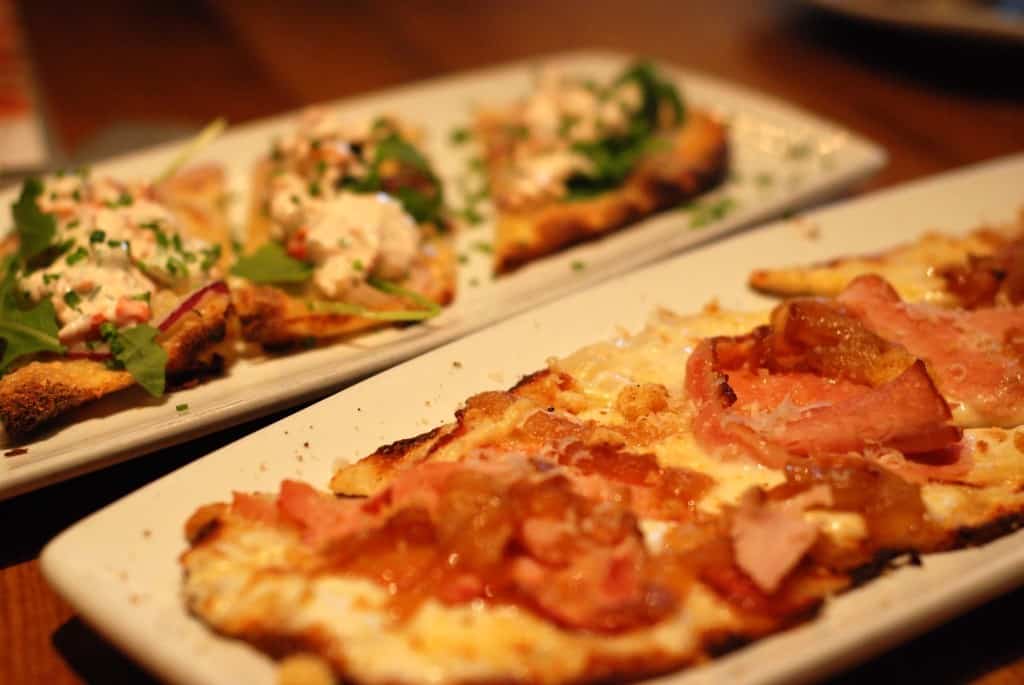 They started us off with the new lobster flatbread, and a smoked ham and swiss flatbread. I like flatbread with some consistency, where it holds its own a bit as you pick it up and still has texture. Both of these flatbreads were fantastic! The lobster flatbread was a nice change from a lot of flatbreads, with the warmth of the pizza oven-baked parmesan flatbread paired with the lobster topping, made with mayonnaise, fresh herbs, arugula and shaved red onions. Smoked ham and swiss on top of goat and emmentaler cheese with smashed garlic croutons resulted in a savory flatbread, and I found myself picking up the pieces of croutons that had fallen off onto the plate. No wasting those babies.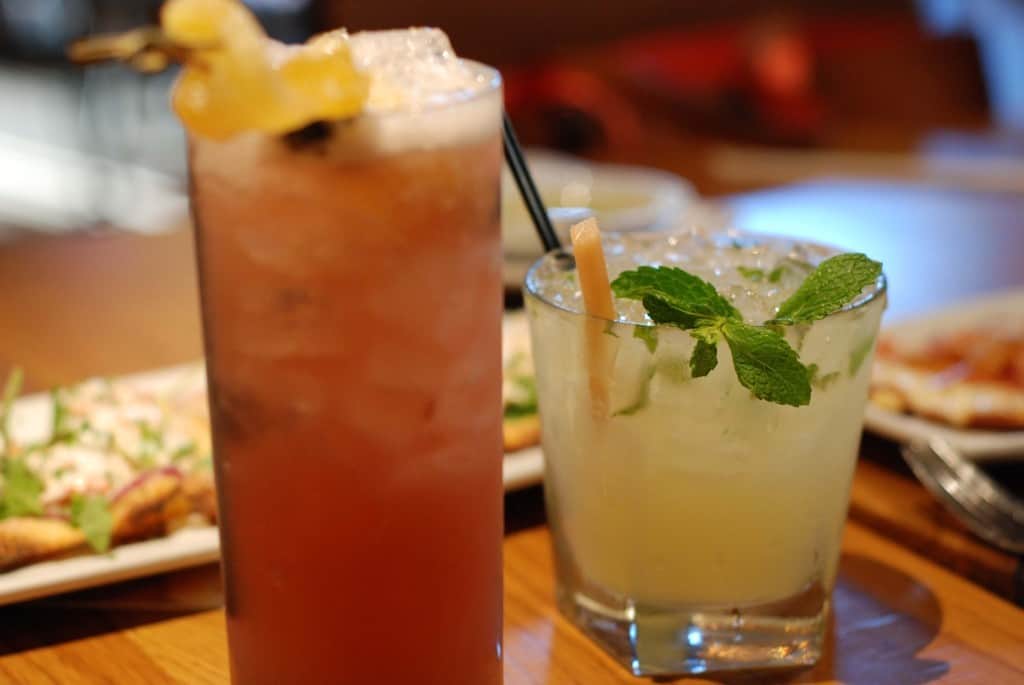 We didn't dare finish the flatbreads, so we turned our attention to the first round of drinks, the Blueberry Ginger Smash and a hand-shaken agave mojito. The Blueberry Ginger Smash is a distinctive mix of Jack Daniel's, organic agave nectar, Domaine de Canton Ginger, fruit and cranberry juice. I'm not a big whiskey drinker but I had no problem with this whatsoever. The cranberry taste is strong enough to cut the sweet of the whiskey and it all blends perfectly. And there's the dried ginger garnish that has soaked up just the right amount of the drink to eat, too.
Next up was the entrees, a smoked halibut plate and fire-grilled rib eye. And another round of drinks, the Honeybee Lemonade, with Jim Beam Honey and fresh lemonade, and The Executive Decision, with tequila, mint, agave sour, lime and agave nectar, and a Coconut Blossom, with fresh pineapple, coconut puree, tequila blanco and vodka. Where to start?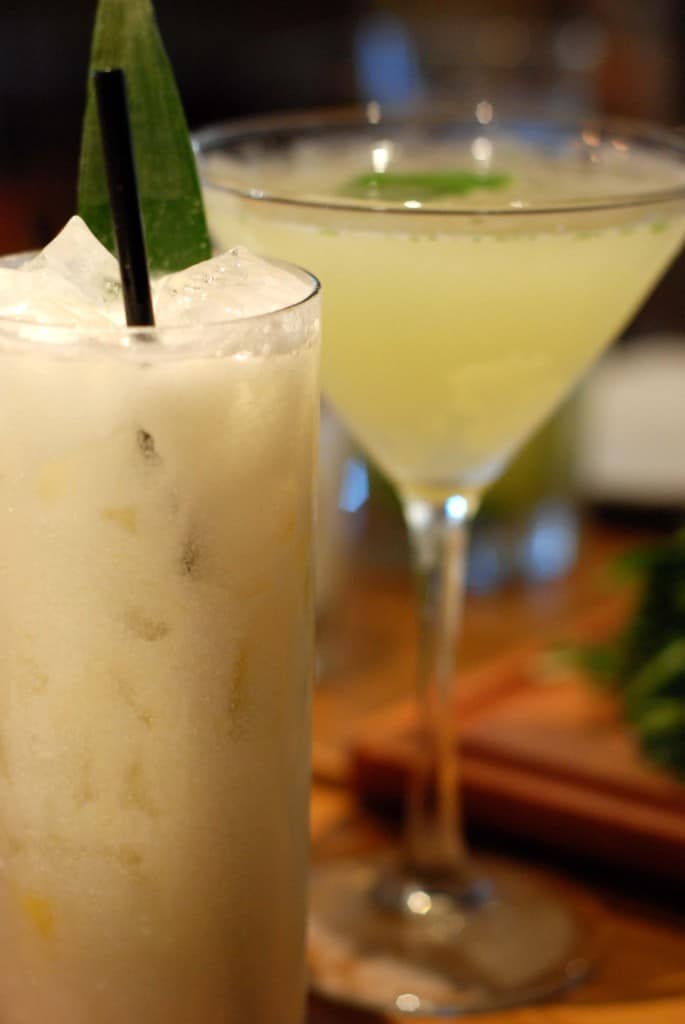 The smoked halibut plate was beautiful. We eat with our eyes first, and this plate was a gorgeous mix of colors. The perfectly seasoned fish is prepared on a cedar plank in the pizza oven and it flaked apart in my mouth, almost melting, and it was served with roasted asparagus and butternut squash farro with baby kale. The farro dish was SO good. It all was, we didn't try anything all night that wasn't spectacular but the farro was a first. So many dishes are served with additions that take away from the main course, but this one almost took over the plate, it was that flavorful, creamy and delicious.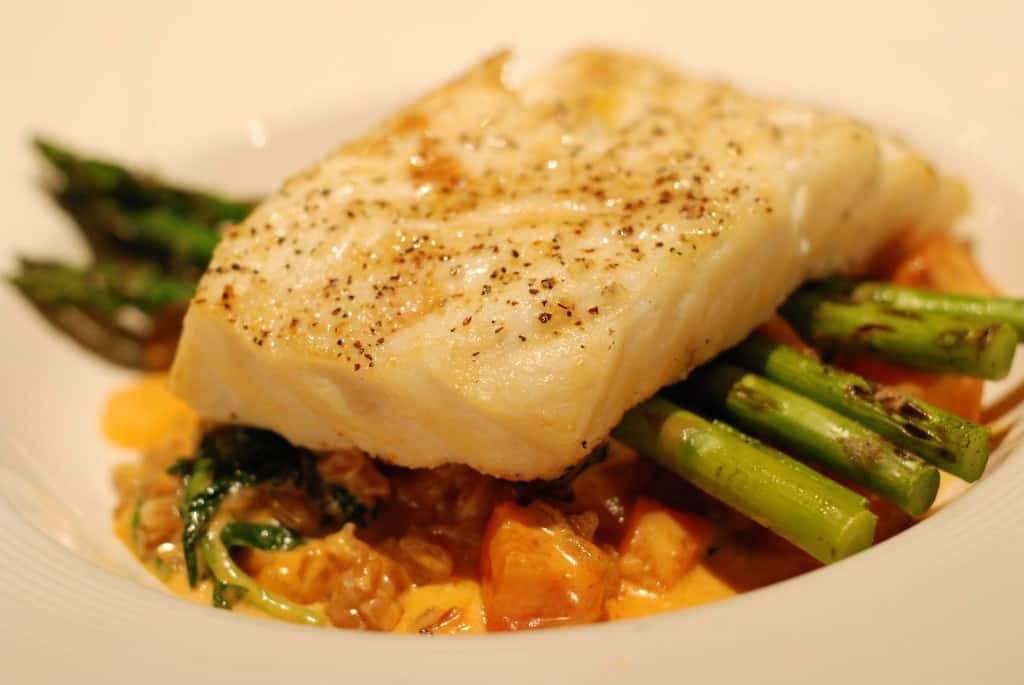 The husband's rib eye was served with fingerling potatoes and peppery arugula, a great match for the steak. I can't eat red meat, but that didn't stop me from sneaking a bite from the center. It, like the fish, practically melted in my mouth. The husband was enjoying it so much, he barely spoke for a bit…but that's okay, I was too busy enjoying my halibut.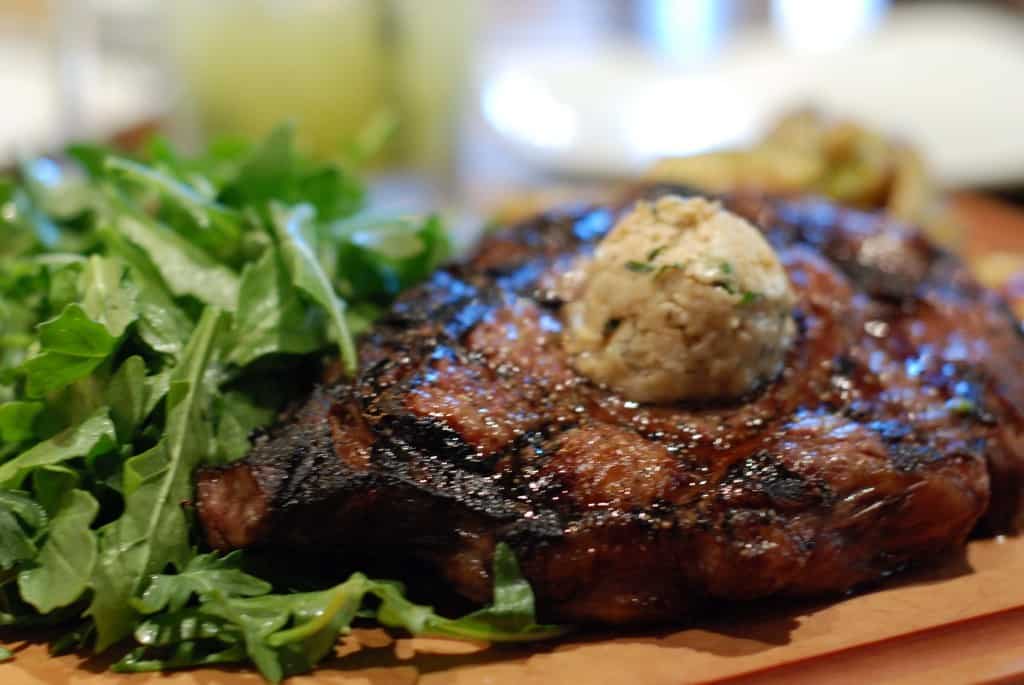 After a bit, we remembered to try the drinks. The food was so distractingly good! The lemonade was so smooth, I could easily have downed the whole thing; it didn't taste like alcohol at all and had a mix of tang and sweet like a good lemonade should. The Coconut Blossom was reminiscent of a pina colada, down to the palm frond garnish, and was a nice light drink to accompany the halibut. Then there was the Executive Decision. That drink, created by the CEO of CPK, is genius. A tequila martini, who knew?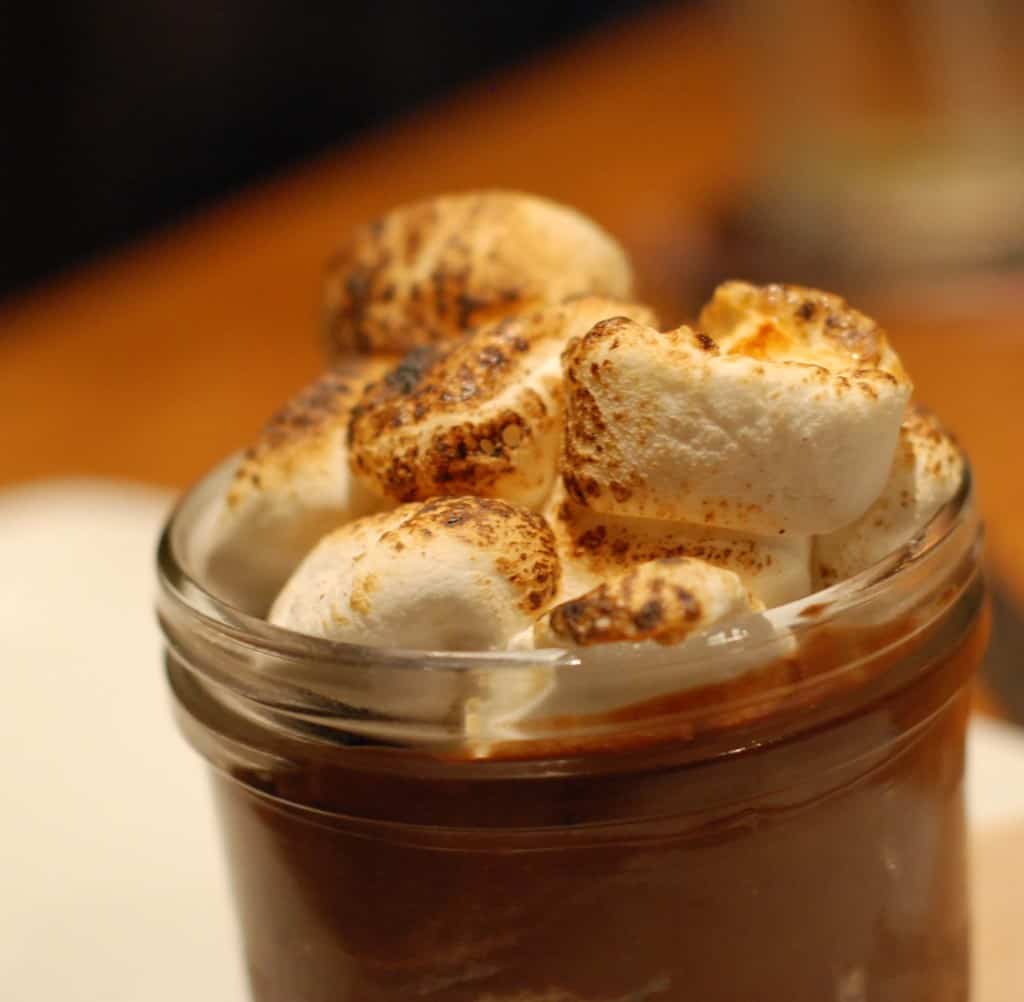 Time for dessert! S'mores and Butter Cake were delivered by Jose, who had perfect timing for every new addition to our table, looked so good, we saw a few other diners stop and look. (Honestly though, we did notice a few looking and pointing at the sheer number of drinks on the table. I wanted to announce loudly "We aren't drinking them all 100% completely and we're walking the mall after we leave here anyway!" I think they just wanted the drinks though.)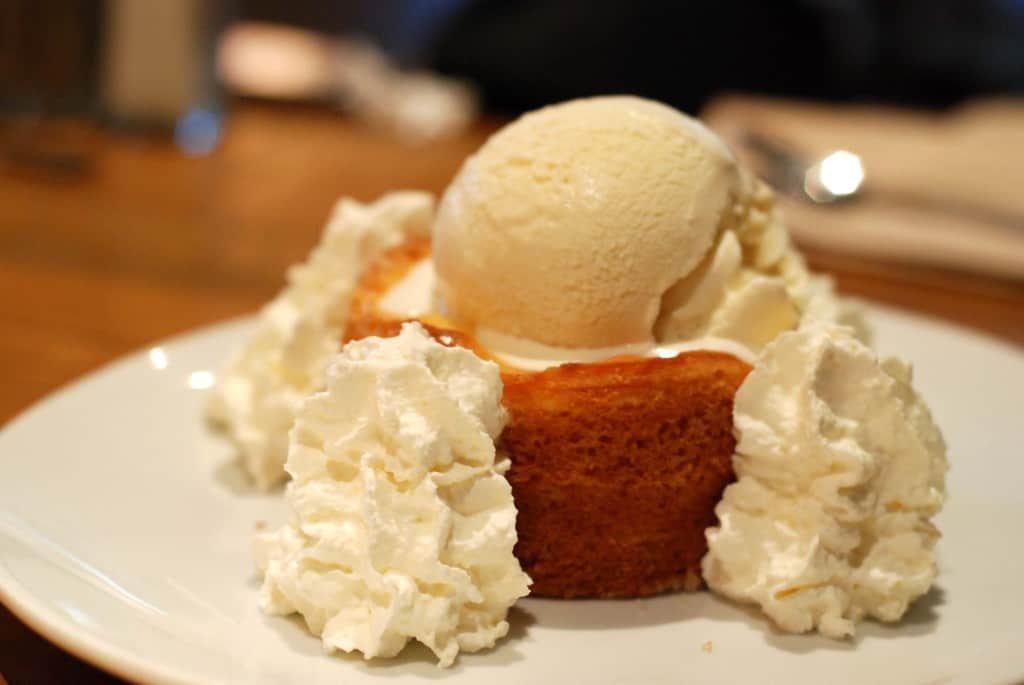 The S'mores is made from kettle-cooked Belgium chocolate pudding, dark chocolate chunks, graham cracker crumbs and roasted marshmallows on top. I'm one of those weird women who isn't a big fan of chocolate but I do love S'mores and this was no exception. The marshmallows were melty and baked crispy on the top and I think I ate them all. The Butter Cake reminded us of Paula Deen's Ooey Gooey Butter Cake, something we tried several years ago at a visit to her Savannah restaurant. This cake was luscious. There are no real words. The crust was a bit crispy, the center was soft and gooey and the ice cream and whipped cream on the top and sides completed it. I ate as much as I could of both desserts and settled back in my seat with the last of the drinks, a California Roots and a California Crush, two drinks that are as divergent and different from each other as two drinks can be, yet both.so.good. Meanwhile, the husband was determined to finish the butter cake. I didn't think he could do it, and I told him I didn't want to hear him complain later of being over-full, but I then went back to trying the drinks.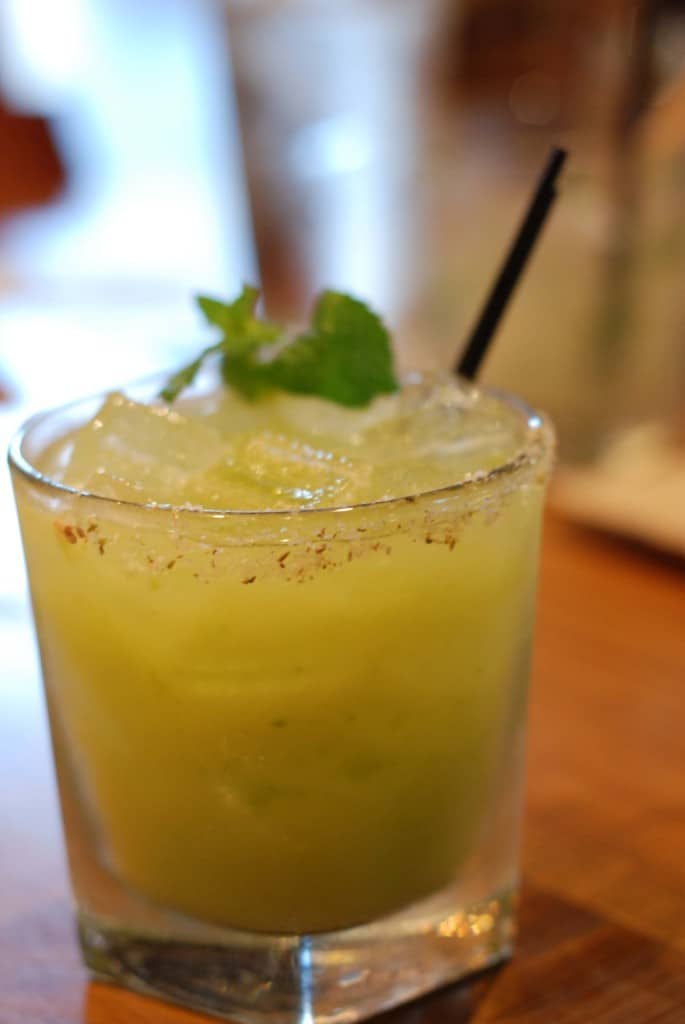 The California Roots is probably the most unique drink I've ever had. While the Executive Decision is genius, the Roots is made from something that you wouldn't think about mixing with alcohol at all. The California Roots is a refreshing drink made from vodka, fresh mint and agave sour and avocado, with a fennel salt rim. I know, right? I would never in a million years have thought about creating a drink from an avocado, and I may not have just ordered it either. But now I know better. That drink, let's just say, didn't get wasted at all, and even the rim of the glass was clean. Order one. Thank me later. And the California Crush? It's great for the end of a heavy meal, as it's made with Absolut Mandrin and Citron, muddled mint and fresh orange and lemon. It's as pretty as it tastes and has a hint of bubbly so it's entirely light. You'll want to try this one, too. You'll want them all, too, but you'll want to try just one or two at a time so you can finish them. We felt like wasters, not finishing each drink, but CPK doesn't skimp on the additions so I do plan on heading back to happy hour shortly so I can try them all again.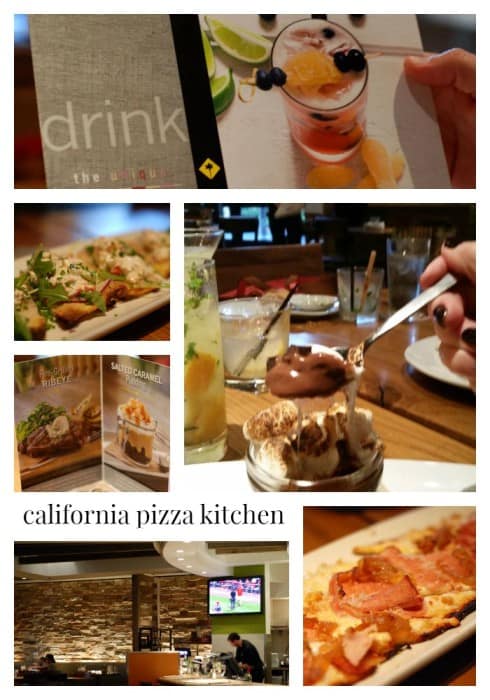 California Pizza Kitchen's new menu additions will give you a whole new perspective towards CPK. The decor is as beautiful as always, with each location having manager-chosen photos on the wall indicative of the locale. Ours had a photo of the California Speedway and its tower; the tower was sadly torn down a few years ago and it's now called the Auto Club Speedway, so that photo was a hit with us Nascar lovers. Grape vines, beaches — it all fits perfectly. Lighting is ideal, so it's bright enough to see your food without it being overwhelming, and you can enjoy the background music while still allowing for conversation. We looked around and saw families, singles, couples, you name it. California Pizza Kitchen is attractive to everyone, for a lot of reasons, and the new menu is just a few. On your next date night, check it out! Enjoy your food and beverages and then go shopping and enjoy the atmosphere. We'd had a busy week before we went, even though it was only Wednesday, and we needed the night out. After being married for over 21 years, we value time together. Family time is so important, but couple time is critical, so we'll be back at CPK again on another one of those date nights. I want that butternut squash farro and halibut again, with a California Roots, please!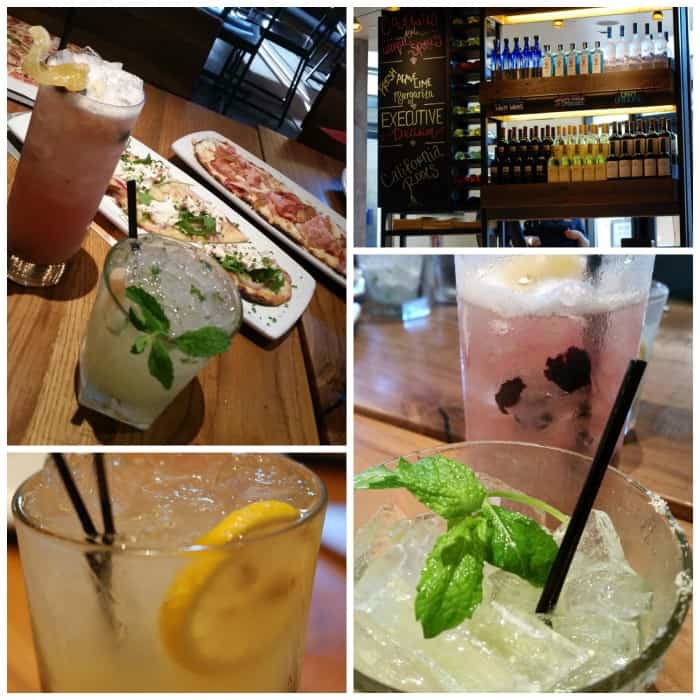 Thank you, California Pizza Kitchen and staff! Jen, Jose and Eloisa took great care of us, and I am glad to share the new menu with others so they can find out that CPK is a whole new place! Visit their website or follow them on Facebook to get in the loop!