Easter is coming fast, and while I'm in denial that spring is almost here, I'm working on planning our dinner menu. Last year, it was just those of us that lived here in our house, and it was more sad than happy. We dropped off Easter baskets for the kids that don't live at home, not knowing it would be months still before we would actually be able to gather with them. This year, I'm happy to know that all the kids will be here in our newly renovated house, eating ham, this Citrus Veggie Stir Fry as a side, and desserts. A lot of desserts.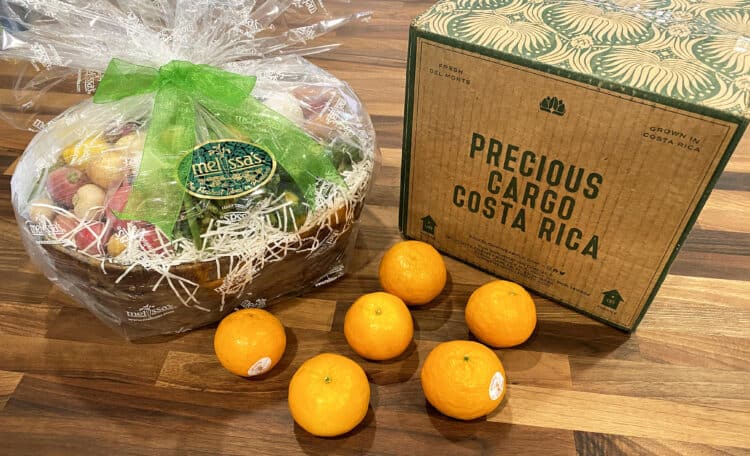 Melissa's Produce sent me this gorgeous basket full of all sorts of fresh vegetables: patty pan squash, baby zucchini, baby carrots, beets, artichokes, radishes, pearl onions, green beans and more. They also included one of my favorite seasonal fruits, Ojai Pixie tangerines.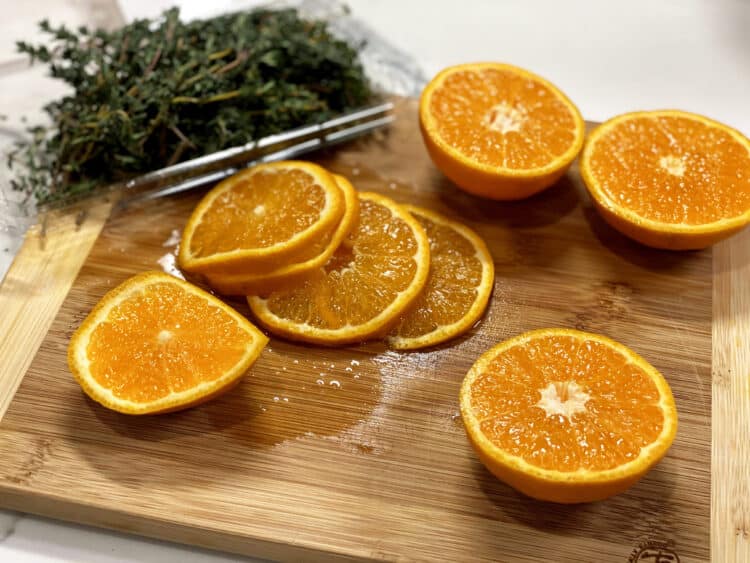 If you haven't had one of these, you're missing out. Sweet, seedless and oh so easy to peel, they are an easy snack for all ages. The challenge was to create a side dish for Easter, and there was so much to choose from, it was a bit hard. Then I took a look at the new Hexclad wok pan my husband had ordered, completing the set so we have all of them, and decided I had to make a stir fry. Fresh veggies make it so easy! (And Melissa's Produce is where to order them, including this basket and a huge array of other fresh vegetables, fruits, seasoning, kits and more!)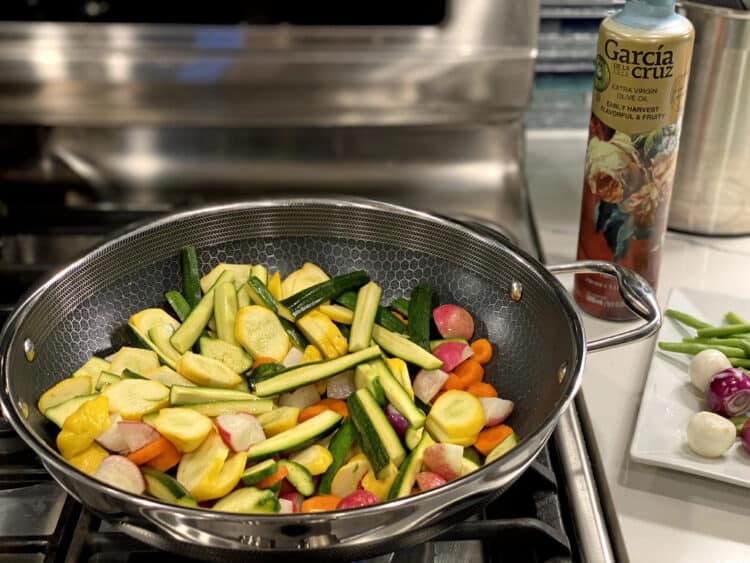 Citrus Veggie Stir Fry
Ingredients
2

tbsp

olive oil

fresh produce variety

juice of one and a half Ojai Pixie tangerines

fresh thyme

salt and pepper

3-4 slices of remaining tangerine half
Instructions
Chop and prep your produce. Keep in mind that you want everything to be done at about the same time, so uniform cuts are good.

Heat up wok pan with olive oil.

Add produce to pan. Do this in one or two batches, if you have something that will take less time to cook.

Squeeze in juice from one tangerine.

Stir/shake pan every few minutes until veggies begin to cook through.

Add fresh chopped/torn thyme, salt and pepper. Stir.

Once veggies are halfway done, add the rest, if you have others that take less time such as green beans.

Add remainder of fresh tangerine juice and lay a few thinly cut slices of tangerine on top. Place lid on pan and steam for a few minutes.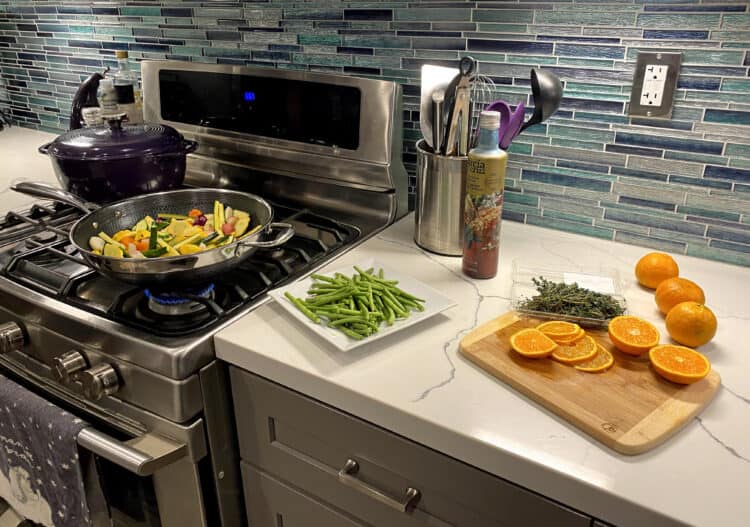 This citrus veggie stir fry recipe could not be easier! I put all the veggies in except for the green beans, and added them in for the second half. The carrots still had a slight crunch and everything was a good consistency with no mushiness. The citrus and thyme infused the produce with flavor, so not only do they taste great but the house smells AMAZING. Keeping the seasoning simple allows the taste of the produce to shine through. It also makes for a beautiful presentation. The variety of bright colors scream spring and when you serve food like this, you don't even need a centerpiece.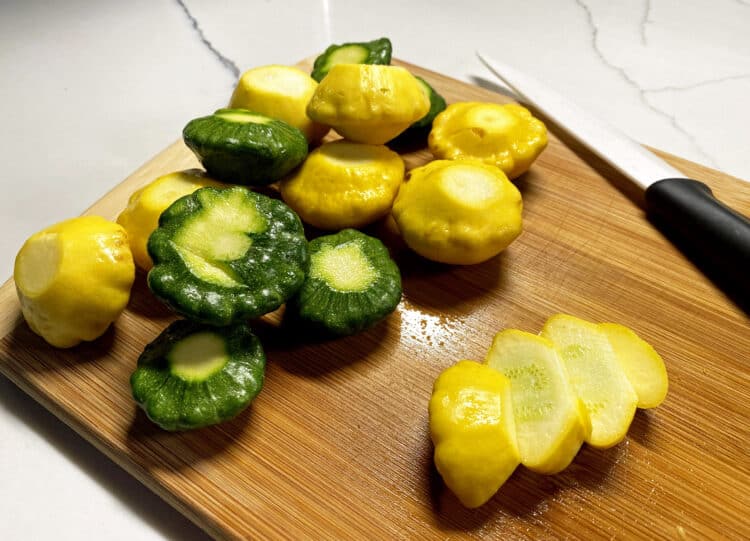 A few tips: use a good quality olive oil. We chose the Garcia de la Cruz we'd been gifted for a past food challenge. We have others to choose from but this is a hearty, fruit oil that goes well with these ingredients. You can chop ahead of time, but if you do, seal them in a sealed baggie so nothing dries out. The green patty pan squash is dryer than the yellow.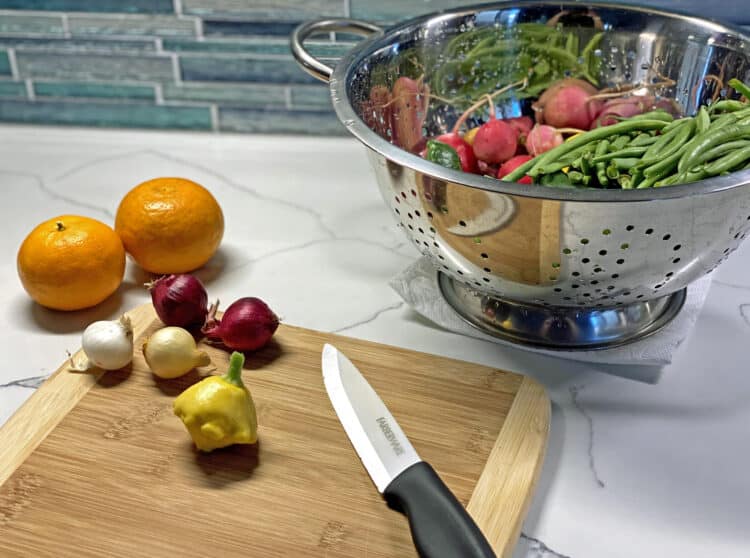 Cooking with fresh produce like this is just a fun time in the kitchen. This side dish will go with ham well, as it's lighter than many proteins, but if you are a vegetarian, it's hearty enough to eat on its own or atop rice.
And if you're considering buying new cookware, give Hexclad a peek. They are pricier than many sets, but they come with a lifetime warranty and they are stainless yet nonstick without any unsafe coating. You can buy them at Costco, or directly through Hexclad's website. The husband ordered the big chef's set, then when we saw how much we liked using it, and how pretty they are hanging off the copper pot rack, he ordered the remaining pans. Money well-spent! (And no, I'm not an affiliate of any sort…though I could easily be persuaded, these pans are amazing and I'm excited that this investment is one that allows us to not have to worry about buying new pans ever!)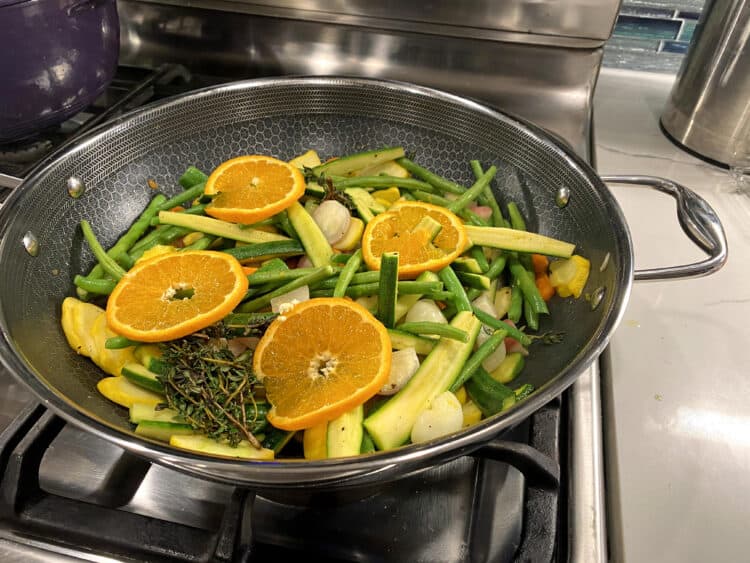 I hope you enjoy this citrus veggie dish sometime soon! My friend Tee, a blogger over at ThatsItLa.com created this delicious recipe, too!