If you've got a Ninja CREAMi and some fresh fruit, you can throw together easy fruit ice cream recipes in minutes! When I bought my CREAMi, my intention was to create healthier ice cream and dessert options for my family and I. I love ice cream, but milk hates me. I also am working towards a healthier lifestyle in general, and after some health issues these past few months, it's becoming even more important that I stick with it.
Thanks to Melissa's Produce, who sent me another box of fresh summer produce, I was inspired to create ice cream recipes that let the fruit flavor shine through yet still feel decadent. Throw in some protein powder and I've got a dessert that could also sub in as a quick meal or snack. I mean, life is short, if ice cream isn't full of sugar or other unhealthy ingredients, why not, right?
Below you'll find recipes for apricot ice cream, dragonfruit ice cream, and probably my favorite, a cake batter vanilla ice cream with fresh passionfruit syrup. All three recipes were a hit with the family and I learn a little more about my Ninja CREAMi machine with each use.
Here are a few tips for making the best ice cream with your Ninja CREAMi:
Don't be afraid to hit the respin button multiple times. I've found I get the creamiest texture with three respin cycles.
An extra ounce or two of liquid after your first ice cream cycle is almost always necessary, so keep some unsweetened coconut or almond milk or orange juice handy.
Purchase an immersion blender, if you don't have one already. It's so much easier to blend your fruit in the Ninja container than using a blender and having one more container to clean.
That said, if you use an immersion blender, start on the lowest speed and at the bottom of the cup. It can easily overflow, but I also prefer to do it this way so I can be sure to not go over the max fill line before I freeze it.
Check your extract expiration date! This sounds almost silly to mention, but we have a habit of buying flavoring for cookies or a holiday dessert, then we put it in our pantry. We grab it when we need it and never really give it too much thought…until we taste our batter and do an O M G, that's awful. Extracts can go bad, and it WILL ruin your ice cream.
In addition: a little bit of an extract can go a long way. I use, max, 1/4 tsp of an extract.
Fruit needs to have some liquid in it or it can damage your machine. If you want chunks of berries, put thawed or mostly thawed small berries in to spun ice cream on mix-in cycle. (If you put them in before you freeze, they will get blended up entirely.)
If you'd like to add chocolate bits/chips to your ice cream, add them as a mix-in; melt your chips/chocolate thoroughly, then pour it in before you do a mix-in cycle. If you add before, it will blend and you may end up with chocolate ice cream.
Let your frozen pints warm up 10 minutes or so on the counter before you put them in the machine.
I'm still learning how to use the Ninja CREAMi, but I'm turning out good, healthier versions of ice cream, sorbets and other desserts pretty regularly in less time. There are thousands of recipes available on the net, but the basics are pretty much the same: base liquid (some type of milk, non-dairy or regular), a thickening agent (pudding powder, from the store boxes of instant pudding or 1/2 tsp of guar gum), maybe a flavoring (extract, juice, etc.) and a sweetener if necessary. I prefer Stevia.
Basic sorbets is pretty similar; juice or small chunks of fruit, it's that easy. You can pour an entire can of fruit in its water and freeze. Peach is fantastic this way!
I love trying unusual flavors, so using Melissa's Produce, I made three recipes: Dragonfruit Sorbet, Apricot Sorbet and Cake Batter Vanilla with Passionfruit Syrup. Each of the three fruit ice cream recipes were easy and took only minutes to prepare. Just don't forget that it's recommended that every batch is frozen for 24 hours, so plan in advance.
FRESH FRUIT ICE CREAM RECIPES WITH YOUR NINJA CREAMI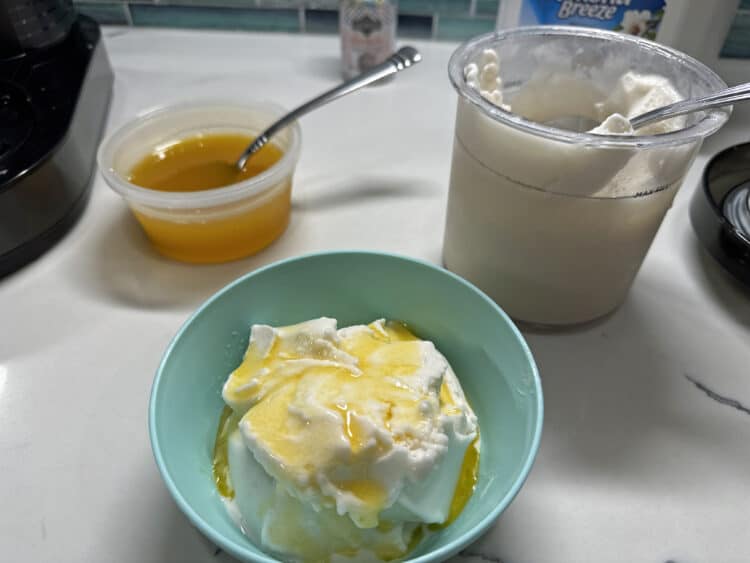 Cake Batter Vanilla Ice Cream with Passion Fruit Syrup
Unsweetened plain or vanilla almond milk
1 scoop protein powder
1/2 tsp Guar Gum
1/4 tsp cake batter extract (I prefer Lorann's, purchased via Amazon)
1 packet Stevia
Fill the Ninja CREAMi pint container almost to the max fill line with the almond milk. Add the other ingredients; blend with the immersion blender until smooth. Freeze.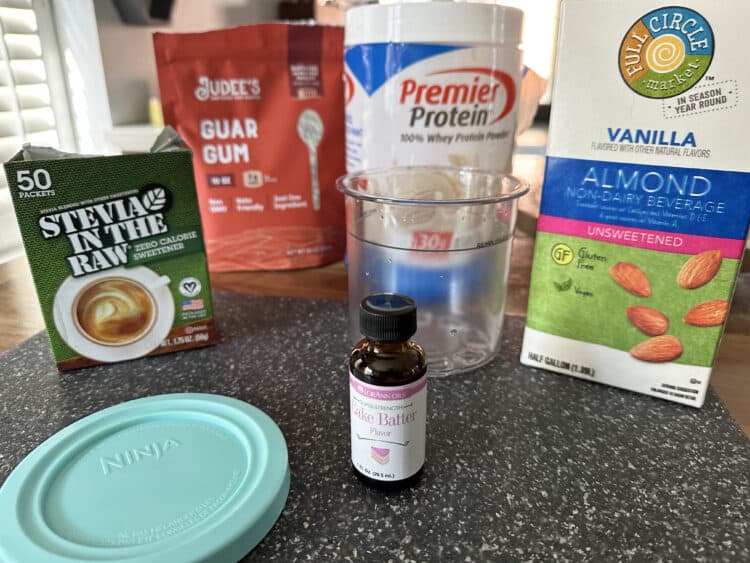 Passion Fruit Syrup
4-6 fresh passion fruit
1/4 cup sugar
Water
Cut the fruit in half; scrape inside flesh/seeds into a mesh strainer. Press with a large spoon or spatula until all the juice is in a bowl. Add juice and sugar to a small pot. Heat on low to melt sugar; blend and add water to reach desired consistency. Let cool.
When the ice cream has frozen 24 hours, use the lite ice cream cycle, followed by 2-3 re-spin cycles until consistency is what you're looking for. Enjoy with passion fruit syrup on top!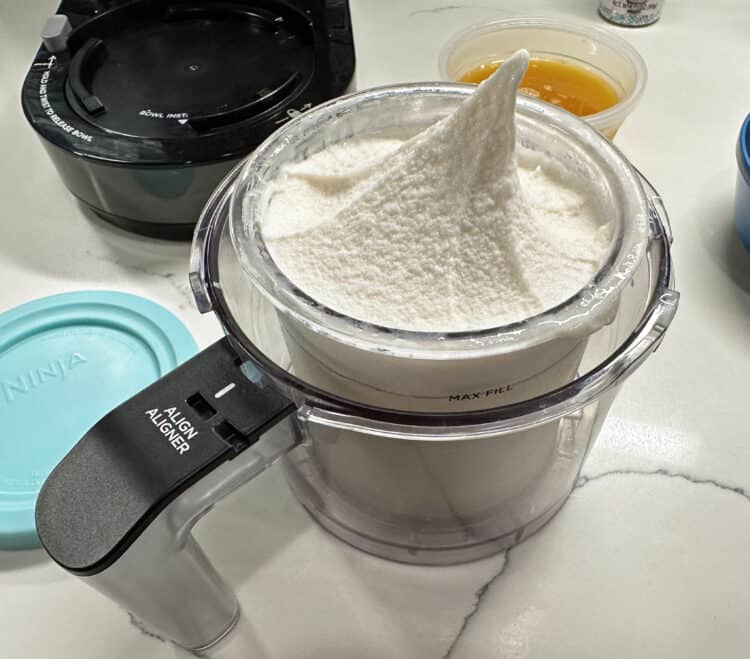 This consistency was the result of a lite ice cream cycle followed by three re-spins. It was perfect! Because healthier versions of ice cream made in the Ninja CREAMi aren't full of the normal fat from regular milk, they don't get quite the same as soft-serve from the shops, but they get pretty close. They can also melt faster, so eat accordingly. There are storage containers that will keep the ice cream in good shape for a few hours, but once you refreeze, you can't re-spin just a portion of the container. Some people on social media have shared they freeze in other containers, then microwave briefly but I haven't tried it.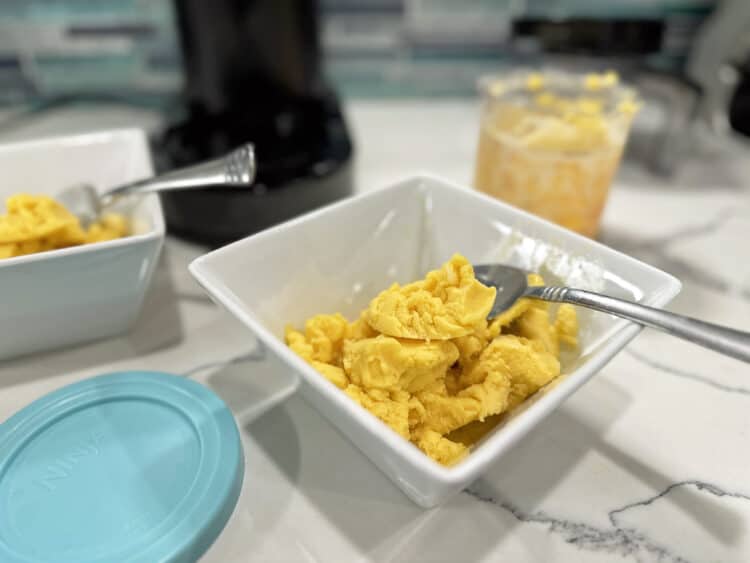 Apricot Sorbet
6-8 finely chopped apricots
Mango or orange juice (approx 1/4 cup)
1/2 packet Stevia
Fill the container mostly with the finely chopped apricots. Add juice and Stevia; gently combine. Freeze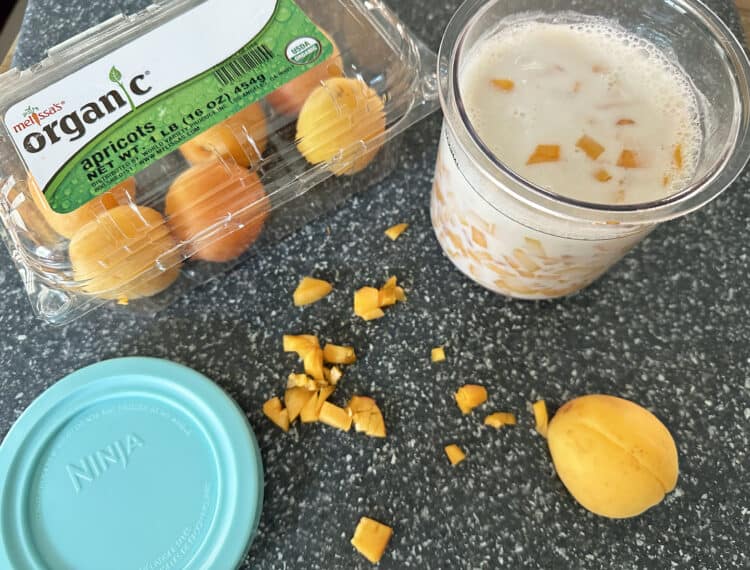 After 24 hours, let sit on counter for 10 minutes and put in Ninja CREAMi for a sorbet cycle. Take off the container and add 1-2 tbsp more juice; do 1-2 more re-spin cycles to process, depending on your preferred consistency. I want mine more solid, and sorbet won't be as soft-serve as an ice cream, so if you process too much, it can end up soupier than you want — but it also makes a great smoothie or smoothie bowl topped with some granola or coconut flakes!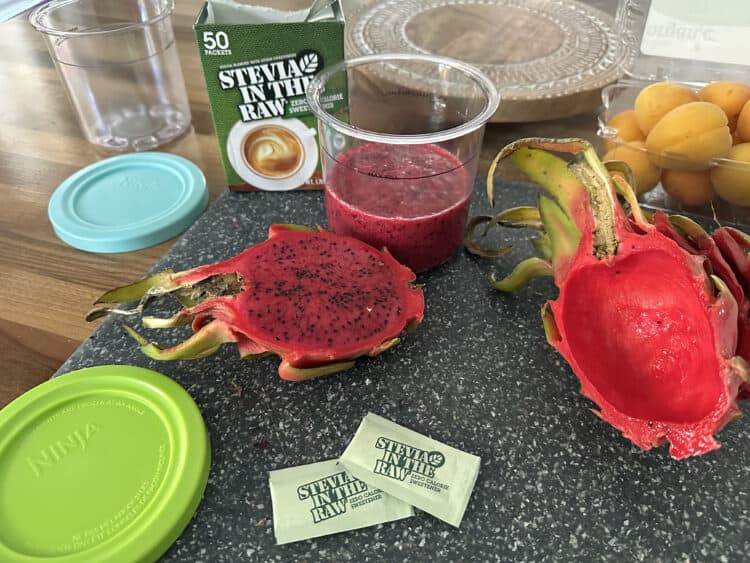 Dragonfruit Sorbet
Flesh from 2-3 dragonfruits
1-2 packets of Stevia
Blend the dragonfruit flesh with the Stevia powder using an immersion blender. Freeze.
When ready to eat, run through sorbet cycle and re-spin 1-2 times.
Tip: dragonfruit can stain your counter if left sitting too long but it is the prettiest fruit to cook with!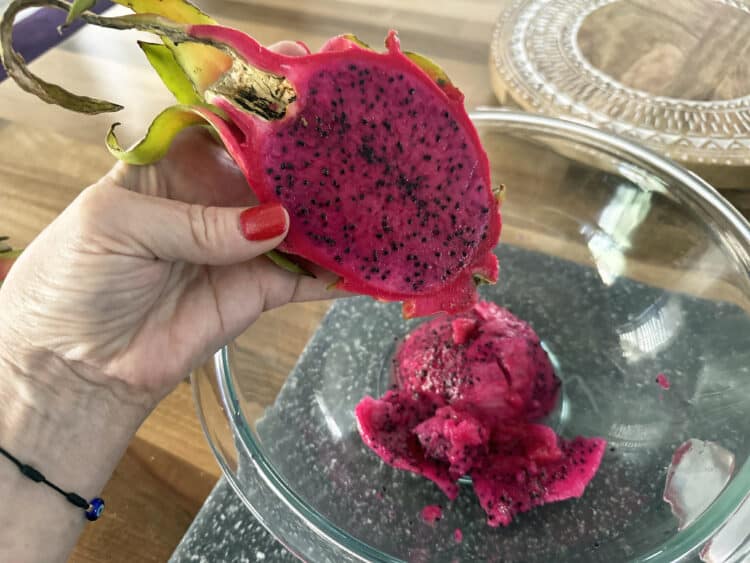 If you don't have any fresh fruit around, you can pour an entire can of sliced peaches — juice and all — into a pint container. You don't even need any sweetener, just freeze and process on a sorbet cycle. It doesn't get any easier! Start slow and learn as you go. You will have some fails, some flavors won't be vibrant enough (like watermelon, it can fall flat) and others will not achieve the consistency you want. Google for options. Some people add cottage cheese or cream cheese to help thicken.
One warning: do not just freeze plain water or juice without thickeners or fruit. It will likely break your Ninja CREAMi.
One easy peasy favorite was a shelf-stable bottle of Starbucks Frappuccino. I added a scoop of protein powder and 1/4 tsp guar gum. Frozen, mixed on lite ice cream. Winner — and so easy!
Have fun with your Ninja CREAMi. Buy those extra pint containers ahead of time, you'll find yourself wishing you had more than the 1-2 that most Ninja CREAMis come with. I have the 7-in-1 machine, but they have a more basic option and a much fancier one that also makes drinks. It's cool, and I'd have bought it if I'd been able to find it without the price gouging that is happening sometimes. I bought my machine on Amazon and I had it within five days, but they do go out of stock so shop accordingly!