Years ago, the NASCAR driver we follow was sponsored by a major brand of whiskey. In solidarity, I tried whiskey for the first time ever. It wasn't my favorite beverage, but it grew on me. Our driver's sponsorship changed quite a few years ago, and I went moved on to perfecting my Moscow Mules long before they got trendy. I remember the first time I ordered one in a bar; the host stopped for a second, eyebrows up, condescending "Okay." I love trying new things so when I received an invitation to a Whiskey 101 class hosted at Tom Bergin's by Tullamore D.E.W., I quickly said yes. Irish food, old tavern as a backdrop, and whiskey tasting? Sign me up! Learning about whiskey from a Tullamore D.E.W. expert? Even better!
I've never been to Tom Bergin's out in Los Angeles on Fairfax, but I wish it was closer! It's a pub-style tavern, with an original oval bar top surrounded by bar stools. Ceilings are covered with shamrocks and walls covered with old-style black and white photos, the Old Horseshoe Tavern Bar is a fun place to spend a happy hour.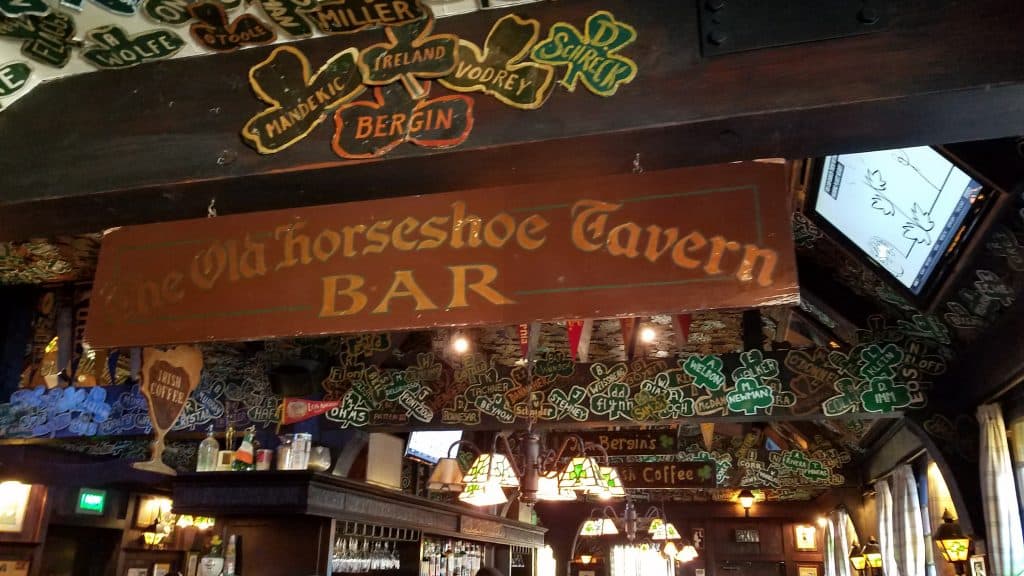 The back dining area, where the class was held, is no slouch either. A long space filled with tables of various sizes, with a huge set of antlers over this old brick fireplace and stained-glass windows along the wall, it's an atmosphere perfect for drinking whiskey and eating Irish food.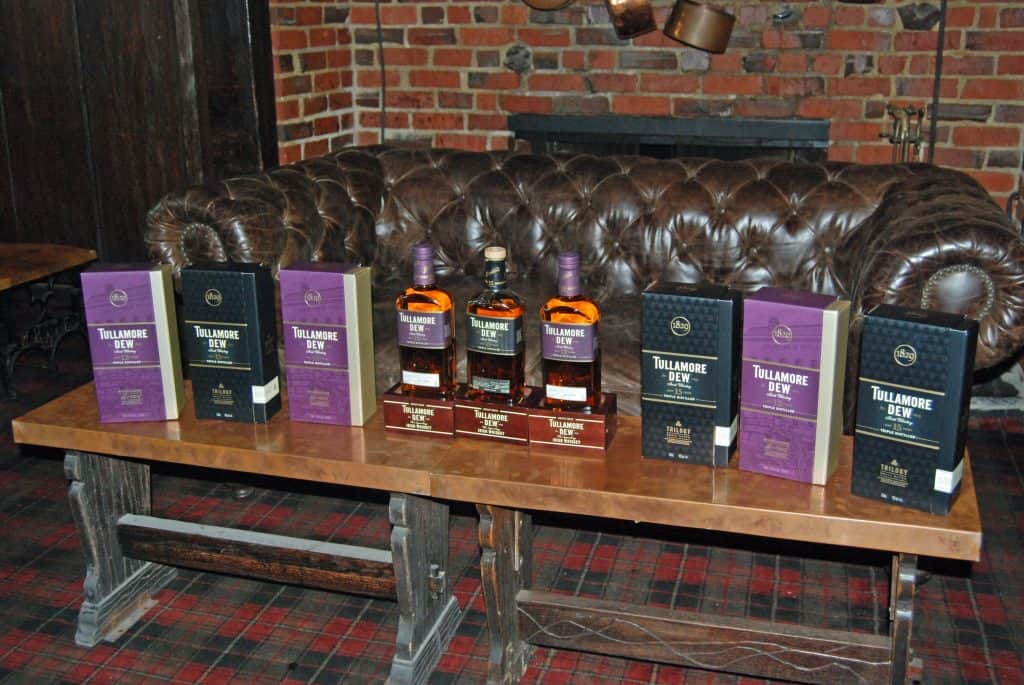 Add in this table covered with Tullamore D.E.W. and we knew it was going to be quite an evening. We ended up with interesting table mates providing good conversation and perspectives on everything from travel to food to alcohol. Whiskey tasting is serious business though, so we started in on the drinks pretty quickly with this whiskey Old Fashioned. I've had Old Fashioneds before, but never finished one. This time though? Different story! Made with Tullamore D.E.W. whiskey, this drink was a winner and made me want to reconsider more in the future.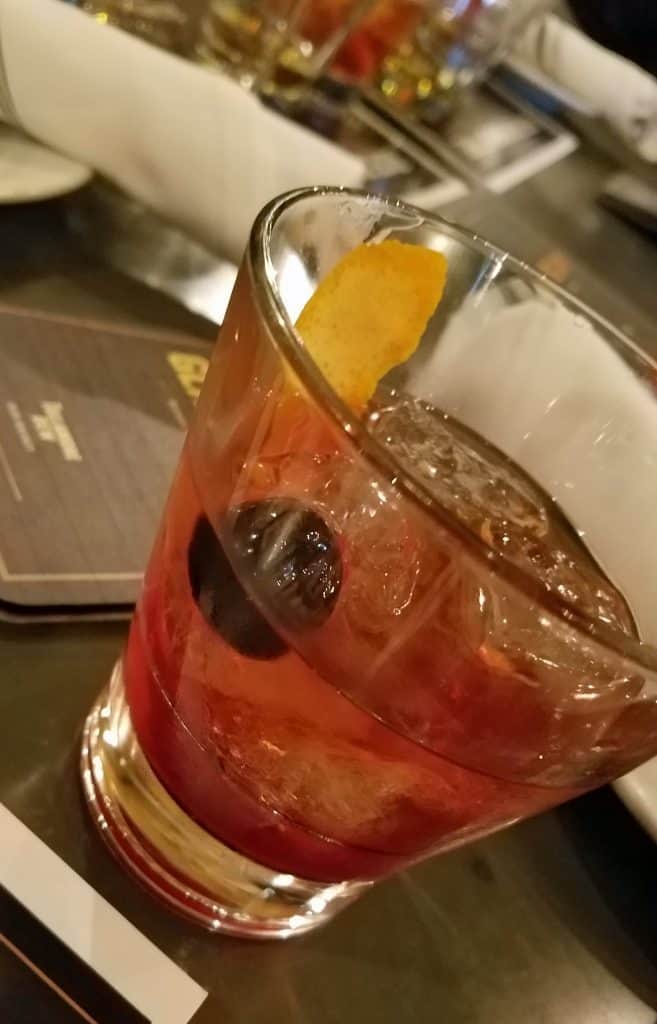 Food came next, with the first course being Irish soda bread and honey butter. I was so hungry and could have easily eaten my entire plate, but I also knew we had other drinks and courses coming so I tried to be good when I could. Soft bread, good flavor and delectable honey butter = yum.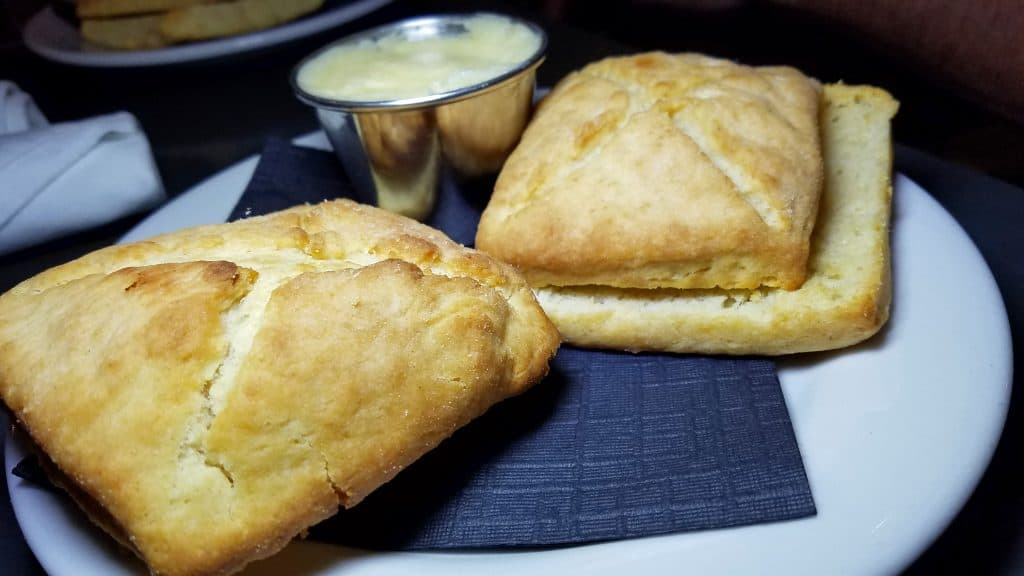 We started tasting the whiskey after the bread. We began with an 12-year-old special reserve whiskey. This triple-distilled whiskey had such layers of flavor, from a slight spice and nutty nose to a warm, chocolaty taste, leading to a finish that includes citrus and more chocolate.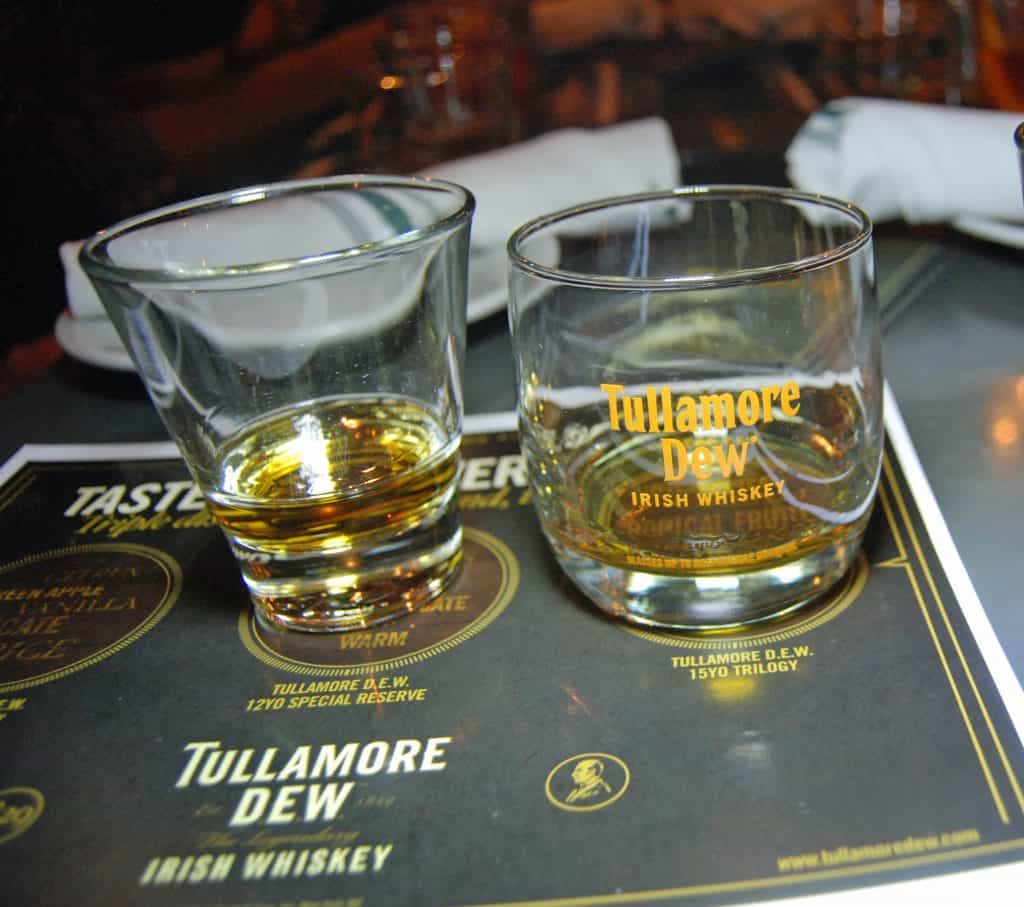 If you're as curious about the actual distillation process as I was, in short, it's the process of making alcohol (not just whiskey) where the liquids are heated and the water evaporate, essentially separating alcohol from water. Tullamore D.E.W. does this three times, so you get a stronger alcohol with a stronger taste. (You can learn more about the whole process here.) The whiskey is matured in bourbon and sherry casks and as you probably already know, the casks themselves can impart flavor into the 80-proof beverage.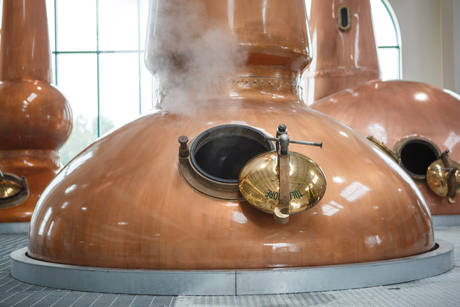 The 15-year-old old whiskey is called Trilogy, and not only does it mature longer, but it spends the last six months of its maturation time in rum casks. You can tell this in your tasting as well, though the nose is a bit tropical fruit-like, with a more fruit and nut flavor, ending with a slight creamy fudge taste.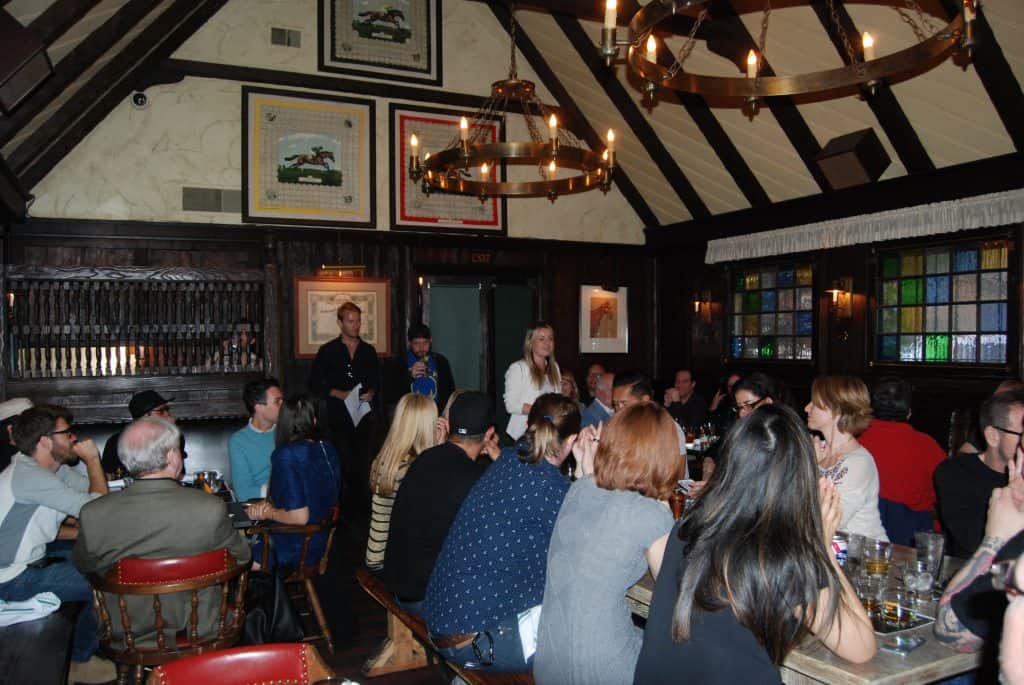 Everyone was paying a lot of attention to Jane, the Tullamore D.E.W. ambassador and presenter of Whiskey 101, share the history of Tullamore, tasting tips and a lot of trivia about the company and whiskey. For example, do you know what D.E.W. stands for? It is actually the initials of a distillery working, Daniel E. Williams, who eventually took over the reins. Tullamore does everything in threes: whiskey is triple-distilled, there are three types of whiskey and it's all three times smoother. It's also won over 30 medals in the past 10 years. The distillery has its roots in Tullamore, Offaly County, Ireland, since 1829.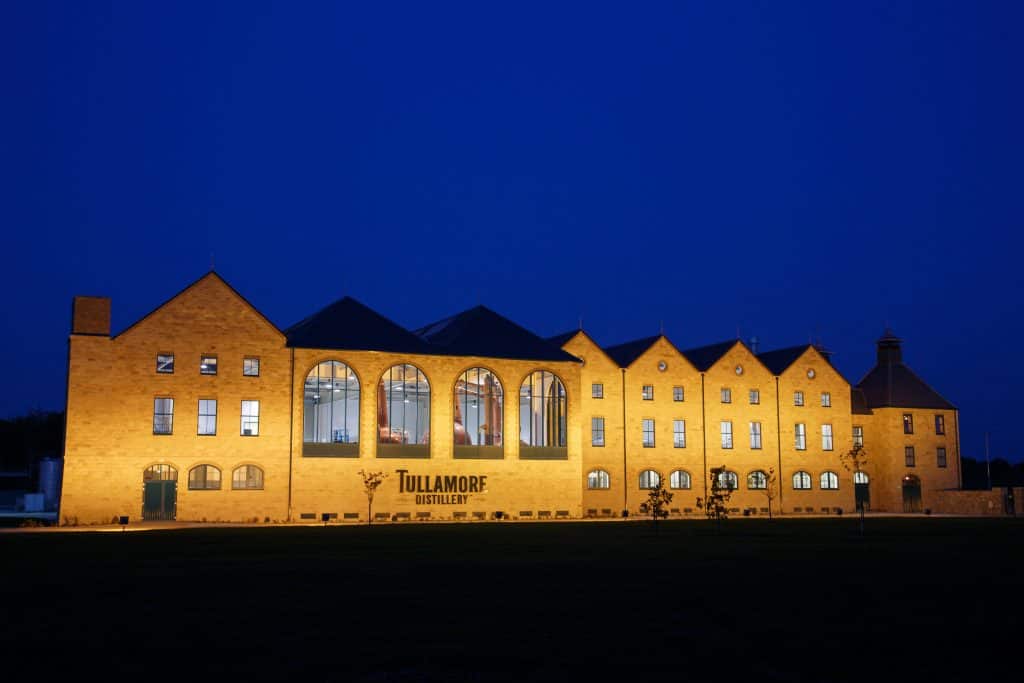 With her beautiful Irish lilt, we could have listened to Jane speak for hours but we moved onto more food next.
Up next was a beet and goat cheese salad and then this thick pork chop with apple slaw and cabbage. That mustard glaze added a spicy kick. If you visit Tom Bergin's, don't visit just for happy hour; order dinner and stay a while.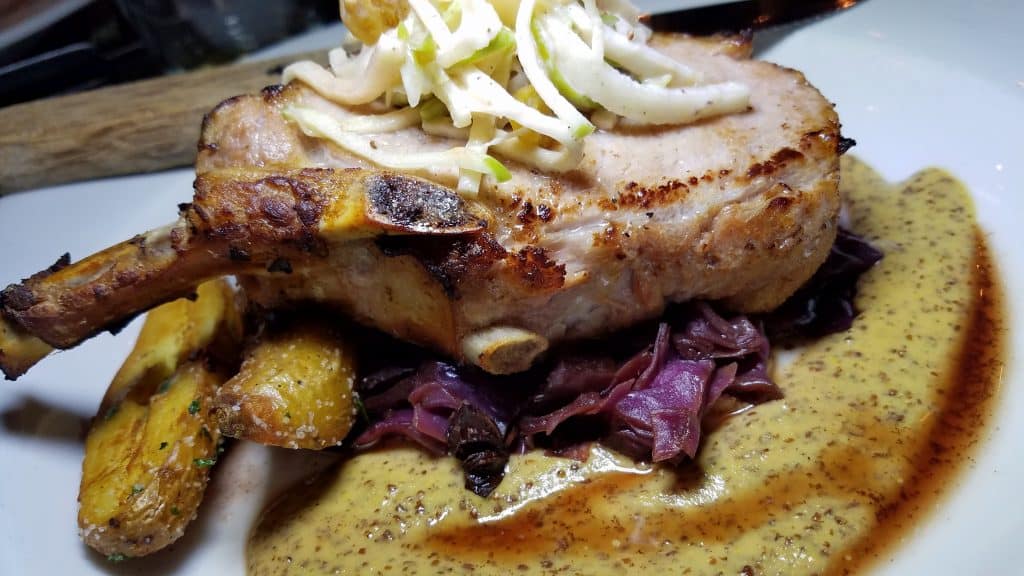 Then get one of these. This Irish Whiskey was the perfect end to a wonderful evening. Strong coffee, strong whiskey and a lot of delish foam on top. We said then that we could linger for a long time at the wooden table, talking with new friends, so we need to return and do just that! Now that we're equipped with a lot more whiskey knowledge, we can truly appreciate the alcohol in a way we couldn't before. I have since experimented creating a whiskey Moscow Mule!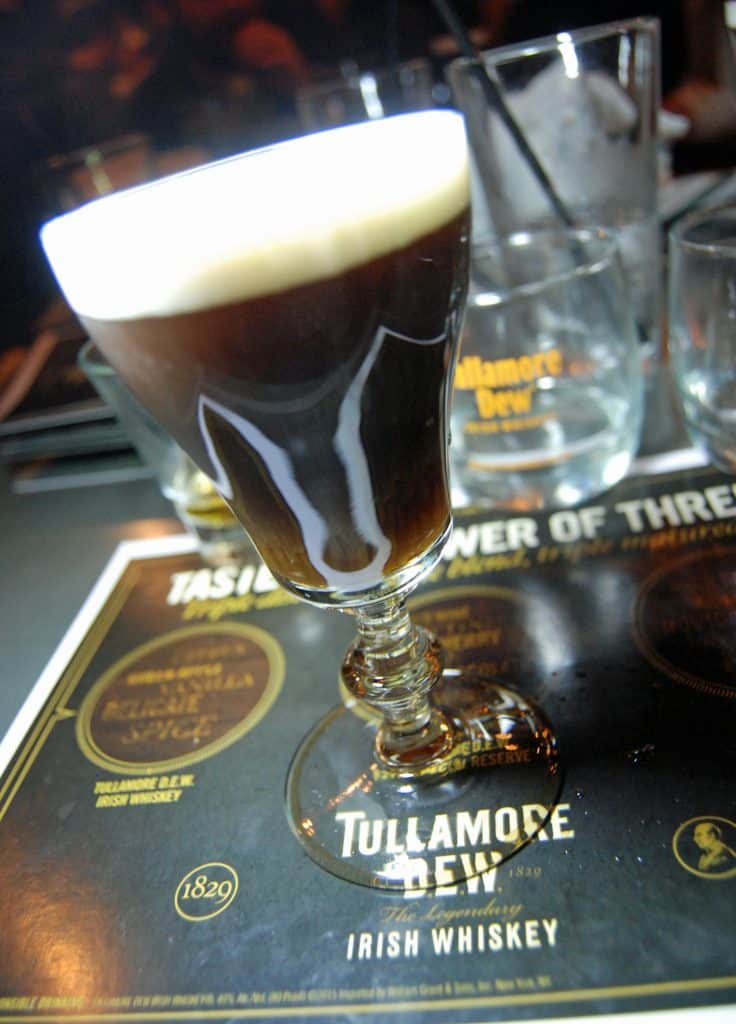 One last piece of whiskey trivia from Whiskey 101: did you know that if you put your palm on the top of a glass of whiskey and swirl it hard enough to splash your hand, you can then rub your hands together for 25-30 seconds until they get dry and somewhat sticky, then cup them over your nose, you get the flavors of the whiskey without the alcohol? It's a fun way to experience Tullamore D.E.W. or any other whiskey.
Try some Tullamore D.E.W. here at Tom Bergin's or at Seven Grand and The Basement Tavern– take your time with it, as it's definitely something you can sip for the long-run or enjoy in a mixed cocktail. That Irish Coffee would be ideal on a rainy evening or after a long meal on a cold night. Whatever you "dew," drink responsibly!