Ever pull up your online photos to find that one picture and before you know it, you've lost yourself in memories and it's an hour later? I did that this morning. I pulled up our Carmel vacation photos to look at one and found myself daydreaming about being back on vacation. Our trip to Carmel, including our visit to Holman Ranch, was only four days, but we packed so much into that time that I've had to create three posts, with this being the third, to cover everything we did!
You can find my first two posts here and here, if you want to get an idea of what we did on Days 1, 2 and part of 3, but this post is all about our overnight stay at Holman Ranch in Carmel Valley. (This was a media trip so our all-inclusive visit to Holman Ranch was also complimentary, all the way to the wine, the food and the fun, but the photos and opinions are my own.) They have quite a media presence on Twitter and Facebook, but just in case you haven't heard of this gorgeous retreat yet, read on so you can see why I didn't want to come home!
We had reservations for the 3pm wine cave tour at the Holman Ranch estate, established in 1928, so we checked into our room via their tasting room downtown in Carmel Valley. We should have stayed and tasted the wine, as we had some time, but we were unsure of the drive we had from there. Little did we know, it was less than 10 minutes from the tasting room to the gates of the estate. We had been given the code, along with our room key, at the tasting room, allowing for a big 'wow' factor at the entrance gate, driving in as if we owned the place.
The expansive view included the equestrian ring to the right, next to the man made pond (which results in re-purposing of all the water so they truly are self-sustaining, as they have two well-hidden above-ground water reservoirs), and to the left of the roadway are the stables. Horses turned to watch us as we drove up the sloping dirt road, curving at a gorgeous barn, continuing to curve around into the parking area and rooms.

My first thought is that it was aptly named as a 'ranch,' and I'd never stayed on a real ranch before. We were luckily the first guests of the evening to arrive, allowing for a few moments to roam after we put our luggage in our room, which had its own end balcony complete with two rocking chairs to enjoy the peace.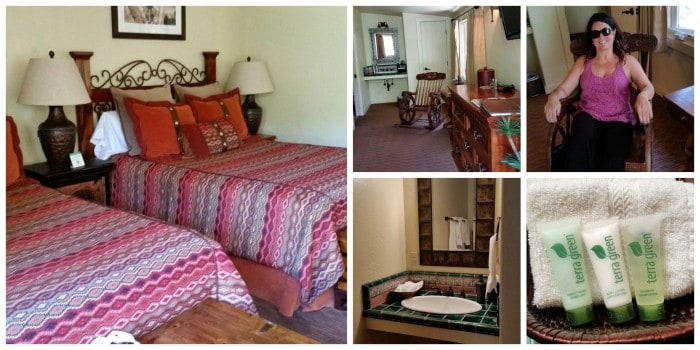 And peaceful it was.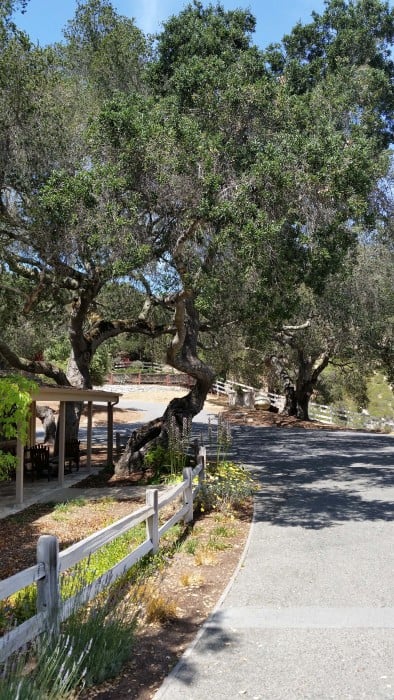 All we heard were a few bird sounds and the rustling of the leaves in the trees surrounding the ranch buildings. After checking out the amenities – a gorgeously decorated ranch-style room with a beautifully emerald green tiled bathroom, closet, two comfy beds and another rocker, organic sundries, cable/wi-fi and a flat screen TV– we went back outside to meet Nick Lowder, son-in-law of the most recent owners of the estate, for our wine cave tour, making a few stops along the way, like this gorgeous wedding platform. What a backdrop!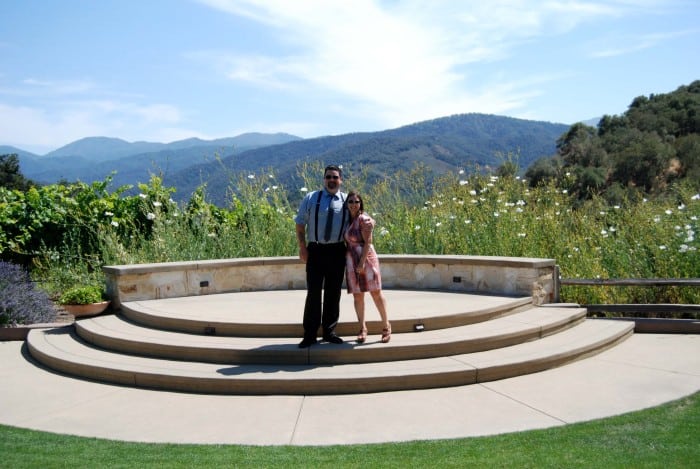 I'd be lying if I said we weren't secretly excited to be the only two on the tour, along with Tara, new to the Holman Ranch family, where we could ask questions and slowly amble through the property, taking notes and photos along the way.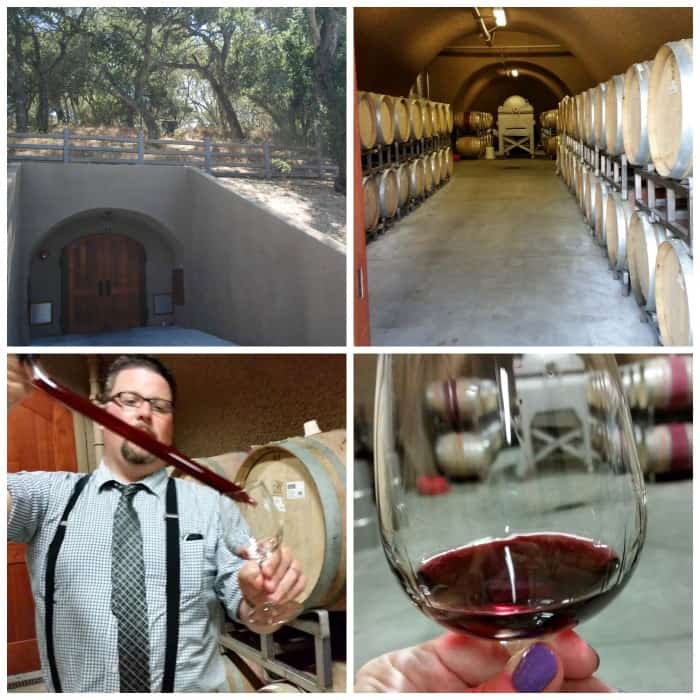 In just about an hour, we'd gotten an in-depth lesson on winemaking, clones, varietal numbers and the entire process from vineyard to bottle. I had no idea that their wine is aged from 8 months in an oak barrel up to three years! I just know that I've tried their Chardonnay and Pinot Noir prior to the trip and their Pinot went to the top of my list. While trying the various wines directly from the barrels was an experience I've never had before, trying it in the wine cave just added to it all. The wine cave is just one more way that Holman Ranch is self-sustaining, green and energy-saving in its entire approach. Their grapes are 100% estate-grown and there is limited production; they're not only certified organic – a huge draw for me – but they are SIP certified, which is "sustainability in practice." Visit their website to learn more about their wines.
Ever been in a wine cave? It's a must-visit if you love wine. The naturally attained 58 degrees (on average) keeps the wine at the perfect temperature without expensive air-conditioning systems. The cave is literally built into the hill and takes up little real estate on the land as well.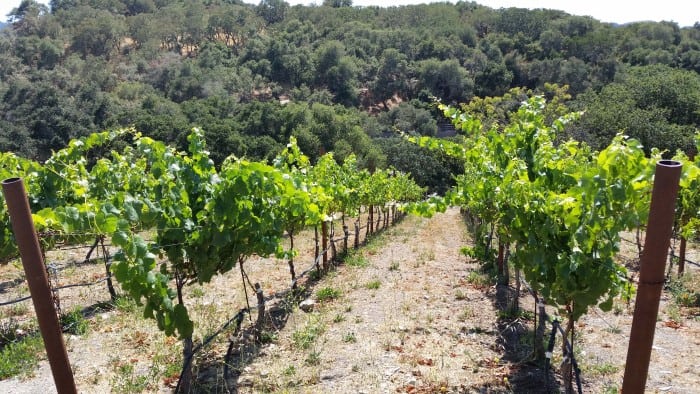 The vineyards are approximately 21 acres in a climate perfect, but the overall ranch is 400 acres, also including the olive grove and special events areas. If you're looking for a place to plan a retreat, a business event or a wedding, you need to look at Holman Ranch. Guests have the run of the estate, from expansive game room, the completely restored Hacienda (complete with original tiles that were fixed by hand during the restoration that began after the Lowder purchase in 2006), outdoor games like bocce ball and horseshoes, covered and open dancing areas, and places to wander to experience the beautiful natural views and landscaping. If you're a guest and want to stay in shape, there's even a fitness center and pool, which happens to be the first vineyard pool in the area and still has beautifully maintained original tiles.
Depending on your group's needs, you can have a night time barbecue on-site, accompanied with Holman Ranch wine, and the buffet breakfast is perfect for a relaxing morning with valley views as you sip your coffee. Want something even more personal? They even offer a ranch-hand experience, a culinary escape, wellness and spirit packages, a wine lovers' delight and sports or astronomy activities. The entire staff was so accommodating, our impression was that they'd go out of their way to provide you with whatever they can. I was pleasantly surprised with the wedding package fees and the fact they offer transportation packages to help get your guests get to the destination and back to the airport. (And I just learned they offer a wagon option to take a tour of the vineyard while drinking a signature cocktail!)
Back to our tour though. We finished the wine caves, wandered the Hacienda a bit and met up with the newly arriving guests for our official Hacienda tour, complete with Holman Ranch Chardonnay, where we got to tour all the abovementioned areas with a glass in our hands. Did I mention that Charlie Chaplin was a frequent guest during its earlier heyday? They even have a room named for him, surrounded by photos on the wall of other famous guests.

Relaxation at its finest!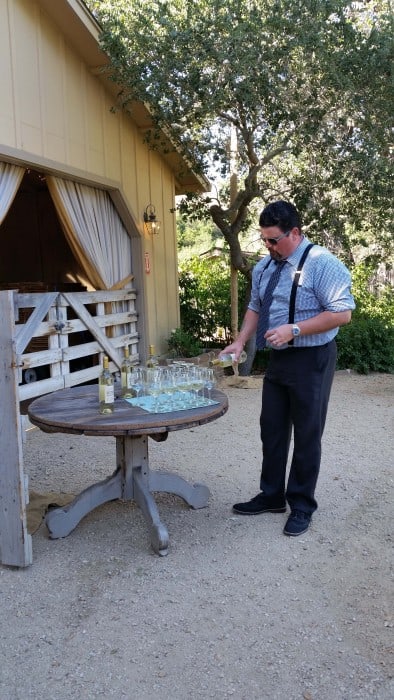 Dinner was at Will's Fargo down in Carmel Valley, and we were shuttled down as a group, ensuring no one was driving after imbibing in various Holman Ranch and Jarman wines, named after Mrs. Lowder (at the Jarman Tasting Room) and hosted by Hunter Lowder.

The food was amazing and the menu perfectly paired, of course. They even served us a special anniversary dessert! (Our anniversary was a couple of months prior but we were unable to attend during the original offered date, and Holman Ranch and their wonderful PR representative moved dates so we could attend. SO grateful!)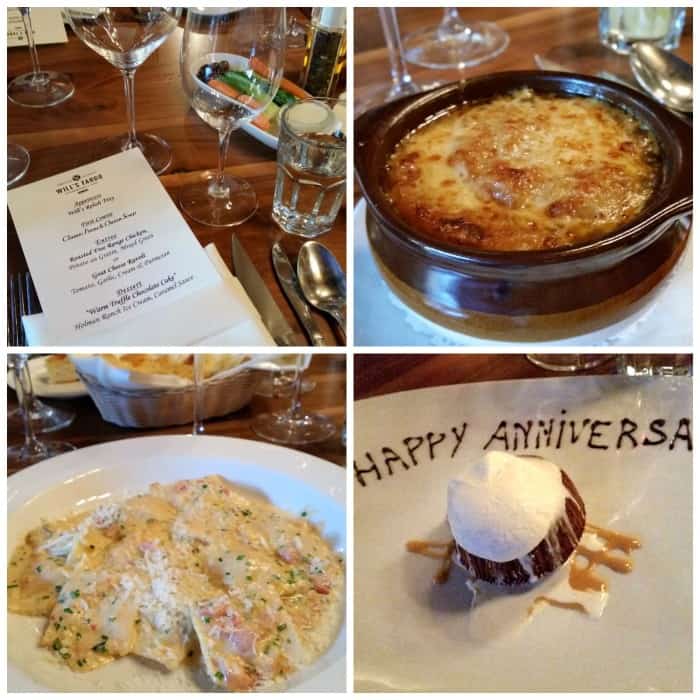 Then it was back to the ranch to stare at the stars, play some darts and horseshoes; we even took a walk down the hill to the pool, where our only other guest was a frog! (He was very friendly but let us have the majority of the pool to ourselves. We enjoyed the music he was making as we swam!)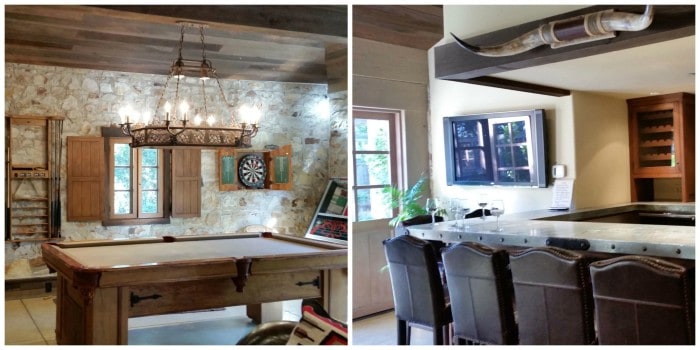 The next morning came all too quickly. We slept soundly in sumptuous bedding, listening to the occasional critter moving around outside the back windows, which we'd kept open all night. A peacock, belonging to a neighboring ranch, was visiting and sat on our front porch as we opened our doors in the morning. We talked to him for a bit before we headed to the game room for breakfast. I didn't have long as I'd signed up for a Zumba class with Hunter Lowder and some other guests and locals. It was a workout! I love Zumba and do it frequently but this environment – white lights overhead, in an open dance area on a ranch – made it more special. I hadn't brought proper workout attire but made it work in jeans shorts regardless. Too much fun! A shower, a few more minutes meandering then we headed to the stables to see the horses before we packed up to leave.
Down here in Southern California, we have horse property in surrounding cities but not close enough to see frequently. (I did get to ride a horse a couple of months ago though!) Having grown up on a farm with horses and other animals, I have always loved horses and their expressive eyes. Several came to the edge of their paddocks to greet us, and one in particular seemed to like the attention the most. She leaned her head towards my hand over and over, and each time I tried to walk away, she put her head through the rails and whinnied, which of course brought me right back. Her mane was long and thick and I called her the Emo horse. She responded so I think we bonded.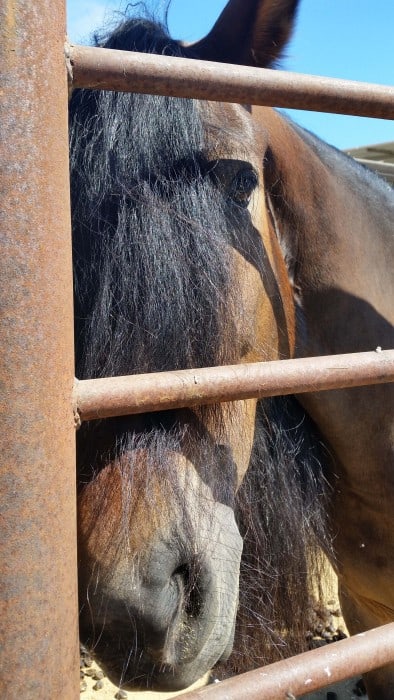 Then it was time to hit the road. We had a long trip ahead of us and quite a bit of it was on two-lane winding roads….not my favorite, if you read my post about the trip up the coast. We wanted to stop in Paso Robles at Tobin James (another great winery if you're in the area) and get pizza, also in Paso Robles, by the Adelaide Inn at Rustic Fire pizza, a favorite of ours from our trip last year to see Lifehouse play at the Midstate Fair.
Holman Ranch, what an amazing experience! From a guest perspective, the ranch runs seamlessly and every need is met — high-end ranch for everyone's enjoyment, down to the littlest of things. So many things to do and see, I truly hope we can visit again. And if nothing else, I'm going to continue to need your wine on my shelf. The Pinot Noir and Sauvignon Blancs are spectacular, in addition to the Chardonnay. You can order their wines online and I'm planning to take full advantage of that opportunity.