Last year, Danny Trejo opened a Trejo's Tacos location up in Los Angeles. I heard great things about it and wanted to go to the opening but had a prior commitment. I saw pictures of what looked like mouthwatering tacos and potent margaritas and pouted. Then I heard he was opening another location closer to my neck of the woods, in Pasadena not far off the 210 freeway, totally within reach when we wanted to have taco night. Not long after, I was invited to attend media night in honor of the opening. Tacos and margaritas and an opp to tell people about them? Sign me up!
Danny Trejo, television and movie star, now has a Trejo's Tacos location on La Brea in Los Angeles and a Trejo's Cantina on Cahuenga in Hollywood. He also has a Trejo's Coffee and Donuts on Santa Monica in Los Angeles. There are a lot of taco places in SoCal, but Trejo's does them different. Their chef, who we met briefly as he was in big demand on press night, has a unique perspective on melding unique flavor combinations together to make their food stand out. Offering meat, vegetarian and vegan tacos, everyone can eat at a Trejo's and enjoy a taco night with craft cocktails, an amazing OG Margarita or one (or more) of the many draft beers on tap.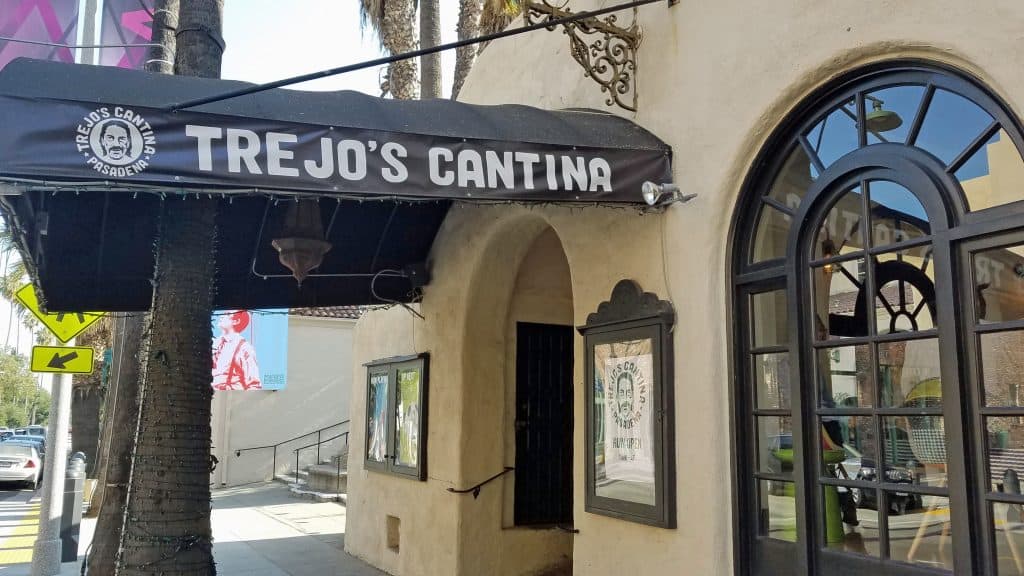 The new Trejo's Cantina in downtown Pasadena is in a unique space, yet perfectly fitting. Walk under an awning and through a courtyard into the entry way.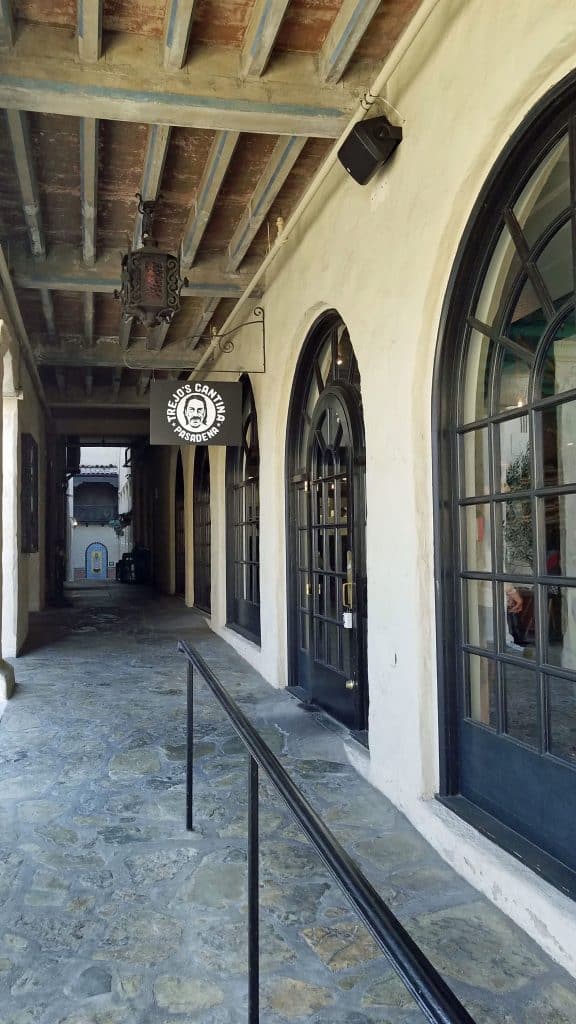 It opens into two spacious rooms — one is mostly restaurant seating, the other is the bar area. The colors are distinctive and befitting of a restaurant known for its tacos. There's plenty of seating and if there is overflow, there's plenty of room to wait outside in the courtyard by the fountain; we, of course, didn't experience any wait during the press event but if the food that night is an indication, there will be lines!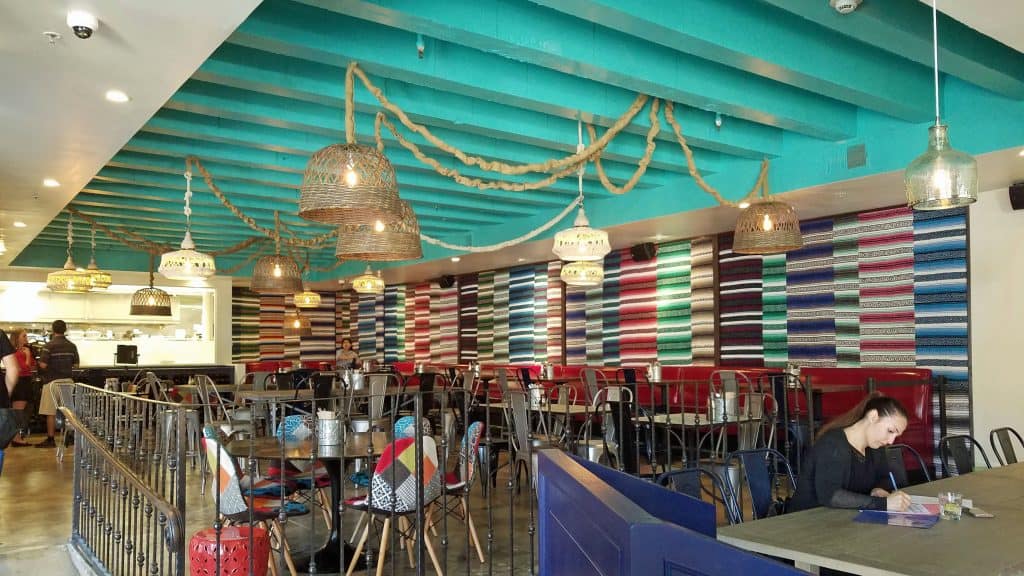 Straight across the space from the entry way are these two pieces of art that caught my eye. Check out the cleavers! One can't help but think of his role as Machete….but as we spoke to him briefly a couple of times, he's nothing like that role. Danny was gracious, friendly and willing to smile for yet another photo opp as the evening went on. He clearly has put his heart into his franchise and it comes across in the art, the atmosphere, the food and the well-chosen staff.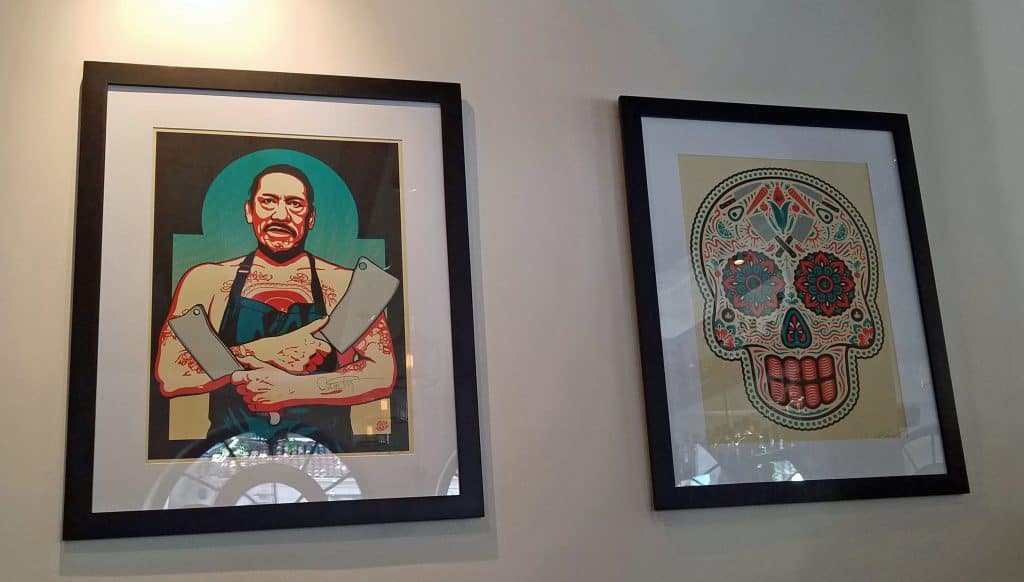 Speaking of staff, when we sat the bar, we were entertained all night long by the bartenders. The OG Margaritas were popular, and we had a lot of fun watching them be made. At one point, Danny needed colorful drinks for an on-camera interview, and I got to try it as well. Perks of sitting at the bar, along with the chance to people watch and listen to Danny giving his interviews.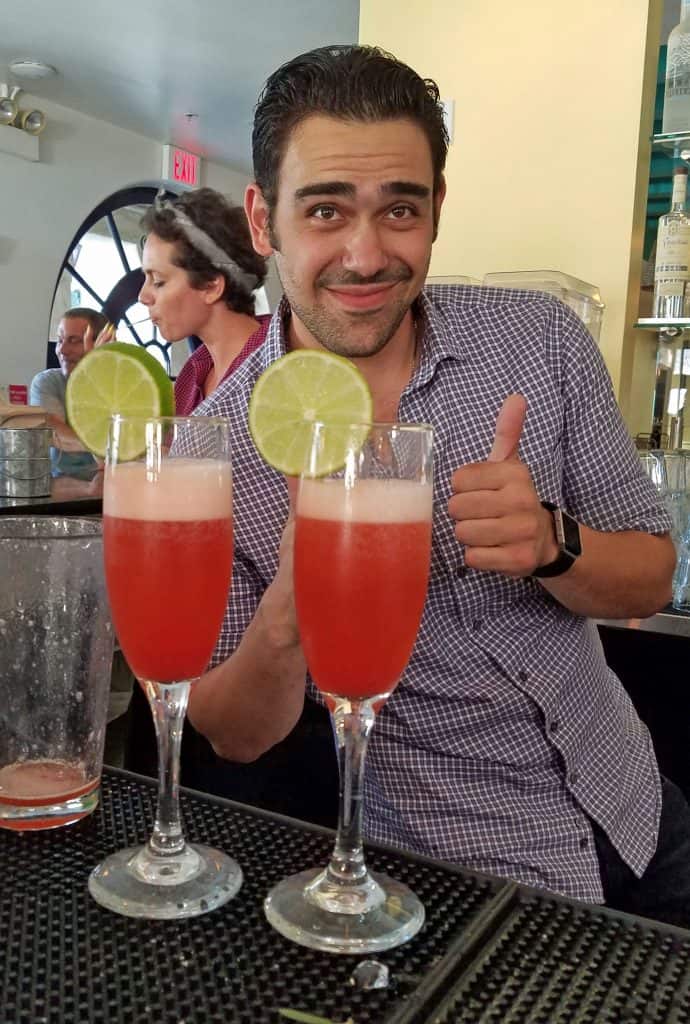 Back to those OG margaritas, made so quickly behind the bar that we wouldn't even begin to try to replicate at home. They're something you have to try to appreciate, and trust me, you will. Everything is top notch and no detail is left unconsidered.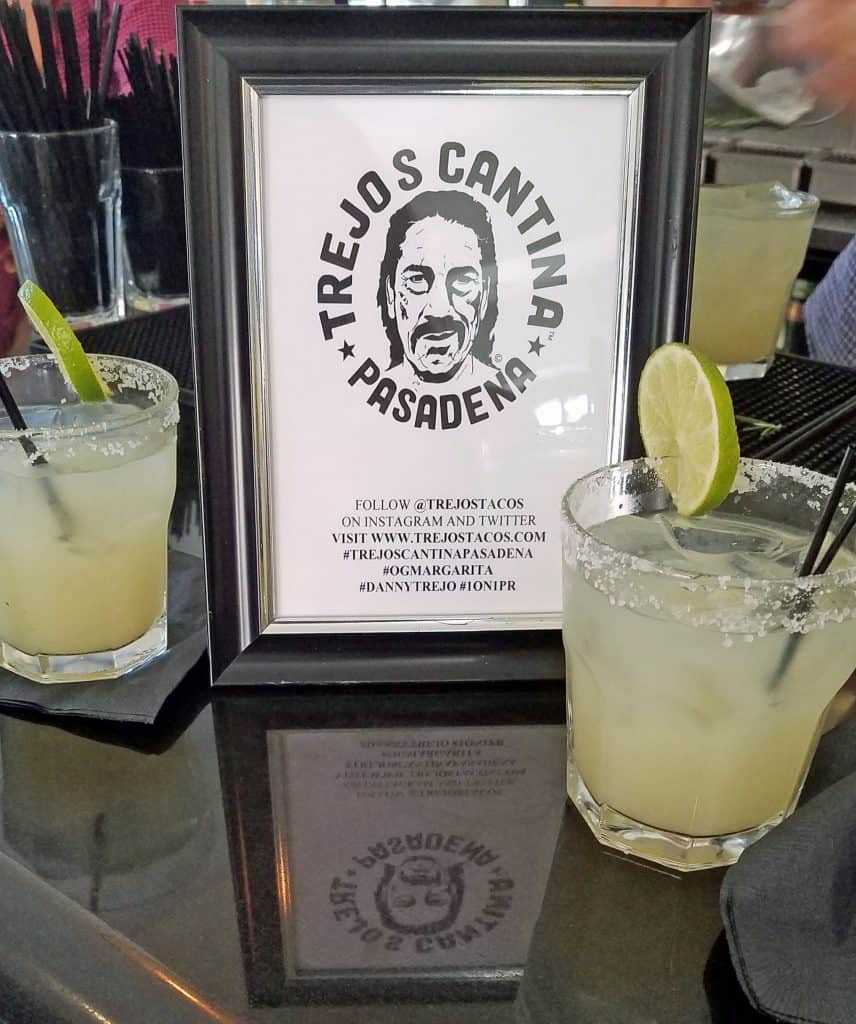 If you like street corn, you know the basics. Trejo's Cantina puts a spin on it by serving it in a bowl. Corn, spices and chipotle cream…with a surprise topper: popped corn. What a treat! We may have had two of the tastings of the street corn. Such a different take on it, you're going to love it.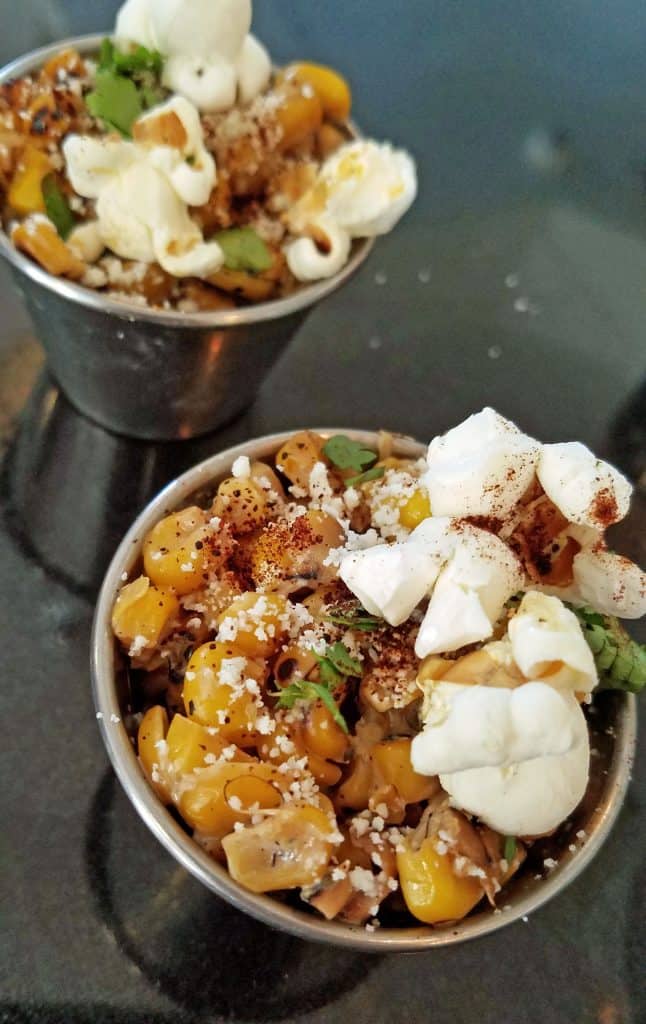 See all those seasonings? Those are carried on with all the tacos on the extensive menu. Meat-lover, vegetarian, vegan…everyone will be happy with the taco choices at Trejo's Cantina, meaning everyone can enjoy taco night no matter their dietary preferences and/or restrictions. Steak asada, blackened salmon, cauliflower, black pepper tofu, jackfruit, grilled chicken and more — there really is something for everybody.
We tried the Pulled Beef Brisket — with pico de gallo and cotija cheese, Carnitas with grilled pineapple — with pickled red onion, charred pineapple, cilantro and chili sauce, Steak Asada — with slaw and roasted pepitas, and Roasted Cauliflower — with corn, cashew cream pickled onion and cilantro. O M G, each was delicious but I'd probably say my favorite was the cauliflower. The pickled red onions were amazing, and that charred pineapple on the carnitas taco was a close second. The husband would tell you that both the beef/steak tacos were his favorite, which is okay, as I can't eat beef, so nothing went to waste. (We each got a plate of four street-sized tacos so we swapped.)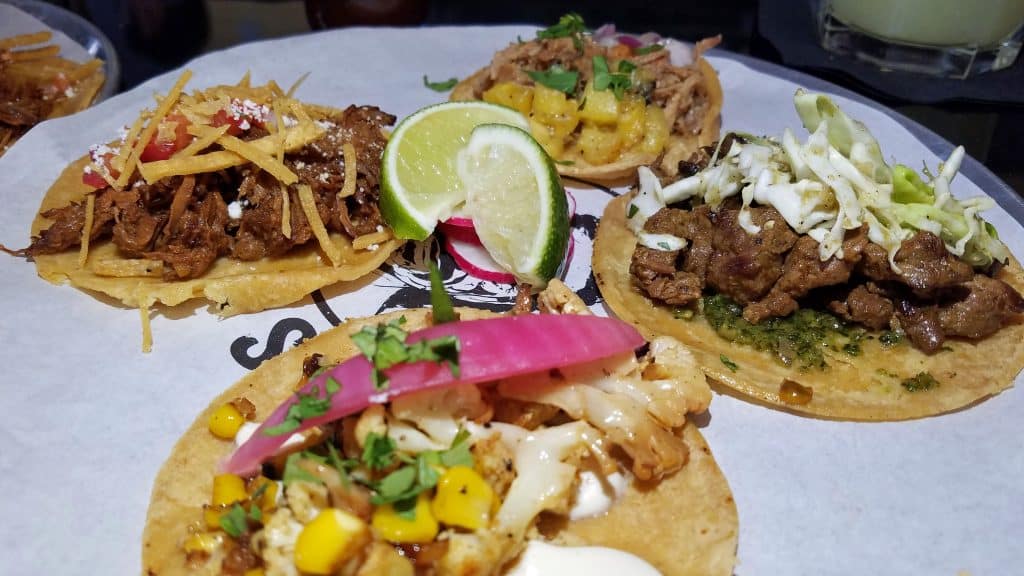 You really do eat with your eyes, so Trejo's tacos don't disappoint when it comes to being visually appealing. Layers of flavors on roasted tortillas that don't rip or fall apart, with lime twists available if you prefer. We did try this and it was an ideal compliment to the existing flavors.
Completing the meal was churros with chocolate and strawberry sauce for dipping. Perfectly crispy on the outside, coated in cinnamon and sugar, with a light, doughy but soft inside. Normally, the husband will try one flavor and I'll try another, but this was an exception. Who could pass any of these beauties up?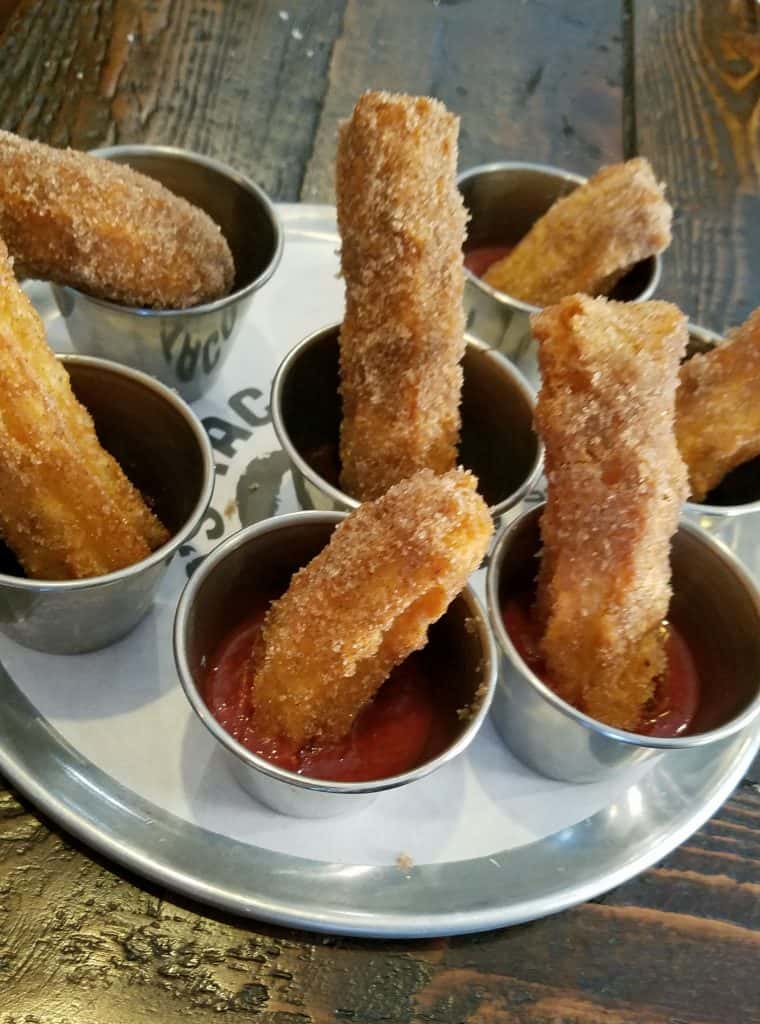 Trejo's Cantina is a labor of love.  The inspiration of a very special man, one with a history that includes prison, tv, rehab and volunteering to help those in trouble (something he still does to this day), the restaurant is a special one. Park the car, head on in for an O.G. Margarita, munch on street corn while you talk about your day, and make your way — slowly — through the taco, burrito and salad menu. Even if you're not a taco fan (but who isn't??) you'll find something you like on the menu. The newest location in Pasadena puts you right in the heart of night life, so it can be your first stop on a night out on the town. Their agua frescas and horchata, especially the date-sweetened horchata, is a must-try, so you don't need to be a margarita-lover. You just need to appreciate good, flavorful cantina food, and that's what Trejo's serves up.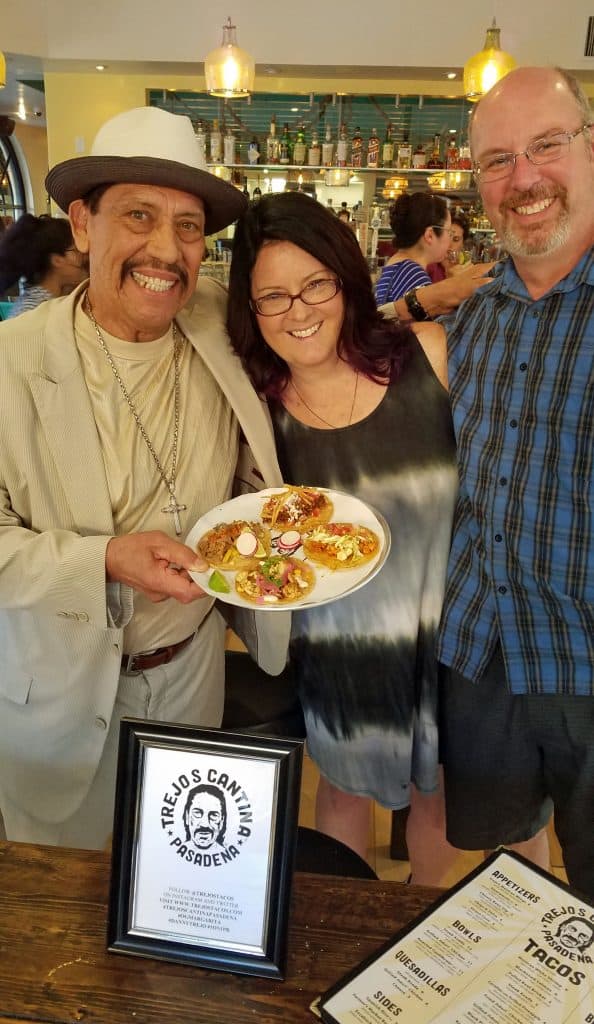 Thanks, Danny, for your kindness, your smile, and your fun restaurant. We'll be heading back up for more of your O.G. Margaritas and I really need to try that tofu taco. I love that you work hard to make sure everyone enjoys taco night at your restaurant and can sit for a relaxing happy hour and not go home hungry.