Getting ready for upcoming movie nights? I've got one more movie for you to add to your list since Sonic the Hedgehog on Blu-ray is available on May 19! You can also get it on digital download (for a fee) as of March 31, and one lucky winner is going to win a digital download code for the movie. Are you ready for some fun?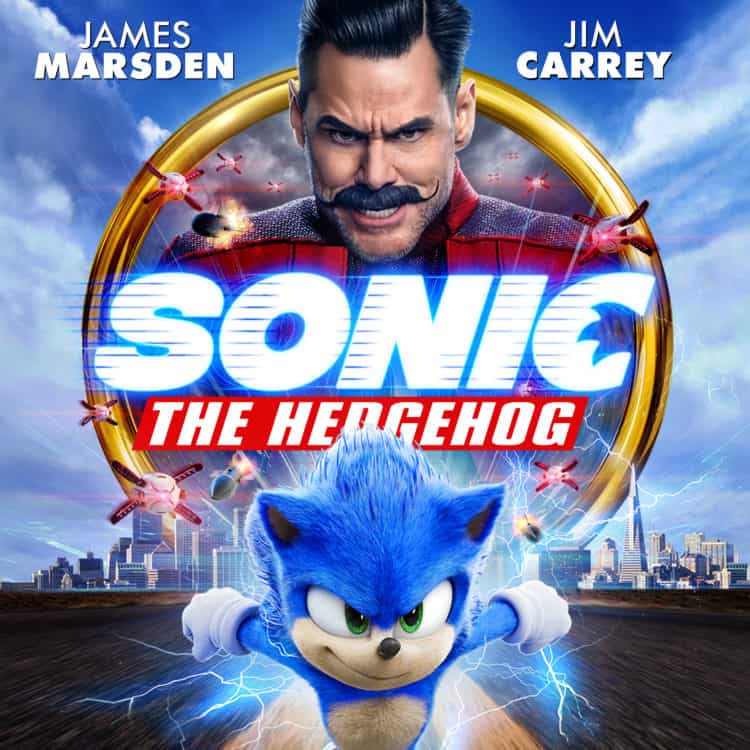 The Digital*, 4K Ultra HD, and Blu-ray releases are packed with sensational bonus features: See Sonic the Hedgehog's next adventure around the world in a new animation; get more of Sonic in deleted scenes; laugh at the hilarious blooper reel; explore the origins of the legendary blue hedgehog; see Jim Carrey bring Dr. Robotnik to life; watch along with awesome commentary by director Jeff Fowler and the voice of Sonic, Ben Schwartz; and more! Plus, for a limited time, the 4K Ultra HD and Blu-ray Combo packs will include a printed, Limited Edition comic book featuring an adventure with Sonic and The Donut Lord.
Powered with incredible speed, Sonic the Hedgehog (voiced by Ben Schwartz), aka The Blue Blur, embraces his new home on Earth. That is, until he accidentally knocks out the power grid and sparks the attention of super-uncool evil genius Dr. Robotnik (Jim Carrey). Now it's super-villain vs. super-sonic in an all-out race across the globe to stop Robotnik from using his unique power for world domination. Sonic teams up with The Donut Lord, aka Sheriff Tom Wachowski (James Marsden), to save the planet in this action-packed hit that's fun for the whole family.
BONUS FEATURES ON DIGITAL*, 4K ULTRA HD COMBO, & BLU-RAY COMBO
Commentary by director Jeff Fowler and the voice of Sonic, Ben Schwartz
Around the World in 80 Seconds—See Sonic's next adventure!
Deleted Scenes—Director Jeff Fowler introduces deleted scenes
Bloopers—Laugh along with Jim Carrey and the cast
"Speed Me Up" Music Video
For the Love of Sonic—Jim Carrey and the cast discuss what Sonic the Hedgehog means to them
Building Robotnik with Jim Carrey—See Jim Carrey bring supervillain Dr. Robotnik to life
The Blue Blur: Origins of Sonic—Explore the origins of the legendary Blue Blur
Sonic On Set—Visit the set with the voice of Sonic, Ben Schwartz
I've seen Sonic the Hedgehog several times now! I was pleasantly surprised how much I liked it, as I've not played the video game in forever. Ben Schwartz is hilarious as Sonic, and his voice is spot-on for how I envisioned the live-action version would sound. James Marsden, or the Donut Lord, morphs from small-town sheriff to the best friend we all need, making you believe his friendship all the way. And Jim Carrey as Dr. Robotnik? No one else could have pulled it off. My favorite scene in the movie is easily the one where the villainous scientist gets a little goofy and begins to dance in his lab; when the dinosaur runs up behind him, everyone laughs. (And he ad-libbed that, which is no surprise to anyone, as he's talented beyond belief, something he displayed readily in our Sonic the Hedgehog cast interview, which you can read more about here.)
Watch the movie on digital, then buy Sonic the Hedgehog on Blu-ray on May 19th! Enter my digital download code giveaway below!
Rules: one winner per household, winner must be at least 18 years of age and reside in the United States. No purchase necessary, void where prohibited by law. Winner must respond to email within 48 hours or prize will be forfeited and another winner will be randomly drawn.
a Rafflecopter giveaway