In today's chaotic world, where everyone's busy and bad news pops up on the TV daily, having a fun family night, away from obligations and the news, feels so even more important. It's not always easy to schedule, but when we get everyone together to laugh, it's a great way to enjoy quality family time.
And quality family time is the whole point of the movie from this week's family night: Daddy's Home 2, from Paramount Pictures. Daddy's Home 2 is the sequel to Daddy's Home and it stars Mark Wahlberg, Will Ferrell, Linda Cardellini and John Cena, who all were in from the first movie. Added to the hilarious mix in Daddy's Home 2 is Mel Gibson and John Lithgow, who play the dads of Dusty (Mark Wahlberg) and Brad (Will Ferrell).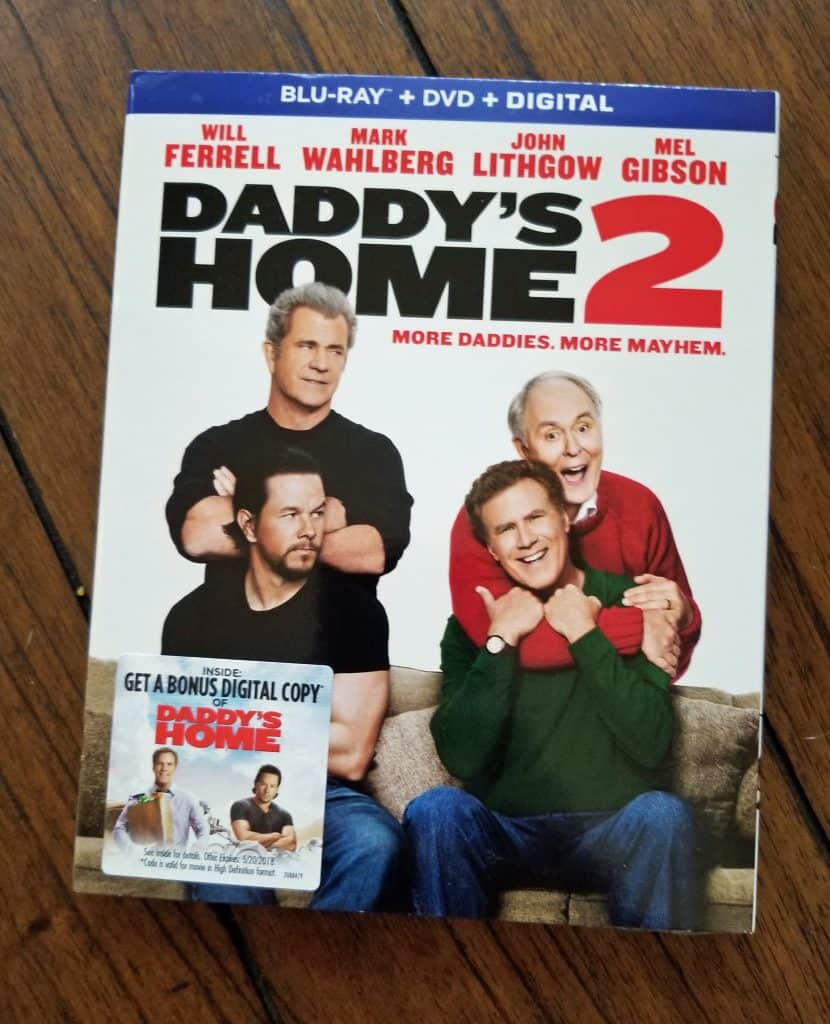 If you saw the first movie, you know the story of Brad and Dusty, current and ex-husband of Linda's character, Sarah. They compete for the kids' attention as Dusty re-enters the fatherhood picture and Brad struggles to grow into his role as step-dad. Sarah and Brad are trying to grow their family while adjusting to their new blended family — which only gets more crazy when Dusty wants back in. In Daddy's Home 2, the premise of co-parenting continues. Secrets and hidden resentments come out, as Sarah has to also contend with Dusty's new wife and the emergence of her ex-husband.
Nothing compares though to the problems that ensue when both Dusty and Brad learn their dads want to visit over the holidays. John Lithgow's portrayal of Brad's dad is the complete opposite of Dusty's dad, and when they all decide to travel together over Christmas, all bets are off. There's so much laughter in this movie, and it's all age-appropriate for 13 and up, so the kids, the husband I gathered together around a few big bowls of popcorn to watch. The husband and I had seen it when it came out, courtesy of Paramount Pictures, and then we were sent the Blu-tay edition to watch at home. Such a fun evening!
Daddy's Home 2 came out digitally on February 6, and then on 4K Ultra HD, Blu-ray and DVD this week on February 20. If you buy the 4K Ultra HD Combo Pack, you'll get some funny extras, deleted and extended scenes and access to a digital copy of the film. Available in stores now, it's out in time for you to enjoy a Daddy's Home 2 movie night this weekend — get the fireplace going, make some hot cocoa (and you'll see why I suggest that after you watch the movie) and stay warm. It's cold here in SoCal so a movie night was just what we needed. Thanks, Paramount Pictures, for a funny movie and an excuse for family time!